Commentary
Another title would add to Witmer's legend
Updated:
November 25, 2009, 11:57 AM ET
By
Christopher Parish
| ESPN RISE
This story appeared in the Greater Philly edition of the November ESPN RISE Magazine.
Penn Manor (Millersville, Pa.) field hockey coach Matt Soto uses a word to describe senior forward Jill Witmer that doesn't get tossed around much in casual conversation.
[+] Enlarge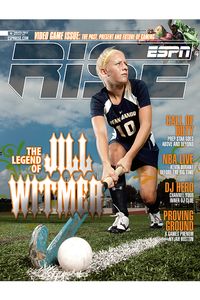 ESPN RISE MagazineJill Witmer recorded 33 goals and 22 assists to garner All-American status and lead Penn Manor (Millersville, Pa.) to a state title.
Legendary.
"There's no doubt that as soon as you watch her play, your eyes are drawn to her speed," Soto says. "She has such a high level of athletic skills. She can run with the ball, track and catch the ball at great speeds. Those are the things that make her legendary."
It's a lofty word, legendary. But it may very well apply. If Witmer isn't the nation's best high school field hockey player, she's certainly in the discussion. The Maryland recruit was one of only two underclassmen to make the 16-player NFHCA High School All-American first team last year. She recorded 33 goals and 22 assists as a junior, leading Penn Manor to the PIAA Class AAA state title with a 5-0 win over Hershey in the championship.
The 2008 incarnation of the Comets may have been the most dominant field hockey team in state history. Witmer led the squad to a 24-2-1 record, and Penn Manor set state records in the championship game for most goals scored and largest margin of victory. Witmer recorded a goal and an assist in the contest.
"It was the best feeling ever," says Witmer, who is home-schooled but has played for Penn Manor since her freshman year. "We worked so hard together last season, and it all came together in the end. Near the end of the game, since we had a big lead, it really clicked for us that we were state champs. It was an amazing feeling."
The state title marked the arrival of a player who at first was unimpressed with the game of field hockey. When a family friend built a gym (nicknamed The Coop) on the Witmer family farm, he persuaded Jill's father to have her try the sport. Witmer, then an eighth-grader, had already shown plenty of sports potential. She was an avid soccer player and a successful sprinter during recreational track.
"When I first tried it, I didn't really like it much," she says. "My dad said, 'Just one more year, see how it goes when you get into ninth grade,' so I went to play for coach Soto. He was great, and I was hooked."
The legend began that simply. "We saw her skills right away," Soto recalls. "We worked her into the starting lineup carefully. On our team, it would be rare for a freshman to start, but she worked her way into that opportunity."
Witmer's speed has always been what sets her apart from other girls on the field. But it was her toughness that surprised her teammates, her coach and even herself in a contest during her sophomore year. Witmer was charging an opposing player who had possession when the player struck the ball. The shot flew in the air and hit Witmer in the side of the head. Unlike lacrosse players, who wear helmets and face guards, field hockey players don't wear any face protection because the ball is not intended to be shot above the waist. But this attempt went awry, and Witmer caught the full brunt of the shot.
"I took it right off the ear, kind of near the jaw," she says. "It hurt right away, but I was kind of shocked more than anything else."
Witmer was ready to shake it off and continue playing, but Soto pulled his star player immediately. She stood on the sideline for a few minutes, shaking off the sting, then asked to go back in the game. Soto obliged, and Witmer happily returned to the field, running around just as determined as ever. Legends shake off petty things like that.
[+] Enlarge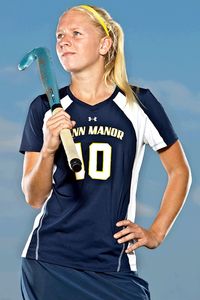 Steve Boyle\ESPN RISE MagazineWitmer is headed to the University of Maryland after graduation.
Legends do not succumb to fatigue, either. In a tight game against Hempfield last season, Soto realized his girls were getting tired. As the game went to overtime, he saw their effort slipping.
"Then Jill got on a run," he says. "She took this ball and just said, 'I'm gonna win this game.' She just launched this ball, with a very high-skill shot, and cracked it over the goalie's shoulder. That set a very good tone for us for the rest of the season."
Witmer has been especially adept at setting the tone for the Comets. She's led the team with her work ethic -- her time in the weight room, running regimen and intensity at practices -- and when needed, she leads audibly as well.
"She is by far a lead-by-example type, but sometimes she gets vocal," Soto says. "And when she does, it's very important what she says."
She's also managed to keep a great rapport with her teammates despite not seeing them often because she's been home-schooled throughout grade school and high school. Though her mother gave her the chance to attend school recently to be in a classroom setting and be closer to her friends and teammates, Witmer declined.
"I've always wanted to stay home-schooled," she says. "I just like being home and being a little more independent. I guess I'm just used to it."
But Witmer still attends all team functions and is around the other players as much as possible. She loves to joke about her affinity for country music and play pranks on her teammates. She loves the challenge of leading her team on the field and helping Penn Manor win. And she never ceases to amaze.
"I've seen a lot of national players play," Soto says. "She has some of those physical capabilities. I think she might be in consideration to be one of them someday."
Legends have a way of making those things happen.
SPONSORED HEADLINES
ESPN TOP HEADLINES
MOST SENT STORIES ON ESPN.COM
FOOTBALL RANKINGS

Rank
School (City, State)
Rec
1
Don Bosco
Ramsey, NJ
11-0
2
Armwood
Seffner, FL
15-0
3
Trinity For Boys
Louisville, KY
14-0
4
Grayson
Loganville, GA
15-0
5
Good Counsel
Olney, MD
13-0
See the full football rankings »