The Edge: Working out safely
Updated:
December 29, 2009, 7:28 PM ET
ESPN RISE
[+] Enlarge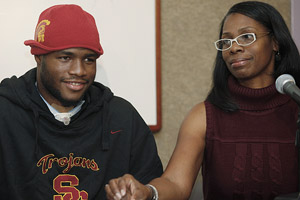 Damian Dovarganes / Associated PressStafon Johnson (shown Oct. 14 with his mother, Kim Mallory) is recovering from a weight room accident.
Earlier this fall, USC tailback Stafon Johnson's season came to end when he suffered a serious injury while lifting. Thankfully, Johnson is OK, but his injury brought to light the many potential dangers in the weight room. Certified trainer Chris Gizzi has two important steps for you to stay safe and get the most out of your workout.
1. Make sure to have a spotter
The spotter is a teammate or coach actively responsible for your safety should your effort outlast your ability. Spotters aren't there to just watch, count reps or be a cheerleader. Ask your coach and get detailed instruction on how to spot a specific lift before you need to know. To set the tone, ensure the spotter says the rep count, a quick training tip or a word of encouragement. Taking charge and focusing are essential to being a good spotter.
2. Warm up
Do this before training to perform your best and avoid any setbacks. Ready: The first warm-up is 5-10 minutes of light jogging, skipping, lunges and/or active stretching. Aim: The second warm-up starts with plyometrics and medicine ball throws and then goes to warm-up lifts. Use this simple rule for your major lifts: one warm-up set for every 100 pounds of the heaviest weight you plan to lift that day. Start by doing 8-10 reps at 50 percent of that weight for the first set. Rest and then move up gradually.
Chris Gizzi, a former NFL linebacker, is the founder and director of ZoneReady and one of the lead performance trainers on the ESPN RISE elite camp tour. For more of his workout tips, go to zoneready.net.
FOOTBALL RANKINGS

Rank
School (City, State)
Rec
1
Don Bosco
Ramsey, NJ
11-0
2
Armwood
Seffner, FL
15-0
3
Trinity For Boys
Louisville, KY
14-0
4
Grayson
Loganville, GA
15-0
5
Good Counsel
Olney, MD
13-0
See the full football rankings »