Commentary
Father-son tag team
Updated:
January 23, 2010, 11:46 AM ET
By
Jared Zwerling
| ESPN RISE
This story appeared in the Arizona edition of the Jan./Feb. ESPN RISE Magazine.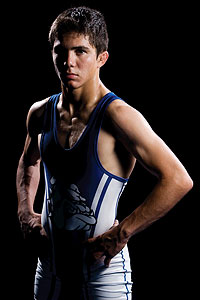 ESPN RISE MagazineSafford (Safford, Ariz.) senior Ryak Finch is ranked No. 1 nationally in the 119-pound weight class, according InterMat.
Ryak Finch. Just his name makes you think the Safford (Safford, Ariz.) senior has an interesting background.
Indeed, the story of one of the nation's best wrestlers begins even before his birth. One day, Finch's expectant parents, Rick and Judy, went to a restaurant with a video game arcade. When Rick played one of the games, he was immediately drawn to the character Ryak and decided that would be his son's name.
Several years after Ryak was born, Rick discovered that the name was actually a Slavic version of Rick. He had named his son after himself without even realizing it.
Now Ryak is rated the nation's No. 1 wrestler in the 119-pound weight class by InterMat. A two-time state champ with several national titles to his credit, he will wrestle at Iowa State next year.
Ryak has his dad to thank for more than just his name. When Ryak was a child, he and Rick made a strong commitment to the sport together. Rick challenged him early on to meet high standards, and Ryak made the necessary sacrifices.
At just 6 years old, Ryak gave up soda to stay trim and began following a strict training regimen. Every night, he did 100 shots (an offensive maneuver to take down an opponent) and 100 sprawls (a defensive maneuver to prevent a takedown) up and down the hallway in his house, as well as 100 push-ups and 300 sit-ups. Rick knew if Ryak followed his advice, he would be a great wrestler.
"I told him to set goals and create a ladder to achieve them," says Rick, who's also an assistant coach at Safford. "I said, 'I'll give you all the information you need, and as long as you do it, you're going to be OK.' He's never said no to anything I've asked him to do."
Finch was first tested competitively at 9 years old. He and his dad would drive to Phoenix every Saturday for matches, and although Finch enjoyed the experience -- win or lose -- he soon wanted more. He set out to beat three top wrestlers in the region. One was Shelby Clark, who would go on to wrestle at Ironwood Ridge. Finch put Clark's name on the mirror in his room and looked at it every day for inspiration. Then, at the Sunkids tournament in Arizona, Finch drew Clark in the first round and ended up beating him.
When Finch was 12, he had the first of many injuries he'd suffer on the mat -- his dental braces snapped at the West Regional Championships in Winnemucca, Nev., and a rod ripped through his lip. (He has also fractured his arm twice and broken several fingers.) Rick pulled out the wire and Finch eventually won the event, but he wasn't able to see a dentist for a month because he had four tournaments coming up.
One of those, the Schoolboy Nationals in Green Bay, Wis., turned out to be the location of Finch's first national title. The day before the final round, Finch and his father stayed up until midnight devising a technique to neutralize his shorter and stockier opponent, Ryan Mango, a former Missouri state champ who's now a freshman at Stanford. Instead of staying heavy on the head Finch's usual attack mode, in which he constantly pulls down the head of his nemesis Finch wrestled off of one knee and took away Mango's legs. Finch took him down four times in the first period en route to victory.
[+] Enlarge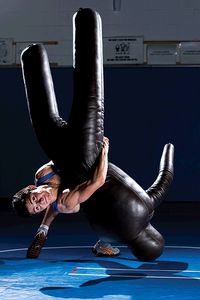 ESPN RISE Magazine Finch gave up soda at age six and has been following a strict training regimen almost his entire life.
"Winning the national title brought me to the reality that I could actually go places with wrestling," Finch says. "I dropped everything else I was doing, including karate and baseball, and got really serious about wrestling. That's when I started thinking about college and how I was going to get there."
Then as a freshman at Safford, Finch finished second at the state tournament. It was at that moment that Finch made an agreement with his father that he would do whatever it took to never lose another match. Making good on that, Finch compiled back-to-back undefeated seasons (106-0 combined) as a sophomore and junior, including two state and two national titles, and was named the Arizona Coaches Association's Wrestler of the Year as a junior. He also won gold medals in the Greco-Roman and freestyle events at the prestigious ASICS/Vaughan Junior & Cadet National Championships in Fargo, N.D., this past summer.
This year, Finch, who is an offensive-style wrestler, is working to develop new defensive scrambles and strengthen to 125 pounds to prepare for college. During the week, Finch runs at 6 a.m., lifts at 3 p.m. and practices with Safford from 4-7 p.m. On the weekends, his routine is not so typical. Rick created a workout for Finch called "The Hillbilly." Rick, an experienced outdoor laborer, designed it to add intensity to his son's training and build his core strength.
The unorthodox program includes jumping over 3-foot-tall metal boxes; flipping a 7-foot-tall tractor tire by hand; lifting a 70-pound rock and throwing a 35-pound rock; carrying bricks up the hill in his backyard; using a 45-pound concrete block to do military presses, triceps extensions, curls, rows and side throws; doing jump-ups and step-ups onto the tailgate of Rick's old four-wheel-drive truck while being weighed down with two 30-pound dumbbells; and climbing up and down an 18-foot rope.
While Finch relies on his father for physical preparation, he admires his head coach, Herman Andrews, for his motivational tactics, which have helped Finch to wrestle and study well. Andrews says Finch, who is a member of the National Honor Society, is an exceptional student on and off the mat.
"You're not going to get a letdown when he's in the wrestling room compared to when he's on the mat," Andrews says. "He trains fast, he trains hard, he's consistent and very technical. He's not only a great athlete, but he's also becoming a great coach."
This past summer, Finch got a heavy dose of world-class instruction. He spent time at the Olympic Training Center in Colorado Springs and trained with several former Olympians. Come next fall, he'll be wrestling for 1992 Olympic gold medalist Kevin Jackson at Iowa State.
Finch certainly knows the importance of having a good coach. And despite all he's accomplished, there's a lot more to achieve.
"I want to win an NCAA title," he says, "and go on to wrestle in the Olympics."
SPONSORED HEADLINES
ESPN TOP HEADLINES
MOST SENT STORIES ON ESPN.COM
FOOTBALL RANKINGS

Rank
School (City, State)
Rec
1
Don Bosco
Ramsey, NJ
11-0
2
Armwood
Seffner, FL
15-0
3
Trinity For Boys
Louisville, KY
14-0
4
Grayson
Loganville, GA
15-0
5
Good Counsel
Olney, MD
13-0
See the full football rankings »