Commentary
Dominique Daniels: Ready for the world
Updated:
March 9, 2010, 11:01 AM ET
By
Christopher Parish
| ESPN RISE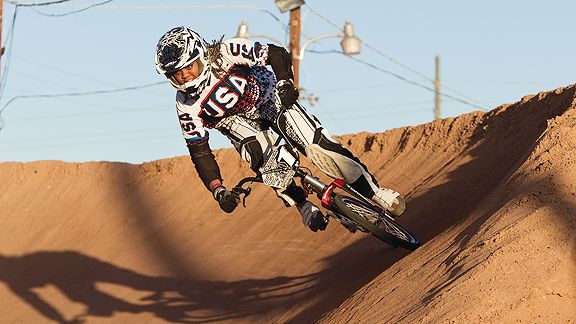 David CruzDominique Daniels is the top-ranked female BMX rider according to the American Bicycle Association.
Not familiar with BMX racing? Neither were Tim Daniels or his daughter, Dominique, at first.
"We got started by accident," Dominique says.
It was perhaps the best accident that could have happened to her.
For Dominique's 12th birthday, her dad bought her a small Honda motorbike. It wasn't anything special, just a starter model to get her going. Tim saw that his daughter kept noticing a track in Chandler, Ariz., that they often drove past. He thought it would be fun to give her a chance to ride, so he bought the necessary equipment -- including the little motorcycle -- and brought her to the track one day.
They were embarrassed to find out the track was for bicycles only. Tim sheepishly returned to the store to buy a small Huffy bike.
What's happened since that small error has been nothing short of astounding. Dominique, a senior at Mesquite, has become one of the nation's top BMX racers at any level, a queen on the junior circuit and one of America's top prospects for the 2012 Olympics. Daniels, who turned pro at age 15, has earned the American Bicycle Association BMX National No. 1 ranking among women. She was also the National Bicycle League Elite Women's Champion in 2009 and has raced both nationally and around the world.
Daniels became dominant so quickly that there were whispers the U.S. Olympic Committee would bypass its age restrictions -- American riders must be 19 -- so Daniels could have a chance to make the U.S. Olympic team in 2008. Ultimately, the USOC upheld its age limit. The decision may have been tougher on Dominique's father than it was on her.
"There are gymnasts who are younger, swimmers who are 16, track athletes and others," Tim says. "I thought you should let the best American athletes compete. But [Dominique] is a lot better than me at reconciling stuff like that. Her attitude is, 'I'm still young, I can compete in the next one.'"
Dominique's carefree attitude is part of why she was attracted to the sport in the first place. During her first trips around the track at Chandler BMX, there was nothing better than maneuvering around hairpin turns -- oblivious of time or position -- pedaling furiously, flying over jumps and goofing around with the other kids at the dirt track. Instead of a racing jersey, she'd wear a Hawaiian shirt.
"It made me feel like Superman," she says. "The wind would whip behind the shirt like a cape, so it became my racing shirt."
Daniels wears more traditional racing gear now, looking less like a 17-year-old who's worried about her homework and more like a rising superstar. Even she's surprised at how far she's come in the last few years.
"If you go back in time, I didn't really even have a goal," she says. "I didn't know BMX was an Olympic sport. Now I'm in a position where I could represent my country."
[+] Enlarge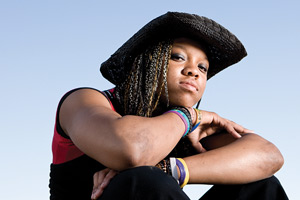 David CruzDominique Daniels hopes to compete in the 2012 Summer Olympics in London. "I didn't know BMX was an Olympic sport," she says. "Now I'm in a position where I could represent my country."
Daniels does more than race bikes on a dirt track. She also ran track at Mesquite (Gilbert, Ariz.). As a sophomore in 2008, she finished 15th in the prelims of both the 100 and the 200 at the 5A-I state meet. Her commitment to BMX racing has kept her from committing fully to the track team, but her talent was evident.
So too is her dedication. Daniels gets up at 5:30 a.m. to jog 2-3 miles before heading to school for a weight class at 6:30. After school she works out at a local training facility to work on speed training, with occasional kickboxing classes thrown in for good measure. She's on her bike five days a week and trains an estimated five hours per day. Even her father, who spent 26 years in the United States Marine Corps, admits the workouts are intense.
"I'd be dying after two or three days, but she keeps going," Tim says.
Tim goes to all of Dominique's races, always staking out a spot right near the starting line, just where she likes him to be.
"It gives me that motivation to be there first," she says. "When I see him there, I have that confidence. I like knowing that no matter what I do, he's going to be proud of me."
As she whips around the track, Tim can't help but be proud -- and nervous. BMX is a challenging sport in which spectacular crashes are just another part of the game.
"From a spectator's point of view, it's like watching NASCAR," he says. "You know there's going to be a crash, and that's what draws people to the sport. But there are some really bad crashes sometimes."
Her worst crash came in 2006, in just her second year of competitive racing. Dominique was racing against both girls and boys in Albuquerque. Behind her, a boy's chain broke and his bike slid sideways, catching her back tire in the process. Daniels jammed her wrists in the fall, breaking both. She was down for a long time, but when she got up, she grabbed the bike and finished the race, tears streaming across her face.
"I've never been in that much pain before," she says.
Still, the fall didn't deter her from getting back on the bike as soon as her injuries healed. As she's risen up the rankings, she's found the motivation to keep working harder to improve.
"I want to represent my country," she says. "That's something a lot of people don't even get close to achieving."
Dominique's father believes she is capable of competing in the Olympics in any cycling event -- be it BMX, road, track or mountain biking. "She has the ability to compete in any last one of those," he says.
It's fitting, then, that the only bike she can't compete with is the one with the motor.
SPONSORED HEADLINES
ESPN TOP HEADLINES
MOST SENT STORIES ON ESPN.COM
FOOTBALL RANKINGS

Rank
School (City, State)
Rec
1
Don Bosco
Ramsey, NJ
11-0
2
Armwood
Seffner, FL
15-0
3
Trinity For Boys
Louisville, KY
14-0
4
Grayson
Loganville, GA
15-0
5
Good Counsel
Olney, MD
13-0
See the full football rankings »