Commentary
Loyola repeats as 8x800 champion at Zamperini Invitational
Updated:
March 2, 2012, 3:38 PM ET
By
Rich Gonzalez - Editor, ESPNHS/DyeStatCal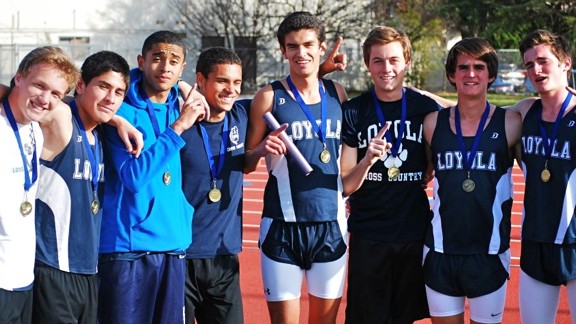 Photo courtesy of John Davies, Loyola HS distance
(TORRANCE, Calif.) -- Loyola High's boys distance lineup once again won its signature event at Tuesday's Zamperini Invitational: the rarely contested 8x800-meter relay.
You read that right: 8 x 800.
Senior Andrew Bland's 1:57.1 split for the two-lap segment and three teammates (Josh Lewis, Charlie Marquardt, and Andrew Verdin) also splitting between 2:00.0 and 2:00.9 helped the Cubs win the event in 16:19.76. The eight-person lineup averaged 2:02.5 per leg.
The other notable outcome came in the boys 8x200 relay, where St. John Bosco (3:05.88) prevailed over Fountain Valley (3:08.32) in a battle between two programs with competitive dash lineups.
The annual meet is held in honor of Lou Zamperini, the Torrance High distance-running grad from the 1930s who later became an Olympian and a prisoner of war survivor, his experiences chronicled in the acclaimed novel, "Devil At My Heels".
---

Lou Zamperini Invitational 2/28/12
Lou Zamperini Stadium
Results
 
Boys F/S 8x800m
= = = = = = = = = = = = = = = = = = = = =  = = = = =  =
School                                                                 Finals
= = = = = = = = = = = = = = = = = = = = = = = = = =  = = =                     
1.  LB Wilson  'A'                                            18:36.36
2.  Loyola HS                                                 18:55.95
3.  West High 'B'                                             18:56.26
4.  LB Wilson 'B'                                             19:36.7
5.  Fountain Valley 'A'                                       20:34.86
6.  Fountain Valley 'B'                                       20:52.48
7.  West High 'B'                                             21:26.7
 
Girls F/S 8x800m
= = = = = = = = = = = = = = = = = = = = =  = = = = ==  = = =
School                                                                  Final
= = = = = = = = = = = = = = = = = = = = = = = = = = = = = =
1.  West High                                                  22:03.27
2.  LB Wilson 'A'                                               22:07.61
3.  LB Wilson 'B'                                               23:41.06
4.  LB Wilson 'C'                                               23:47.42
5.  Fountain Valley                                                 24:40.44
 
Boys Varsity 8x800m
= = = = = = = = = = = = = = = = = = = = =  = == = = = = =
School                                                                                   Finals
= = = = = = = = = = = = = = = = = = = = = = =  = = = = = = =
1.   Loyola 'A'                                                    16:19.76
2.   Loyola 'B'                                                     17:07.03
3.   Fountain Valley 'A'                                       17:16.23
4.   St. John Bosco                                            17:23.14
5.   West High                                                    17:24.84
6.   Loyola 'C'                                                    17:58.06
7.   Torrance                                                    18:11.91
8.   Desert Christian                                           18:21.26
9.   LB Wilson 'A'                                                18:37.26
10. Loyola 'D'                                                      18:40.11
11. LB Wilson 'B'                                                 18:53.88
12. LB Wilson 'C'                                                 19:87.38
13. Fountain Valley 'B'                                       20:17.91
14. Fountain Valley 'C'                                        20:24.41
 
Girls Varsity 8x800m
= = = = = = = = = = = = = = = = = = =  = = = = = = = = = =
School                                                                          Finals
= = = = = = = = = = = = = = =  = = = = = = = = = = = = = =
1.  Fountain Valley 'A'                               20:37.57
2.  LB Wilson 'A'                                        21:02.32
3.  West High                                           21:09.29
4.  Desert Christian                                    22:47.29
5.  LB Wilson 'B'                                           22:56.8
6.  Fountain Valley 'B'                                23:07.06
7. LB Wilson 'C'                                          23:36.78
 
Boys F/S 8x200m
= = = = = = = = = = = = = = = = = = = = =  = = 
School                                                           Finals
= = = = = = = = = = = = = = = = = = = = = = =
1.  LB Wilson                                              3:17.78
2.  St. John Bosco                                      3:18.51
3.  Fountain Valley                                     3:30.82
4.  West High                                             3:34.83
5.  Torrance                                               NT
 
Girls F/S 8x200m
= = = = = = = = = = = = = = = = = = = = =  = =
School                                                        Finals
= = = = = = = = = = = = = = = = = = = = = = = 
1.  Fountain Valley 'A'                                  3:41.56
2.  LB Wilson                                                 3:54.93
3.  Fountain Valley 'B'                                 3:55.51
4.  West High 'A'                                         4:01.84
5.  Torrance                                                4:18.83
5.  West High 'B'                                          4:20.06
 
Boys Varsity 8x200m
= = = = = = = = = = = = = = = = =  = = = = = 
School                                                        Finals
= = = = = = = = = = = = = = = = = = = =  = =
1.  St. John Bosco 'A'                                 3:05.88
2.  Fountain Valley 'A'                                 3:08.32
3.  Torrance 'A'                                          3:15.4
4.  Fountain Valley 'B'                                3:19.9
5.  LB Wilson 'A'                                         3:22.9
6.  Fountain Valley 'C'                                3:26.07
7.  Desert Christian                                    3:45.1
8.  St. John Bosco 'B'                                NT
 
Girls Varsity 8x200m
= = = = = = = = = = = = =  = = = = = = = = =
School                                                                Finals
= = = = = = = = = = = = = = = = = = = = =  =
1.  LB Wilson                                         3:38.81
2.  Fountain Valley                                3:41.81
3.  Torrance                                          4:06.28
4.  Desert Christian                              4:08.90
 
Girls F/S 1000m
= = = = = = = = = = = = = = = = = = =  = = =
Name                                       School            Finals
= = = = = = = = = = = = = =  = = = = = = = =
1. Hong                                    West High              3:26.84
2. Ibayashi. A               West High                          3:34.91
3. Neumann                  Torrance                            3:36.81
4. Finn                          LB Wilson                           3:43.47
5. Lopez                       LB Wilson                            3:45.12
6. Ho                            Torrance                            3:47.22
7. Nyugen                     Fountain Valley                 3:50.56
8. Margis                      LB Wilson                            4:02.47
9. Horejsi                      LB Wilson                           4:13.53
10. Chase, T                 West High                         4:25.94
11. Cajas                      LB Wilson                           4:28.62
12. Coy                         LB Wilson                           4:31.75
 
Girls Varsity 1000m
= = = = = = = = = = = = = = = = = = = = =  =
Name                                       School                 Finals
= = = = = = = = = = = = = = = = = = = = = =
1. Kung                                                Torrance         3:08.47
2. Desmin                                 West High                   3:17.25
3. Kennedy                               Desert Christian         3:19.88
4. Griffie                                   West High                  3:21.31
5. Morris                                   Torrance                   3:22.18
6. Dela Cruz                             Torrance                     3:23.18
7. Rodriguez                              West High                 3:23.91
8. Hernandez                            LB Wilson                   3:25.53
9. Torres                                   Torrance                   3:26.62
10. Kelty                                   West High                  3:28.97
11. Iowe                                   LB Wilson                  3:32.34
12. Dvan, K                              West High                 3:33.66
13. Kim, A                                West High                 3:38.62
14. Aguilar                                Desert Christian        3:40.28
15. Tuberty                               LB Wilson                  3:42.31
16. Welsch                                LB Wilson                  3:48.15
17. Szlovak                               LB Wilson                  4:30.91
18. Davis                                  Desert Christian       4:37.62
19_???                                     ????                            5:19.28
 
Boys F/S 1000m
= = = = = = = = = = = = = = = = = = = = =  = = 
Name                                       School                           Finals
= = = = = = = = = = = = = = = = = = = = = = = 
1. Kung, D                                Torrance                   3:03.35
2. Gibson                                  Desert Christian       3:04.00
3. Carlos                                   Torrance                   3:11.62
4. Flores, J                                West High                3:11.81
5. Starr, R                                 West High                3:13.73
6. Chintacharuvu, R                   West High               3:20.85
7. Rodriguez, J                          West High                3:22.40
8. Fawley, B                             West High                 3:32.66
9. Guillou                                  West High                  3:33.91
10. Ragat                                  LB Wilson                3:41.40
11. Velasquez                           LB Wilson                  3:47.91
12. Korshaun                            West High                4:47.60
 
Boys Varsity 1000m
= = = = = = = = = = = = = = = = = = = = =  = 
Name                                       School                  Finals
= = = = = = = = = = = = = = = = = = = = = =
1. Vientos, B                             West High                 2:45.78
2. Nakghara, M                         West High                2:47.76
3. Faust, A                                West High                2:48.22
4. Kassa, T                               West High                 2:51.06
5. Laporich, G                           West High                 2:59.16
6. Cripps                                   West High                3:02.10
7. Gonzalez                               LB Wilson                  3:08.44
8. Hui                                       LB Wilson                   3:09.18
9. Mcgrew                                LB Wilson                  3:09.41
10. Roger                                  LB Wilson                 3:11.38
11. Flores                                  LB Wilson                 3:18.88
12. Erickson                              LB Wilson                 3:32.10
Boys F/S 1600m
= = = = = = = = = = = = = = = = = = = = =
Name                                       School                   Finals
= = = = = = = = = = = = = = = = = = = = =
1. D. Mendoza                          St. John Bosco         5:10.52                                     
2. Cruz                                     St. John Bosco          5:10.71
3.                                             Loyola                       5:16.98
4. Tanisaka                               Torrance                  5:19.43
5. Mizukami                              Torrance                    5:20.70
6. Diaz                                      Torrance                    5:34.77
7. Hong                                     Torrance                   5:37.25
8. Bae, S                                   West High                 5:37.68
9. Nguyen                                 Fountain Valley        5:39.82
10. Santiago                              Fountain Valley      5:44.25
 
Girls F/S 1600m
= = = = = = = = = = = = = = = = = = = = = 
Name                                       School                   Finals
= = = = = = = = = = = = = = = = = = = = = 
1. Gonzalez                               LB Wilson                   6:43
2. Jarkin                                    Fountain Valley          6:55
3. Meclenents                           Fountain Valley          6:58
 
Boys Varsity 1600m
= = = = = = = = = = = = = = = = = = = = =
Name                                       School                     Finals
= = = = = = = = = = = = = = = = = = = = =
1. Durke                                   LB Wilson                   4:51.98
2. Matus                                   St. John Bosco          5:05.08
3. Martinez                               LB Wilson                   5:05.35
4. Loyola                                  Loyola                       5:07.60
5. Garcia                                   St. John Bosco           5:14.38
6. Monterrosas                          LB Wilson                  5:21.06
7. Grogren                                LB Wilson                   5:24.35
8. Diaz                                      LB Wilson                    5:30.28
9. Ayala                                    St. John Bosco          5:30.46
10. Loyola                                 Loyola                       5:32.79
11. Ryan                                   West High                  5:33.32
12. Rodriguez                            St. John Bosco         5:33.53
13. Loyola                                 Loyola                       5:33.76
14.Chhouk                                LB Wilson                  5:52.26
15. Wilson                                 LB Wilson                  5:59.32
16. Wieczorek                           LB Wilson                  6:00.63
 
Girls Varsity 1600m
= = = = = = = = = = = = = = = = = = = = =
Name                                       School                   Finals
= = = = = = = = = = = = = = = = = = = = =
1. Walden                                 Torrance                   6:12.02
2. Cisneros                                Desert Christian       6:17.7
3. Perez                                                Perez            6:20.90
 
SMR Boys F/S (200,200,600,400)
= = = = = = = = = = = = = = = = = = = = =
School                                                             Finals
= = = = = = = = = = = = = = = = = = = = =
1. St. John Bosco                                               3:11.21
2. LB Wilson                                                       3:12.9
3. St. John Bosco                                               3:27.92
4. West High                                                       3:34.09
5. Fountain Valley                                              3:34.90
6. Fountain Valley                                               3:35.14
7. Fountain Valley                                               3:40.45
8. Torrance                                                         3:41.35
9. West High                                                       3:44.83
10. Torrance                                                        3:45.30
11. West High                                                      3:52.47
 
SMR Girls F/S (200, 200, 600, 400)
= = = = = = = = = = = = = = = = = = = = =
School                                                                 Finals
= = = = = = = = = = = = = = = = = = = = 
1. Fountain Valley                                               3:52.95
2. Fountain Valley                                               4:00.51
3. LB Wilson                                                        4:02.02
4. West High                                                       4:02.07
5. Fountain Valley                                               4:05.07
6. Fountain Valley                                               4:06.28
7. West High                                                       4:09.47
8. West High                                                       4:13.76
9. Torrance                                                          4:16.46
10. West High                                                     4:17.77
11. Fountain Valley                                              4:18.86
12. West High                                                     4:33.00
13. Desert Christian                                            4:46.17
 
SMR Boys Varsity (200, 200, 600, 400)
= = = = = = = = = = = = = = = = = = = = =  
School                                                                    Finals
= = = = = = = = = = = = = = = = = = = = =
1. St. John Bosco                                          3:06.88
2. Fountain Valley                                         3:07.87
3. St. John Bosco                                         3:09.93
4. West High                                                 3:12.57
5. Fountain Valley                                          3:20.23
6. LB Wilson                                                   3:21.19
7. Torrance                                                    3:21.44
8. West High                                                 3:24.25
9. LB Wilson                                                   3:29.29
10. Fountain Valley                                        3:32.59
11. Fountain Valley                                        4:04.55
12. Desert Christian                                      4:05.67
 
SMR Girls Varsity (200, 200, 600, 400)
= = = = = = = = = = = = = = = = = = = 
School                                                               Finals
= = = = = = = = = = = = = = = = = = 
1. Fountain Valley                                         3:42.29
2. LB Wilson                                                  3:45.44
3. LB Wilson                                                   3:51.41
4. West High                                                 3:56.14
5. Fountain Valley                                         3:56.99
6. Torrance                                                   4:19.08
7. Desert Christian                                        4:20.14
8. LB Wilson                                                  4:20.82
9. West High                                                 4:31.24
10. Desert Christian                                      4:59.71
 
Girls DMR Combine (1200, 400, 800, 1600)
= = = = = = = = = = = = = = = = = = = = =  =
School                                                                    Finals
= = = = = = = = = = = = = = = = = = = = = =
1. Fountain Valley 'V'                                       13:27.39
2. Fountain Valley 'V'                                       13:31.52
3. Torrance       'V'                                           13:51.52
4. Desert Christian 'V'                                      14:13.66
5. LB Wilson     'F/S'                                         14:17.53
6. Torrance       'V'                                           14:27.81
7. LB Wilson     'V'                                             14:38.47
8. Fountain Valley         'F/S'                            14:55.89
9. Torrance       'F/S'                                        15:35.58
10. LB Wilson   'F/S'                                          15:46.82
11. LB Wilson   'F/S'                                          15:59.26
12. Fountain Valley        'F/S'                            16:02.41
13. Fountain Valley        'F/S'                             16:14.38
14. Fountain Valley        'F/S'                            16:51.78
15. Fountain Valley        'F/S'                          17:21.53
 
Boys DMR Combine (1200, 400, 800, 16000
= = = = = = = = = = = = = = = = = = = = =  =
School                                                                       Finals
= = = = = = = = = = = = = = = = = = = = = = 
1. Fountain Valley         'V'                                11:19.76
2. St. John Bosco          'V'                                11:39.58
3. St. John Bosco          'F/S'                             11:42.11
4. Desert Christian        'V'                               11:49.99
5. Fountain Valley         'V'                                12:06.90
6. Torrance       'V'                                          12:30.60
7. LB Wilson     'V'                                             12:33.74
8. Torrance       'V'                                             12:48.56
9. LB Wilson     'F/S'                                          12:51.80
10. LB Wilson   'V'                                              12:59.86
11. Fountain Valley        'F/S'                            13:07.64
12. Fountain Valley        'F/S'                            13:13.60
13. LB Wilson   'F/S'                                         13:22.86

 
Girls Varsity Shot Put Relay
= = = = = = = = = = = = = = = = = = = = =
School                                                                       Finals
= = = = = = = = = = = = = = = = = = = = =
1. Torrance                                                        72'6"
2. Desert Christian                                              39'3"
3. LB Wilson                                                       31'7"
 
Boys Varsity Shot Put Relay
= = = = = = = = = = = = = = = = = = = = =  
School                                                                         Finals
= = = = = = = = = = = = = = = = = = = = =
1. Torrance                                                       118'8.5"
2. St. John Bosco                                              103'8.5"
3. D.C. United                                                   101'1"

---
SPONSORED HEADLINES
ESPN TOP HEADLINES
MOST SENT STORIES ON ESPN.COM