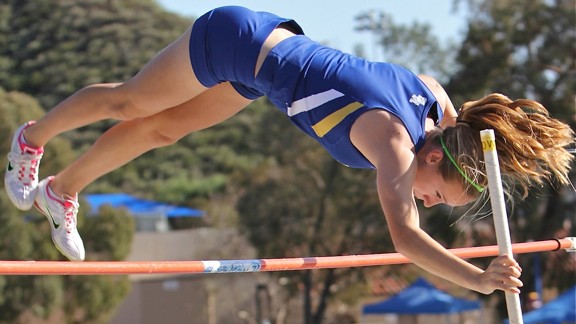 Santa Margarita's Kaitlyn Merritt warmed up for this weekend's Orange County Championships by setting a state freshmen record in the girls pole vault in Trinity League action on Thursday.
---
By Rich Gonzalez
Editor, ESPNHS/DyeStatCal
(April 19, 2011) -- Santa Margarita High's Kaitlyn Merritt's quest to capture her first Orange County Championships title this weekend now looks more realistic than ever. One question: Will she break her third state record to aid her in that journey?
Merritt soared to a lifetime-best clearance of 13 feet even at Servite High on Thursday to win the girls pole vault competition in a Trinity League meet against Rosary, breaking her own state freshman class record in the process. Merritt had previously cleared a class record 12-10.25 this season.
On a greater scale, Merritt's mark moves her to fourth on the all-time Orange County list, with Newport Harbor alum Allison Stokke's 13-07.00 from 2007 topping the chart. Merritt also rose to 16th on the all-time California high school list and sixth in Southern Section history.
Merritt's next challenge will be at Saturday's Orange County Championships, where she's the only frosh entered in the 27-athlete varsity field. Although her record clearance moved her into a tie for this year's state lead in the event (along with San Diego Rancho Bernardo's Mimi Lian), four of the top 10 vaulters in the state will be competing at Mission Viejo in the big OC meet this weekend.
Also entered at the Orange County Championships are Santa Ana Foothill's Victoria Rische and Huntington Beach's Amy Loschiavo (each clearing 12-07 to rank tied for sixth in the state) and Huntington Beach Edison's Karen Snapper, whose 12-04 effort in a late March triangular meet ranks her ninth.
California's All-Time Track and Field Records
---