---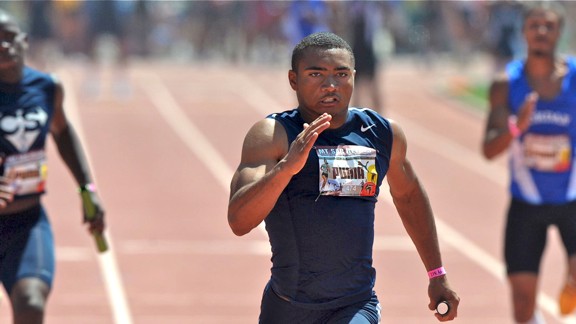 Notre Dame dasher
Khalfani Muhammad
topped the qualifiers to finals in both the 100 and 200. The Knights are in contention for the team title along with Serra.
(Kirby Lee file photo)
STATE MEET PRELIMS RECAP
By Mike Kennedy
---
Welcome to "The Valley".
When the first running event prelims of the 94th annual state meet at Buchanan High in Clovis (just outside of Fresno) got underway at 5 p.m., the heat of the day (104 degrees) had passed less than an hour earlier. But just barely, as it was still above 100 at 102. By 9 p.m. is still above 90 degrees. There were gentle winds out of the northwest that aided the sprinters and hurdlers as well as the jumpers -- all of whom who seemed to warm to the conditions.
The opposite was true of the distance runners who, for the most part, were content to settle into a moderately fast pace and put their fortunes in a fast finish that rewarded some and punished others. In races of 800 meters or less and all field events, the top nine advance to Saturday's finals. Twelve qualify for the 1,600 final and the 3,200 is a straight final.
Qualifying is all about surviving and advancing and, for the most part, that is what teams contending for titles were able to do. Long Beach Poly, Serra (Gardena) and El Camino (Oceanside) were the major players in the battle of the girls' team title going in to the prelims and now the three teams appear to be even closer. Notre Dame (Sherman Oaks) and Serra both improved their chances to win the boys' team crown but Serra may have made things almost even.
In the girl's sprints, all three title-contending teams will have major players. Poly's Ariana Washington came into the meet with the state's leading time in the 100, at 11.45, and third-best time in the nation. She won her heat in 11.69, but was upstaged by both Jasmine Gibbs of El Camino (Oceanside) and Alexis Faulknor of Serra.
Gibbs was very impressive in taking over the state lead with an 11.43 to rank No. 3 in the nation and Faulknor won her heat in 11.55 for the No. 3 time in the state. In the 200, Washington again won her heat, this time in 23.78 but was again betteredthis time by Faulknor, who won her heat in 23.57 for the third-fastest time in the nation.
For Faulknor, this season has been a revelation when she has finally began to show why she was such a highly regarded sprinter earlier in her career. Gibbs, who has run 23.88, managed just 24.06 in her heat. Renetia Jones of Serra is undefeated in the 400 and easily improved her state-leading mark to 54.26.
Khalfani Muhammad of Notre Dame displayed s strong second 50 meters in running 10.44 in the 100. What had to be even more important for Notre Dame was the performance of Eric McDaniel, who took down his personal best 10.70 with a 10.56. E.J. Floreal of Palo Alto, considered to be the most serious challenger to Muhammad, stumbled in the 100 where he ran just 10.64 but came back to run 21.24 in the 200 with an impressive stretch drive. Like James in the girls' 400, junior Alex Rohani of Beverly Hills has not faced a serious challenge but that should change when he is matched up against Isaiah Cantu of Hanford, Elliot Surovell of Carlmont (Belmont) and Rashard Clark of Dorsey (Los Angeles).
Traci Hicks of Poly has the fastest 100 hurdles time in the nation under any conditions at 13.22 and a legal best of 13.63, but if she gets the same start that she got in her prelim heat when she was left in the blocks, she likely will not improve on her 13.75 qualifying time. Sasha Wallace of Holy Names (Oakland) won in 13.40 for the state lead and the No. 2 time in the nation. The surprise of the event was sophomore Pattriana Perry of Vacaville. Showing a highly developed ability to get off the hurdle quickly, she ran 13.78 to defeat freshman Jasmyne Graham of Vista Murrieta, who earlier had ran 13.89. Deja Pugh of Fairfield was the top qualifier in the 300 hurdles at 41.73. Also winning her heat in 42.23 was Jordie Munford of Rancho Cucamonga, who has run 41.37 for the No. 3 time in the nation. Sophomore Kymber Payne of Poly qualified in 42.60.
Junior Lloyd Sicard of Serra is in both the 110 and 300 hurdles finals. He could well have a major impact on the outcome of the boys' team race. He finished second in his 110-meter hurdle heat running a person best of 14.17 that ranks No. 2 in the state. Kenneth Walker of Kennedy (Richmond) won the race in 13.81 to move to No. 8 in the nation. Sicard's previous legal best was just 14.47. He was second in his heat in the 300 hurdles at 37.61. Jarrett Gonzales of Damien (La Verne) was the top qualifier at 37.44 and leads the state at 36.80.
The long jump and the triple jump will weigh heavily in the team title race, especially for the girls. The consistent Faulknor and Gibbs each took just one long jump, but each was good enough to lead all qualifiers at 19-4 ¾ and 19-4 ½ respectively. Faulknor has a legal best of 19-9 ¾ and Gibbs had previously jumped 20-11 when no wind gauge was present. Mishe Scott and Tamika Brazzel, both of El Camino, were not in the top nine qualifiers after two rounds, but both advanced with final-round efforts of 19-0 and 18-10, respectively. Scott has a legal best of 19-9½.
Ashlie Curenton of Silverado (Victorville), who is the state leader and No. 2 in the nation at 20-4, also advanced. Brazzel also qualified in the triple jump with just one jumpa 39-10 ½ effort. She ranks No. 2 in the state at 40-10 ½ behind 42-4 ¾ national leader Sasha Wallace, who also advanced with a 41-7 ½ effort. Danielle Bryan of El Camino, who has a best of 5-9 to rank No. 3 in the state, was the leading qualifier in the high jump. Howeve,r El Camino's Jakayla Daniels failed to qualify in the discus, where she had thrown 145-9. Sophomore Stamatia Scaravelis of Dos Pueblos (Goleta), who has thrown a state-leading 49-8 ½ in the shot put, was the leading qualifier at 44-6. Defending discus champion Breana Jemison of Carlsbad was the leading discus qualifier at 145-5. Freshman Kaitlyn Merritt of Santa Margarita (Rancho SM) and Taylore Jaques of Presentation had no misses in the pole vault as eight jumpers cleared 12-3.
The only boys field event where either Serra or Notre Dame have a likely scorer is the long jump, where very consistent sophomore Adoree Jackson had the leading effort at 24-2 that ranks No. 4 in the state. State leader sophomore Nathaniel Moore of Bishop O'Dowd (Oakland), who has a best of 24-7 ¾ to rank No. 3 in the nation, also advanced at 23-4. Tim White of Hart (Newhall) took just one triple jumpa 50-2 ¾ effortbut it was good enough to lead the state and rank No. 4 in the nation. Ethan Cochran of Newport Harbor (Newport Beach) got a big state leading best in the shot at 64-6 ½ to rank No. 8 in the nation. He also had a qualifying best of 190-0 in the discus where he ranks No. 2 in the nation at 209-8. High jump favorites Miles Poullard of Colony (Ontario) and Cody Crampton of Canyon (Anaheim) had no misses as 10 jumpers cleared 6-8. Peter Chapman of Murrieta Valley (Murrieta) and Luigi Colella of Westlake (Westlake Village) had no misses as nine athletes cleared 15-6 in the pole vault.
Serra was the top qualifier at 46.01 in the 4x100, where Poly ran 46.56. For the year, Poly has the advantage 45.72 to 45.90. In the 4 x 400 relay, Serra had the top qualifying time of 3:46.43 but Poly was disqualified for interference and that could play huge in the team race. Serra is the state leader at 3:44.53. St. Mary's Academy (Inglewood), with best of 46.04 and 3:47.46 should score in both relays.
Serra's boys were the top qualifier in the 4 x 400 relay with a state-leading 3:14.60 and also advanced in the 4 x 100 relay with a 41.58. The Cavaliers have run 41.27. Rio Mesa was the top qualifier 4 x 100 relay at 41.14 and have a state best of 40.95. The Spartans also qualified in the 4 x 400 relay have run 3:16.02. Notre Dame advanced in the 4 x 400 relay with a 41.36 but own the state's second-best time at 41.01.
In the girls distances, two-time state meet 800-meter champion Amy Weissenbach of Harvard-Westlake (Studio City) is a heavy favorite to make it three in a row following her national interscholastic record of 2:02.04 set last year, but the undefeated Kody Atkins of Chico, who had the top qualifying time at 2:08.54, might make things interesting. Savanna Camacho of Templeton, who was second in 2011, also advanced. Cami Chapus of Harvard-Westlake also returns to defend her 1,600 title but will again have to fend off Nikki Hiltz of Los Altos. They were the top two qualifiers, with Hiltz running 4:55.09 and Chapus running 4:56.03. Chapus has run 4:43.90 and Hiltz 4:44.02 this year.
The boys' 800 was led by Kevin Gonzalez of Vista Murrieta at 1:51.90 and Alexander Monsivaiz of Army-Navy (Carlsbad) at 1:51.92. Monsivaiz is the state leader at 1:50.47. All nine qualifiers ran between 1:51.90 and 1:52.88. Two runners under 1:53.0 did not advance
Luis Gutierrez of Rancho Cucamonga at 4:10.57 was the leading qualifier in the 1,600 followed by Darren Fahy of La Costa Canyon (Carlsbad) and sophomore Blake Haney of Stockdale (Bakersfield). State leader Cody Brazeal of Buchanan (Clovis), at 4:07.72, also advanced. Fahy has run 4:08.15 and Gutierrez, 4:08.68. Gutierrez has a very wicked final 400.
---