---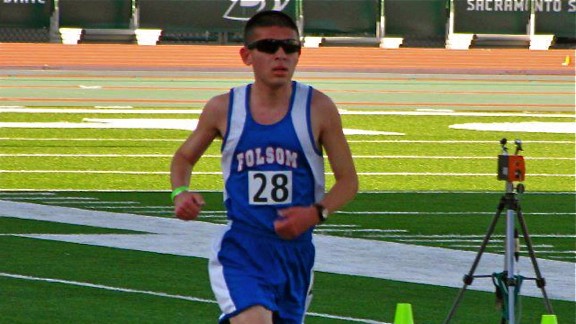 Folsom's
Michael Kinoshita
was among the top high schoolers at the San Rafael Miracle Mile.
---
San Rafael HS duo sets pace at San Rafael Miracle Mile
By Rich Gonzalez
Editor, ESPNHS/DyeStatCal
(July 15, 2012) - San Rafael High School teammates Joey Morris and Jose Ordonez each posted Top 30 individual finishes to highlight the youth performers at Sunday's San Rafael Miracle Mile. Morris clocked 4:45 to place 27th overall while Ordonez was timed in 4:50 to place 30th.
Folsom's Michael Kinoshita rounded out the leading prep performers, placing 46th in 4:57.
Siblings Yosef and Giliat Ghebray, who prepped at James Logan before also starring at UC Berkeley, finished 1-2 overall.
---
Place Name City Bib # Age Gender Time
1 Yosef Ghebray Oakland CA 624 25 M 4:10.0
2 Giliat Ghebray Oakland CA 623 28 M 4:11.0
3 Richard Jones Vacaville CA 672 24 M 4:12.0
4 Jt Sullivan Redwood City CA 635 23 M 4:16.0
5 Matthew Duffy El Sobrante CA 621 22 M 4:16.0
6 Jameson Mora Arroyo Grande CA793 28 M 4:17.0
7 Leif Anderson Davis CA 795 25 M 4:22.0
8 Konrad Knutsen San Francisco CA 627 35 M 4:22.0
9 Charlie Brenneman Rocklin CA 617 34 M 4:23.0
10 William Chen San Francisco CA 791 18 M 4:24.0
11 Brian Gillis San Fr CA 737 24 M 4:26.0
12 Nick Clinton San Francisco CA 620 27 M 4:27.0
13 John Van Metre San Jose CA 733 30 M 4:30.0
14 Andrew Wright Oakland CA 799 25 M 4:34.0
15 Justin Mikecz San Francisco CA 632 32 M 4:35.0
16 Kevin Selby Martinez CA 663 39 M 4:36.0
17 Torrey Olson Moraga CA 731 25 M 4:37.0
18 Chikara Omine San Francisco CA 732 29 M 4:38.0
19 Michael Wortman Rohnert Park CA 642 27 M 4:39.0
20 Brandon Shirck San Luis Obispo CA 734 23 M 4:39.0
21 Justin Valdez San Rafael CA 640 21 M 4:39.0
22 Jaime Heilpern 587 42 M 4:40.0
23 Brendan Scanlon Chico CA 662 24 M 4:42.0
24 Patrick Marjolet San Francisco CA 730 35 M4:42.0
25 Jason Lee San Francisco CA 676 36 M 4:43.0
26 Chris Dodge Lafayette CA 583 41 M 4:45.0
27 Joey Morris (San Rafael HS) CA 651 17 M 4:45.0
28 Alan Shelton San Jose CA 715 23 M 4:49.0
29 Kevin Ostenberg Newcastle CA 717 51 M 4:50.0
30 Jose Ordonez (San Rafael HS) CA 739 17 M 4:50.0
31 Darrin Banks Berkeley CA 675 46 M 4:51.0
32 Joe Wehrheim San Francisco CA 599 40 M 4:51.0
33 Alison Greggor Novato CA 609 24 F 4:51.0
34 Anthony McGrath San Francisco CA 592 45 M 4:52.0
35 Kris Paaso Menlo Park CA 568 41 F 4:52.0
36 Jonathan Bretan San Rafael CA 738 29 M 4:52.0
37 Greg Taleck San Francisco CA 636 36 M 4:53.0
38 Carlos Urrutia San Jose CA 598 41 M 4:54.0
39 Cameron Bronstein San Rafael CA 618 19 M 4:54.0
40 Evan Sparling San Francisco CA 798 25 M 4:54.0
41 Alan Reynolds Sausalito CA 674 48 M 4:55.0
42 Cliff Lentz Brisbane CA 589 47 M 4:56.0
43 Andrew Chan 581 41 M 4:56.0
44 Mark McDermott San Rafael CA 735 34 M 4:56.0
45 Brian Pilcher Ross CA 706 55 M 4:57.0
46 Michael Kinoshita (Folsom HS) CA 702 17 M 4:57.0
47 Ashley Carroll Menlo Park CA 604 29 F 4:58.0
48 Lee Koffler San Francisco CA 628 36 M 4:58.0
49 Toshikazu Hosaka Belmont CA 626 34 M 5:00.0
50 Paul Broyer Sacramento CA 619 26 M 5:00.0
51 Rob Elia Moraga CA 666 48 M 5:01.0
52 Jason Reed San Bruno CA 1009 33 M 5:01.0
53 Douglas Steedman 554 57 M 5:02.0
54 Jeffrey Adkins Granite Bay CA 522 51 M 5:06.0
55 Douglas Murdoch Santa Rosa CA 593 47 M 5:06.0
56 Nicholas Piellusch San Jose CA 671 32 M 5:06.0
57 Andy Howard Santa Rosa CA 536 51 M 5:07.0
58 Dan Shore Mill Valley CA 655 43 M 5:08.0
59 Bryan Porter Santa Rosa CA 724 50 M 5:09.0
60 Adam Lucas San Francisco CA 590 45 M 5:11.0
61 Drew Lindsey San Francisco CA 629 35 M 5:12.0
62 Barry Smith Oakland CA 710 53 M 5:13.0
63 Michael Axinn San Fr CA 524 52 M 5:14.0
64 Jeff Teeters Berkeley CA 557 53 M 5:14.0
65 Nicole Campbell Mountain View CA 603 30 F 5:14.0
66 Craig Steinmaus San Francisco CA 555 50 M 5:15.0
67 Michael Gottardi Gold River CA 586 45 M 5:15.0
68 Zacharias Martinez Larkspur CA 736 12 M 5:16.0
69 Ian MacLeod Albany CA 540 52 M 5:17.0
70 Yurik Riegel Berkeley CA 659 42 M 5:17.0
71 Michael Singleton Modesto CA 596 42 M 5:17.0
72 Andrew Apfelbaum San Fr CA 579 48 M 5:19.0
73 Isaac Medrano Santa Clara CA 631 32 M 5:19.0
74 Tanya Ferreira Royal Oaks CA 606 23 F 5:20.0
75 Eduardo Vazquez Sausalito CA 641 39 M 5:20.0
76 Bruce Thrupp Oakland CA 653 50 M 5:21.0
77 Steven PitsenbargerMill Valley CA 594 44 M 5:23.0
78 Suzanne Segesta Redwood City CA 670 41 F 5:24.0
79 Raymond Yu San Mateo CA 643 31 M 5:24.0
80 Eric Gullikson Oakland CA 709 57 M 5:26.0
81 Nancy Thomas 574 42 F 5:27.0
82 Felice Kelly Palo Alto CA 669 31 F 5:27.0
83 Robert Pickens Campbell CA 718 42 M 5:28.0
84 Peter Hsia San Francisco CA 660 52 M 5:28.0
85 Mike Smith Castro Valley CA 658 47 M 5:28.0
86 Arthur Beckert Mill Valley CA 525 61 M 5:29.0
87 Dominic Johnson San Anselmo CA 588 45 M 5:29.0
88 Claire Saxton Santa Clara CA 616 34 F 5:29.0
89 Mark Spinozzi San Rafael CA 634 39 M 5:29.0
90 Alyson Barrett-RyanSan Francisco CA 600 33 F 5:31.0
91 Jessica Gonzales San Jose CA 608 23 F 5:31.0
92 Krystal Buck San Jose CA 602 24 F 5:31.0
93 Don Porteous Alameda CA 545 66 M 5:32.0
94 Dan Borgonovo Fairfax CA 790 47 M 5:32.0
95 Eileen Brennan-ErlerSan Rafael CA 716 51 F 5:33.0
96 Robert Speck Martinez CA 712 57 M 5:34.0
97 Brian McCurdy San Rafael CA 673 56 M 5:34.0
98 Yvette Ferreira Sacramento CA 725 38 F 5:34.0
99 Francisco Rios Duque-San Raf. HS 1000 17 M 5:35.0
100 Christian Oakes San Rafael CA 543 53 M 5:36.0
101 Jim Bordoni Los Altos CA 526 59 M 5:37.0
102 Andrew Green Campbell CA 657 44 M 5:37.0
103 Kelly O'Mara San Rafael CA 612 27 F 5:37.0
104 David Woodruff Carmichael CA 708 54 M 5:39.0
105 Vanessa Lordi Livermore CA 611 35 F 5:39.0
106 Felix Tong San Francisco CA 638 33 M 5:39.0
107 Justine Owen Kensington CA 661 34 F 5:40.0
108 Steve Davis Sacramento CA 582 48 M 5:41.0
109 Geoff Mohlin San Anselmo CA 677 49 M 5:42.0
110 Bill Dunn Sunnyvale CA 531 64 M 5:44.0
111 Lisa Renteria Los Gatos CA 614 34 F 5:44.0
112 Mike Sullivan San Bruno CA 556 52 M 5:46.0
113 Heather Leutwyler San Fr CA 610 34 F 5:47.0
114 Josh Hernandez San Jose CA 741 24 M 5:47.0
115 Jeanine Holmlund Orinda CA 563 47 F 5:48.0
116 Ronnie Goodman Novato CA 534 51 M 5:49.0
117 Michael Holland Novato CA 703 63 M 5:49.0
118 Joann Pavlovcak San Francisco CA 656 40 F 5:49.0
119 Karen Jeffers Wheatland CA 564 49 F 5:52.0
120 John Hirschberger San Fr CA 535 60 M 5:54.0
121 Jim Eckford Oakland CA 532 57 M 5:55.0
122 Todd Giedt Sausalito CA 585 42 M 5:55.0
123 Mary Kelly Persyn San Fr CA 569 44 F 5:56.0
124 Asit Panwala San Francisco CA 633 38 M 5:56.0
125 Brian Davis Sacramento CA 529 46 M 5:57.0
126 Hans Schmid Greenbrae CA 552 72 M 5:57.0
127 Robert Qualls Reno NV 546 60 M 5:59.0
128 Andy Harris Sacramento CA 727 52 M 6:00.0
129 Bill Brusher Oakland CA 527 60 M 6:00.0
130 Suzanne Cordes Alamo CA 507 52 F 6:02.0
131 Patricia Shore Mill Valley CA 654 46 F 6:02.0
132 Alexandra Newman Golden CO 721 40 F 6:03.0
133 Louise Stephens San Francisco CA 573 46 F 6:04.0
134 Franklin Ruona Novato CA 549 66 M 6:07.0
135 Connor Thorp San Rafael CA 1008 9 M 6:08.0
136 Arthur Mitchum Hayward CA 541 60 M 6:09.0
137 Arnold Utterback Sacramento CA 558 66 M 6:10.0
138 Mary Vidovich Los Gatos CA 667 48 F 6:11.0
139 Michelle Bollinger Novato CA 644 16 F 6:12.0
140 Miles Keefe 1004 9 M 6:12.0
141 Jane Stephens San Francisco CA 726 17 F 6:13.0
142 Maria Briones 503 56 F 6:15.0
143 Fiona McCusker San Francisco CA 567 48 F 6:16.0
144 Minori Tsuge Oakland CA 576 46 F 6:16.0
145 Amy Sonstein San Francisco CA 572 42 F 6:20.0
146 Suzette Smith Alameda CA 520 56 F 6:23.0
147 Sharlet Gilbert El Sobrante CA 707 61 F 6:24.0
148 Bz Churchman Oakland CA 704 50 F 6:26.0
149 Ruth Rainero San Francisco CA 518 57 F 6:27.0
150 Bonnie Kirkpatrick San Rafael CA 565 45 F 6:28.0
151 Lee D'Alessandro San Fr CA 560 43 F 6:29.0
152 Kerry Koller San Francisco CA 513 53 F6:30.0
153 Mary Wells Arcata CA 521 57 F 6:33.0
154 Yavanna Reynolds El Cerrito CA 615 31 F 6:33.0
155 Alice Shikina Daly City CA 570 41 F 6:34.0
156 Shauna Pirotin Oakland CA 613 27 F 6:38.0
157 Kara Downey Palo Alto CA 797 27 F 6:39.0
158 Daniel Tapia-Jimenez Davis CA 637 23 M 6:39.0
159 Malinda Walker San Francisco CA 578 42 F 6:42.0
160 Erika Kikuchi Woodside CA 740 34 F 6:42.0
161 Debra Cramer Alameda CA 508 54 F 6:43.0
162 Therese Brewitz Oakland CA 559 43 F 6:45.0
163 Karen Kiely Mill Valley CA 512 56 F 6:46.0
164 Donna Chan San Francisco CA 504 61 F 6:50.0
165 Robert Gormley Moraga CA 719 70 M 6:50.0
166 Carina Casissa Corte Madera CA 645 14 F 6:50.0
167 Ed Klotz Incline Village NV 539 52 M 6:51.0
168 Bob Lord San Jose CA 701 73 M 6:52.0
169 David Norlander Los Altos CA 542 73 M 6:53.0
170 Joe Hurtado Sunnyvale CA 537 71 M 6:55.0
171 Carmen Briones San Leandro CA 502 60 F 6:56.0
172 Christina Lachman Kentfield CA 515 53 F 6:57.0
173 Jo Anne Rowland Concord CA 519 64 F 7:01.0
174 Melinda Morse San Ramon CA 516 60 F 7:05.0
175 Donnelly Gillen Corte Madera CA 794 28 F 7:10.0
176 Casey Borgonovo Fairfax CA 792 9 M 7:10.0
177 Julios Ratti Oakland CA 547 61 M 7:15.0
178 Dennis Scott Sacramento CA 553 64 M 7:17.0
179 Walter Underhill San Rafael CA 664 64 M 7:18.0
180 Elmo Shropshire Novato CA 720 75 M 7:19.0
181 Karen Fishwild-Andrews San Ramon CA 714 52 F 7:21.0
182 Bill Dodson Mountain View CA 530 77 M 7:22.0
183 Russ Kiernan Mill Valley CA 538 74 M 7:28.0
184 Kate Stewart Berkeley CA 713 61 F 7:29.0
185 Monty Schacht Fairfield CA 550 61 M 7:33.0
186 Laurel Collins Berkeley CA 505 60 F 7:34.0
187 Chris O'Connor San Francisco CA 668 53 M 7:37.0
188 Lauren Thorp San Rafael CA 1006 11 F 7:37.0
189 Finley Keefe San Rafael CA 1003 6 M 7:40.0
190 Ellis Keefe San Rafael CA 1001 8 M 7:42.0
191 Kristin Keefe San Rafael CA 1002 40 F 7:46.0
192 Dianne Anderson Danville CA 501 66 F 7:48.0
193 Julius Schillinger Sonoma CA 705 65 M 7:49.0
194 Christne Na Davis CA 723 42 F 7:51.0
195 Laury Fisher Oakland CA 509 67 F 7:52.0
196 Bernie Hollander Novato CA 722 76 M 7:53.0
197 Lauren Lucas San Francisco CA 650 9 F 7:53.0
198 Sarah Goins San Francisco CA 607 29 F 7:53.0
199 Zachary Thorp San Rafael CA 1007 9 M 7:58.0
200 Anya Durgerian San Francisco CA 646 11 F 7:59.0
201 Irene Herman San Francisco CA 511 62 F 8:03.0
202 Ashley Cissell San Francisco CA 605 31 F 8:10.0
203 Lance Lucas San Francisco CA 649 8 M 8:25.0
204 Mei-Lai Lucas San Francisco CA 566 44 F 8:25.0
205 Suzanne Franco Oakland CA 510 70 F 8:26.0
206 Gigi Gokcek Sausalito CA 561 42 F 8:42.0
207 Caroline Green 665 31 F 8:51.0
208 Ross Franco Oakland CA 533 73 M 8:59.0
209 Elaine Merrill Berkeley CA 711 65 F 9:03.0
210 Kate Thorp San Rafael CA 1005 43 F 9:08.0
211 Jane Colman Oakland CA 506 69 F 9:11.0
212 Jeanne Olson Dublin CA 800 65 F 9:15.0
213 Phil Phythian Mill Valley CA 544 78 M 9:16.0
214 Sylvia Pizzini Oakland CA 517 71 F 9:40.0
215 Eddie Reyna Sunnyvale CA 548 81 M 9:55.0
216 Marianne Shine Mill Valley CA 571 49 F 11:18.0
217 Dina Kovash San Francisco CA 514 74 F 12:59.0
---