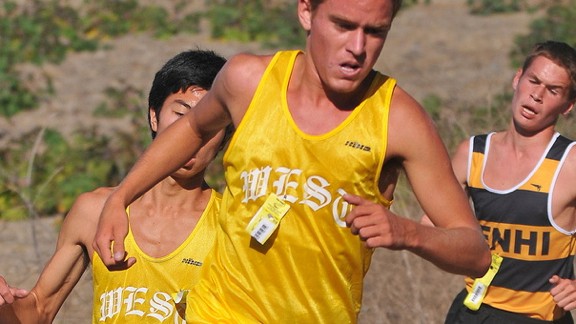 File photo
---
Crescenta Valley Park Cross Country Series
Race 2 July 25, 2012
KASSA HAS TWICE THE FUN
By Rich Gonzalez
Editor, DyeStatCal/ESPNHS
(July 25, 2012) - Teddy Kassa, Grant Lapovich, Matt Manalo and Jenny Landis spent Wednesday double-dipping at the Crescenta Valley Summer Series and came away with impressive results.
Kassa and Lapovich, a pair of lead returnee teammates for a West Torrance HS program we project to rank among the top ten in State Division III when the preseason rankings come out, each posted top five individual finishes while competing in both the 2k and the 3-mile challenges at the race series at Crescenta Valley Park in La Crescenta.
Kassa won both races - in times 6:34 and 17:43, respectively, for 2k and 3 miles - while Lapovich was fourth in the shorter race (6:47) and second (18:08) in the longer test. Crescenta Valley's Manalo (7:02/18:23) was the only other male to place in the top five in both races.
On the female side, Arcadia HS girls cross-country head coach Jenny Landis was the top finisher in both races. She clocked 7:38 for the 2k and 20:20 for the 3-miler, the latter being a 12-second improvement from her time in the opening race of the summer series. Landis, who competed on Azusa Pacific University's 2008 NAIA national championship women's cross-country squad, has sparked Arcadia's rise on the CIF-SS Division I scene in recent years.
---
2K Race
1 Kassa Teddy 6:34 West Torrance
2 Nakahara Michael 6:35 West Torrance
3 Lubs Steven 6:46 West Torrance
4 Lapovich Grant 6:47 West Torrance
5 Manalo Matt 7:02 CV
6 Collison Gabe 7:07 CV
7 Esparza Aaron 7:07 CV
8 Rowton Adam 7:08 CV
9 Chintalachavuum Ravi 7:08 West Torrance
10 Rodriguez Jason 7:09 West Torrance
11 Kalifa Adel 7:09 West Torrance
12 Ampo Christian 7:14 West Torrance
13 Gilmartin Blake 7:18 West Torrance
14 Landis Jenny F1 7:38 Arcadia XC Coach
15 Nguyen Brian 7:40
16 Starr Ryan 7:40
17 O'Brien Natalie F2 7:50 13 yr old
18 Siu Sze Hei 7:52
19 Lomeli Bryan 8:49
20 Martin Michael 8:15
21 Huber Liam 8:17
22 Poole Jacob 8:18
23 King Cali F3 8:48 CV
24 Ruby Hannah F4 8:49 CV
25 Witzeman Haley F5 8:49 CV
26 Johnson Zach 9:03 12 yrs
27 Collins Matt 9:15
28 Schetina Matt 9:16
29 Dols Steven 9:17
30 Leon Eduardo 10:05
31 Fitzgerald Rowan 10:08 8 yr old
32 Kershner Jackie 10:49
33 LaRocco Latasha 11:05
34 Hse Joy 11:34
35 Faunce Morgan 11:34
36 Tanner Annabelle 11:42 7 yr old
37 Tanner Kerry 12:07
38 Brice Mia 13:45 12 yr old
39 MacDougall Lyn 18:26
40 Negrete Micaela 18:29
41 Negrete Lise 18:30
42 Goodman Allison 23:44
3 mile Race
1 Kassa Teddy 17:43 West Torrance
2 Lapovich Grant 18:08 West Torrance
3 Esparza Aaron 18:19 CV
4 Collison Gabe 18:19 CV
5 Manalo Matthew 18:23 CV
6 Rodriguez Jason 18:32 West Torrance
7 Fitzgerald Colin 19:30 12 yr old
8 Ampo Christian 19:30 West Torrance
9 Witzeman Connor 19:51 CV
10 Lubs Spencer 19:54 West Torrance
11 Thomas Philip 20:02 CV
12 Cockroft Michael 20:08
13 Huezo Justin 20:10
14 Dickinson Kyle 20:17
15 Gilmartin Blake 20:18
16 Rogers Logan 20:18
17 Hwang Austin 20:19
18 Landis Jenny F1 20:20 Arcadia XC Coach
19 Chintalachavuu Ravi 20:21
20 Vats Manny 20:22
21 McNelis Robert 20:31
22 Crosthwaite Jason 20:51
23 RodriguezJacquelineF2 20:58 West Torrance
24 Chin Kyler 21:14
25 Starr Ryan 21:14
26 Shintaku Eric 21:24
27 Druten Jason 21:28
28 Green Kirsten F3 21:28
29 Evans Rob 21:32
30 Ji Matthew 21:39
31 Lomeli Bryan 21:41
32 Tenner Ben 21:42
33 Yang Alice F4 21:42 Arcadia
34 Tenner Cameron 21:43
35 Widholm Matthew 21:51
36 Duan Alice F5 21:55 West Torrance
37 King Calli F6 21:55 CV
38 Witzeman Haley F7 21:56 CV
39 Oelsner Laura F8 22:01 West Torrance
40 Duan Katherine F9 22:18 West Torrance
41 Carley Emma F10 22:38 West Torrance
42 Nguyen Brian 22:42
43 Griffie Hannah 22:49
44 Ramales Pablo 23:09
45 Marroquin Zoey 23:38
46 Szeles David 23:42
47 Carlson Don 23:52
48 Kikuchi Lauren 23:56
49 Kawa Colin 23:58
50 Mu Samantha 24:11
51 Swanson Kendall 24:39
52 Sharma Ravi 24:40
53 Nakahara Michael 24:48
54 LaRocco Travis 24:57
55 MacDougall John 25:21
56 Laveaga Roxanne 25:26
57 Dunn Caryl 25:47
58 Langley Timothy 25:52
59 Saggio Damara 26:12
60 Mu Christina 26:18
61 Banh Diana 26:22
62 Arslan Chantal 26:43
63 Witt Daniel 26:54
64 No Name 27:16
65 Fierro Bryanna 27:18
66 Ro Annie 27:34
67 Rowton Adam 27:40
68 Lam Diana 27:42
69 Oliver Melane 28:19
70 Zheng Erika 28:22
71 LaRocco Natasha 30:14
72 Kyaw Katarina 31:45
73 Ormseth Joy 31:45
74 Miranda Mary 32:11
75 Mitchell Riley 36:22
---