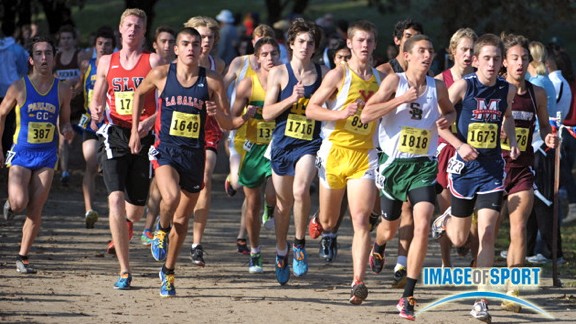 ---
BOYS TEAMS #62 AND BEYOND KICK OFF 2012 CROSS-COUNTRY COUNTDOWN
By Rich Gonzalez
Editor, DyeStatCal/ESPNHS
(Across Hill and Dale, Calif.) – As the 2012 high school cross-country season quickly approaches, runners throughout the Golden State are laying down the foundation for success, building up their aerobic base in recent weeks and establishing the teamwork bonds vital during the season.
DyeStatCal will be rolling out extensive season previews over the course of the next several weeks, including our "Hot 100" boys and girls team rankings from across the state, divisional state rankings, section rankings and individual rankings.
We'll start off with the "Boys Hot" 100 team rankings, then shift over to similar sets for the girls, then interspersing sectional and individual rankings as we continue deeper through the "Hot 100" teams all the way to Number One.
The team rankings are based on our deepest assessment ever of the Golden State landscape, placing greatest emphasis on previous cross-country performance of current team members, but will also take into consideration any track and field performances in the distance races in past seasons.
The rankings assessment takes into consideration performances from various competitions throughout the year, not just the state and sectional competitions. Doing so allows us to determine the best gauge of the true pecking order across the state.
Our posting procedure for the "Hot 100" teams will be a two-step process for each set of 20 teams posted. Step 1 involves an ALPHABETICAL and simple listing of the 20 team names in each block set, followed a day or two later by Step 2 as those twenty teams are then listed in RANK order and with accompanying capsule profiles of their 2012 season outlook.
So check out the list below and then check back later as we continually update the "Hot 100" countdown within the deepest state in the nation!
See you on the trails!
---
2012 DYESTATCAL/ESPNHS BOYS "HOT 100" CROSS-COUNTRY TEAMS

1.
2.
3.
4.
5.
6.
7.
8.
9.
10.
11.
12.
13.
14.
15.
16.
17.
18.
19.
20.
21.
22.
23.
24.
25.
26.
27.
28.
29.
30.
31.
32.
33.
34.
35.
36.
37.
38.
39.
40.
THE FOLLOWING 21 TEAMS, LISTED ALPHABETICALLY, ARE RANKED BETWEEN #41 AND 61.
THEIR ACTUAL RANK ORDER WILL BE REVEALED NEXT.
??. Amador Valley
??. Bella Vista
??. Cathedral
??. Damien
??. Downey
??. Clovis North
??. Leland
??. Mater Dei
??. Oak Park
??. Peninsula
??. Piner
??. Rancho Buena Vista
??. Redwood
??. St. Margaret's
??. San Ramon Valley
??. Saugus
??. South Pasadena
??. Torrey Pines
??. Warren
??. West Torrance
??. Woodcreek
THE REMAINING TEAMS #61 TO #100 ARE LISTED BASED ON THEIR ACTUAL RANKING
62. Murrieta Mesa, Murrieta (Southern/Division 2)
63. Moorpark (Southern/Division 2)
64. Arroyo (Southern/Division 2)
65. Laguna Hills (Southern/Divisiom 3)
66. Santa Ana Valley
67. Fillmore
68. Don Bosco
69. Roosevelt/Corona
70. Paso Robles
71. Claremont
72. Orange Lutheran
73. Campolindo
74. Santiago/Corona
75. Crespi, Encino (Southern/Division 4)
76. Granite Hills, Apple Valley (Southern/Division 3)
77. Simi Valley (Southern/Division 2)
78. Corona (Southern/Division 1)
79. Jesuit, Carmichael (Sac-Joaquin/Division 2)
80. Golden Valley, Santa Clarita (Southern/Division 2)
81. Birmingham, Lake Balboa (L.A. City/Division 1)
82. Clovis (Central/Division 1)
83. St. Joseph Notre Dame, Alameda (North Coast/Division 5)
84. Corona del Mar, Newport Beach (Southern/Division 3)
85. Beverly Hills (Southern/Division 3)
86. Miramonte, Orinda (North Coast/Division 3)
87. Chico (Northern/Division 3)
88. Alameda (North Coast/Division 2)
89. Salesian, Los Angeles (Southern/Division 4)
90. McFarland (Central/Division 2)
91. Edison, Huntington Beach (Southern/Division 1)
92. Royal, Simi Valley (Southern/Division 2)
93. San Marcos, Santa Barbara (Southern/Division 3)
94. Righetti, Santa Maria (Southern/Division 2)
95. Thousand Oaks (Southern/Division 2)
96. Riverside Poly, Riverside (Southern/Division 1)
97. South Hills (Southern/Division 3)
98. Folsom (Sac-Joaquin/Division 1)
99. Big Bear, Big Bear Lake (Southern/Division 4)
100. Los Gatos (Southern/Division 2)
100. Los Altos (Central Coast/Division 2)
---