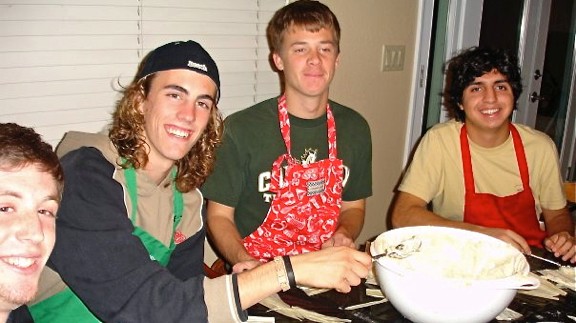 Josh Ruff, second from left, wearing the hat, in a lighter moment with friends. The former Oak Ridge HS runner and current assistant coach passed away tragically in a work-related accident.
---
We regretfully pass along the news that former Oak Ridge High School team member and current Trojans assistant coach
Josh Ruff
, 23, passed away on Wednesday after suffering a tragic work-related accident at his second job at a nearby winery.
Although we recalled the name instantly, it wasn't until more details came together in recent hours that we began to recall more of his positive and uplifting demeanor. In our very limited interaction, he definitelty was an upbeat youngster with an infectious smile that just lifted your day.
According to the story in the Sacramento Bee, Josh was three weeks away from getting married.
Our hearts go out to the immediate and extended Ruff family, to Oak Ridge head coach Rob Fairley and his entire staff, and to all of the runners from the Oak Ridge HS community. By various accounts, Josh truly was a nice and neat kid whose time came much too soon.
Sacramento Bee story.
Mountain Democrat story.
In El Dorado County story.
Village Life story.
Josh Ruff's facebook page.
---