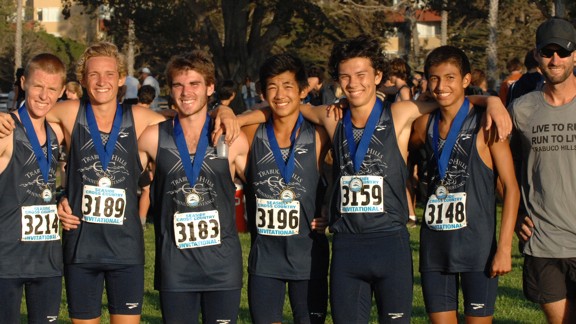 Trabuco Hills, above, excelled in the senior boys race and finished second in the all-classes-combined competition with a 75:53 team time. Dos Pueblos, the top-ranked squad in State Division 2, was tops in 74:58. Saugus (88:39 aggregate) handily won the girls competition..
FERNANDEZ LEADS DOS PUEBLOS TO TEAM TITLE
By Rich Gonzalez
Editor, DyeStatCal/ESPNHS
(VENTURA) -- Buoyed by a spectacular meet record performance from senior Bryan Fernandez, Dos Pueblos High's top-ranked boys program ambushed the competition with a scintillating "best overall" team-time effort in topping the action at the Seaside Invitational at San Buenaventura State Beach on Friday.
Fernandez began to gap the field by early in the middle mile en route to a 14:05 performance in shearing nine seconds off Louie Quintana's 22-year-old meet record on the 3-mile course. Among others he also passed on the meet's Who's Who list included the likes of Olympian Meb Keflezighi and former prep All-American Bryan Dameworth.
DP's scoring five clocked a meet record 74:58 in the process, averaging a fraction under 15 minutes per man. Trabuco Hills, ranked third in the state in Division 1, placed second at 75:53, with Palos Verdes next at 76:22.
On the girls side, Saugus continued its march toward a possible seventh consecutive state title with an 88:39 aggregate time that left it a full two minutes ahead of runner-up Palos Verdes in the second early-season showdown in as many weeks between the top-ranked teams in Southern Section Divisions 2 and 3, respectively. The team time was second-fastest in meet history, topped only by the iconic 2008 Saugus state championship squad.
Dos Pueblos junior Addi Zerrenner posted the fastest girls time of the day, clocking a class record 16:44 that also moved her to second on the meet's all-time list, trailing only legendary prep Kim Mortensen of Thousand Oaks, who blazed to the 16:35 senior class record in 1995.
In order to facilitate a safer start for the large fields of runners in this "race-by-grade" formatted invitational, meet management opted to move the start line up about 80 yards, which also allowed for an altering of the layout in other portions of the course. As a result, the sharp turns in certain areas were eliminated this year, yielding notably faster times in a preliminary year-over-year analysis. The course, according to meet management, was twice measured at a full three miles.
*QUOTES AND NOTES TO COME*
---
Royal Results - Contractor License
Seaside Invitational
Ventura - 9/7/2012
Event 8 Boys 3 Mile Run CC 12 Grade
=======================================================================
Meet Record: M 14:14.00 1990 Louis Quintana
Name Year School Finals Points
=======================================================================
Results - Men
1 Bryan Fernandez SR Dos Pueblos HS 14:05.77M 1
2 Zach Dion 12 Royal HS 14:41.44 2
3 Nolan Del Valle 12 Golden Valley HS 14:47.21 3
4 Rodrigo Ornelas 12 Saugus HS 14:54.70 4
5 Ryland Dreibelbis 12 Palos Verdes HS 14:55.33 5
6 Maxwell Davis SR Dos Pueblos HS 14:56.24 6
7 Naoki Omatsu 12 Trabuco Hills HS 14:57.78 7
8 Luke Dorman 12 Trabuco Hills HS 14:58.02 8
9 David Aguilar 12 Corona HS 14:58.45 9
10 Max Moncur 12 Trabuco Hills HS 15:03.05 10
11 Patrick Thedinga 12 Oak Park HS 15:04.67 11
12 Jonathon Tweodros 12 Palisades HS 15:09.87 12
13 Drake Johnston 12 Palisades HS 15:16.29 13
14 Zachary Diaz 12 Palos Verdes HS 15:19.24 14
15 Brendan Tinoco 12 Golden Valley HS 15:21.05 15
16 Vince Asturi 12 Royal HS 15:23.43 16
17 Austin Fisher 12 Saugus HS 15:24.06 17
18 Brendan Mccabe 12 Trabuco Hills HS 15:24.92 18
19 Isaac Gomez SR Fillmore HS 15:27.02 19
20 Hugo Valdovinos SR Fillmore HS 15:27.66 20
21 Adrian Mejia SR Fillmore HS 15:28.76 21
22 Benjamin York SR Dos Pueblos HS 15:29.39 22
23 Josh Soler 12 Corona HS 15:30.18 23
24 Christopher Ceja 12 Trabuco Hills HS 15:31.52 24
25 Alexander Frias SR Fillmore HS 15:32.20 25
26 Cole Helm 12 Saugus HS 15:32.27 26
27 Michael Keller 12 Moorpark HS 15:33.19 27
28 Teerth Patel 12 Moorpark HS 15:33.59 28
29 Anthony Rivas SR Fillmore HS 15:33.81 29
30 Max Gentner SR Hart HS 15:36.68 30
31 Eric Jones 12 Oak Park HS 15:38.66 31
32 Martin Montes 12 Buena HS 15:39.15
33 Luis Solano 12 Birmingham HS 15:39.71 32
34 Jake Schmitz 12 Trabuco Hills HS 15:39.80 33
35 Sam Dupas 12 Palos Verdes HS 15:41.30 34
36 Nicholas Martin 12 The Buckley School 15:41.93
37 Anthony Janaslani 12 Saugus HS 15:46.66 35
38 Glenn Cochran 12 Corona HS 15:47.54 36
39 Jose Almaguer SR Fillmore HS 15:48.17 37
40 Eduardo Juarez SR Hueneme HS 15:50.35
41 Tewodros Kassa 12 West Torrance HS 15:50.61 38
42 Michael Nakahara 12 West Torrance HS 15:50.77 39
43 James Scheuermann 12 Santa Barbara HS 15:51.47 40
44 Josh Sherfey SR Hart HS 15:51.56 41
45 Anthony Steinwender 12 Royal HS 15:51.60 42
46 Brandon Smithson 12 Corona HS 15:51.62 43
47 Ryan Beall 12 Palos Verdes HS 15:53.15 44
48 Tyler Lomeli 12 Saugus HS 15:54.75 45
49 Pablo Valero 12 Saugus HS 15:55.05 46
50 Grant Lapovich 12 West Torrance HS 15:56.35 47
51 Tommy Foudy 12 Royal HS 15:56.87 48
52 Luis Cruz SR Pacifica HS 15:58.93 49
53 Matthew Kern 12 Paraclete HS 15:59.21 50
54 Thatcher Barnes 12 Buena HS 15:59.64
55 Timothy Garcia 12 Golden Valley HS 16:00.95 51
56 Nate Parke 12 Palos Verdes HS 16:03.12 52
57 Brandon Park 12 Trabuco Hills HS 16:04.75 53
58 Luis Chavez 12 Royal HS 16:04.84 54
59 Trenten McGrann 12 Trabuco Hills HS 16:07.15
60 Nicholas Cordeniz SR Dos Pueblos HS 16:07.33 55
61 Jake Ledbetter SR Thousand Oaks 16:10.64 56
62 Gil Anuario SR Hart HS 16:10.70 57
63 Eric Gironda 12 Santa Monica HS 16:10.99 58
64 Parker Dusick 12 Redlands Eas 16:11.50 59
65 Thomas McKenna 12 Rio Mesa HS 16:12.63 60
66 Bryce Maki SR Thousand Oaks 16:13.10 61
67 Sehar Michael 12 Palisades HS 16:15.28 62
68 Alex Reilly 12 Notre Dame HS 16:15.87 63
69 Cristian Castellanos 11 Palmdale HS 16:15.94 64
70 Christian Soto 12 Santa Monica HS 16:17.47 65
71 Ricardo Garcia SR Hueneme HS 16:19.67
72 Benjamin Goldstein 12 Oak Park HS 16:20.46 66
73 Lyvan Friend 12 Golden Valley HS 16:20.64 67
74 Jair Martinez SR Knight HS 16:21.65 68
75 Tommy Garcia SR Knight HS 16:21.95 69
76 Christopher Carlson 12 Oak Park HS 16:22.34 70
77 Robert Lopez 12 Agoura HS 16:23.20 71
78 Matt Wells SR Thousand Oaks 16:23.31 72
79 Erik Sandoval 12 Birmingham HS 16:23.74 73
80 David Perez 12 Trabuco Hills HS 16:23.96
81 Jack Apablasa 12 Notre Dame HS 16:24.18 74
82 Justin Jordan 12 Valencia HS 16:26.32 75
83 Nathan Kliegl 12 Frazier Mountain 16:26.88
84 Matt Bauer 12 Paraclete HS 16:28.17 76
85 Andres Cruz 12 Santa Monica HS 16:29.12 77
86 Blake Smart 12 Corona HS 16:29.74 78
87 Siddu Kamarsu 12 Golden Valley HS 16:30.19 79
88 Jared Lux 12 Santa Barbara HS 16:34.62 80
89 Eric Woods 12 Santa Barbara HS 16:34.97 81
90 Sammy Martinez SR Fillmore HS 16:35.68 82
91 Frankie Covarrubias SR Lompoc HS 16:36.16
92 Evander Aviles 12 Buena HS 16:36.27
93 Craig Whitt 12 Grace Brethren HS 16:36.51
94 Michael Guerrero SR Thousand Oaks 16:36.88 83
95 Fredy Avila 12 Corona HS 16:37.04 84
96 Tyler Tooch SR Thousand Oaks 16:37.13 85
97 Elliot Pollack 12 Santa Monica HS 16:37.78 86
98 Cody Smith 12 Rio Mesa HS 16:38.98 87
99 Kevin Scrivano 12 Agoura HS 16:39.23 88
100 Peter Witman 12 Royal HS 16:39.63 89
101 Vincent Chavez SR Fillmore HS 16:40.92
102 Brian Rodriguez SR Hueneme HS 16:42.44
103 Frank Kline 12 Moorpark HS 16:43.56 90
104 Ethan Germann SR Thousand Oaks 16:44.15 91
105 Tony Hao SR Thousand Oaks 16:44.52 92
106 Terren Krietzman 12 Palos Verdes HS 16:44.60 93
107 Rafael Estrada 12 Golden Valley HS 16:46.50 94
108 Matthew McNabb 12 Trabuco Hills HS 16:47.43
109 Alex Styhr SR Thousand Oaks 16:48.38
110 Calvin Olbes 12 Valencia HS 16:49.29 95
111 Connor Parker 12 Palos Verdes HS 16:53.01 96
112 Brayan Cecanas 12 Birmingham HS 16:53.38 97
113 Hector Mora SR Knight HS 16:54.33 98
114 Austin Duerfeldt 12 Oak Park HS 16:55.01 99
115 Taylor Davis 12 Redlands Eas 16:55.64 100
116 Kevin Oh 12 Trabuco Hills HS 16:56.13
117 Ricky Velazquez 12 Paraclete HS 16:56.62 101
118 Ryan Klumpp 12 Lancaster High S 16:56.69 102
119 Leopoldo Calderas 12 Moorpark HS 16:57.31 103
120 Brett Frangipane 12 Palisades HS 17:01.03 104
121 Karl Pyka 12 Redlands Eas 17:02.67 105
122 David Enriquez SR Fillmore HS 17:02.75
123 Aaron Gonzalez 12 Garces Memorial HS 17:03.71
124 Daniel Fluharty SR Knight HS 17:04.47 106
125 Greg Byrne 12 Valencia HS 17:05.04 107
126 Joseph Mackey 12 Palmdale HS 17:07.13 108
127 Kevin Lu 12 Trabuco Hills HS 17:07.62
128 Roberto Melendez 12 Palmdale HS 17:08.22 109
129 Alex Gutierrez 12 Canyon HS 17:09.14 110
130 Chris Stephenson 12 Saugus HS 17:09.83 111
131 Paul Araujo 12 Corona HS 17:10.37 112
132 Stephen Montgomery 12 Trabuco Hills HS 17:10.88
133 Ian Cunningham 12 Canyon HS 17:12.70 113
134 Conner Cassens 12 Trabuco Hills HS 17:13.20
135 Jackson McKay SR Thousand Oaks 17:13.35
136 Johnathan Salguero SR Knight HS 17:14.12 114
137 Leo Vaca SR Pacifica HS 17:20.51 115
138 John Nguyen SR Hart HS 17:21.26 116
139 Reed Mullanix SR Dos Pueblos HS 17:21.90 117
140 Martinez Rodrigo 12 Lancaster High S 17:22.13 118
141 Jovani Oregon SR Fillmore HS 17:23.01
142 Chris Morton 12 Palos Verdes HS 17:23.58
143 Joseph Kobayashi 12 Rio Mesa HS 17:24.03 119
144 Brian Hicks 12 Valencia HS 17:26.36 120
145 Michael Romero 12 Oxnard HS 17:26.55 121
146 Justin Navarro 12 Oxnard HS 17:27.55 122
147 Higgins Tucker 12 The Buckley School 17:28.70
148 Timothy Le 12 Trabuco Hills HS 17:30.21
149 Josh Pickett 12 Trabuco Hills HS 17:30.59
150 Matt Madison SR Hart HS 17:31.77 123
151 Luke Fellers 12 Trabuco Hills HS 17:32.37
152 Daniel Isaacson 12 Oak Park HS 17:34.26 124
153 Jeff Oechsli 12 Agoura HS 17:38.59 125
154 Garrett Nichol 12 Redlands Eas 17:39.14 126
155 Nathan Nguyen 12 Trabuco Hills HS 17:40.52
156 Nicholas Billig 12 Oak Park HS 17:40.55 127
157 Mathew Medina SR Pacifica HS 17:41.71 128
158 Thomas Newman 12 Garces Memorial HS 17:41.89
159 Collin Blout SR Lompoc HS 17:43.81
160 Jared Lowder 12 Golden Valley HS 17:45.68 129
161 Mauricio Mata 12 Corona HS 17:47.51
162 Alexander Kim 12 Oak Park HS 17:49.40
163 Daniel Cruz 12 Corona HS 17:52.30
164 Marcos Saavedra 12 Golden Valley HS 17:53.46
165 Eugene Cho SR Dos Pueblos HS 17:53.79 130
166 Alex Hillman SR Thousand Oaks 17:55.46
167 Zachary Crismond 12 Golden Valley HS 17:56.71
168 Aaqil Dhanji 12 Santa Monica HS 18:00.19 131
169 Ceasar Chavez SR Knight HS 18:00.64 132
170 Jonas Boudreau 12 Royal HS 18:01.60 133
171 Alan Uribe 12 Palmdale HS 18:02.21 134
172 Rushil Patel 12 Trabuco Hills HS 18:03.47
173 Jesse Godinez 12 Oxnard HS 18:08.03 135
174 Kevin Oriel SR Lompoc HS 18:08.92
175 Spencer Reagan 12 Buena HS 18:10.67
176 Jose Saucedo 12 Rio Mesa HS 18:11.46 136
177 Eric Madera 12 West Torrance HS 18:11.70 137
178 Javier Rodriguez SR Fillmore HS 18:12.27
179 Kioga Quiras SR Knight HS 18:13.62 138
180 Christian Martinez SR Knight HS 18:17.15
181 Stephen Carrington 12 Trabuco Hills HS 18:17.55
182 Tony Gonzalez 12 Corona HS 18:19.68
183 Richard Barran 12 Notre Dame HS 18:21.32 139
184 Nicholas Berdahl 12 Saint Bonave 18:23.45 140
185 Michael Copenhaver 12 Canyon HS 18:24.16 141
186 Zach Levaton 12 Agoura HS 18:24.79 142
187 Austin Kastenberg 12 Agoura HS 18:25.20 143
188 Eric Yoque 12 Palisades HS 18:25.58 144
189 Emmanuel Villegas 12 Golden Valley HS 18:26.68
190 Ceasar Berganza SR Knight HS 18:27.41
191 Matt Yee SR Thousand Oaks 18:30.01
192 matt Bellotti 12 Lancaster High S 18:30.23 145
193 Oscar Hernandez 12 Corona HS 18:30.42
194 Tyler Hackworth SR Fillmore HS 18:31.16
195 Austin Nuchols 12 West Torrance HS 18:31.85 146
196 Eddie Roes 12 Agoura HS 18:32.13 147
197 Dixon Walker 12 West Torrance HS 18:32.20 148
198 Anthoney Guinnip 12 Notre Dame HS 18:33.35 149
199 Erik DeRossett 12 Agoura HS 18:34.59 150
200 Armando Vidal SR Fillmore HS 18:36.16
201 Joseph Moffat 12 Agoura HS 18:40.20
202 Tanner Mjelde 12 Santa Barbara HS 18:40.28 151
203 Jai Garbutt 12 Palmdale HS 18:42.68 152
204 Zach Wims 12 Canyon HS 18:43.21 153
205 Jason Gilliam 12 Oak Park HS 18:45.47
206 Chase Hill 12 Trabuco Hills HS 18:48.65
207 Cameron Oelsen 12 Agoura HS 18:51.84
208 Greg Matsuura 12 West Torrance HS 18:52.29 154
209 James Taylor 12 Garces Memorial HS 18:54.91
210 Nick Fernandez 12 Paraclete HS 18:56.47 155
211 Jacob Diaz 12 Santa Barbara HS 18:56.74 156
212 Brandon Massaro 12 Corona HS 18:57.37
213 Rick Hatch 12 Agoura HS 18:57.74
214 Ubaldo Delatorre 12 Corona HS 19:00.75
215 Jonathan Young 12 Oak Park HS 19:02.21
216 Jonathan Reifman 12 Oak Park HS 19:03.15
217 Matt Rooney 12 Valencia HS 19:04.83 157
218 Tristin Aucutt 12 Rio Mesa HS 19:05.70 158
219 Irving Espinoza FR Knight HS 19:09.31
220 Kyle Schumacher 12 Royal HS 19:09.73
221 Andrew Marinas 12 West Torrance HS 19:11.56
222 Collin Ryan 12 West Torrance HS 19:14.09
223 Raphael Ferraz 12 Golden Valley HS 19:17.67
224 Kevin Balke 12 Agoura HS 19:19.52
225 Adam Schatz 12 Agoura HS 19:22.96
226 Joshua Duncan 12 Rio Mesa HS 19:23.00 159
227 Jose Armenta SR Hueneme HS 19:26.57
228 Jason Jarquin SR Hart HS 19:27.55 160
229 Victor Delgadillo 12 Rio Mesa HS 19:28.62 161
230 Brian Bender 12 Rio Mesa HS 19:34.93
231 Mason Gonzales JR Dos Pueblos HS 19:39.45 162
232 Joel Estrada 12 Canyon HS 19:42.08 163
233 Brandon Grunberg 12 Oak Park HS 19:42.72
234 Mauricio Gonzalez 12 Notre Dame HS 19:46.33 164
235 Paolo Sanque 12 Paraclete HS 19:49.08 165
236 Yash Attal 12 Trabuco Hills HS 19:51.34
237 Luke Duggins 12 Canyon HS 19:51.90 166
238 Dylan Marshall 12 Royal HS 19:53.92
239 Dillon Estrada 12 Rio Mesa HS 19:55.63
240 Luigi Arellano 12 Birmingham HS 19:56.47 167
241 Roman Sanchez 12 Rio Mesa HS 20:05.60
242 Matthew Connell 12 Birmingham HS 20:05.70 168
243 Dustyn Robinson 12 Rio Mesa HS 20:07.53
244 Vincent Lopez SR Pacifica HS 20:08.50 169
245 Kevin Meza 12 Birmingham HS 20:09.55 170
246 Spencer Dalton SR Thousand Oaks 20:11.97
247 Christian Lujan SR Thousand Oaks 20:18.22
248 Paul Byrnes 12 Santa Monica HS 20:20.64 171
249 Ryan Cotter 12 Moorpark HS 20:24.23 172
250 Luke Bowes 12 Agoura HS 20:25.07
251 Graham Hunt 12 Trabuco Hills HS 20:25.28
252 Roy Carillo 12 Birmingham HS 20:25.47 173
253 Ernie Estiva 12 Notre Dame HS 20:25.66 174
254 Paul Johnson 12 Lancaster High S 20:27.29 175
255 Jose Castro 12 Redlands Eas 20:27.84 176
256 Lorenzo Scaramento 12 Notre Dame HS 20:36.58 177
257 James Montes 12 Agoura HS 20:43.59
258 Anthony Siano 12 Saint Bonave 20:46.53 178
259 Adam Wrinkle 12 Agoura HS 20:46.62
260 Christian Barba 12 Saint Bonave 20:57.62 179
261 Anthony Corea 12 Palmdale HS 21:10.64 180
262 Cameron Montgomery SR Pacifica HS 21:12.96 181
263 23 Bandit FR Bandit 21:14.96
264 Jason Collier 12 Rio Mesa HS 21:20.35
265 Rhys Gilmore 12 Agoura HS 21:21.78
266 Jeffrey Cerna 12 Palmdale HS 21:21.90 182
267 Danny Sgobassi 12 Saint Bonave 21:28.05 183
268 Dylan Shapiro 12 Oak Park HS 21:40.89
269 Luke Winser 12 Oak Park HS 21:41.98
270 Carlos Martinez 12 Rio Mesa HS 21:47.92
271 Peter Wolfgram 12 Rio Mesa HS 22:09.53
272 Keegan Fitzpatrick 12 Agoura HS 22:20.71
273 Darien DeSantiago 12 Saint Bonave 22:30.52 184
274 Cole Berweiler 12 Oak Park HS 22:38.13
275 Scott Parrone 12 Oak Park HS 22:42.76
276 Sammy Bennett 12 West Torrance HS 22:46.64
277 Gil Melili 12 Agoura HS 23:14.67
278 John Esparza 12 Rio Mesa HS 23:25.02
279 Ryan Cameron 12 Garces Memorial HS 23:45.55
280 Dylan Garner 12 Saint Bonave 24:02.43 185
281 James Leon 12 Saint Bonave 24:06.77 186
282 Mark Arias 12 Palisades HS 25:10.04 187
283 Sean Heffernan 12 Palos Verdes HS 25:10.75
284 Chris Alaniz 12 Oxnard HS 25:39.63 188
285 Esteban Miranda 12 Birmingham HS 26:09.98
286 Neil Mackenzie 12 Paraclete HS 26:45.69 189
287 Josh Jacoby 12 Agoura HS 27:00.10
288 Jason Correa 12 Paraclete HS 27:26.65 190
289 Quincey Belcher 12 Lancaster High S 28:17.72 191
290 Oliver Manzano 12 Oxnard HS 28:23.28 192
vent 7 Boys 3 Mile Run CC 11 Grade
=======================================================================
Meet Record: M 14:41.00 1992 Mebraton Keflezighi, San Diego HS
Name Year School Finals Points
=======================================================================
Results - Men
1 Sahm Bazargan 11 Oak Park HS 14:53.32 1
2 Michael Picchini 11 Moorpark HS 14:54.82 2
3 Ryan Klachko 11 Royal HS 15:06.10 3
4 Andrew McGuan JR Dos Pueblos HS 15:09.33 4
5 Casey Celestin 11 Palos Verdes HS 15:09.74 5
6 Danny Garcia 11 McFarland HS 15:11.75
7 Lucas Robinson 11 Palos Verdes HS 15:18.04 6
8 John Greening JR Dos Pueblos HS 15:19.75 7
9 Arden Lassalle 11 Santa Monica HS 15:19.81 8
10 Andrew Orona JR Hart HS 15:29.95 9
11 Cole Smith JR Dos Pueblos HS 15:34.61 10
12 Alex Pearson 11 Saugus HS 15:38.47 11
13 Eric George 11 Corona HS 15:39.10 12
14 Carlos Guijarro JR Knight HS 15:41.57 13
15 Alex Allevato 11 Valencia HS 15:43.90 14
16 Billy Anthony 11 Saugus HS 15:45.19 15
17 Matthew Meredith 11 Notre Dame HS 15:47.20 16
18 Nick Lentz 11 Valencia HS 15:49.65 17
19 Arnold Bautista 11 Golden Valley HS 15:52.36 18
20 Ethan Walker 11 Saugus HS 15:54.02 19
21 Colin Silver 11 Moorpark HS 15:55.87 20
22 Evan DeFraine 11 Trabuco Hills HS 16:01.95 21
23 Ben Thomas JR Thousand Oaks 16:02.19 22
24 Tyler Bradford JR Dos Pueblos HS 16:03.37 23
25 Bailey James JR Hart HS 16:04.91 24
26 Townsend Kaneversky 11 Saugus HS 16:05.20 25
27 Matt Montebello 11 Agoura HS 16:06.67 26
28 Nicolas Frias JR Fillmore HS 16:11.59 27
29 Anthony Rosales 11 Saugus HS 16:14.00 28
30 Eduardo Tapia JR Knight HS 16:14.97 29
31 Jahangir Habib 11 Santa Monica HS 16:15.41 30
32 Luke Letwin 11 Palos Verdes HS 16:15.53 31
33 Ryan Ortiz JR Hart HS 16:16.05 32
34 David Poach 11 Royal HS 16:16.32 33
35 Devin Penick 11 Saugus HS 16:17.45 34
36 Austin Baker 11 Oak Park HS 16:18.19 35
37 Andrew Dolan JR Hart HS 16:19.17 36
38 Austin Bradley 11 Corona HS 16:19.23 37
39 Spencer Lubs 11 West Torrance HS 16:20.45 38
40 Christian Hiller 11 Trabuco Hills HS 16:20.66 39
41 Erick Villegas 11 Birmingham HS 16:24.01 40
42 Justin Sardo 11 Santa Monica HS 16:26.77 41
43 Abhishek Bhutada 11 Oak Park HS 16:27.79 42
44 Menelik Dagnachew 11 Palisades HS 16:28.46
45 Daniel Haim 11 Agoura HS 16:29.97 43
46 Adam Frey 11 Oak Park HS 16:30.55 44
47 Chris Trujillo JR Thousand Oaks 16:32.16 45
48 Jose Sanchez 11 McFarland HS 16:33.11
49 Nicholas Devantier 11 Golden Valley HS 16:35.22 46
50 Mason Koscinski 11 Royal HS 16:35.79 47
51 Bradley Apodaca 11 Santa Barbara HS 16:36.15 48
52 Christian Nelson 11 Valencia HS 16:37.72 49
53 Raul Recendez 11 Corona HS 16:37.86 50
54 Justin Beach JR Fillmore HS 16:40.01 51
55 Brian Schwartz 11 Oak Park HS 16:40.28 52
56 Luke Contreras 11 Golden Valley HS 16:40.83 53
57 Luis DeLaPalma JR Lompoc HS 16:42.73 54
58 Christian Amaya 11 Palisades HS 16:43.86
59 Ian Jones 11 Palos Verdes HS 16:44.17 55
60 Adrian Solorio JR Knight HS 16:46.74 56
61 Samuel Seibel JR Dos Pueblos HS 16:47.04 57
62 Jacob Diamond 11 Palos Verdes HS 16:47.71 58
63 Reuben Mijango JR Knight HS 16:47.77 59
64 Jake Higdon 11 Valencia HS 16:48.84 60
65 Nick Alzner 11 Saugus HS 16:49.29 61
66 Frank Chavez JR Fillmore HS 16:50.64 62
67 Matthew Griffith 11 Rio Mesa HS 16:51.15 63
68 Trevor Turner JR Knight HS 16:54.45 64
69 Daniel Apuan 11 Paraclete HS 16:54.60
70 Nate Blonsky 11 Agoura HS 16:55.30 65
71 David Fraley 11 Rio Mesa HS 16:56.69 66
72 Tarik Snyder 11 Palos Verdes HS 16:57.43 67
73 Mario Hernandez JR Pacifica HS 16:57.63 68
74 Lennart Nelson JR Dos Pueblos HS 16:57.79 69
75 Austin Preciado 11 Saugus HS 16:58.95
76 Bryce Wickersham 11 Redlands Eas 16:59.15 70
77 Clint Nicholson 11 Santa Monica HS 17:00.67 71
78 Steven Valladares JR Knight HS 17:01.64 72
79 Derek Townsley 11 Oak Park HS 17:02.53 73
80 Esteban Vasquez JR Pacifica HS 17:03.52 74
81 Daniel Oh 11 Valencia HS 17:06.50 75
82 Dante Gigliotti 11 Oak Park HS 17:07.05 76
83 Liam McBride 11 Santa Monica HS 17:07.43 77
84 Mario Gaspar JR Fillmore HS 17:07.96 78
85 Nick Yamamoto 11 Valencia HS 17:11.77 79
86 Derek Hayashibara 11 Trabuco Hills HS 17:13.25 80
87 Jose Guerrero JR Lompoc HS 17:14.75 81
88 Alexis Manzanarez JR Lompoc HS 17:15.38 82
89 Sean Gallagher 11 Notre Dame HS 17:15.72 83
90 Tanner Munizich 11 Santa Barbara HS 17:16.61 84
91 Ryan Morrissey 11 Oak Park HS 17:17.01
92 Shawn Moss JR Hart HS 17:17.70 85
93 Ernie Trujillo JR Knight HS 17:18.24 86
94 Tyler Quinn 11 Oak Park HS 17:19.01
95 Bryan Baltazar 11 Royal HS 17:19.55 87
96 Caleb Hudson 11 Corona HS 17:20.01 88
97 Matthew Walsh 11 Trabuco Hills HS 17:20.33 89
98 Andrew Ramirez 11 Corona HS 17:20.49 90
99 Javier Martinez-Gomez JR Lompoc HS 17:20.62 91
100 Joseph Alvarez 11 Trabuco Hills HS 17:21.80 92
101 Justin Vong 11 Valencia HS 17:21.90 93
102 Ben Fuligni 11 Palisades HS 17:23.09
103 Zach Strader 11 Valencia HS 17:24.74
104 Maynor Alvarez 11 Palmdale HS 17:25.66 94
105 Seth Garza 11 Garces Memorial HS 17:26.35
106 Jesse Contreras 11 Palmdale HS 17:26.71 95
107 Nicholas Johnson JR Fillmore HS 17:28.40 96
108 manual Moreno 11 Lancaster High S 17:29.00
109 Jose Arreola JR Pacifica HS 17:30.58 97
110 RJ Fazio 11 Palos Verdes HS 17:34.74 98
111 Joshua McElwee JR Dos Pueblos HS 17:34.92 99
112 Brett Milam 11 Golden Valley HS 17:35.85 100
113 Cole Roberts 11 Trabuco Hills HS 17:36.18 101
114 Caren Nader 11 Santa Monica HS 17:36.80 102
115 Nick Ungermann 11 Agoura HS 17:37.05 103
116 Eric Capelle JR Dos Pueblos HS 17:37.31
117 Jacob Diaz 11 Palos Verdes HS 17:38.22
118 Michael Found-Looney 11 Moorpark HS 17:39.12 104
119 Kyle Kovacs JR Dos Pueblos HS 17:40.81
120 Roy Cannon-Berg 11 Santa Barbara HS 17:41.16 105
121 Jared Estrada 11 Redlands Eas 17:41.39 106
122 Andrew LaGuardia 11 Moorpark HS 17:41.71 107
123 Ian Fanselow 11 Santa Monica HS 17:42.80 108
124 John Arndt JR Thousand Oaks 17:43.04 109
125 Brandon Reyes JR Knight HS 17:45.95
126 Brandon Su 11 Santa Monica HS 17:46.57
127 Gabriel Leonides JR Lompoc HS 17:48.09 110
128 Patrick Kolodji 11 Garces Memorial HS 17:48.40
129 Christopher Fisher 11 Oak Park HS 17:48.74
130 Nathan Haro JR Knight HS 17:49.00
131 Drew Paulson 11 Palos Verdes HS 17:49.40
132 Michael Enriquez JR Thousand Oaks 17:49.97 111
133 Patrick Taylor JR Dos Pueblos HS 17:51.59
134 Steven Rios JR Knight HS 17:55.05
135 Adam Beattie 11 Saugus HS 17:56.82
136 Antonio Santillan 11 Agoura HS 17:57.83 112
137 Gerardo Hernandez 11 Canyon HS 17:59.36
138 Adam Navas 11 Paraclete HS 17:59.99
139 Joshua Padilla 11 Trabuco Hills HS 18:00.68 113
140 Rodrigo Zaragoza JR Hueneme HS 18:04.20
141 Kevin Lao 11 Notre Dame HS 18:04.73 114
142 Chris Rico 11 Notre Dame HS 18:05.42 115
143 Jason Walters JR Knight HS 18:06.45
144 Noe Galvez 11 Canyon HS 18:06.86
145 milton Garcia 11 Lancaster High S 18:07.80
146 Bo Bermudez JR Lompoc HS 18:08.08 116
147 Pablo Flores SO Knight HS 18:08.96
148 Ivan Beas 11 Palmdale HS 18:09.42 117
149 Brendan Miles 11 Saint Bonave 18:09.89 118
150 Rudy Guerrero 11 Redlands Eas 18:10.41 119
151 Daniel Gonzalez 11 Saugus HS 18:10.93
152 Juan Perez 11 Santa Barbara HS 18:11.04 120
153 Corey Campbell 11 Saugus HS 18:11.33
154 Ross Dreiling 11 Valencia HS 18:14.23
155 Louis Benites JR Knight HS 18:14.58
156 Gabe Zelico 11 Oak Park HS 18:14.73
157 Zane Shires 11 Oak Park HS 18:15.26
158 Dominick Lujan JR Pacifica HS 18:15.82 121
159 Francisco Hernandez 11 Palmdale HS 18:16.18 122
160 Conrad Lightfoot 11 Oak Park HS 18:16.41
161 Devin Duran JR Thousand Oaks 18:17.63 123
162 Bryan Byrd 11 Agoura HS 18:18.33 124
163 Alberto Perez 11 Oxnard HS 18:19.78 125
164 Zac Denault 11 Saugus HS 18:20.06
165 Samuel Soltan 11 Rio Mesa HS 18:20.18 126
166 Ammon Forston 11 Agoura HS 18:21.09 127
167 Christian Botz-Zapp 11 Palos Verdes HS 18:21.73
168 Michael Frank 11 Saint Bonave 18:24.80 128
169 Jordan Brooks 11 Birmingham HS 18:25.21 129
170 Quinn Somma 11 Agoura HS 18:28.09
171 Justin Brooks 11 Birmingham HS 18:28.48 130
172 Stephen Esmay 11 Oak Park HS 18:28.66
173 Gillian McCullough 11 Oak Park HS 18:29.64
174 Michael Alegre 11 Trabuco Hills HS 18:32.15
175 Jonathon Flores 11 West Torrance HS 18:32.35 131
176 Henry Martinez 11 Palmdale HS 18:33.72 132
177 Jason Jones 11 Notre Dame HS 18:34.14 133
178 Bryan SantaCruz 11 Oak Park HS 18:36.56
179 Nicholas Stump 11 Rio Mesa HS 18:37.26 134
180 Matt Sauber JR Thousand Oaks 18:38.10 135
181 Christopher Torres 11 Palmdale HS 18:39.46 136
182 Blake Berich 11 Redlands Eas 18:40.60 137
183 Sean Silverstein 11 Santa Monica HS 18:41.46
184 Carlos Carpio 11 Birmingham HS 18:41.52 138
185 Nicholas Cunningham 11 Valencia HS 18:41.70
186 Brandt Weary 11 Santa Monica HS 18:42.43
187 Edgar Flores 11 Birmingham HS 18:42.74 139
188 Coleman Opsata 11 West Torrance HS 18:43.05 140
189 Ebagnisev Lopez-Borja 11 Birmingham HS 18:43.76 141
190 Robert Tolentino 11 Golden Valley HS 18:44.32 142
191 Richard Cardenas 11 Palmdale HS 18:44.73 143
192 David Lay JR Pacifica HS 18:45.04 144
193 Tommy Le 11 Oxnard HS 18:45.74 145
194 Shawn Fenerin 11 Moorpark HS 18:46.00 146
195 Sicoya Bellis 11 Santa Monica HS 18:46.26
196 Noahm Avelino 11 Rio Mesa HS 18:46.73 147
197 Alfredo Guerra 11 Lancaster High S 18:47.32
198 Alexander Appelrouth 11 Oak Park HS 18:49.54
199 Jason Rodriguez 11 Palmdale HS 18:50.22
200 Kevyn Mira 11 Palmdale HS 18:50.73
201 Kaito McLoughlin 11 Palos Verdes HS 18:51.20
202 Spencer Halsema 11 Moorpark HS 18:52.02 148
203 Tristan Todd 11 Agoura HS 18:53.78
204 Kaito Knight 11 Redlands Eas 18:54.00 149
205 Scott Woods 11 Santa Barbara HS 18:55.62 150
206 Chris Chen 11 Valencia HS 18:56.31
207 Jeremy Kurtz 11 Saint Bonave 18:56.45 151
208 Angel Juarez JR Hueneme HS 18:56.72
209 Nick Mandel 11 Moorpark HS 18:57.06 152
210 Anthony Echeverria 11 Garces Memorial HS 18:57.74
211 William Graves 11 Santa Barbara HS 18:59.03 153
212 Aaron Graham 11 Rio Mesa HS 19:00.02 154
213 Greg Steigerwald JR Dos Pueblos HS 19:00.11
214 Alex Lopez JR Pacifica HS 19:00.18 155
215 Roberto Ayala JR Pacifica HS 19:00.89 156
216 Nick Martinez 11 Buena HS 19:00.99 157
217 Jeff Schultz JR Dos Pueblos HS 19:01.82
218 Jackson Ayers 11 Oak Park HS 19:02.29
219 Tyler Hakomori 11 Santa Monica HS 19:06.21
220 Jacob Ptolemy 11 Trabuco Hills HS 19:09.17
221 Jake Sugawara 11 Trabuco Hills HS 19:09.45
222 Thomas Demoner 11 Palos Verdes HS 19:09.54
223 Kevin Leon SO Knight HS 19:12.55
224 Michael Mendenhall 11 Corona HS 19:14.20 158
225 Kyle Garcia JR Knight HS 19:15.92
226 Roque Alpuche 11 Buena HS 19:18.18 159
227 Oscar Cisneros JR Hueneme HS 19:18.57
228 Davis Tisdale JR Dos Pueblos HS 19:20.23
229 Jaime Valdovinos JR Fillmore HS 19:21.48 160
230 Gabe Rudolph 11 Notre Dame HS 19:24.23 161
231 Kiyan Zamani 11 Santa Monica HS 19:24.53
232 Gilberto Jimenez 11 Palmdale HS 19:26.96
233 Max Brain 11 Moorpark HS 19:29.30
234 Aaron Bastani 11 Corona HS 19:31.78 162
235 Roger Berman 11 Palos Verdes HS 19:32.41
236 Paul Miller 11 Santa Monica HS 19:32.70
237 Matt Nali JR Hart HS 19:33.71 163
238 Jordan Epstein 11 Oak Park HS 19:37.52
239 Radhi Franklin 11 Trabuco Hills HS 19:39.09
240 Robby Patterson 11 Corona HS 19:39.60
241 Brandon Luoung 11 Saugus HS 19:41.77
242 Abe Biren 12 Santa Monica HS 19:42.63
243 Brian Park 11 Saugus HS 19:43.74
244 Nate Edelman 11 Agoura HS 19:44.13
245 Jesse Seibold 11 Agoura HS 19:48.65
246 Niccolo Sabia 11 Golden Valley HS 19:50.29 164
247 Andrew Hernandez JR Dos Pueblos HS 19:52.72
248 Musa Bassey 11 Saint Bonave 19:53.91 165
249 Adriann Cabornida JR Pacifica HS 19:55.01
250 Taylor Steiert 11 Rio Mesa HS 19:55.61 166
251 Zack Harris SO Hart HS 19:56.34 167
252 Jacob Rubenstein 11 Oak Park HS 19:58.54
253 Moises Gutierrez JR Hueneme HS 19:59.95
254 Joshua Pearson 11 Rio Mesa HS 20:00.31
255 Timmy Nothern 11 West Torrance HS 20:01.31 168
256 Oscar Keshishyan 11 Birmingham HS 20:01.61 169
257 John Evans 11 Garces Memorial HS 20:03.32
258 Andrew Fastiggi 11 Moorpark HS 20:06.20
259 Patrick Miyamoto 12 Notre Dame HS 20:13.04 170
260 Josh Maccoby 11 Santa Monica HS 20:13.34
261 Edgar Aguilar Cueva 11 Birmingham HS 20:13.83
262 Schuyler Alschuler 11 Oak Park HS 20:17.77
263 Daniel Garrett 11 Redlands Eas 20:20.52 171
264 Abraham Alcazar 11 Birmingham HS 20:21.15
265 Ryan Kobayashi 11 Palos Verdes HS 20:24.49
266 Nick Spencer JR Thousand Oaks 20:29.77 172
267 Jose Rumualdo JR Lompoc HS 20:36.95 173
268 Anthony Larin JR Fillmore HS 20:37.23 174
269 Jeff Borreto JR Pacifica HS 20:40.04
270 Raymundo Lopez 11 Oxnard HS 20:41.46 175
271 Ivan Lopez 11 Birmingham HS 20:44.61
272 Julio C Chavez 11 Moorpark HS 20:47.17
273 Jack Borgeson 11 Moorpark HS 20:48.07
274 Leo Albea 11 Santa Clara 20:51.76
275 Bryan Rodriguez 11 Notre Dame HS 20:52.62
276 Carlos Mendoza 11 Buena HS 20:53.80 176
277 Christian Sanchez 11 Rio Mesa HS 20:54.27
278 Tikhon Peterson 11 Saugus HS 20:55.87
279 Peter Loya 11 Moorpark HS 20:56.36
280 Kevin Eberle 9 Royal HS 21:02.83 177
281 Malco Magana JR Fillmore HS 21:03.80
282 Christian Martinez JR Hart HS 21:04.28
283 Jack Ito 11 Rio Mesa HS 21:05.04
284 Francisco Galindo 11 Birmingham HS 21:05.44
285 Andrew Westlund 11 Buena HS 21:07.20 178
286 Brian Jeon 11 West Torrance HS 21:18.89 179
287 Ryan Husher 11 Rio Mesa HS 21:18.95
288 Jules Jolivot JR Thousand Oaks 21:22.44
289 Ivan Marin 11 Palmdale HS 21:27.11
290 Sean Malloy 11 Trabuco Hills HS 21:31.75
291 Abraham Arcega 11 Birmingham HS 21:32.67
292 Yannick Barron 11 Oxnard HS 21:44.24 180
293 Jason Gungayao JR Pacifica HS 21:47.47
294 Lonney Padilla JR Pacifica HS 21:52.87
295 Tyler Bailey 11 Moorpark HS 21:55.35
296 Abraham Medel 11 Rio Mesa HS 22:02.00
297 Anthony Mansueto 12 Notre Dame HS 22:05.68
298 Micheal Garside JR Pacifica HS 22:06.08
299 Daniel Wilkins 11 Birmingham HS 22:08.93
300 Ryan Cosgrove 11 Palos Verdes HS 22:23.64
301 Lorenzo Medina 11 Golden Valley HS 22:28.56 181
302 John McGraw 10 Oxnard HS 22:33.74 182
303 Nick Rogers 11 Paraclete HS 22:39.59
304 Declan Minnis 11 Santa Barbara HS 22:49.09 183
305 Pedro Jauregui JR Pacifica HS 23:06.02
306 Jose Velazquez 11 Birmingham HS 23:10.73
307 David Aguirre 11 Palmdale HS 23:26.22
308 Nick Conte 11 Notre Dame HS 23:27.07
309 Brian Abanico 11 Rio Mesa HS 23:31.77
310 Robert Miner 10 Redlands Eas 23:42.71 184
311 Erik Anderson 11 Rio Mesa HS 23:45.63
312 Nico Anthony 11 West Torrance HS 24:13.00 185
313 Jacob Garrant 11 Palos Verdes HS 24:53.81
314 Austin Adams 11 Saint Bonave 24:56.69 186
315 Jorge Miranda JR Lompoc HS 25:01.51
316 David Binstein 10 Buena HS 25:09.76 187
317 bryan Nolasco 11 Lancaster High S 25:24.35
318 Michael Phan 11 Trabuco Hills HS 25:30.80
319 Antonio Amezcua 11 West Torrance HS 25:36.50 188
320 Stephan Gutierrez JR Pacifica HS 27:29.52
Event 6 Boys 3 Mile Run CC 10 Grade
=======================================================================
Meet Record: M 15:04.00 1992 Marcos Castro, Palmdale HS
Name Year School Finals Points
=======================================================================
Results - Men
1 Ruben Rubira SO Hart HS 15:14.56
2 Brian Zabilski 10 Saugus HS 15:30.82
3 Garet Kaul 10 Moorpark HS 15:37.88
4 Ryan Alexander 10 Birmingham HS 15:39.31
5 Liam Brooks 10 Corona HS 15:40.69
6 Abran Ayon 10 McFarland HS 15:42.54
7 Caleb Mc Clain 10 Canyon HS 15:44.33
8 Nick Liebman SO Hart HS 15:49.65
9 David Hughes 10 Redlands Eas 15:53.04
10 Brian Joerger SO Thousand Oaks 15:56.44
11 Thomas Valles 10 McFarland HS 15:58.70
12 Tyler Bond 10 West Torrance HS 16:04.67
13 Jordan Serrano 10 Saugus HS 16:05.09
14 Jordy Ceja 10 Birmingham HS 16:09.35
15 Mac Kaufman SO Hart HS 16:11.62
16 Kunis Kaleb 10 Buena HS 16:11.83
17 Shane Brouwer 10 Palisades HS 16:12.60
18 Brennan Doyle 10 Notre Dame HS 16:13.58
19 Grant Boden SO Thousand Oaks 16:14.50
20 Christian Ampo 10 West Torrance HS 16:15.37
21 Patrick Mccabe 10 Trabuco Hills HS 16:16.09
22 Jimmy FitzGerald 10 Rio Mesa HS 16:19.59
23 Letra Wilburn SO Knight HS 16:20.78
24 Ryan Davis 10 Valencia HS 16:21.69
25 Luis Jaras 10 Moorpark HS 16:22.86
26 Eric Lopez 10 Redlands Eas 16:25.15
27 Jonathan Summer 10 Saugus HS 16:25.31
28 Nik Lee 10 Corona HS 16:27.61
29 Jake Cohen 10 Palos Verdes HS 16:28.89
30 Adel Kelifa 10 West Torrance HS 16:30.93
31 Tim Gutierrez SO Hart HS 16:31.95
32 Ross Husch 10 Agoura HS 16:34.50
33 Tommy Hart SO Hart HS 16:38.59
34 Jimmy DeMello SO Thousand Oaks 16:40.42
35 Jason Hamburger 10 Saugus HS 16:43.51
36 Matthew Jimenez 10 Oak Park HS 16:45.72
37 Brook Soloman 10 Corona HS 16:48.85
38 Tim Broggie 10 Saugus HS 16:50.82
39 Spencer Flynn SO Thousand Oaks 16:50.99
40 Inaqui Loza 10 Saugus HS 16:52.12
41 Andy Kaiser 10 Saint Bonave 16:53.47
42 Ben Caudillo 10 Corona HS 16:54.36
43 Kyle Anderson 10 Oak Park HS 16:55.68
44 Abraham Moran 10 Palmdale HS 16:56.44
45 David Perez 10 McFarland HS 16:58.74
46 Ravi Chintalachar 10 West Torrance HS 16:59.55
47 Keaton McGrann 10 Trabuco Hills HS 16:59.84
48 Ken Kokado 9 Palisades HS 17:00.74
49 Jorge Hurtado SO Fillmore HS 17:01.91
50 Gilbert Robles 10 Corona HS 17:03.66
51 Austin Swanson 10 Rio Mesa HS 17:04.05
52 Sean Mullen 10 Trabuco Hills HS 17:05.65
53 Eric Ramos SO Knight HS 17:09.63
54 Austin Hartman 10 Valencia HS 17:10.32
55 Chris Ochoa 10 Saugus HS 17:11.38
56 Ryan Harris 10 Oak Park HS 17:14.89
57 Cody Watson 10 Lancaster High S 17:15.85
58 Jonathan Hamburger 10 Saugus HS 17:16.36
59 Christian Meyer 10 Notre Dame HS 17:16.51
60 Esteban Alvarado 10 Corona HS 17:19.01
61 Chris Morales 10 Corona HS 17:19.49
62 Andrew Strader 10 Buena HS 17:19.87
63 David Magana 10 Valencia HS 17:19.94
64 Fransisco Erazo SO Fillmore HS 17:23.33
65 Johnny Khaw 10 Oak Park HS 17:25.56
66 Adrian Sanz 10 Palos Verdes HS 17:25.78
67 Daniel Charlson 10 Royal HS 17:25.94
68 Dylan Appleby 10 Palisades HS 17:26.36
69 Ben Kishlock 10 Royal HS 17:26.80
70 Zachary Bear 10 Oak Park HS 17:27.34
71 James Perez 10 Trabuco Hills HS 17:28.00
72 Chandler Ross 10 Agoura HS 17:29.25
73 Luke Wulf 10 Oak Park HS 17:30.98
74 Ian Hurst 10 Valencia HS 17:33.93
75 Ryan Star 10 West Torrance HS 17:34.17
76 Luis Perezchica 10 McFarland HS 17:34.68
77 Andres Perez 10 Oxnard HS 17:35.71
78 Jacob Estes 10 Paraclete HS 17:35.85
79 Marco Tadeo 10 Buena HS 17:36.84
80 Eric Petersen 10 Moorpark HS 17:38.69
81 Eric Coreas SO Pacifica HS 17:38.88
82 Javier De La Cruz 10 Canyon HS 17:38.97
83 James Whiteley 10 Oak Park HS 17:39.43
84 Roberto Sandoval 10 McFarland HS 17:40.03
85 Steven Alvarado SO Lompoc HS 17:40.75
86 Gabriel Ceja 10 Trabuco Hills HS 17:41.64
87 Joe Coleman 10 Paraclete HS 17:41.71
88 Austin Bell 10 Canyon HS 17:41.85
89 David Nevarez 10 Canyon HS 17:42.73
90 Lyle Harrington 10 Moorpark HS 17:44.99
91 James Wilson 10 Canyon HS 17:46.88
92 Jeremiah Allen 10 Valencia HS 17:47.86
93 Kaleb Branda SO Hart HS 17:50.37
94 Kyle Yano 10 Trabuco Hills HS 17:51.62
95 Brian Gaul 10 Agoura HS 17:52.14
96 Adam Dunton 10 Palos Verdes HS 17:53.10
97 William Belfiore 10 Santa Barbara HS 17:53.40
98 Christian Gil 10 Saint Bonave 17:54.86
99 Andrew Hunter 10 Santa Barbara HS 17:55.63
100 Jonathan Chavez 10 Birmingham HS 17:56.14
101 Flabio Perezchica 10 McFarland HS 17:56.52
102 Hawk Kolodji 10 Garces Memorial HS 17:56.57
103 Jaime Vargas SO Fillmore HS 17:57.41
104 Jason Villanueva 11 Oak Park HS 17:59.91
105 Nathan Cassens 10 Trabuco Hills HS 18:00.08
106 James Gebhard 10 Oak Park HS 18:00.22
107 Scott Bieza SO Dos Pueblos HS 18:00.57
108 Franklin Leung SO Dos Pueblos HS 18:01.58
109 Jose Govea 10 Oxnard HS 18:02.46
110 Skyler Muldaur 10 Santa Monica HS 18:03.21
111 Tyler Goodman 10 Santa Monica HS 18:03.37
112 Brian Garcia 10 Trabuco Hills HS 18:04.47
113 Chris Kephart 10 Royal HS 18:04.83
114 Cody Roelofson 10 Valencia HS 18:06.38
115 Alex Mirras SO Thousand Oaks 18:06.66
116 Matt Williams 10 Oak Park HS 18:06.96
117 Henry Martinez 10 Golden Valley HS 18:10.71
118 Kyle Glick SO Dos Pueblos HS 18:13.76
119 Noel Covarrubias SO Hart HS 18:15.23
120 Blake DeVine 10 Santa Barbara HS 18:15.93
121 Alec Bartholomew SO Dos Pueblos HS 18:16.92
122 Matt Clark 10 Saugus HS 18:19.74
123 Christopher Raum 10 Moorpark HS 18:20.20
124 Will Figaredo 10 Notre Dame HS 18:22.22
125 Kurt Dansby 10 Valencia HS 18:25.89
126 James Abarca 10 Moorpark HS 18:26.01
127 Joshua Fry SO Dos Pueblos HS 18:27.75
128 Luis Arroyo 10 Golden Valley HS 18:28.13
129 Cameron Olson 10 Trabuco Hills HS 18:28.55
130 Ben Newman 10 Buena HS 18:29.40
131 Derek Dorr 10 Trabuco Hills HS 18:30.57
132 Jason Zhang 10 Redlands Eas 18:30.97
133 Diego Ramirez SO Lompoc HS 18:31.37
134 Franky Kohn 10 Santa Monica HS 18:31.43
135 Eduardo Flores 10 Birmingham HS 18:31.54
136 Jeff Rosen 10 Paraclete HS 18:31.77
137 Michael Mudy 10 Notre Dame HS 18:33.06
138 Andres Casillas 10 Saugus HS 18:34.19
139 Forrest Lucas 10 Saugus HS 18:34.96
140 Zachary Dingbaum 10 Moorpark HS 18:35.80
141 Joshua Ramos 10 Golden Valley HS 18:36.10
142 Jake Feffer 10 Santa Monica HS 18:36.58
143 Steven Brown 10 Redlands Eas 18:36.93
144 Joseph Perez 10 Buena HS 18:38.40
145 Jackson Potter SO Hart HS 18:40.43
146 Tab Chapman 10 Santa Monica HS 18:41.72
147 David Zevallos 10 Santa Barbara HS 18:41.77
148 Joe Sterkel 10 Saugus HS 18:43.10
149 Marcus Herzog 10 Moorpark HS 18:43.16
150 Thomas Gasbeck 10 Moorpark HS 18:44.48
151 D.J. Torres 10 Rio Mesa HS 18:45.81
152 Bryan Lomeli 10 West Torrance HS 18:46.05
153 Paul Gillis-Smith 10 Moorpark HS 18:46.89
154 Alan Ayala SO Hueneme HS 18:48.56
155 Nolan Koprowski 10 Moorpark HS 18:49.37
156 Ronaldo Flores 10 Oxnard HS 18:50.23
157 Edward Si SO Thousand Oaks 18:51.41
158 Anthony Hineson-Hall 10 Golden Valley HS 18:53.10
159 Nathan Le 10 Moorpark HS 18:54.20
160 Joel Vergara 10 Saugus HS 18:55.48
161 Venice Hartwell 10 Santa Monica HS 18:56.30
162 Owen Consoletti 10 Oak Park HS 18:57.21
163 Alex Kim 10 Valencia HS 18:58.47
164 Campbell Affleck 10 Santa Monica HS 18:58.90
165 Justin Stutzman 10 Lancaster High S 19:01.12
166 Clayton Williams 10 Agoura HS 19:01.46
167 Jose O Sandoval 10 Palmdale HS 19:01.71
168 Demitriouz Lozano SO Fillmore HS 19:03.55
169 Mauricio Ledesma SO Hart HS 19:04.41
170 Andrew Austin 10 Moorpark HS 19:04.93
171 Yiovani Topete 10 McFarland HS 19:06.81
172 Gerardo Rodriguez SO Fillmore HS 19:07.60
173 Ferid Ruano 10 Moorpark HS 19:07.73
174 Benjamin Too 10 Oak Park HS 19:08.75
175 Tommer Ben-Haim 10 Agoura HS 19:09.67
176 Eric Mondragon 10 Corona HS 19:10.87
177 Harrison Parks 10 Royal HS 19:12.35
178 Dominic Robolino 10 Redlands Eas 19:12.48
179 Jacob Stucky SO Dos Pueblos HS 19:12.70
180 Jonas Kanga 10 Paraclete HS 19:13.10
181 Arvind Gouttumukkala 10 Moorpark HS 19:14.06
182 Zubin Verma 10 Oak Park HS 19:14.77
183 Marcus Peralta 10 Corona HS 19:14.89
184 Rodolfo Suarez 10 Corona HS 19:14.97
185 Bobby Bethurum 10 Trabuco Hills HS 19:15.99
186 Michael Aling SO Dos Pueblos HS 19:16.21
187 Sean Killion 10 Saint Bonave 19:16.40
188 Michael Williams 10 Paraclete HS 19:16.62
189 Matthew Clark 10 Lancaster High S 19:17.81
190 James Hawley 10 Buena HS 19:18.63
191 Jose Briseno 10 Birmingham HS 19:18.69
192 Carlo Heredia 10 Saugus HS 19:18.83
193 Wyatt Pacillas 10 Agoura HS 19:18.90
194 Jonah McGuire 11 Trabuco Hills HS 19:21.10
195 Cuba Preis 10 Santa Monica HS 19:23.96
196 James Taylor SO Dos Pueblos HS 19:24.85
197 Elihu Soltes 10 Valencia HS 19:26.77
198 Zachary Hutchins 10 Redlands Eas 19:27.03
199 Chris Cautivar 10 Saugus HS 19:28.29
200 Logan Martell 10 Canyon HS 19:28.92
201 Alec Forston 10 Agoura HS 19:29.59
202 Brian Nguyen 10 West Torrance HS 19:30.03
203 Oscar Medina 10 McFarland HS 19:30.15
204 Kai Curry 10 Trabuco Hills HS 19:30.31
205 Christian Lotgering 10 Corona HS 19:33.15
206 Jonah Soltes 10 Valencia HS 19:34.40
207 Connor Henebry 10 Palos Verdes HS 19:37.41
208 William Divins 10 Lancaster High S 19:37.69
209 Jorge Arreguin 10 Canyon HS 19:37.93
210 Jared McDermott 10 Saint Bonave 19:39.45
211 Cameron Kirkland 10 Corona HS 19:40.26
212 David de la Cruz 10 Santa Monica HS 19:41.76
213 Ami Bains 9 Buena HS 19:42.28
214 Kevin Zavaleta SO Pacifica HS 19:44.73
215 Linus Reimer 10 Santa Monica HS 19:45.31
216 Bennett Zemke 10 Santa Monica HS 19:45.88
217 Jesus Leon 10 Oxnard HS 19:46.90
218 22 Bandit FR Bandit 19:51.74
219 Daniel Toomey 10 Moorpark HS 19:53.56
220 Michael Adachi 10 Moorpark HS 19:55.71
221 Jordan Blair 10 Moorpark HS 19:56.61
222 Ryan Young 10 Moorpark HS 19:56.70
223 Liam Faherty 10 Agoura HS 19:57.41
224 Chris Aragon 10 Paraclete HS 19:57.92
225 Austin Jelinski 10 Agoura HS 19:58.61
226 Aidan Steele 10 Santa Barbara HS 19:59.61
227 Michael Brown 10 Trabuco Hills HS 20:00.53
228 Joseph Ward 10 Moorpark HS 20:03.60
229 Robert Rowe 10 Lancaster High S 20:04.85
230 Eric Navarette SO Hueneme HS 20:05.23
231 Trenten Essex 10 Trabuco Hills HS 20:05.67
232 Peter Louden 10 Garces Memorial HS 20:06.81
233 Andrew Clear SO Thousand Oaks 20:06.89
234 Daniel Garcia 10 Santa Barbara HS 20:07.61
235 Kyle Whitt 10 Grace Brethren HS 20:08.32
236 Esteban Leon 10 Oxnard HS 20:08.44
237 Cody Allen 10 Saugus HS 20:08.72
238 Franz Hampp 10 Santa Barbara HS 20:09.07
239 Brendan Fawley 10 West Torrance HS 20:09.90
240 Kyle Haukka 10 Saugus HS 20:09.96
241 Nathan Elvington 10 Saugus HS 20:10.31
242 Kendall McCarthy 10 Redlands Eas 20:11.46
243 Jason Leal 10 West Torrance HS 20:12.15
244 Sean Cleary 10 Oak Park HS 20:13.58
245 Ethan Manley 10 West Torrance HS 20:14.04
246 Connor Hearn 10 West Torrance HS 20:14.89
247 Shayne Sanchez 10 Saint Bonave 20:15.75
248 Gerson Lemus SO Hart HS 20:17.44
249 Sean Richardson 10 Saugus HS 20:20.64
250 Henry Butler 10 Valencia HS 20:21.65
251 Murat Koc 10 Santa Barbara HS 20:24.39
252 Tal Roded 10 Oak Park HS 20:28.54
253 Carlos Huerfano SO Hart HS 20:30.10
254 Shawn Footitt 10 Saugus HS 20:33.49
255 Ben Lang 10 Royal HS 20:33.87
256 Noah Warmbrand 10 Oak Park HS 20:34.06
257 Miguel Avila-Rojo 10 Saugus HS 20:34.16
258 Jesse Duran 10 Moorpark HS 20:35.08
259 Lucas Davis 10 Dos Pueblos HS 20:36.09
260 Caleb Gregory 10 Lancaster High S 20:38.68
261 Ricky Benavidez 10 Saugus HS 20:39.36
262 Brett Winston 10 Moorpark HS 20:41.57
263 Evan Carton 10 Moorpark HS 20:43.04
264 Chucks Kwansy 10 Buena HS 20:45.21
265 Christian Mendoza 10 Moorpark HS 20:47.74
266 Antonio Gomez 10 Oxnard HS 20:51.44
267 Wyatt Garcia 10 Palmdale HS 20:54.59
268 Ivan Hurtado SO Fillmore HS 20:54.96
269 Nathan Owens 10 Santa Barbara HS 20:55.34
270 Ben Zacuto 10 Agoura HS 20:55.88
271 Kyler Tanowitz SO Dos Pueblos HS 20:56.50
272 Isai Bolanos SO Fillmore HS 20:58.13
273 Andreas Gudino SO Hart HS 20:58.23
274 Pablo Loayza 10 Saugus HS 20:58.37
275 Kevin Barrios 10 Palmdale HS 20:59.04
276 Liam Cetti 10 Santa Barbara HS 21:01.77
277 Craig Sugiyama 10 West Torrance HS 21:02.44
278 Corey Blatz 10 Saugus HS 21:02.73
279 Alex Olvera 10 McFarland HS 21:04.52
280 Spencer Mullanix SO Dos Pueblos HS 21:05.75
281 Harry Shove 10 Agoura HS 21:06.53
282 Joseph Guillory 10 West Torrance HS 21:07.31
283 Jacob Tobias 10 Agoura HS 21:08.40
284 Bennett McKay SO Thousand Oaks 21:08.87
285 Benjamin Gurarie 10 Agoura HS 21:08.97
286 Kit-Long Lai 10 Golden Valley HS 21:11.76
287 Jake La Rosa SO Pacifica HS 21:12.16
288 Raudel Martinez SO Hueneme HS 21:12.21
289 Nick Hartke SO Thousand Oaks 21:14.16
290 Samuel Foster SO Dos Pueblos HS 21:17.57
291 Matt Verba SO Hart HS 21:19.81
292 Gerardo Zavala 10 Santa Barbara HS 21:20.57
293 Saul Monuz 10 Birmingham HS 21:21.15
294 Ian Dwyer 10 Saugus HS 21:21.40
295 Nick Tucker 10 Moorpark HS 21:21.74
296 Benjamin Lietz SO Dos Pueblos HS 21:22.44
297 Garrett Bown 10 Agoura HS 21:23.46
298 Alex Austin 10 Santa Barbara HS 21:24.41
299 Jason Ruiz 10 Saint Bonave 21:26.29
300 Wyatt Salkeld 10 Golden Valley HS 21:27.84
301 Johnathan Sze 10 Moorpark HS 21:29.30
302 Steve Rodriguez SO Hueneme HS 21:30.25
303 Ryan Grace 10 Trabuco Hills HS 21:30.82
304 Zohair Mohidin 10 Moorpark HS 21:31.94
305 Matthew Carbajal SO Dos Pueblos HS 21:39.87
306 Tim Woodard 10 Moorpark HS 21:42.71
307 Greg Balke 10 Agoura HS 21:43.99
308 Arthur Enriquez 10 Casa Pacifica 21:49.08
309 William Corona 10 Canyon HS 21:56.70
310 Neil Gunderson 10 Saint Bonave 21:57.72
311 Aaron Hooks 10 Buena HS 21:59.63
312 Luke DeFatta 10 Moorpark HS 22:01.46
313 Samuel Gutierrez 10 Garces Memorial HS 22:02.75
314 Kai Zhang 10 Santa Barbara HS 22:07.74
315 Daniel Moon 10 Moorpark HS 22:07.92
316 Mateo Lopez 10 Garces Memorial HS 22:09.64
317 Billy Vollmert SO Fillmore HS 22:09.77
318 Rubin Mera 10 West Torrance HS 22:10.60
319 Kurtis Sakurai 10 West Torrance HS 22:10.99
320 Spencer Wan 10 Valencia HS 22:12.19
321 Toby Dalton SO Thousand Oaks 22:12.77
322 Jake Greene SO Thousand Oaks 22:15.81
323 Jacob Lee 10 Trabuco Hills HS 22:21.80
324 Jesus Sandoval SO Pacifica HS 22:27.59
325 Carlos Orozco 10 Canyon HS 22:28.32
326 Tanner Cereghino SO Thousand Oaks 22:32.05
327 Jacob Rothschild SO Thousand Oaks 22:35.35
328 Chris Franklin 10 Paraclete HS 22:41.89
329 Kyle Rivera 10 Oxnard HS 22:43.33
330 Max Bartolomea 10 Oak Park HS 22:47.56
331 Hayden Butler 10 Palos Verdes HS 22:58.08
332 Antonio Lopez 10 Palmdale HS 22:59.12
333 Timothy Milles 10 Oak Park HS 22:59.72
334 Henry Sims 10 Notre Dame HS 23:03.12
335 Janitha Dassanaike 10 Golden Valley HS 23:04.08
336 David Silva 10 Oxnard HS 23:12.56
337 Anthony Mahfood 10 Notre Dame HS 23:14.30
338 Chris Felix 10 Notre Dame HS 23:19.66
339 Jason Davis 10 Redlands Eas 23:24.11
340 Cole Hill 10 Trabuco Hills HS 23:26.66
341 Jared Arp 10 Grace Brethren HS 23:38.58
342 Israel Macias 10 Golden Valley HS 23:45.24
343 Nicholas Schineider 10 West Torrance HS 24:10.27
344 Samuel Cvijanovich 10 Oxnard HS 24:16.37
345 Harmon Rai 10 Palos Verdes HS 24:26.03
346 Daniel Stamlelaky SO Pacifica HS 24:42.53
347 Tyler Morlan 10 Valencia HS 24:45.60
348 Dylan Basco 10 Oxnard HS 25:00.90
349 Tyler Aronson 10 Oxnard HS 25:04.97
350 James Tanous 10 Palos Verdes HS 25:07.82
351 Dylan Tomata 10 West Torrance HS 25:22.76
352 Alec Cervana 10 Palos Verdes HS 25:24.93
353 Esteban Rodriguez 10 Moorpark HS 25:55.03
354 Jake Youssefzadeh 10 Palos Verdes HS 25:58.63
355 Markco Lopez SO Pacifica HS 26:10.01
356 Devin Ryan 10 West Torrance HS 26:55.72
357 William Zolfaghari 10 Moorpark HS 26:59.05
358 Aaron Nakanishi 10 Moorpark HS 27:15.49
359 Ben Montes 10 Agoura HS 27:18.45
360 Benedicto Rosario 10 Oxnard HS 28:04.19
361 Brennan Korshavn 10 West Torrance HS 28:30.07
362 Kurt Dominguez Kilday SO Pacifica HS 28:32.45
363 Brian Sung 10 West Torrance HS 28:45.85
364 Samuel Dominguez 10 Moorpark HS 29:42.33
Event 5 Boys 3 Mile Run CC 9 Grade
=======================================================================
Meet Record: M 15:25.00 1993 Brett Straham, Hart HS
Name Year School Finals Points
=======================================================================
Results - Men
1 Austin Fischer 9 Valencia HS 16:07.65
2 Duncan Reid 9 Palos Verdes HS 16:28.75
3 Lucas Jackson 09 Santa Monica HS 16:30.43
4 Saul Gallardo 9 Corona HS 16:33.42
5 Michael Lotta FR Hart HS 16:39.58
6 Moses Bojorquez 9 Buena HS 16:40.10
7 Isaiah Lozano 9 Saint Bonave 16:47.86
8 Jace Bricker 09 Agoura HS 16:48.38
9 Josh Pattiz 09 Agoura HS 16:56.38
10 Patrick Larkin 9 Royal HS 17:00.08
11 Tyler Schatz 9 Paraclete HS 17:02.80
12 Ty Daley 9 Moorpark HS 17:03.41
13 Johnathon Bay 09 Golden Valley HS 17:05.76
14 Nolan Dunn 09 Agoura HS 17:06.12
15 Dan Morales FR Hart HS 17:10.95
16 Drake Hougo 9 Saugus HS 17:12.11
17 Isaac Martinez 9 Corona HS 17:18.24
18 Riley Petit 9 Palos Verdes HS 17:19.99
19 Cole Hoff 09 Agoura HS 17:20.25
20 Moises Orduna 9 Corona HS 17:27.09
21 Jason Spatter 9 Corona HS 17:27.63
22 Cesar Alegria 9 Corona HS 17:29.32
23 Jake Whealen 9 Oak Park HS 17:31.72
24 Davis Butler 9 Palos Verdes HS 17:36.85
25 Zafir Abouzamzam 9 Redlands Eas 17:37.91
26 Spencer Smith 9 Trabuco Hills HS 17:39.12
27 Romare Ashford 9 Palisades HS 17:42.54
28 Drew Boyd FR Hart HS 17:46.63
29 Robert Franklin 9 Palos Verdes HS 17:48.35
30 Trevor Jamison 9 Oak Park HS 17:48.48
31 Drew Daniels 09 Moorpark HS 17:52.26
32 James Coleman 09 Moorpark HS 17:52.52
33 Wesley Booth 9 Palos Verdes HS 17:54.77
34 Timmy Stevens FR Thousand Oaks 17:55.49
35 Daniel Vazquez 9 Palisades HS 17:56.06
36 Santiago Vega 9 Corona HS 17:56.23
37 Mark Richey 9 Redlands Eas 17:57.25
38 Patrick Miller 9 Valencia HS 17:58.27
39 Andrew Witt 9 Buena HS 18:00.92
40 Malachi Massaji 9 Palisades HS 18:01.45
41 Aaron Erickson 9 Paraclete HS 18:02.69
42 Zachary Wheeler 9 Trabuco Hills HS 18:03.27
43 Raj Chaudhari 9 Trabuco Hills HS 18:04.23
44 Andres Alvarado 09 Golden Valley HS 18:07.63
45 John Vierra 9 Saugus HS 18:08.88
46 Brandon Cadiz 9 Buena HS 18:10.83
47 Lucas Rea 9 Trabuco Hills HS 18:11.84
48 Cameron Hurd 9 Trabuco Hills HS 18:12.51
49 Nathaniel Driggs 9 Oak Park HS 18:13.18
50 Anthony Smolyanov 9 Trabuco Hills HS 18:17.54
51 Noah Perez 09 Moorpark HS 18:19.36
52 Ethan Murcia FR Knight HS 18:20.49
53 Andres Downey 9 Redlands Eas 18:23.06
54 George McGuigan FR Thousand Oaks 18:25.24
55 Joey Ganley 9 Valencia HS 18:27.28
56 Sam Kelley FR Hart HS 18:28.48
57 Logan Otten 9 Buena HS 18:28.98
58 David Sanchez 9 Corona HS 18:30.90
59 Bryce Henderson 9 Royal HS 18:31.94
60 Jake VanderPoel 9 Garces Memorial HS 18:35.52
61 Miguel Flores 9 McFarland HS 18:36.89
62 Chris Mejia FR Hart HS 18:38.56
63 Brandon Barker 9 Trabuco Hills HS 18:40.76
64 Jason Thomas 9 Notre Dame HS 18:41.42
65 Aaron Wirekoon 9 Royal HS 18:42.87
66 Noah Mitchell 9 Palos Verdes HS 18:43.16
67 Joseph Sandoval 9 Saint Bonave 18:43.42
68 Andrew Garcia 9 Saint Bonave 18:45.03
69 Tanner Lomeli 9 Saugus HS 18:45.32
70 Jack Sadler 09 Santa Monica HS 18:46.17
71 Nathan Alvarez FR Dos Pueblos HS 18:47.74
72 Angel Cortes 09 Golden Valley HS 18:48.21
73 Ricardo Hernandez FR Hueneme HS 18:49.12
74 Andres Murillo 9 West Torrance HS 18:50.58
75 Matthew Lockhart 9 Valencia HS 18:51.30
76 Cristian Ortiz 9 Oxnard HS 18:53.40
77 Matt Schmale 9 Palos Verdes HS 18:54.70
78 Caden Wiles 9 Trabuco Hills HS 18:56.99
79 Connor Holcomb 9 Canyon HS 18:57.43
80 Trent Hall 9 Oak Park HS 18:58.16
81 Mustafa Sallak 09 Moorpark HS 18:59.46
82 Nick Drinhaus 9 Paraclete HS 19:01.76
83 Asher Williams 9 Redlands Eas 19:03.19
84 Mario Bautista 9 Saugus HS 19:07.03
85 Peter Esparza FR Lompoc HS 19:09.39
86 Jonathan Trinh 09 Santa Monica HS 19:09.45
87 Anthony Tyler 9 West Torrance HS 19:09.81
88 Will Doerr 9 Corona HS 19:10.76
89 Collin Miller 9 Corona HS 19:16.67
90 Alei Faust 9 West Torrance HS 19:17.00
91 Mason Boren 9 Corona HS 19:17.59
92 Joey Medina 9 Paraclete HS 19:18.71
93 Oliver Goch 09 Moorpark HS 19:18.97
94 Adam Selki 9 Palisades HS 19:20.14
95 Austin Naftel 09 Agoura HS 19:21.08
96 Wesley Couture FR Thousand Oaks 19:21.91
97 Zak Herrera 9 Corona HS 19:22.82
98 Lucas Holtz 10 Valencia HS 19:25.06
99 Christian Cardenas 9 Buena HS 19:26.67
100 Sean Neuman 9 Trabuco Hills HS 19:27.09
101 Dhiraj Ramireddy 9 West Torrance HS 19:27.70
102 Owen Sikich 10 Valencia HS 19:28.88
103 Maxwell Anhalt FR Dos Pueblos HS 19:33.28
104 Joseph Calce 9 Oak Park HS 19:36.18
105 Joshua Colgan 9 Valencia HS 19:39.21
106 Rafael Wilson 09 Agoura HS 19:41.66
107 Grant Mitchell 9 Palos Verdes HS 19:44.31
108 Andres Castro 9 Santa Barbara HS 19:44.89
109 Million Michael 9 Palisades HS 19:45.19
110 Everett Fisher 9 Palisades HS 19:45.31
111 Jacob Crosson 9 Saugus HS 19:45.96
112 Braulio Urena 9 Redlands Eas 19:46.64
113 Travis Blakenship 9 Trabuco Hills HS 19:46.85
114 Nicholas Poirier 9 Santa Barbara HS 19:46.91
115 Niklas Harger 9 Santa Barbara HS 19:47.17
116 Clarke Miller 9 Oak Park HS 19:47.23
117 Jared Beaver 9 Saugus HS 19:47.87
118 Gunnar Robinson 9 Trabuco Hills HS 19:48.22
119 Geoff Firm 9 Buena HS 19:49.43
120 James Setterfield 9 Buena HS 19:51.02
121 Blake Haley 9 Garces Memorial HS 19:51.71
122 Cruz Thayne 09 Agoura HS 19:53.91
123 Bryce Purnell 9 Trabuco Hills HS 19:54.35
124 Maxwell Guy 09 Moorpark HS 19:54.64
125 Angel Cardenas 9 Buena HS 19:58.88
126 Colton Roughen 9 Trabuco Hills HS 19:59.86
127 Ryan Silver 09 Moorpark HS 20:00.43
128 Juvenal Magana 9 Saint Bonave 20:01.78
129 Ivan Ricardo FR Dos Pueblos HS 20:02.08
130 Kevin Ha 9 Oak Park HS 20:04.10
131 Leonardo Romo 9 West Torrance HS 20:05.21
132 Eric Garcia 9 Lancaster High S 20:05.99
133 Daniel Atienza 9 Redlands Eas 20:06.74
134 Anthony Sidor 9 Redlands Eas 20:07.70
135 Brian Schmider 9 Royal HS 20:07.99
136 Alexis Arizmendi 9 Corona HS 20:09.00
137 Nicholas Barker 09 Moorpark HS 20:09.06
138 Rosalio Ulloa 9 Rio Mesa HS 20:09.24
139 Matt Etherington 9 West Torrance HS 20:09.80
140 Riley Strader 9 Valencia HS 20:10.24
141 DJ Aponik F Hart HS 20:10.54
142 Brent Wilson 9 Paraclete HS 20:14.05
143 Adrian Aguilar 9 Paraclete HS 20:15.23
144 Otto Endresz 9 Valencia HS 20:15.35
145 Ben Carlson 9 Garces Memorial HS 20:16.88
146 Austin Lipp FR Dos Pueblos HS 20:17.00
147 Matt Mcilrath 9 Saugus HS 20:17.82
148 Mark Woodhall 9 Redlands Eas 20:19.03
149 Kan Shamizu 9 West Torrance HS 20:19.82
150 Evan Fogo 9 West Torrance HS 20:23.14
151 Brennan Bartley 9 Redlands Eas 20:24.05
152 Jonathon Mendoza 9 Redlands Eas 20:26.37
153 Nathan Calapine 09 Agoura HS 20:31.29
154 Karim Cortez 9 Santa Barbara HS 20:32.13
155 Manny Macias 9 Saugus HS 20:34.36
156 Brian Denning 9 Paraclete HS 20:35.83
157 Allan Telon 9 Birmingham HS 20:36.80
158 Aneesh Gowri 9 Oak Park HS 20:37.27
159 Weston Agenter 09 Moorpark HS 20:38.29
160 Andrew Hwang 9 West Torrance HS 20:38.70
161 Chris Alba 09 Santa Monica HS 20:38.80
162 Brock Allen 9 Saint Bonave 20:39.51
163 Eddie Fung 9 West Torrance HS 20:41.35
164 Jason Shweiri 9 West Torrance HS 20:41.97
165 Marshall Shires 9 Oak Park HS 20:42.04
166 Miles O'Brien 10 Santa Monica HS 20:43.22
167 Christopher Melendez 9 Birmingham HS 20:43.85
168 Denver Divins 9 Lancaster High S 20:44.78
169 David Hsu 9 Oak Park HS 20:45.31
170 Dylan Hernandez 9 Santa Monica HS 20:46.02
171 Dylan Van Mieghem FR Dos Pueblos HS 20:46.54
172 Pedro Flack 09 Santa Monica HS 20:46.98
173 Dean Gelber 9 Palisades HS 20:49.19
174 Jerad Schwartz 9 Trabuco Hills HS 20:50.68
175 Jonathan Suarez 09 Moorpark HS 20:51.04
176 Harrison Ta 9 Saugus HS 20:51.13
177 Logan Frank 9 Valencia HS 20:52.49
178 Conrad Mason 9 Buena HS 20:53.70
179 Tanner Lebel 09 Moorpark HS 20:55.31
180 Tyler Langford 9 Royal HS 20:57.99
181 Shane Peterson 09 Moorpark HS 21:00.10
182 Brian Roe 9 Valencia HS 21:01.52
183 Christopher Orman 9 Trabuco Hills HS 21:02.25
184 Brayden Bateman 9 Palmdale HS 21:03.00
185 Robert Santiago 9 Moorpark HS 21:04.26
186 Ben Baraad 09 Agoura HS 21:05.67
187 Lane Sakach 9 Trabuco Hills HS 21:07.15
188 Joey Johnson 9 Saugus HS 21:08.25
189 Jedd Ulan 09 Moorpark HS 21:08.89
190 Oren Holzman 09 Moorpark HS 21:09.25
191 Gabriel Pimentel 9 Oxnard HS 21:09.72
192 Andrew Jeperson 9 Buena HS 21:10.14
193 Bodhi Kruft 9 Santa Barbara HS 21:10.26
194 Cameron Shiner 9 Trabuco Hills HS 21:11.27
195 Derek Barrera 09 Golden Valley HS 21:12.11
196 Brandon Crockett 9 Trabuco Hills HS 21:13.25
197 Daisuke Sasada 9 West Torrance HS 21:14.20
198 Collin O'Bryan 9 West Torrance HS 21:17.48
199 Patrick Higgins 9 Buena HS 21:19.07
200 Luke Doukakis 9 Valencia HS 21:19.57
201 Jacob Burkholder FR Hart HS 21:22.36
202 Daniel Perez 9 Trabuco Hills HS 21:23.00
203 Oliver Crane 9 Palisades HS 21:25.42
204 Eric Wise 9 Buena HS 21:26.87
205 Garrett Webb 09 Moorpark HS 21:26.98
206 Kyle Silva 9 Valencia HS 21:31.19
207 Wesley Paul 09 Agoura HS 21:31.29
208 Andrew Currie 9 Trabuco Hills HS 21:31.37
209 Troy Madera 9 West Torrance HS 21:36.43
210 Jason Gungayao JR Pacifica HS 21:36.43
211 Michael Byrnes 09 Santa Monica HS 21:37.67
212 Conner Bradley 9 Corona HS 21:38.61
213 Tyler Scott 9 Trabuco Hills HS 21:38.79
214 Vishay Singh FR Dos Pueblos HS 21:39.98
215 Scott Anderson 9 Rio Mesa HS 21:41.00
216 Daniel Perez 9 Buena HS 21:41.36
217 Mark Carlton 9 Palmdale HS 21:41.84
218 Ben Mathews 09 Agoura HS 21:42.42
219 Bryce Livingston 09 Agoura HS 21:43.41
220 Anthony Oliver 9 West Torrance HS 21:45.02
221 Dylan Belka 09 Agoura HS 21:45.31
222 Trevor Davis 9 Trabuco Hills HS 21:45.71
223 Nicholas Singley 9 Oak Park HS 21:46.47
224 Mo Farah 9 West Torrance HS 21:46.52
225 Teddy Grabiak 9 Paraclete HS 21:46.98
226 Israel Esqueda 9 Lancaster High S 21:48.46
227 Rene Sandoval-Flores 9 Santa Barbara HS 21:49.97
228 Kevin Nguyen 09 Moorpark HS 21:50.53
229 Nicholas Katzer FR Dos Pueblos HS 21:51.12
230 David Pailet 9 Palos Verdes HS 21:51.56
231 Steven Tyson FR Thousand Oaks 21:53.47
232 Parker Bosworth 9 Trabuco Hills HS 21:54.67
233 Bobby Mummery 9 Oxnard HS 21:57.26
234 Wyatt Gavin 9 Canyon HS 21:57.77
235 Robin Vega 9 Palisades HS 21:58.84
236 Jose Cervantes FR Lompoc HS 21:59.64
237 Gary Baylis FR Thousand Oaks 22:00.88
238 Chase Smith 9 Garces Memorial HS 22:01.66
239 Brandon Wolfson 9 West Torrance HS 22:02.13
240 Anhadh Jassal 9 West Torrance HS 22:05.19
241 Jacob Polidi 09 Agoura HS 22:06.80
242 Joshua Angelo 09 Moorpark HS 22:08.35
243 Alex Arteaga 9 Corona HS 22:09.88
244 Griffin Barry 9 Canyon HS 22:10.61
245 Brandon Hunt 9 Trabuco Hills HS 22:11.11
246 Drew Esmay 9 Oak Park HS 22:11.43
247 Zach Mckee 9 Royal HS 22:11.88
248 Alan Bontemps FR Hart HS 22:17.27
249 Kevin Park 9 Saugus HS 22:23.22
250 Hunter Lukk FR Hart HS 22:23.84
251 Jacob Stephens 9 Trabuco Hills HS 22:24.21
252 Anthony Lopez FR Hart HS 22:25.07
253 Jonathan Chang 9 Royal HS 22:25.17
254 Miles Harvey 9 Saint Bonave 22:25.58
255 Josue Baes FR Fillmore HS 22:26.76
256 David Avila 9 Valencia HS 22:27.55
257 Shane Messner SO Dos Pueblos HS 22:28.46
258 Ethan Harb 9 Santa Barbara HS 22:30.96
259 Cliff Danza 9 Buena HS 22:31.88
260 Dylan Gordon 09 Agoura HS 22:33.46
261 Gage Hansberry 9 Trabuco Hills HS 22:33.79
262 Andrew Macko 9 Trabuco Hills HS 22:34.29
263 Joshua Aguilera FR Pacifica HS 22:34.87
264 Quinn Mannen FR Thousand Oaks 22:35.12
265 Logan Lacher 9 Trabuco Hills HS 22:35.52
266 Levon Keawprasert FR Hart HS 22:35.89
267 Evan Jalaty 9 Buena HS 22:36.59
268 Justin Ng FR Hart HS 22:40.12
269 Bishoy Aiyed 9 Trabuco Hills HS 22:41.13
270 Christopher Hernandez 9 Valencia HS 22:41.37
271 Benjamen Schierman 9 Rio Mesa HS 22:42.64
272 Noah Pearson 9 Rio Mesa HS 22:49.83
273 Jeremy Rios 9 Canyon HS 22:51.85
274 Sean Fitzpatrick 9 Trabuco Hills HS 22:53.72
275 Scott Buffham 9 Saugus HS 22:54.99
276 Mason Reihs 09 Moorpark HS 22:58.13
277 Lucas Lagola 09 Agoura HS 23:00.09
278 Yon IN Shin 9 West Torrance HS 23:05.51
279 Shawn Cogan 9 Rio Mesa HS 23:06.09
280 Anthony Arizmendi 9 Corona HS 23:06.45
281 Julian Rios FR Pacifica HS 23:06.83
282 Patrick Ellingwood 9 Canyon HS 23:09.49
283 Cameron Kyle 9 Rio Mesa HS 23:11.84
284 Joshua Manapsal 9 Trabuco Hills HS 23:13.18
285 Edgar Camberos 9 Canyon HS 23:15.17
286 Ryan Interrante 09 Moorpark HS 23:16.29
287 Alexander Graden 09 Agoura HS 23:20.69
288 Daniel Noriega 9 Buena HS 23:20.90
289 Nathan Stokes 9 Santa Barbara HS 23:22.38
290 Logan Horstkotte 9 West Torrance HS 23:22.93
291 Tim Morton 9 Palos Verdes HS 23:24.04
292 Juan Chavez 09 Moorpark HS 23:26.79
293 Tristan Jai 9 Palos Verdes HS 23:32.44
294 Danny Adelsberg 09 Agoura HS 23:33.15
295 Raphael Magana FR Fillmore HS 23:33.65
296 William Albers 9 Oxnard HS 23:38.91
297 Aaron Jimenez 9 Saint Bonave 23:39.29
298 Jack Mazzeo FR Thousand Oaks 23:39.39
299 Eric Grossman 09 Agoura HS 23:48.99
300 Liam Winston 9 The Buckley School 23:51.55
301 Joshua Rouimi 09 Agoura HS 23:53.14
302 Mark Schlegel FR Hart HS 23:54.53
303 Donald Hoskins 9 Corona HS 23:57.60
304 Jesus Cerros 9 Palmdale HS 24:00.93
305 Pius Depaz 9 Lancaster High S 24:01.29
306 Tasso Ioannidis 9 Saint Bonave 24:04.62
307 Xavier Williams 9 Valencia HS 24:09.19
308 Jack Whiteley 9 Oak Park HS 24:19.78
309 Jacob Collier 9 Rio Mesa HS 24:20.64
310 Peter Watanabe 09 Moorpark HS 24:32.15
311 John Culhane FR Thousand Oaks 24:35.89
312 Evan Reed 9 Canyon HS 24:49.08
313 mo Elgaboy 9 West Torrance HS 25:13.04
314 WaiHo Yuen 09 Moorpark HS 25:17.23
315 Jalce Mitchell 9 West Torrance HS 25:19.73
316 nathan Tanaguchi 9 West Torrance HS 25:21.82
317 Peter France 09 Agoura HS 25:21.89
318 Andrew Mandujano 9 Valencia HS 25:23.15
319 Javier Rivera 9 Rio Mesa HS 25:27.79
320 Ethan Ramos 9 West Torrance HS 25:31.71
321 Gabe Martin 9 West Torrance HS 25:32.44
322 Camden Ross 9 Saint Bonave 25:34.10
323 Ravindra Kapila 9 West Torrance HS 25:43.92
324 Blake Brundy FR Lompoc HS 25:48.46
325 Ryan Miller 09 Agoura HS 25:51.65
326 Kevin Tai 9 West Torrance HS 26:12.95
327 Nick Montenegro 9 Canyon HS 26:18.02
328 Roy Moon 09 Moorpark HS 26:25.25
329 Christopher Anderson 9 Moorpark HS 26:31.30
330 sho Ishimaru 9 West Torrance HS 26:44.36
331 Eric Manzanarez FR Lompoc HS 27:04.78
332 Ryan Espinosa 9 Rio Mesa HS 27:07.21
333 Dean Valle 9 Saint Bonave 27:58.47
334 adam Imperiali 9 Saugus HS 28:08.23
335 Shane Halsema 09 Moorpark HS 28:08.70
336 Anthony Andrade 9 Birmingham HS 28:15.77
337 Ryan Whiteford 9 Buena HS 28:32.64
338 Gabe Castaneda 9 Buena HS 28:33.47
339 Matt Zone 09 Agoura HS 28:43.79
340 Maya Batista 11 Oxnard HS 29:09.62
341 Justin Gallegos FR Hart HS 29:09.62
Event 4 Girls 3 Mile Run CC 12 Grade
=======================================================================
Meet Record: M 16:35.00 1995 Kim Mortensen, Thousand Oaks HS
Name Year School Finals Points
=======================================================================
Results - Women
1 Madeline Dignadice 12 Valencia HS 17:26.28
2 Madison Grenier 12 Paraclete HS 17:35.37 1
3 Olivia Pear 12 Valencia HS 17:41.38
4 Olivia Altieri 12 Saugus HS 17:50.07 2
5 Nina Sassano 12 Saugus HS 17:52.57 3
6 Alice Wasserman 12 Santa Monica HS 17:56.15 4
7 Stephanie LaFace 12 Notre Dame HS 17:57.90 5
8 Kazia Mermel 12 Notre Dame HS 18:05.98 6
9 Katie Huntington 12 Saugus HS 18:09.63 7
10 Lauren Gagnon 12 Palos Verdes HS 18:13.83 8
11 Jacqueline Rodriguez 12 West Torrance HS 18:15.27 9
12 Abby Buckhoff 12 Golden Valley HS 18:16.44
13 Alex Hill 12 Saugus HS 18:19.00 10
14 Kylie Butler 12 Palos Verdes HS 18:19.85 11
15 Melanie Fujiwara 12 Paraclete HS 18:21.29 12
16 Alyssa Desmond 12 West Torrance HS 18:22.85 13
17 Brittany Gonzalez 12 Rio Mesa HS 18:32.56 14
18 Miranda Auer 12 Trabuco Hills HS 18:34.07 15
19 Genevieve Johnson SR Thousand Oaks 18:36.26 16
20 Parker Navarro SR Thousand Oaks 18:37.54 17
21 Christina Cordano 12 Mayfield Sen 18:39.42 18
22 Callie Hallman 12 Saugus HS 18:45.63 19
23 Shari Brown 12 Trabuco Hills HS 18:49.39 20
24 Rachel DeLuca 12 Agoura HS 18:59.53 21
25 Angela Sloss 12 West Torrance HS 18:59.89 22
26 Morgan Pedrick SR Hart HS 19:00.57 23
27 Aliya Shah 12 Buena HS 19:01.25
28 Michelle Kagei 12 Palos Verdes HS 19:03.32 24
29 Lily Petersen 12 Notre Dame HS 19:04.10 25
30 Emily Berkin 12 Santa Monica HS 19:07.31 26
31 Mary Najarian 12 Mayfield Sen 19:07.62 27
32 Annie Wilshire 12 Redlands Eas 19:10.03 28
33 Jordi Baraad 12 Agoura HS 19:10.35 29
34 Cady Whicker 12 Lancaster High S 19:14.53
35 Rachel Smiley SR Thousand Oaks 19:15.93 30
36 Kalie Hanson-Campa 12 Redlands Eas 19:16.41 31
37 Karina Alvarez 12 Mayfield Sen 19:18.84 32
38 Rachael Duriez SR Knight HS 19:19.33
39 Jessica Cruz 12 Garces Memorial HS 19:19.58
40 Lorena Huizar SR Hueneme HS 19:23.43 33
41 Carly Simon 12 Agoura HS 19:24.56 34
42 Kylie Guerrero 12 Redlands Eas 19:25.70 35
43 Evan Stockdale 12 Trabuco Hills HS 19:26.05 36
44 Jilliane De Leon 12 Golden Valley HS 19:32.60
45 Melanie Williams 12 Corona HS 19:32.67 37
46 Vanessa Putnam 12 Corona HS 19:32.98 38
47 Melissa Russett SR Thousand Oaks 19:33.43 39
48 Haley Peterson SR Dos Pueblos HS 19:36.45 40
49 Stephanie Lowe 9 Trabuco Hills HS 19:37.46 41
50 Amy Van Leeuwen SR Hart HS 19:43.76 42
51 Miranda Cornwell 12 Notre Dame HS 19:44.33 43
52 Michelle Ip 12 Moorpark HS 19:45.77 44
53 Katherine Duan 12 West Torrance HS 19:46.07 45
54 Dominique Dowell 12 Birmingham HS 19:48.08 46
55 Melissa Culhane SR Thousand Oaks 19:53.80 47
56 Haida Holscher 12 Santa Monica HS 19:54.29 48
57 Hayley Walke 12 La Reina HS 19:59.02 49
58 Claralyse Palmer 12 Agoura HS 19:59.64 50
59 Maria Morales-Bautista SR Hart HS 20:00.79 51
60 Emma Gordon 12 Agoura HS 20:00.93 52
61 Heather McIntosh 12 Oak Park HS 20:01.41 53
62 Kimberly Nava 12 Birmingham HS 20:01.66 54
63 Mia Gilbert 12 Notre Dame HS 20:02.44 55
64 Kristen Ellingson 12 Corona HS 20:05.50 56
65 Ana Ferreira SR Pacifica HS 20:05.60 57
66 Bailey Higa 12 Agoura HS 20:06.71 58
67 Rachel Kiekhofer 11 Santa Monica HS 20:07.82 59
68 Yesenia Razo SR Hart HS 20:09.16 60
69 Allyson Adams 12 La Reina HS 20:09.75 61
70 Cynthia Martinez SR Hueneme HS 20:11.50 62
71 Jackie Bamberger 12 Palisades HS 20:12.29
72 Shayna Laser SR Hart HS 20:15.36 63
73 Patricia Casarrubias SR Hueneme HS 20:17.94 64
74 Ashley Fairbanks 12 Paraclete HS 20:20.32 65
75 Alejandra Gonzalez SR Lompoc HS 20:20.36
76 Hannah Richland 12 Palos Verdes HS 20:22.13 66
77 Lupe Ruiz 12 McFarland HS 20:23.60
78 Isabella Demachkie 12 Santa Barbara HS 20:24.57
79 Ashni Nadgauda 12 Royal HS 20:26.95 67
80 Hannah Weidman SR Thousand Oaks 20:28.85 68
81 Veronica Cardenas 12 Palmdale HS 20:29.22 69
82 Caroline Foudy 12 Royal HS 20:33.00 70
83 Brianna Sveinson 12 Corona HS 20:34.39 71
84 Maggie Guinnip 12 Notre Dame HS 20:34.69 72
85 Leslene Sagisi 12 Rio Mesa HS 20:36.53 73
86 1 Bandit FR Bandit 20:44.51
87 Maria Villalobos SR Fillmore HS 20:46.68
88 Geneva Espinoza SR Knight HS 20:46.95
89 Kelly Chow 12 La Reina HS 20:50.54 74
90 Michelle Cohen 12 Palos Verdes HS 20:53.11 75
91 Jenna Mooneyham 12 Saugus HS 20:54.09 76
92 Jordan Jeworski 12 La Reina HS 20:57.65 77
93 Natalie Shyu 12 Mayfield Sen 20:57.88 78
94 Delaney Gove 12 Oak Park HS 21:00.12 79
95 Katie Lovell 12 Royal HS 21:01.87 80
96 Lizzie Stantley 12 Palos Verdes HS 21:02.28 81
97 Summer Shafer SR Thousand Oaks 21:04.02 82
98 Eve Kopecky 12 Oak Park HS 21:05.25 83
99 Erinn Sloan 12 Oak Park HS 21:08.95 84
100 Stephanie Marin SR Hart HS 21:10.74 85
101 Lindsey Estrada SR Hart HS 21:11.36 86
102 Quinn Kearns 12 Agoura HS 21:13.62 87
103 Monica Furubotten 12 Saugus HS 21:20.63 88
104 Alexia Doutherd 12 Canyon HS 21:21.06
105 Alexa Shimada SR Dos Pueblos HS 21:26.75 89
106 Anayeli Lopez 12 Corona HS 21:29.18 90
107 Monica Ramirez 12 Oxnard HS 21:32.00
108 Kamila Hoenk SR Hart HS 21:33.22
109 Erica Hernandez SR Pacifica HS 21:35.58 91
110 Alexis Richardson 12 Trabuco Hills HS 21:39.64 92
111 Amanda Romano 12 Saugus HS 21:40.22
112 Nicole Moghaddas 12 Saugus HS 21:41.41
113 Carlie Jansen 12 Agoura HS 21:44.75
114 Marika Schipper SR Dos Pueblos HS 21:45.48 93
115 Ann Kim 12 West Torrance HS 21:46.04 94
116 Cecilia Tapia 12 Rio Mesa HS 21:46.73 95
117 Nicole Wildermuth 12 Agoura HS 21:52.83
118 Jennifer Flores 12 Redlands Eas 21:53.71 96
119 Josephine Lee 12 Valencia HS 21:54.61
120 Mariah Barnes 11 Buena HS 21:56.65
121 Sandra Martinez SR Hueneme HS 21:57.03 97
122 Kaylie Foudy 12 Royal HS 21:57.75 98
123 Madeline Aguilar 12 Corona HS 22:03.12 99
124 Rachel Stillman 11 Trabuco Hills HS 22:06.52 100
125 Rosie Sterkel 12 Saugus HS 22:12.73
126 Jamie Stankiewiz 12 Moorpark HS 22:13.06 101
127 Aleen Gordon 12 Palos Verdes HS 22:18.43 102
128 Libby Baker SR Dos Pueblos HS 22:18.80 103
129 Cleo Monrose 12 Palisades HS 22:19.44
130 Dana Burns 12 Redlands Eas 22:21.57 104
131 Lauren Frey 12 Oak Park HS 22:27.30 105
132 Lauren Reed 9 Trabuco Hills HS 22:31.69 106
133 Amber Wilmot SR Fillmore HS 22:33.10
134 Fatima Oropeza 12 Birmingham HS 22:33.85 107
135 Ericka Briseno 12 Birmingham HS 22:35.52 108
136 Haley Durham 12 Agoura HS 22:37.06
137 Katherine Barrett 12 Oak Park HS 22:43.26 109
138 Valerie Flores 12 Corona HS 22:46.54 110
139 Catherine Movich 12 Oak Park HS 22:48.20 111
140 Samara Roman-Holba 12 The Buckley School 22:49.11
141 Kaylie Cimadoro 12 Moorpark HS 22:51.15 112
142 Joselyn Salazar 12 Palmdale HS 22:52.60 113
143 anna Divins 12 Lancaster High S 22:53.72
144 Alexia Strong 12 West Torrance HS 22:55.80 114
145 Venezia Hyland 12 Mayfield Sen 22:55.98 115
146 Carly Sproul 12 Golden Valley HS 22:59.52
147 Sadie Tamayo 12 Redlands Eas 23:01.21 116
148 Riley Laser SR Hart HS 23:03.35
149 Molly Ryan SR Hart HS 23:06.58
150 Bellas Gadsby-Connick 12 Santa Monica HS 23:07.87 117
151 Anaiancy Ramirez SR Pacifica HS 23:13.30 118
152 Iris Ballard 12 Trabuco Hills HS 23:14.29
153 Kayla McLaughlin 12 Lancaster High S 23:17.57
154 Jessica Harnoy 12 Agoura HS 23:22.61
155 Mika Panza 12 Palisades HS 23:25.47
156 Lauren Chrislu 12 Saugus HS 23:27.58
157 Elaina Provencio 12 Corona HS 23:28.20
158 Angelica Cook 12 Moorpark HS 23:36.64 119
159 Mary Popoca JR Knight HS 23:37.31
160 Breanna Gonzalez 12 Garces Memorial HS 23:39.21
161 Rachel Smithers SR Thousand Oaks 23:40.26
162 Maria Watley 12 Palmdale HS 23:43.58 120
163 Caroline Whelan SR Dos Pueblos HS 23:48.28 121
164 Samantha Orihuela 12 Palmdale HS 23:50.40 122
165 Jesyka Dunn 12 Paraclete HS 23:52.45 123
166 Alanna Kjoller SR Dos Pueblos HS 23:53.07 124
167 Shirley Hoang 12 Agoura HS 24:02.32
168 Kelsey Ma 12 Oak Park HS 24:07.96
169 Lena Tamayo 12 Redlands Eas 24:08.58 125
170 Gabriella Molina 12 Garces Memorial HS 24:11.59
171 Karina Garcia 12 Birmingham HS 24:15.64 126
172 Jessica Dill-Schmidt 12 Saugus HS 24:18.10
173 Kelly Cooksey 12 Saugus HS 24:20.50
174 Samantha Venegas 12 Mayfield Sen 24:29.01 127
175 Yonalida Alamillo 12 Pacifica HS 24:36.88 128
176 Emily Angelo 12 Moorpark HS 24:38.86 129
177 Sarah Kovacs 12 Santa Monica HS 24:40.06 130
178 Augustina Gaona SR Hueneme HS 24:50.14 131
179 Kristen Hsiao 10 Trabuco Hills HS 24:59.76
180 Sara Levine SR Thousand Oaks 25:00.19
181 Allisabeth Hernandez SR Fillmore HS 25:00.49
182 Brianna Eckert 12 Royal HS 25:00.73 132
183 Michelle Hafen 10 Trabuco Hills HS 25:14.15
184 Madison Wildman 12 Agoura HS 25:21.96
185 Sarah Pineda 12 Rio Mesa HS 25:22.30 133
186 Kathryn Gonzalez 12 Palisades HS 25:32.72
187 Beth Vasquez 12 Corona HS 25:40.46
188 Jennifer Heinzel SR Hart HS 25:44.44
189 Hanah Joslin SR Hart HS 25:46.30
190 Autumn Gerber 12 Redlands Eas 25:47.27
191 Amanda Vassaur SR Fillmore HS 25:47.32
192 Jenny Day 12 Birmingham HS 25:49.36 134
193 Bailey Miller 9 Trabuco Hills HS 25:50.28
194 Allison Green 12 Moorpark HS 26:14.35 135
195 Mary Stermer 12 Notre Dame HS 26:16.40 136
196 Karly George 12 Royal HS 26:20.59 137
197 Emily Giovanelli 12 Agoura HS 26:20.71
198 Sarah Kulpa 9 Trabuco Hills HS 26:22.78
199 Cari Carnales 12 Buena HS 26:28.36
200 Sabrina Velis 12 Golden Valley HS 26:37.78
201 Nina Nozzi 11 Buena HS 26:40.95
202 Ellen Hwang SR Thousand Oaks 26:50.94
203 Vanessa Lopez 12 Oak Park HS 26:51.80
204 Emily Foster 12 La Reina HS 26:55.80 138
205 Brittany Hartmire SR Hart HS 26:56.03
206 Bea McGinnis 12 La Reina HS 27:00.85 139
207 Atzin Botello 12 Redlands Eas 27:05.92
208 Sophia Hampp 12 Santa Barbara HS 27:11.90
209 Elizabeth Gastelum 12 Redlands Eas 27:13.41
210 Nikki Sahebghalam 12 Agoura HS 27:14.20
211 Jasmine Loring 12 Oxnard HS 27:34.33
212 Emily Garrett 12 Moorpark HS 27:49.32 140
213 Karina Morales SR Pacifica HS 27:50.18 141
214 Ashley Ibal 12 Palmdale HS 28:00.14 142
215 Marissa Santana 12 Mayfield Sen 28:27.38 143
216 Maria Cisneros 12 Moorpark HS 28:49.25
217 Meneka Fernando 12 La Reina HS 28:51.85 144
218 Nicole Flores 12 Palos Verdes HS 29:02.48
219 Itzel Gomez 12 Birmingham HS 29:39.16 145
220 Adrianna Castillo 12 Corona HS 29:49.30
221 Jessica Madrid 12 Rio Mesa HS 29:49.43 146
222 Desiree Almanza 12 Lancaster High S 30:08.55
223 Caitlin Fisher 12 Oak Park HS 30:10.08
224 Allison Mego 12 Paraclete HS 30:37.38 147
225 Montana Crosson 12 Mayfield Sen 31:13.35
226 Ijeoma Ogbogu 12 Mayfield Sen 31:48.85
227 Amanda Torrez 12 Mayfield Sen 35:40.77
228 Jacqueline Jaramillo SR Pacifica HS 35:46.16 148
Event 3 Girls 3 Mile Run CC 11 Grade
=======================================================================
Meet Record: M 17:13.00 1991 Stacy Auer, Thousand Oaks HS
Name Year School Finals Points
=======================================================================
Results - Women
1 Addi Zerrenner JR Dos Pueblos HS 16:44.19M 1
2 Dominique Regalado 9 Trabuco Hills HS 17:34.44 2
3 Abigail Frankian 11 Saugus HS 17:50.38 3
4 Rachel Wilson 10 Trabuco Hills HS 18:00.42 4
5 Alyssa Frank 11 La Reina HS 18:04.36 5
6 Skylar Thiel 11 Palos Verdes HS 18:10.91 6
7 Alicia Williams 11 Corona HS 18:23.91 7
8 Meghan Fairchild JR Hart HS 18:30.87 8
9 Marisa Meza JR Knight HS 18:38.55 9
10 Veronica Garcia 11 McFarland HS 18:39.26 10
11 Kori Groenveld JR Thousand Oaks 18:43.33 11
12 Jennifer Ramirez 11 McFarland HS 18:43.73 12
13 Kendall Engelhardt 11 Oak Park HS 18:47.95 13
14 Kathryn Bishop 11 Trabuco Hills HS 18:48.37 14
15 Kristin Monson 11 Paraclete HS 18:58.48 15
16 Alyssa Rivas 11 Mayfield Sen 18:59.20 16
17 Holly Petrusson 11 La Reina HS 19:10.19 17
18 Courtney Reis 11 Moorpark HS 19:12.46 18
19 Nina Winsick 11 Oak Park HS 19:14.62 19
20 Carly Lee 11 Corona HS 19:14.74 20
21 Delanie Eng 10 Trabuco Hills HS 19:17.37 21
22 Katelyn Hosch 11 Buena HS 19:20.49 22
23 Carmen Hernandez 11 McFarland HS 19:30.20 23
24 Alma Sarabia 11 McFarland HS 19:31.70 24
25 Emely Amaya 11 Royal HS 19:34.87
26 Rebecca Baldree 11 Agoura HS 19:36.28 25
27 Lexi Whitman 11 Valencia HS 19:37.35 26
28 Yvette Trejo JR Thousand Oaks 19:38.51 27
29 Rebecca Vasquez 11 Notre Dame HS 19:38.90
30 Amanda DeJesus 11 Saugus HS 19:40.29 28
31 Emma Carley 11 West Torrance HS 19:40.36 29
32 Nancy Houth 11 Birmingham HS 19:40.80 30
33 Daniella Medina 11 McFarland HS 19:41.46 31
34 Hannah Griffie 11 West Torrance HS 19:45.10 32
35 MACKENZIE Gray 11 Palisades HS 19:47.08 33
36 Sabrina Soriano JR Knight HS 19:47.77 34
37 Cate Ryant 11 Palos Verdes HS 19:55.38 35
38 Anne-Marie Peacock 11 Mayfield Sen 19:58.04 36
39 Clara Vara JR Knight HS 20:00.51 37
40 Kelsie Garrison 11 Agoura HS 20:01.62 38
41 Alyssa Schleger 11 Trabuco Hills HS 20:02.60 39
42 Isabella Dang 11 Oxnard HS 20:04.81
43 Morgan Spurlock 11 Valencia HS 20:08.25 40
44 Graciela Godinez JR Thousand Oaks 20:08.90 41
45 Gabrielle Delayo 11 Trabuco Hills HS 20:09.26 42
46 Yajaira Roque JR Knight HS 20:09.64 43
47 Xenia Alas 11 Corona HS 20:11.04 44
48 Stephanie Garcia 11 Birmingham HS 20:11.54 45
49 Zoe Caron 11 Palos Verdes HS 20:15.07 46
50 Rowen Merrill 11 Mayfield Sen 20:15.79 47
51 Alyssa Rodriguez 11 Valencia HS 20:16.74 48
52 Jordyn Vassaur JR Fillmore HS 20:20.13
53 Katy Hoerman 11 Oak Park HS 20:25.69 49
54 Jennifer LaMori 11 Santa Monica HS 20:26.57 50
55 McKenna Marhsall 11 Palos Verdes HS 20:28.90 51
56 Shelby Sabako 9 Trabuco Hills HS 20:35.78 52
57 Christiana Karam 11 Santa Barbara HS 20:38.76 53
58 Laura Sega JR Hart HS 20:42.73 54
59 Delia Manzanares 11 Corona HS 20:48.98 55
60 Yijin Wang JR Dos Pueblos HS 20:49.92 56
61 Kelly Negrete 11 McFarland HS 20:50.80 57
62 Amy DeLuca 11 Oak Park HS 20:51.93 58
63 Lauren Tolcher 11 La Reina HS 20:53.30 59
64 Alyson Whitworth JR Thousand Oaks 20:53.55 60
65 Alana Shaw 11 Saugus HS 20:53.63 61
66 Melissa Pearson 11 La Reina HS 20:54.64 62
67 Kristina Melero JR Lompoc HS 21:01.31
68 Alana DiPrima 11 Moorpark HS 21:03.16 63
69 Leina Verrier JR Hart HS 21:03.66 64
70 Jenna Mears 11 Saugus HS 21:05.27 65
71 Vicki Gifford 11 Agoura HS 21:05.94 66
72 Roxanne Laveaga 11 West Torrance HS 21:06.46 67
73 Aline Gonzalez JR Knight HS 21:07.73 68
74 Naomi Fein 9 Trabuco Hills HS 21:07.94
75 Marlina Barnett-Crespo 11 Notre Dame HS 21:09.23
76 Jesa Bryant-Simental 11 Buena HS 21:11.35 69
77 Camille Gray JR Hart HS 21:12.13 70
78 Kailey Silverman 11 Rio Mesa HS 21:14.81 71
79 Jada Selexman 11 Golden Valley HS 21:16.58
80 Gabi Martinez 11 Santa Monica HS 21:19.50 72
81 Lesley Gomez 11 Canyon HS 21:19.69 73
82 Emma Kohut 11 Santa Monica HS 21:20.30 74
83 Kimberly Newton 11 Valencia HS 21:20.66 75
84 Sumer Bermani 11 Paraclete HS 21:21.20 76
85 Kate Frankel 11 Palisades HS 21:22.19 77
86 Rachel Andrade 11 West Torrance HS 21:22.60 78
87 Lindsay Logsdon 9 Trabuco Hills HS 21:23.67
88 Kara Kenyon 11 Royal HS 21:26.41
89 Mikala Fairchild JR Hart HS 21:28.80 79
90 Katie Mohrhoff 11 Saugus HS 21:29.05 80
91 Rachel Hall 11 Saugus HS 21:29.72 81
92 Noemi Villalobos JR Knight HS 21:33.96 82
93 Emily Reynolds 11 Saugus HS 21:34.16 83
94 Sarah Lopez 11 Moorpark HS 21:37.79 84
95 Lauren Wolf 11 Santa Barbara HS 21:39.05 85
96 Jeana Osburn JR Knight HS 21:40.31 86
97 Jennifer Bitterly 11 La Reina HS 21:42.73 87
98 Brooke Weiss 11 Santa Monica HS 21:45.45 88
99 Aya Ibayashi 11 West Torrance HS 21:49.43 89
100 Gabi Lomelei JR Knight HS 21:51.54
101 Anna Pebley 11 Saugus HS 21:52.96
102 Florencia Perusset 11 Canyon HS 21:57.49 90
103 1 Bandit FR Bandit 21:59.39
104 Megan O'Toole 11 La Reina HS 22:00.14 91
105 Sonya Williams 11 Mayfield Sen 22:00.78 92
106 Leigh Anne Dones 11 Canyon HS 22:03.78 93
107 Jennifer Kocipak JR Thousand Oaks 22:06.97 94
108 Ramos Daisy 11 McFarland HS 22:07.12 95
109 Hayley Lincoln JR Hart HS 22:08.65 96
110 Kate Linn JR Hart HS 22:08.93 97
111 Rocchina Safford 9 Trabuco Hills HS 22:09.49
112 Kylie Mirabal 11 Valencia HS 22:12.56 98
113 Sarah Verin 11 Notre Dame HS 22:14.09
114 Emely Roman JR Lompoc HS 22:14.23
115 Gabby Blokzyl 11 Corona HS 22:16.77 99
116 Arianna Giggy 11 Garces Memorial HS 22:18.72
117 Masha Paramanova 11 Notre Dame HS 22:19.66
118 Ellen Upton 11 Santa Barbara HS 22:21.78 100
119 Caitlin McConnell 11 Valencia HS 22:22.88 101
120 Trinh La JR Dos Pueblos HS 22:24.48 102
121 Clarisa Villafan 11 Corona HS 22:27.66 103
122 Rosie Lorenzo JR Hart HS 22:29.06
123 Katherine Tang JR Dos Pueblos HS 22:29.97 104
124 Angie Tapia 11 Saugus HS 22:30.87
125 Amanda Hensley 11 Santa Barbara HS 22:31.32 105
126 Michelle Menges 11 Agoura HS 22:33.09 106
127 Abril Martinez 11 Lancaster High S 22:35.13 107
128 Vivanna Martinez 11 Buena HS 22:36.78 108
129 Mari Herbst de Cortina 11 Agoura HS 22:37.18 109
130 MyGemLee Guzman 10 Birmingham HS 22:39.62 110
131 Aracelli Bobadilla JR Hart HS 22:39.81
132 Kassie Peralta JR Hart HS 22:41.15
133 Annie Chacon 11 Paraclete HS 22:41.78 111
134 Remy Traglio 11 Mayfield Sen 22:43.94 112
135 Andrea Pimental JR Pacifica HS 22:44.34 113
136 Berenice Ceja JR Hueneme HS 22:44.63
137 Kienna Kulzer 11 Buena HS 22:45.58 114
138 Samantha Ahl 11 Moorpark HS 22:46.50 115
139 Tabitha Magner JR Dos Pueblos HS 22:49.02 116
140 Kristi Goodspeed 11 Canyon HS 22:50.58 117
141 Halley Wulterin 9 Trabuco Hills HS 22:53.62
142 Erica Cardenas 11 Redlands Eas 22:54.35 118
143 Delaney Niehoff 11 La Reina HS 22:55.42 119
144 Rossana Martinez 11 Paraclete HS 22:58.30 120
145 Domonique Morales 11 Buena HS 22:59.20 121
146 Kaitlynn Tedrick 11 Canyon HS 23:01.84 122
147 Rocio Echeverria 11 Lancaster High S 23:05.77 123
148 Isabel Nicholls 11 Santa Monica HS 23:07.48 124
149 Lucy Ashton 11 Trabuco Hills HS 23:13.45
150 Gilda Gonzalez 11 Santa Monica HS 23:17.49 125
151 Ashlee Bradford 11 Garces Memorial HS 23:18.10
152 Taylor Uribe 11 Garces Memorial HS 23:18.31
153 Mishele Herrera 11 Birmingham HS 23:18.44 126
154 Tiffany Lotfi 11 Corona HS 23:19.81 127
155 Verna Stover JR Knight HS 23:20.28
156 Kaileigh Cook 11 Canyon HS 23:23.66 128
157 Sochima Ezechukau JR Knight HS 23:25.09
158 Breann Elvington 11 Paraclete HS 23:26.95 129
159 Karissa Cox 11 Trabuco Hills HS 23:28.68
160 Heather Bradfield 11 Moorpark HS 23:34.78 130
161 Stephanie Gonzalez JR Knight HS 23:37.27
162 Genensis Ramirez JR Knight HS 23:37.71
163 Kori Bush 11 Corona HS 23:37.99
164 Sara Pecoraro JR Knight HS 23:39.07
165 Gianna Radoi 11 Redlands Eas 23:40.61 131
166 Jennifer Mayemura 11 Oak Park HS 23:42.81 132
167 Andrea Sandeoal 11 Santa Clara 23:44.30
168 Rosey Garcia JR Knight HS 23:52.46
169 Danya Carithers 11 La Reina HS 23:53.49
170 Sophie West 11 Rio Mesa HS 23:53.92 133
171 Jane Waldron 11 Oak Park HS 23:54.85 134
172 Esther Elenes JR Lompoc HS 23:56.08
173 Bridgette Grigore 11 Palisades HS 24:03.57 135
174 Molly McCrane JR Knight HS 24:07.18
175 Kennedy Rose 11 La Reina HS 24:20.66
176 Noely Serrato 11 Paraclete HS 24:22.20 136
177 Ana Hidalgo 12 Rio Mesa HS 24:23.34 137
178 Jazmine Chacon JR Hueneme HS 24:23.65
179 Cassandra Meraz JR Knight HS 24:29.25
180 Paige Mueller 11 Palos Verdes HS 24:30.92 138
181 Arianna Macaluso 11 La Reina HS 24:31.89
182 Kristina Carr 11 Paraclete HS 24:33.36 139
183 Caroline Trujillo 12 Golden Valley HS 24:33.88
184 Tiffany De La Cruz JR Knight HS 24:36.33
185 Natalie Lopez 11 Birmingham HS 24:36.47 140
186 Paulina Johnson JR Pacifica HS 24:39.92 141
187 Gloria Lam JR Dos Pueblos HS 24:43.21 142
188 Shannon Mcdermott 11 Saint Bonave 24:46.89
189 Sarah Hambro 11 Paraclete HS 24:48.40
190 Brooke Stuart 11 La Reina HS 24:48.52
191 Heather Longstaff 11 Agoura HS 24:49.91 143
192 Daisy Lopez 11 Rio Mesa HS 24:50.01 144
193 Brittany Alonzo 11 Lancaster High S 24:55.83 145
194 Vicky Tran JR Dos Pueblos HS 24:56.61 146
195 Paulina Maldonado 11 Valencia HS 25:10.01 147
196 Michelle Golshani 11 Oxnard HS 25:12.57
197 Taylor Chard 11 Santa Barbara HS 25:13.82 148
198 Alyssa Ayala 11 Corona HS 25:14.08
199 Julianna Perez 11 Garces Memorial HS 25:14.35
200 Kelly Albers 11 Oxnard HS 25:16.62
201 Vanessa Lopez JR Lompoc HS 25:20.53
202 Nina Sherlock 11 Valencia HS 25:22.67
203 Karinna Aragon JR Pacifica HS 25:26.10 149
204 Rosa Luna JR Pacifica HS 25:29.06 150
205 Margaret Hogenson 11 Santa Barbara HS 25:31.98 151
206 Kim Avelina 11 Palisades HS 25:39.00 152
207 Kiera Needham 11 Palisades HS 25:44.87 153
208 Arianna Elwess JR Thousand Oaks 25:46.24 154
209 Miriam Cisneros 11 Rio Mesa HS 25:50.05 155
210 Alexis White 11 Rio Mesa HS 25:51.46 156
211 Vaneza Cruz De Jesus JR Hart HS 25:51.62
212 Charlotte Ramos 11 Rio Mesa HS 26:22.36 157
213 Carla Castelan 10 Redlands Eas 26:31.18 158
214 Courtney Kasin 11 Redlands Eas 26:31.66 159
215 Diana Perez JR Hueneme HS 26:31.79
216 Brenda Vela 9 Birmingham HS 26:32.54 160
217 Alexis Haney 11 Corona HS 26:43.26
218 Christina Nicoll 11 Redlands Eas 26:46.97 161
219 Taylor Montana 10 Canyon HS 26:49.93 162
220 Ana Garcia 11 Valencia HS 26:50.14
221 Anneliese Hartling 9 Trabuco Hills HS 26:51.31
222 Alex Lopez 11 Oak Park HS 26:53.59 163
223 Chance Carmichael 11 Corona HS 27:07.47
224 Angelica Tapia 11 Rio Mesa HS 27:29.85
225 Julianne Juarez 11 Rio Mesa HS 27:42.95
226 Yesenia Mendoza 11 Redlands Eas 28:29.85 164
227 Melissa Nunes JR Fillmore HS 28:36.52
228 Bianca Contreras 10 Redlands Eas 28:37.12 165
229 Stephanie Pernett 11 Palmdale HS 28:38.51
230 Jessica Dahmen 11 Trabuco Hills HS 28:50.68
231 Carmen Garcia JR Hart HS 29:24.42
232 Gelsey Lopez 11 Lancaster High S 29:38.29 166
233 Jessica Quijada 11 Lancaster High S 30:22.04 167
234 Cristina Carranza 11 Birmingham HS 30:27.12 168
235 Samantha Gong 11 Oxnard HS 30:32.69
236 Veronica Rivera 11 Pacifica HS 31:42.36 169
Event 2 Girls 3 Mile Run CC 10 Grade
=======================================================================
Meet Record: M 17:11.00 1996 Robin Scott, San Marcos HS
Name Year School Finals Points
=======================================================================
Results - Women
1 Marissa Williams 10 Palisades HS 16:55.33M 1
2 Samantha Ortega 10 Saugus HS 17:20.06 2
3 Cassidy Webber 10 Palos Verdes HS 17:24.66 3
4 Monika Gyalay 10 Moorpark HS 17:35.09 4
5 Darby LaPlant 10 Saugus HS 17:47.42 5
6 Bailee Margolis 10 Trabuco Hills HS 18:22.12 6
7 Elaine McClure SO Dos Pueblos HS 18:22.60 7
8 Laura Oelsner 10 West Torrance HS 18:30.05
9 Brianne Holland 10 Royal HS 18:31.37 8
10 Sydney Garza 10 Garces Memorial HS 18:41.74 9
11 Taylor Garrison 10 Agoura HS 18:43.80 10
12 Caitlin Smith 10 Santa Monica HS 18:45.09 11
13 Anna Pruter 10 Palos Verdes HS 18:46.83 12
14 Sabrina Herrmann 10 Trabuco Hills HS 18:47.64 13
15 Morgan Gilmore 10 Moorpark HS 18:52.07 14
16 Elizabeth Goodman 10 Palisades HS 18:53.98 15
17 Yasmine Felipe 10 McFarland HS 18:55.38 16
18 Sabrina Janes 10 Saugus HS 18:59.95 17
19 Sweena Mangal 12 Trabuco Hills HS 19:00.34 18
20 Jessica Bonilla 10 Santa Monica HS 19:09.30 19
21 Jessica Ruiz 10 Saugus HS 19:10.12 20
22 Amelia Pear 10 Valencia HS 19:11.06 21
23 Jolie Nelson 10 Trabuco Hills HS 19:12.14 22
24 Mackenzie Moncibais 10 Saugus HS 19:18.69 23
25 Alice Duan 10 West Torrance HS 19:31.46
26 Alyssa Hebb 10 Redlands Eas 19:32.22 24
27 Summer Al-Saleh 10 Buena HS 19:32.61 25
28 Alexis Tafoya SO Fillmore HS 19:33.11
29 Sabine Slome 10 Palos Verdes HS 19:35.07 26
30 Natalie Marsh 10 Palisades HS 19:36.29 27
31 Keara Amble SO Dos Pueblos HS 19:38.80 28
32 Riley Shaffer 10 Moorpark HS 19:43.68 29
33 Haley Smart 10 Corona HS 19:45.86 30
34 Gabrielle Zacky 10 Valencia HS 19:49.60 31
35 Tatianna Schulep SO Dos Pueblos HS 19:50.71 32
36 Anika Jensen 10 Palos Verdes HS 19:55.19 33
37 Ariana Brajkovich 10 La Reina HS 19:58.67 34
38 Melanie Cambell 10 Buena HS 20:02.68 35
39 Makaila Lopez 10 Saugus HS 20:03.13 36
40 Julia Lee 10 Trabuco Hills HS 20:04.06 37
41 Kenna Perez 10 Buena HS 20:05.90 38
42 Sonia Ponce 10 McFarland HS 20:06.30 39
43 Carina Perezchica 10 McFarland HS 20:07.47 40
44 Katheryn VanderPoel 10 Garces Memorial HS 20:17.52 41
45 Christina Torigian 10 Oak Park HS 20:18.22 42
46 Beverly Say 10 Palos Verdes HS 20:19.54 43
47 Meghan Caruana 10 Santa Monica HS 20:20.59 44
48 Evgenia Kokareva 10 Santa Monica HS 20:21.27 45
49 Julea Chin 10 Palos Verdes HS 20:21.33 46
50 Miranda Allen 10 Mayfield Sen 20:25.20
51 Trisha Gomez 10 Saugus HS 20:25.24 47
52 Valerie Anderson 10 Corona HS 20:25.51 48
53 Yovanna Gonzalez 10 Golden Valley HS 20:26.78
54 Avery Schulhofer 10 Saugus HS 20:31.44
55 Leah Eldridge 10 Saugus HS 20:38.98
56 Alisa Rogers 10 Paraclete HS 20:39.03 49
57 Taylor Ristau 10 Moorpark HS 20:39.91 50
58 Leah Jansen 10 Agoura HS 20:41.35 51
59 Esther Loose SO Thousand Oaks 20:43.63 52
60 Madisen Penna 10 Saugus HS 20:44.66
61 Racquel Fygenson SO Dos Pueblos HS 20:49.38 53
62 Jessica Jelinski 10 Agoura HS 20:49.79 54
63 Emily Cooksey 10 Palmdale HS 20:50.45 55
64 Gillian Nelson 10 Saugus HS 20:52.62
65 Morgan Hardie 10 Moorpark HS 20:54.36 56
66 Hannah Arroyo 10 Corona HS 20:56.64 57
67 Camillia Nwokedi 10 Notre Dame HS 21:02.09
68 Amanda Wendt 10 La Reina HS 21:04.76 58
69 Julianne Barkovitz 10 Trabuco Hills HS 21:05.40 59
70 Jeannette Hann SO Thousand Oaks 21:06.24 60
71 Kaitlin Latta 10 Moorpark HS 21:06.72 61
72 Cambria DeLaCruz 10 Santa Barbara HS 21:06.98
73 Remy Dennis 10 Agoura HS 21:07.57 62
74 Clara Hernandez SO Hueneme HS 21:09.13
75 Emily Holguin 10 Saint Bonave 21:09.26
76 Mackenzie Murphy 10 Paraclete HS 21:11.79 63
77 Lanica Buhain 10 Saugus HS 21:14.18
78 Vanessa Barajas 10 Birmingham HS 21:15.13
79 Kalina Burns SO Dos Pueblos HS 21:16.22 64
80 Madison Burgess 10 Moorpark HS 21:16.32 65
81 Elisabeth Doody 10 Moorpark HS 21:20.54
82 Jessi Martinez SO Knight HS 21:21.21 66
83 Zofia Fraczek 10 Redlands Eas 21:24.89 67
84 Carina Rodriguez SO Lompoc HS 21:30.35
85 Lizzie Grove 10 Paraclete HS 21:31.54 68
86 Amanda Levinson 10 Oak Park HS 21:31.64 69
87 Alison Kiral 12 Trabuco Hills HS 21:32.92 70
88 Brianna Alvarez 10 Corona HS 21:34.19 71
89 Lourdes Morales 10 Palmdale HS 21:35.48 72
90 Ashley Koning 10 Royal HS 21:37.15 73
91 Sidney Birmele 10 Saugus HS 21:37.95
92 Meredith Urschel SO Dos Pueblos HS 21:40.29 74
93 Sarah Schuberg 10 Moorpark HS 21:40.82
94 Emma Reich 10 Trabuco Hills HS 21:45.73
95 Mackenzie Rush 10 Paraclete HS 21:46.68 75
96 Nicole Estrada SO Knight HS 21:47.02 76
97 Sydney Walker 10 Moorpark HS 21:48.06
98 Jessica Toll 10 Moorpark HS 21:52.20
99 Alexandra Evans 10 Redlands Eas 21:52.69 77
100 Madison DeLuca SO Thousand Oaks 21:53.49 78
101 Malissa Janes 10 Canyon HS 21:54.03
102 Celeste Carrillo 10 McFarland HS 21:58.21 79
103 Nicoline Bates 10 Palos Verdes HS 21:58.28 80
104 Bobbi Ellias 10 La Reina HS 21:59.33 81
105 Tori Zemp 10 Valencia HS 22:04.07 82
106 Kaitlyn McCarthy 10 Valencia HS 22:04.13 83
107 Madison Jones 10 Saugus HS 22:05.66
108 Camryn Weisenberger 10 Rio Mesa HS 22:10.33
109 Hannah Campas 10 Redlands Eas 22:14.76 84
110 Jennifer Makowski 10 Redlands Eas 22:15.18 85
111 Tati Morales 10 Buena HS 22:18.82 86
112 Lexi Ruth 10 Buena HS 22:20.07 87
113 Chandni Singh 10 Santa Monica HS 22:21.81 88
114 Astrid Cabrera SO Knight HS 22:24.47 89
115 Maia Ziaee 10 Santa Barbara HS 22:25.68
116 Veronica Grabiak 10 Paraclete HS 22:28.85 90
117 Charlotte Steed SO Hart HS 22:30.22 91
118 Danica Dickison 10 La Reina HS 22:32.30 92
119 Lucinda Laurence 10 Agoura HS 22:34.81 93
120 Sherry Mou 10 Moorpark HS 22:36.28
121 Kate Schiller 10 Mayfield Sen 22:38.99
122 Lilly Helmuth-Malone 10 Mayfield Sen 22:42.23
123 Jasmyn Harlan 10 Palos Verdes HS 22:44.35
124 Angelina Ortiz 10 Oak Park HS 22:45.98 94
125 Sally Deng SO Thousand Oaks 22:47.79 95
126 Tyler Smith 10 Oak Park HS 22:53.56 96
127 Karly Christenson 10 Buena HS 22:55.44 97
128 Ashley Martinez 10 Lancaster High S 22:55.56 98
129 Kailee Canty 10 Oak Park HS 22:58.39 99
130 Sofia Gallardo SO Fillmore HS 22:59.55
131 Claudia Carrillo SO Lompoc HS 23:04.50
132 Kelsey Rouse 10 Moorpark HS 23:09.17
133 Leslie Chinchilla 10 Palmdale HS 23:11.07 100
134 Skyler Campbell 10 Santa Monica HS 23:11.38 101
135 Jordan Davison 10 Santa Monica HS 23:11.91 102
136 Norma Juarez 10 Oxnard HS 23:13.57 103
137 Lauryn Pinsak 10 Rio Mesa HS 23:15.60
138 Clara Schussman 10 Royal HS 23:15.88 104
139 Emma Kelley SO Hart HS 23:17.59 105
140 Alexis Austin SO Hart HS 23:19.44 106
141 Morgan Holubets 10 West Torrance HS 23:21.63
142 Anne Adachi 10 Moorpark HS 23:22.38
143 Britney Fehribach 10 Palmdale HS 23:22.44 107
144 Sophia Torres-Ulrich 10 Santa Monica HS 23:26.58
145 Mayra Gonzalez SO Hart HS 23:31.05 108
146 Maggie Young 10 Oak Park HS 23:31.78 109
147 Bailey McKenna 10 Rio Mesa HS 23:36.25
148 Nicole Janee SO Dos Pueblos HS 23:40.00 110
149 Yuritza Alcantar SO Hueneme HS 23:41.33
150 Lexi Silva 9 Trabuco Hills HS 23:41.70
151 Brianna Jasso 10 Corona HS 23:42.64 111
152 Amanda Stout 10 Grace Brethren HS 23:43.66
153 Mikayla Ybarra SO Thousand Oaks 23:45.08 112
154 Daniela Aguilar SO Pacifica HS 23:46.13 113
155 Kailyn Shigematsu 10 Royal HS 23:46.26 114
156 Jasmine Chavez SO Knight HS 23:46.97 115
157 Sophie Rowe 10 Lancaster High S 23:47.13 116
158 Emily Bouchard 10 Buena HS 23:47.33 117
159 Valeria Ramriez SO Knight HS 23:51.26 118
160 Maria Sepulveda 10 Valencia HS 23:53.19 119
161 Sarah Gallegos SO Knight HS 23:55.50 120
162 Ella Stimson SO Dos Pueblos HS 23:56.68
163 Nicole Gibson 10 Valencia HS 23:58.56 121
164 Giselle Alcaraz SO Pacifica HS 23:58.89 122
165 Nataly Padilla 10 Agoura HS 24:00.72 123
166 Carissa DA Costa 10 Palisades HS 24:01.89 124
167 Priscilla Chu SO Dos Pueblos HS 24:02.71
168 Alexis Villanueva 10 Garces Memorial HS 24:03.01 125
169 Marina Sandoval 11 Trabuco Hills HS 24:03.71
170 Maddie Gewecke SO Hart HS 24:04.50 126
171 Carolina Arciniegas 10 Trabuco Hills HS 24:04.82
172 Taylor Marshall 10 Royal HS 24:06.99 127
173 Caylie Conlon 10 Buena HS 24:11.77
174 Alianna DeCastro 10 Oak Park HS 24:12.52 128
175 Carissa Ennis 11 Trabuco Hills HS 24:12.58
176 McKenna LeClair 10 Oak Park HS 24:13.07
177 Ellie Sun 10 Palisades HS 24:15.60 129
178 Cecelia Flinn 10 Saint Bonave 24:18.88
179 Karina Vega 10 Corona HS 24:20.19 130
180 Rachael Kovinsky 10 Notre Dame HS 24:22.69
181 Shirley LeBrie 10 Palmdale HS 24:24.04 131
182 Valeria Barrutia 10 Corona HS 24:24.62 132
183 Hannah Estrada 10 Redlands Eas 24:25.82 133
184 Gabriella Craviotto SO Dos Pueblos HS 24:29.37
185 Taylor Smith 10 Saugus HS 24:31.37
186 Laney Bahan 10 Trabuco Hills HS 24:32.16
187 Camille Kimble 9 Trabuco Hills HS 24:32.20
188 Jaqueline Torres 10 Palmdale HS 24:32.69 134
189 Leslie Alvarez 10 Canyon HS 24:33.89
190 Isabella Darke SO Dos Pueblos HS 24:34.17
191 Paige Bielke SO Thousand Oaks 24:34.59 135
192 Maisy Wildermuth 10 Agoura HS 24:35.64 136
193 Olivia Frasher 10 La Reina HS 24:40.44 137
194 Kaitlyn Albers 10 Oxnard HS 24:41.71 138
195 Angelina Digiglio 10 Saint Bonave 24:44.60
196 Cristina Gonzales SO Pacifica HS 24:45.63 139
197 Allison Smith 10 Saugus HS 24:47.47
198 Cristina Garcia 10 Oxnard HS 24:47.98 140
199 Maren Rose SO Dos Pueblos HS 24:49.61
200 Callie Naber 10 Agoura HS 24:52.51
201 Yasmine Salcido 10 McFarland HS 24:52.98 141
202 Jenna Johnston 12 Trabuco Hills HS 24:56.71
203 Miranda Cruz SO Hart HS 24:58.66 142
204 Aahat Jain SO Dos Pueblos HS 25:01.23
205 Candace Chavolla 10 Oxnard HS 25:02.01 143
206 Ciera Smith 10 Lancaster High S 25:02.26 144
207 Kaylen Maturino 9 Trabuco Hills HS 25:05.03
208 Emily Isaaca 10 Trabuco Hills HS 25:06.80
209 Sabrina Lenahan 10 Valencia HS 25:11.35 145
210 Larissa Hoy 10 Agoura HS 25:17.88
211 Erin Pyle 11 Trabuco Hills HS 25:18.85
212 Mackenzie Lorkis 10 Agoura HS 25:19.37
213 Yvette Linares SO Pacifica HS 25:20.54 146
214 Brittany Boud 10 Trabuco Hills HS 25:26.30
215 Brittney Ornelaz 10 Palmdale HS 25:27.00 147
216 Gabriela Quevedo 10 Palmdale HS 25:27.77
217 EmmaJoy Garcia 10 Buena HS 25:27.91
218 Breanna Pennala SO Hart HS 25:28.50 148
219 Hayley Sanders 10 Agoura HS 25:28.96
220 Khrystin Avila 10 Oxnard HS 25:31.84 149
221 Maeve Kulpa 9 Trabuco Hills HS 25:32.97
222 Adrianna Fonseca SO Dos Pueblos HS 25:35.74
223 Katlin Hughes SO Thousand Oaks 25:35.90 150
224 Ashley DeLaMelena 10 Lancaster High S 25:42.15 151
225 Adenna Bratz 10 Rio Mesa HS 25:43.83
226 Francesca DiMarzio 10 Notre Dame HS 25:45.47
227 Michaela Kendryna 10 Valencia HS 25:46.11
228 Lorraine Rowe 10 Lancaster High S 25:52.05 152
229 Emma Beard 10 Notre Dame HS 25:56.22
230 Camilla Arciniegas 10 Trabuco Hills HS 25:56.89
231 Ivette Sanchez 10 Corona HS 26:03.80
232 Elaina Church 10 La Reina HS 26:07.40 153
233 Stepheny Saavedra 10 Palmdale HS 26:12.94
234 Erika Valadez 10 Canyon HS 26:20.71
235 Ashley Cook 10 Agoura HS 26:25.47
236 Oceany Cal 10 Palisades HS 26:26.16 154
237 Amanda Gamsu 10 Valencia HS 26:29.14
238 Irene Lue 10 Palisades HS 26:45.63 155
239 Hannah Rowe 10 Lancaster High S 26:46.15 156
240 Mercy Petz 10 Palmdale HS 26:46.58
241 Danielle Fosnaugh 10 Saugus HS 26:57.95
242 Sophia Le 10 Moorpark HS 27:00.14
243 Carissa Graffious 10 Agoura HS 27:01.95
244 Melissa Ruedas 10 Palmdale HS 27:10.46
245 Lora Carrillo 10 Moorpark HS 27:15.03
246 Elana Muroff 10 Agoura HS 27:19.37
247 Kacey Dawson 10 Saugus HS 27:27.97
248 Samantha Esparza SO Pacifica HS 27:29.89 157
249 Yesenia Ponce SO Pacifica HS 27:31.32 158
250 Brenda Fowler 10 Saugus HS 27:42.52
251 Jennifer Petrovic 11 Trabuco Hills HS 27:49.51
252 Summer Montenegro 10 La Reina HS 27:50.26 159
253 Valeria Miranda 10 Moorpark HS 27:50.86
254 Samantha Ballance 10 Trabuco Hills HS 27:50.97
255 Melodie Valencia SO Pacifica HS 28:17.54 160
256 Sydney Blazek 10 Trabuco Hills HS 28:25.55
257 Caitlin Arocho 10 La Reina HS 28:32.52
258 Karen Patterson 10 Oxnard HS 28:36.36 161
259 Madison Brown 10 Buena HS 28:43.35
260 Anjelique Soriano 10 Trabuco Hills HS 28:53.56
261 Hannah Levin 10 Agoura HS 28:54.54
262 Alexandra Castanon JR Pacifica HS 28:57.72
263 Hannah Hoekstra 10 Redlands Eas 29:04.28 162
264 Alexis Lenahan 10 Valencia HS 29:05.08
265 Elle Miller 10 Saint Bonave 29:13.96
266 Goretti De Jesus 10 Oxnard HS 29:29.11 163
267 Candice Martorano 10 Agoura HS 29:57.49
268 Kelly Wrinkle 10 Agoura HS 30:00.12
269 Maia Godliman 10 Agoura HS 30:00.77
270 Giselle Arevalo 10 Birmingham HS 30:15.09
271 Bianca Diaz 10 Golden Valley HS 30:34.98
272 Karla Chavez 10 Palmdale HS 31:03.41
273 Thalia Andrade 10 Trabuco Hills HS 31:08.37
274 Sanjuana Araujo 10 Trabuco Hills HS 31:18.63
275 Allyssa Mendez 10 Garces Memorial HS 31:40.25 164
276 Valeria Torres 10 Palmdale HS 31:46.41
277 Nanette Schweitzer 10 Garces Memorial HS 32:23.76 165
278 Lupe Cumplido SO Pacifica HS 32:55.76
279 Alison Weisse SO Pacifica HS 35:45.41
Event 1 Girls 3 Mile Run CC 9 Grade
=======================================================================
Meet Record: M 17:59.00 2007 Kaylin Mahoney, Saugus HS
Name Year School Finals Points
=======================================================================
Results - Women
1 Bianca Tinoco 09 Golden Valley HS 18:10.09 1
2 Mariah Theologidy 9 Paraclete HS 18:24.06
3 Sani Shabgahi 9 Corona HS 18:24.87 2
4 Bailey Wolf 9 Santa Barbara HS 18:45.12 3
5 Ashley Heys 9 Saugus HS 18:46.65 4
6 Samantha Layman 9 West Torrance HS 18:48.20 5
7 Irma Torres FR Fillmore HS 18:57.13
8 Alyssa Higdon 9 Valencia HS 19:00.37 6
9 Emily Atkinson 9 West Torrance HS 19:04.37 7
10 Lacei Sanders FR Lompoc HS 19:05.83
11 Miranda Bartell 9 Santa Barbara HS 19:11.94 8
12 Dianitza Diaz 9 McFarland HS 19:17.23
13 Abby Watson 9 Palos Verdes HS 19:20.30 9
14 Brittney Blackwell 9 Oak Park HS 19:29.08 10
15 Elizabeth Coda 9 Notre Dame HS 19:32.31 11
16 Julia Diamond 9 Palos Verdes HS 19:43.54 12
17 Lauren Bourgeois 9 Palos Verdes HS 19:45.17 13
18 Emma Bahr 9 Saugus HS 19:50.09 14
19 Kameron Deegan FR Hart HS 19:55.48 15
20 Veronica Lopez 09 Golden Valley HS 19:57.16 16
21 Sonia Holguin 9 McFarland HS 20:17.36
22 Michaela Wall 9 Oak Park HS 20:23.15 17
23 Madison Mc Grann 9 Trabuco Hills HS 20:24.61 18
24 Karen Pierce 9 West Torrance HS 20:27.63 19
25 Andrea Marroquin 9 Valencia HS 20:27.91 20
26 Natalia Hernandez 9 Palisades HS 20:28.00 21
27 Sierra Pilarski 9 Saugus HS 20:29.75 22
28 Nyssa Torres 9 Buena HS 20:31.19 23
29 Marissa Sanchez 9 Mayfield Sen 20:34.81 24
30 Gabbie Garrison 09 Agoura HS 20:37.19 25
31 Kasia Krzyzanowski 09 Santa Monica HS 20:37.64
32 Vanessa King 9 Canyon HS 20:38.18 26
33 Celine Whitman 9 Saugus HS 20:38.57 27
34 Sophie Fortner 9 Mayfield Sen 20:42.49 28
35 Maisy Potter FR Hart HS 20:44.17 29
36 Beth Wade 09 Moorpark HS 20:48.70 30
37 Samantha Nesheiwat 9 Moorpark HS 20:51.91 31
38 Breonna Kephart 09 Moorpark HS 20:53.86 32
39 Meredith Honig 09 La Reina HS 21:02.67
40 Ava Dore 9 Santa Barbara HS 21:03.93 33
41 Allie Marquez 9 Buena HS 21:05.62 34
42 Sophie Schuring 9 Corona HS 21:06.14 35
43 Sarah Lowe 9 Royal HS 21:06.56 36
44 Anna Paredes 9 Saugus HS 21:13.56 37
45 Daisy Pitones 9 Rio Mesa HS 21:18.20 38
46 Bethany Hinson 09 Golden Valley HS 21:21.24 39
47 Mary Harding 9 Mayfield Sen 21:23.56 40
48 Emily Ruble 9 Oak Park HS 21:24.34 41
49 Julia Jones 9 Oak Park HS 21:27.50 42
50 Jessica Adachi 9 West Torrance HS 21:28.89 43
51 Sophia Rathor 9 Trabuco Hills HS 21:29.71 44
52 Hanna Bahr 9 Saugus HS 21:30.14 45
53 Auburn Griffith 9 Rio Mesa HS 21:34.36 46
54 Samantha Garcia 9 Corona HS 21:35.21 47
55 Jacqueline Barsley 09 La Reina HS 21:38.73
56 Riley Sager FR Lompoc HS 21:41.81
57 Melinda Stevenson 9 Saugus HS 21:43.60 48
58 Naomi Oregel 9 Saugus HS 21:46.90
59 Kara Veldheer 9 West Torrance HS 21:47.27 49
60 Maria Perez 9 Santa Barbara HS 21:47.68 50
61 Nicole Rodriguez 9 Royal HS 21:48.78 51
62 Sophia Soudani 9 Rio Mesa HS 21:52.93 52
63 Ileina Lassalle 09 Santa Monica HS 22:03.16
64 Kaitlin McElheny 9 Trabuco Hills HS 22:06.85 53
65 Isabella Diesfeld 9 Saint Bonave 22:08.98
66 Mary Rodriguez 9 Corona HS 22:10.45 54
67 Elizabeth Bugtai FR Thousand Oaks 22:11.32 55
68 Natasha Fleshbech 9 Santa Barbara HS 22:11.54 56
69 Kaitlyn Landess 9 Canyon HS 22:16.07 57
70 Natalie Welch 9 Palisades HS 22:16.35 58
71 Lauren Duerfeldt 9 Oak Park HS 22:19.09 59
72 Karen Celis FR Hart HS 22:21.77 60
73 Summer Weir 9 Royal HS 22:27.38 61
74 Erin Reim 9 Moorpark HS 22:28.65 62
75 McKenzie Will 9 Palos Verdes HS 22:29.30 63
76 Amanda Mohabeer 9 Oak Park HS 22:29.63 64
77 Camille Boudreau 9 Royal HS 22:30.50 65
78 Alyssa Walike 9 Oak Park HS 22:31.92 66
79 Keely Mc Laughlin 10 Trabuco Hills HS 22:33.76 67
80 Summer Pasqual 9 Saugus HS 22:34.07
81 Loren Doney 9 Trabuco Hills HS 22:35.76 68
82 Sierra Hairson 09 Moorpark HS 22:36.85 69
83 Katie Andrews F Hart HS 22:37.42 70
84 Taylor Nelson 9 Valencia HS 22:39.62 71
85 Jasmine Alvarenga F Hart HS 22:41.81 72
86 Amanda Reilley 9 Oak Park HS 22:42.29
87 Elizabeth Ghattas 09 Moorpark HS 22:48.63 73
88 Hadeel Saab 9 Palos Verdes HS 22:48.86 74
89 Jillian Smiley FR Thousand Oaks 22:48.94 75
90 Amanda Friedman 9 Valencia HS 22:51.36 76
91 Claire Stanley 9 Mayfield Sen 22:51.43 77
92 Shelby Glasser FR Thousand Oaks 22:53.41 78
93 Ilyana Soriano 9 West Torrance HS 22:55.78 79
94 Kally Zheng FR Dos Pueblos HS 22:58.24 80
95 Sarah Kessler 9 Palos Verdes HS 23:00.65 81
96 Alexandra Epstein FR Dos Pueblos HS 23:01.18 82
97 Brooke Shapiro 9 Oak Park HS 23:03.26
98 Amy Hwang 9 Canyon HS 23:03.92 83
99 Brenda Castellanos 9 Rio Mesa HS 23:05.35 84
100 Grace Badagliacca 9 Palos Verdes HS 23:05.41 85
101 Puron Rahman FR Hart HS 23:06.07 86
102 Claire Li 10 Trabuco Hills HS 23:13.53 87
103 Samantha Diaz 9 McFarland HS 23:16.70
104 Monica Garcia 12 Saint Bonave 23:19.73
105 Becca Stelman 09 Agoura HS 23:24.69 88
106 Brooke Kolosvari 9 Redlands Eas 23:26.90 89
107 Lizette Martinez FR Pacifica HS 23:29.41
108 Kasey Sandoval 9 Trabuco Hills HS 23:30.40 90
109 Sierra Brown 09 Agoura HS 23:30.72 91
110 Briana Moralesa-Wesley 9 Rio Mesa HS 23:31.23 92
111 Emily Vollert 12 Trabuco Hills HS 23:36.88
112 Michelle Grunberg 9 Oak Park HS 23:38.69
113 Valerie Almazon 9 Redlands Eas 23:39.99 93
114 Annie Parrone 9 Oak Park HS 23:40.05
115 Carah Dorthalina FR Thousand Oaks 23:40.13 94
116 Sheila Walsh 11 Trabuco Hills HS 23:43.30
117 Nicole Parker 9 West Torrance HS 23:44.10 95
118 Pauline Mikkelson FR Dos Pueblos HS 23:44.53 96
119 Alexa Cogan 9 Rio Mesa HS 23:44.66 97
120 Annaliesa Delgado 9 Redlands Eas 23:45.80 98
121 Ashley Peach 9 Trabuco Hills HS 23:47.14
122 Tanith Ledbetter FR Thousand Oaks 23:47.42 99
123 Sera Hurtado 9 Rio Mesa HS 23:48.35 100
124 Madeline Chung 9 Redlands Eas 23:50.64 101
125 Cassandra Rodriguez 9 Redlands Eas 23:51.98 102
126 Carol Luna 12 Trabuco Hills HS 23:53.09
127 Leila Esmaili 9 Saint Bonave 23:54.37
128 Elizabeth Hidalgo 9 Rio Mesa HS 23:57.48
129 Kaitlin Espinoza 9 Rio Mesa HS 23:57.59
130 Cecilia Santos 11 Trabuco Hills HS 24:00.17
131 Chandler Niemann FR Thousand Oaks 24:00.23 103
132 Rachel Nieves 12 Trabuco Hills HS 24:00.97
133 Alana Crang 9 Santa Barbara HS 24:04.62 104
134 Madison Durham 11 Trabuco Hills HS 24:04.69
135 Anne Horton 10 Trabuco Hills HS 24:08.31
136 Erin Beall 9 Trabuco Hills HS 24:08.77
137 Chavely Avendano SO Pacifica HS 24:09.18
138 Joanne Moreno 09 Golden Valley HS 24:09.91 105
139 Sabrina Urick 9 Buena HS 24:15.01 106
140 Paola Rosales 9 Garces Memorial HS 24:17.29 107
141 Natalie Valenzuela 09 Golden Valley HS 24:19.68 108
142 Genelle Gore FR Hart HS 24:20.73 109
143 Diana Ngueyn 9 Birmingham HS 24:21.08
144 Madison Taylor 9 Moorpark HS 24:24.65 110
145 Damara Lopez-Nelson 9 Dos Pueblos HS 24:24.83 111
146 Bridget De La Torre 9 Palos Verdes HS 24:29.67
147 Melissa Sanchez 9 Rio Mesa HS 24:30.90
148 Natalie Peters 9 Palos Verdes HS 24:33.95
149 Sabina Domingo 9 Trabuco Hills HS 24:35.34
150 Amaris Maestas 9 Garces Memorial HS 24:35.68 112
151 Evelyn Acosta FR Lompoc HS 24:36.02
152 Yasmeen Faisel 9 Notre Dame HS 24:40.01 113
153 Brittney Novak 9 Oak Park HS 24:40.58
154 Alexandra Garro 10 Trabuco Hills HS 24:42.08
155 Lincy Garcia 9 Valencia HS 24:42.89 114
156 Dakota Jones 9 West Torrance HS 24:43.34
157 Mayte Pacheco 9 Moorpark HS 24:43.53
158 Claudia Valdivia 9 Corona HS 24:45.32 115
159 Karlianne Rubcic 9 Valencia HS 24:47.49 116
160 Katie Brown 9 Corona HS 24:50.59 117
161 Jennifer Swieca 9 Moorpark HS 24:52.84
162 Emily Cross 9 Trabuco Hills HS 24:57.03
163 Brooke Higa 09 Agoura HS 25:06.70 118
164 Samantha Rivas 9 Mayfield Sen 25:10.22 119
165 Gabriella Campbell FR Dos Pueblos HS 25:10.69 120
166 Chloe Schmitz 10 Trabuco Hills HS 25:12.29
167 Katie Morsch 9 Saugus HS 25:14.06
168 Nicole Schwartz 9 Oak Park HS 25:17.20
169 Julianne Abesamis 9 Saugus HS 25:17.81
170 Briana Segoviano FR Fillmore HS 25:18.01
171 Alyssa Garcia 9 Corona HS 25:23.21 121
172 Juliette Federoff 9 Notre Dame HS 25:25.24 122
173 Kimberly Vasquez FR Fillmore HS 25:25.39
174 Molly Flynn 9 Redlands Eas 25:28.52 123
175 Whitney Schuring 9 Corona HS 25:29.58
176 Rebecca Stillman 12 Trabuco Hills HS 25:31.89
177 Lauren Lee 9 Palisades HS 25:32.03 124
178 Stephanie Martinez 9 Canyon HS 25:32.32 125
179 Rebecca Schuberg 9 Moorpark HS 25:35.44
180 Samantha Garcia 9 Valencia HS 25:40.00 126
181 Mackenzie Brown 9 Redlands Eas 25:47.83 127
182 Gabriella Avila 9 Garces Memorial HS 25:48.51 128
183 Emily Glennon 9 Notre Dame HS 25:51.14 129
184 Asumi Tsai 9 Oak Park HS 25:51.20
185 Emma Amend 9 Palos Verdes HS 25:51.48
186 Erin Shipstead 09 Agoura HS 25:53.75 130
187 Rachel Witt 9 Buena HS 25:55.69 131
188 Natalie Pacheco 11 Trabuco Hills HS 26:04.34
189 Amy Holt FR Thousand Oaks 26:06.39 132
190 Genesis Lopez FR Hart HS 26:07.97
191 Grace Ye 9 Oak Park HS 26:08.87
192 Chelsea Fajardo 9 Corona HS 26:12.57
193 Alexis Wogoman FR Hart HS 26:14.26
194 Danielle Birg FR Thousand Oaks 26:15.90
195 Daisy Lucero 9 Corona HS 26:20.58
196 Jasmin Reed 9 Royal HS 26:24.95 133
197 Evelyn Castro 9 Corona HS 26:32.17
198 Alyssa Garcia 9 Garces Memorial HS 26:36.48 134
199 Madison Hinz 09 Moorpark HS 26:37.52
200 Alexis Flores 9 Paraclete HS 26:37.71
201 Dana Carriger 9 West Torrance HS 26:40.10
202 Kate Moncur 10 Trabuco Hills HS 26:40.84
203 Kayla Stafford 9 Moorpark HS 26:41.63
204 Olivia Rigberg 9 Notre Dame HS 26:42.80 135
205 Cassiel McEvoy FR Thousand Oaks 26:44.80
206 Hailie Maldonado 09 Agoura HS 26:53.33 136
207 Madelynne Frick 9 Palisades HS 26:54.55 137
208 Cassidy Dickson 09 Moorpark HS 26:57.30
209 Maria Linares 9 Corona HS 26:59.18
210 Diana Antonio 09 Golden Valley HS 26:59.44 138
211 Jenna Huntington 9 Saugus HS 27:00.48
212 Olivia Deveau 09 La Reina HS 27:01.60
213 Billee Datan FR Thousand Oaks 27:01.95
214 Isabella Garza 9 Santa Barbara HS 27:02.19 139
215 Alice Upton 9 Santa Barbara HS 27:04.93
216 Carly Heath FR Thousand Oaks 27:17.47
217 Stephanie Ibarra 09 Golden Valley HS 27:18.93 140
218 Emily Thiele 9 Moorpark HS 27:25.61
219 Sara Newsom 11 Trabuco Hills HS 27:26.59
220 Olivia Jackson 10 Trabuco Hills HS 27:28.11
221 Nicole Joseph 9 Saugus HS 27:33.36
222 Kirsten Davis 9 Trabuco Hills HS 27:38.24
223 Lydia Blum 9 Redlands Eas 27:45.68
224 Allison Campbell 9 Valencia HS 27:50.58
225 Lexis Henderson 9 Palos Verdes HS 27:57.17
226 Alix Byrd 09 Moorpark HS 27:59.67
227 Shannon Smith 10 Trabuco Hills HS 28:03.19
228 Emily Holmes 09 Golden Valley HS 28:04.76
229 Riley Shute 9 Valencia HS 28:05.76
230 Hailey Distor 9 Trabuco Hills HS 28:10.11
231 Nayeli Cabral-Treto 9 Birmingham HS 28:11.65
232 Lauren Morreale FR Thousand Oaks 28:13.05
233 Taryn Batin 9 Redlands Eas 28:14.56
234 Elan Filler 9 Palos Verdes HS 28:17.74
235 Kristine Daily 9 Notre Dame HS 28:21.32 141
236 Erin Clements 9 Trabuco Hills HS 28:28.11
237 Cailey Miller 9 Saugus HS 28:34.56
238 Jacky Casarrubias FR Hueneme HS 28:47.69
239 Imani Tyson 9 Saugus HS 28:54.03
240 Katrina Biller 9 Palisades HS 29:08.34 142
241 Bijou De Jong 09 Agoura HS 29:16.74 143
242 Margaret Lopez 9 Saugus HS 29:26.36
243 Janelle Saunders 9 Redlands Eas 29:28.63
244 Sierra Wang FR Dos Pueblos HS 29:32.97 144
245 Anya White 9 Buena HS 29:33.55 145
246 Samantha Fong 9 Buena HS 29:34.32 146
247 Audrey Thiffault 11 Trabuco Hills HS 29:36.57
248 Stacey Lopez 9 Moorpark HS 29:42.78
249 Elie Chavarin FR Hart HS 29:47.13
250 Julia Perez 9 Notre Dame HS 29:47.64 147
251 Madeline Geesen 09 Agoura HS 29:49.01
252 Julianne Finch 9 Garces Memorial HS 29:50.67 148
253 Julia Parker 9 Palos Verdes HS 29:52.65
254 Rio Salazar 9 Santa Barbara HS 29:55.28
255 Skyler Stonesifer 9 Corona HS 29:57.79
256 Makenzie Mullens 9 Moorpark HS 30:06.18
257 Jessica Sands 9 West Torrance HS 30:24.63
258 Fiona Sereboff 09 La Reina HS 30:47.67
259 Michelle Moore 9 West Torrance HS 30:47.83
260 Khristine Samson 9 West Torrance HS 30:49.71
261 Soraya Ramos 9 Redlands Eas 30:50.62
262 Racquaiel Marks 9 Redlands Eas 31:04.22
263 Savannah Skaggs 9 Redlands Eas 31:05.99
264 Marissa Ramirez 9 Garces Memorial HS 31:44.50 149
265 McKenna Crews 9 West Torrance HS 33:46.91
266 Abigail Williamson 10 Trabuco Hills HS 33:48.14
267 Devoney Amberg 9 West Torrance HS 34:02.41
268 Brenna Rodgers 9 Trabuco Hills HS 34:11.66
269 Zoe Zanoff 9 Garces Memorial HS 34:52.46 150
270 Susie Cruz 9 Garces Memorial HS 35:00.50
271 Tiana Gerardo 9 Canyon HS 35:02.52 151
---