2012 College Choices
Updated:
February 1, 2012, 5:36 PM ET
By State | By College | By College Conference

Submit your college choice and signing photo HERE!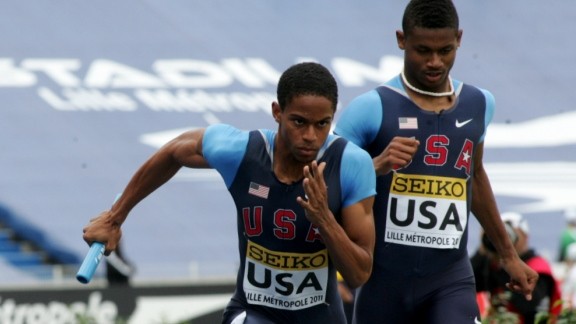 John Nepolitan/ESPNHSArman Hall FL and Najee Glass NJ, shown last year in Team USA's winning Medley Relay at the World Youth Champs, are expected to be teammates at powerhouse University of Florida next year.
GETTING INTO COLLEGE
How to make that college choice
Donna Dye offers a series of articles about selecting a college and moving through the recruiting process
WHAT'S IT ALL ABOUT? - Learn about the college recruitment and scholarship process for track and field athletes.
REACHING YOUR GOAL - What you should do in your junior and senior years of high school to make the best college choice.
GETTING STARTED - What you should be doing in your freshman and sophomore years of high school to start the college choice process.
BEYOND DIVISION I - Learn why D-II, D-III, NAIA or NJCAA might be the best choice for you with been-there-done-that experience from Nick Symmonds, DyeStat's SteveU and others.


WHAT DO COLLEGE COACHES WANT? - Learn what college coaches look for in prospective student athletes.

Part 1: Excitement, attitude and ability

Part 3: Role of parents and family

For more information, get the NCAA Guide for Student Athletes and National Letter of Intent