Commentary
Donna on the Side at Chandler
Athletes, family, friends and fans on the sidelines
Updated:
March 31, 2012, 7:36 AM ET
By
Donna Dye
| ESPNHS.com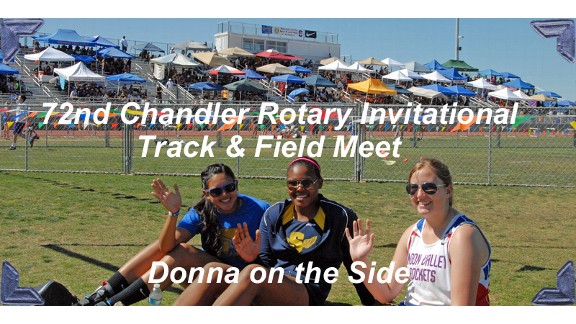 Donna Dye/ESPNHSWelcome to the Chandler Rotary Invitational
CHANDLER INDEX PAGE
GALLERIES
:
Waves and other Sideline Scenes
-
Awards
'Best Track Meet in Arizona'
It's an old meet with young legs, spirit and heart.

This year is the 72nd running of the Chandler Rotary Invitational, a high school track and field meet held at Chandler (Ariz.) High School. It began in 1941 in Wickenburg, Arizona. Eight schools participated, including Chandler High School. In 1943, the meet was moved to Chandler High School due to travel problems and gas rationing during World War II. Originally relays-only, the meet now includes the full range of events over 2 days -- an Open meet on Friday and a seeded meet on Saturday. This year, there were more than 3,000 athletes from 105 schools from Arizona, Colorado, Texas, New Mexico, Idaho and Canada.

Chandler was founded by Dr. Alexander John chandler, the first veterinary surgeon in the then Arizona Territory. In 1912 the townsite office opened and Chandler High School was established.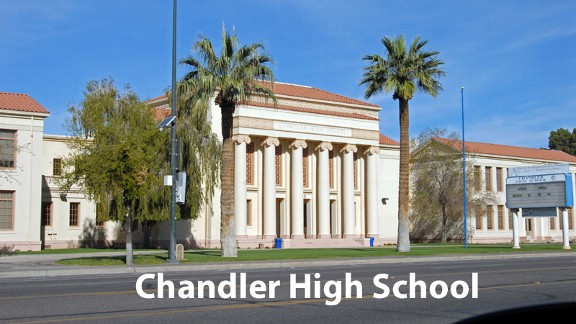 Donna Dye/ESPNHSChandler high school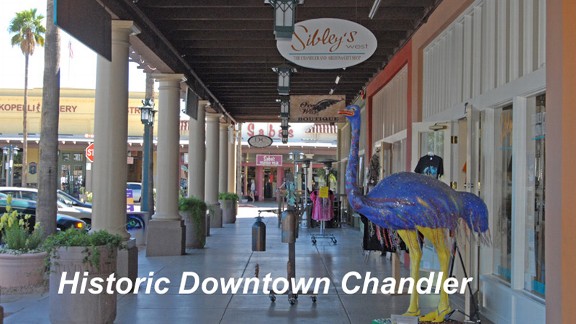 Donna Dye/ESPNHSOld Town Chandler on the original town square.
The football stands were full with a crowd of excited and antimated parents, family, friends in the stands and on the side. As far as the Chandler Rotary is concerned, the banner says it all.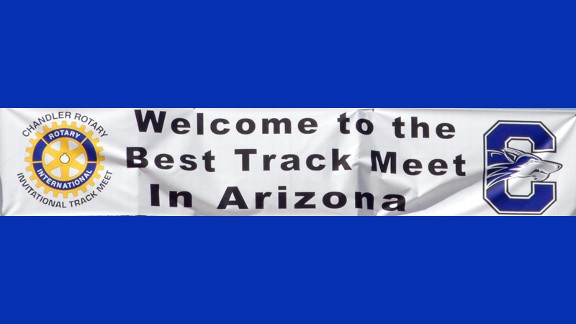 Donna Dye/ESPNHSBanner on top of the football grandstands.
Prizes were awarded to the top five in an unusual system. Prizes included a watch, backpack, shoe bag, and two other type of bags. The first place winner picked first, followed by the remaining four in order. An athlete not making it to the award ceremony got the unclaimed prize. And, the lady winners received flowers.


There were many impressive results. But four were singled out as Most Valuable Performances.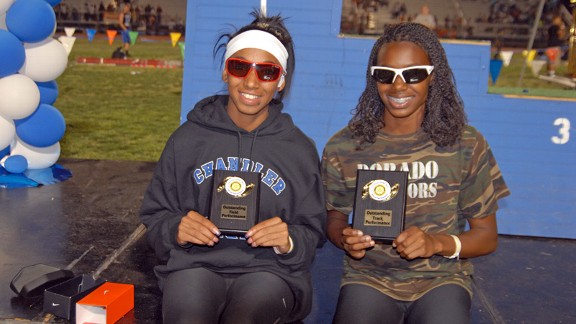 Donna Dye/ESPNHSMost outstanding female performers: Chandler's Jasmine Todd and Canyon del Oro's Jaide Stepter. The shades came with the title.
Donna Dye/ESPNHSMost outstanding male performers: hurdler Devon Allen of Brophy Prep and pole vaulter Garrett Starkey of Basha. The shades were part of their prizes.
And Chandler High won both the boys and girls team trophies.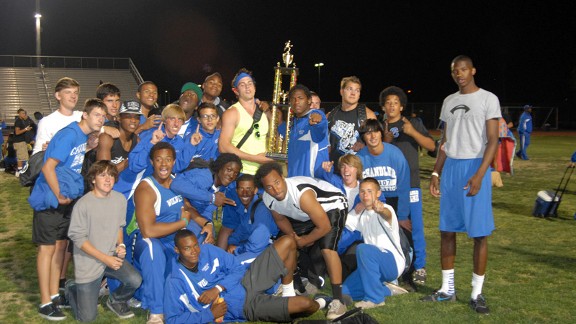 Donna Dye/ESPNHSChandler swept the team titles - the boys celebrate here.
Now on to the meet. See my photo galleries from Chandler.
GALLERIES: Waves and other Sideline Scenes - Awards
SPONSORED HEADLINES
ESPN TOP HEADLINES
MOST SENT STORIES ON ESPN.COM
DYESTAT CHANDLER COVERAGE
On-site with John and Donna Dye
DONNA ON THE SIDE - sideline scenes with family, friends, teammates and fans
DOTS index | Waves Gallery | Awards Gallery
WHEN: March 23-24, 2012
March 23: Open Inv. - 12 noon to 10 pm.
March 24: Seeded Inv. - 9:45 am Track Prelims, 10 am Field Finals, 4 pm Track Finals
WHERE: Chandler HS, Chandler, Ariz