Discussion
Great State Debate: Why Pennsylvania
While the best QBs can come from anywhere, five states stand above the rest
Updated:
January 17, 2012, 12:14 AM ET
By
ESPNHS
In the Great State Debate, five states stand above the rest in the caliber of quarterbacks they produce -- Alabama, California, Ohio, Pennsylvania and Texas. Here is the argument for why Pennsylvania should win.
• Simply put, it's about the best of the best in the history of the sport. Pennsylvania is home to six of the 23 modern-era Pro Football Hall of Fame quarterbacks, the most of any state. Western Pennsylvania is clearly the breeding ground for these all-time signal-callers, ...

Read full story
GREAT STATE DEBATE: QUARTERBACKS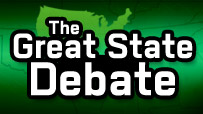 While the best quarterbacks can come from anywhere, five states stand above the rest.
Vote | Five states stand tall | Missed the cut?
MAKING A CASE
FEATURES
VIDEO
Join the debate on Twitter: #GreatStateDebate
MOST SENT STORIES ON ESPN.COM