Discussion
Great State Debate: Why Texas
While the best QBs can come from anywhere, five states stand above the rest
Updated:
January 17, 2012, 12:14 AM ET
By
ESPNHS
In the Great State Debate, five states stand above the rest in the caliber of quarterbacks they produce -- Alabama, California, Ohio, Pennsylvania and Texas. Here is the argument for why Texas should win.
• No state has come on stronger in the quarterback category in the past 15 years than the Lone Star State. Once better known for producing running backs, Texas high school products now fill the rosters of NFL and major college teams. And now Texas has become a fertile recruiting ...

Read full story
GREAT STATE DEBATE: QUARTERBACKS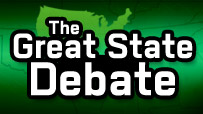 While the best quarterbacks can come from anywhere, five states stand above the rest.
Vote | Five states stand tall | Missed the cut?
MAKING A CASE
FEATURES
VIDEO
Join the debate on Twitter: #GreatStateDebate
MOST SENT STORIES ON ESPN.COM