Discussion
Five states stand tall in QB debate
Texas, California, Pennsylvania, Alabama and Ohio grow the best quarterbacks
Texas and California are bigger, but are they better?
Pennsylvania is home to six of the 23 modern-era Pro Football Hall of Fame quarterbacks, the most of any state. Ohio produced Roger Staubach and Ben Roethlisberger. And Alabama can lay claim to Packers Hall of Famer Bart Starr, Philip Rivers, and most recently, the Tide's own national champ, AJ McCarron.
When it comes to producing elite quarterbacks, Texas, California, Pennsylvania, Alabama and Ohio have separated ...

Read full story
GREAT STATE DEBATE: QUARTERBACKS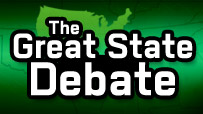 While the best quarterbacks can come from anywhere, five states stand above the rest.
Vote | Five states stand tall | Missed the cut?
MAKING A CASE
FEATURES
VIDEO
Join the debate on Twitter: #GreatStateDebate
MOST SENT STORIES ON ESPN.COM