Discussion
Title IX in today's high schools
Updated:
June 21, 2012, 9:38 AM ET
By
ESPNHS
"No person in the United States shall, on the basis of sex, be excluded from participation in, be denied the benefits of, or be subjected to discrimination under any education program or activity receiving federal financial assistance."
Forty years have passed since President Richard Nixon signed Title IX into law. To mark its anniversary, we talked to high school students, teachers, coaches and administrators to find out how the landmark legislation is still being felt today. ...

Read full story
Title IX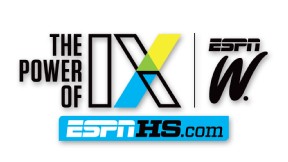 ESPNHS examines issues surrounding Title IX and its impact on the lives of young athletes.
TITLE IX COVERAGE FROM ESPNW
Find more girls' sports coverage at the ESPNHS GIRL Blog.