Game of the Week
No. 27 Skyline (Dallas, Texas) 11-0 vs. DeSoto (DeSoto, Texas) 9-2
As state playoffs get underway throughout the country, there are numerous matchups that could qualify for the game of the week. But the storylines Saturday at SMU's Ford Stadium are too strong to overlook.
Skyline and DeSoto combine for more than 20 players with Division I offers. Skyline is led by LSU-bound wideout Mike Davis on offense and the duo of future Texas A&M linebackers Corey Nelson and Domonique Patterson. DeSoto has two future Texas Longhorns in receiver Darius Terrell and cornerback Adrian White.
CITY CENTRIC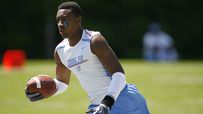 The farther the Skyline (Dallas, Texas) Raiders go in the Texas playoffs, the more a city hungry for a football state champion will embrace them. Full story
There is history here as well as these teams met in the area round a year ago, with Skyline taking apart a then-rebuilding DeSoto team in Claude Mathis' first year as head coach 51-26 in a game that was close midway through the third quarter before Skyline scored the contest's final 17 points.
DeSoto's two losses this season were by a combined four points and came against teams (FAB 50 No. 3 Cedar Hill and John Tyler) that are a combined 21-1. Skyline has breezed through its regular-season schedule behind a dominant defense and a balanced offense led by QB Javia Hall, a North Texas recruit. Hall, who isn't often mentioned in the same breath with some of Texas' other big-name senior quarterbacks, has passed for 2,071 yards and 27 scores while not being intercepted in his 179 attempts.
Player to Watch
Marquise Williams
Mallard Creek (Charlotte, N.C.)
The school isn't a familiar name to most FAB 50 followers, but Mallard Creek gets a second chance at No. 50 Independence (Charlotte, N.C.) on Friday in the second round of the North Carolina state playoffs, and the Patriots will need to be ready for another big dose of Williams, a junior quarterback. The Mavericks (10-1) pushed Independence to the limit in their first meeting Aug. 21, securing a 42-41 win when they stopped Williams on a potential game-winning two-point conversion with 11 seconds remaining. That was one of the few times Williams, a 6-4, 215-pounder who has reported offers from LSU, Michigan, Notre Dame and Virginia Tech, has been stopped all season. He has topped 2,500 yards through the air and 1,000 on the ground and accounted for more than 40 scores.
Upset Alert
No. 10 DeMatha (Hyattsville, Md.) 11-0
vs. Good Counsel (Olney, Md.) 10-1
Looking at it purely from a rankings perspective, and because Good Counsel won in the regular season, last year's Washington Catholic Athletic Conference championship was an upset when DeMatha topped Good Counsel 34-7. But looking at recent history, it wasn't an upset at all. The Stags won for the fifth straight year in the WCAC final over the Falcons and have won six straight crowns overall. Good Counsel, which has been in the ESPN RISE East Region top 20 all season, led 21-3 entering the fourth quarter when the teams met this season. Marcus Coker raced for three touchdowns in the fourth quarter to rally DeMatha to a 24-21 win. That's still the only loss for Good Counsel. Another good sign for the Falcons is their 21-7 win over a Bishop McNamara (Forestville, Md.) team that DeMatha defeated by only three points, 10-7.
Team on the RISE?
Marquette (Milwaukee, Wis.)
Head coach Dick Basham's team shot up to No. 10 in the ESPN RISE Midwest Region top 20 this week after a 35-0 win in the Division I state semifinals over Arrowhead (Hartland, Wis.), which had been in the state final the last three seasons. The unbeaten Hilltoppers are going for their first Wisconsin Interscholastic Athletic Association title Friday at Camp Randall Stadium in Madison against Menomonee Falls. Basham has won state titles in an illustrious 38-year coaching career in a previous private school alignment, but this would be his first since the private schools in the state joined the WIAA in 2000. He is the winningest coach in state history and enters the state final with 351 career wins. Junior running back John LoCoco paced the win against Arrowhead with 240 yards and three touchdowns on 37 carries.
Mark Tennis is a deputy editor for ESPN RISE.