September, 28, 2014
Sep 28
7:57
PM ET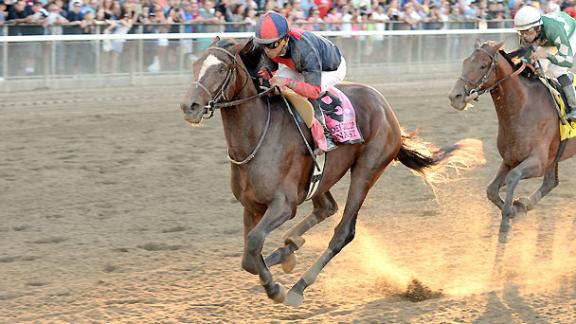 Jockey Club Gold Cup
ELMONT, N.Y. -- As owner Robert Evans started to walk away after accepting the trophy for Tonalist's victory in the $1 million Jockey Club Gold Cup, he was stopped and asked if his colt could become the champion 3-year-old by winning the Breeders' Cup Classic.
He looked up and said, "Of course."
Then, as a luminous smile filled his face, he added, "And if he does, why wouldn't he be Horse of the Year?"
It surely was a valid point on a day called Super Saturday at Belmont Park, when six stakes with Breeders' Cup implications were contested. Two hours after the richest of them went to Evans' colt, when the undefeated Shared Belief captured the Grade 1 Awesome Again at Santa Anita, the task awaiting Tonalist in five weeks became clear. Win the $5 million Breeders' Cup Classic - in the process defeating fellow 3-year-olds such as the likely BC Classic favorite, the unbeaten Shared Belief, Kentucky Derby and Preakness winner California Chrome and perhaps Haskell and Pennsylvania Derby winner Bayern - and a bevy of the most coveted awards may await him at year's end when the sport's champions are crowned.
The trouble with all that, though, could be that the Breeders' Cup Classic will be contested some 3,000 miles away from where Evans was standing.
To become a champion, Tonalist will have to prove he can win a major race away from Belmont Park, something that has so far eluded him.
Yet on a gorgeous Saturday afternoon in New York, thoughts of that Nov. 1 showdown in California were merely the backdrop. What mattered at the moment was that Tonalist was in his comfort zone at Belmont Park, the place where he is now a perfect 3-for-3 and has recorded all of his stakes wins.
Three wins sounds modest in size, but it's the stature of that trio that makes Tonalist such an intriguing championship contender. The weakest of them was a triumph last May in the Grade 2 Peter Pan. The gem was his victory a month later in the Belmont Stakes, which thwarted California Chrome's bid for a Triple Crown sweep.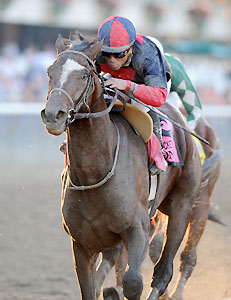 NYRA/Adam CoglianeseTonalist may have run himself into the Horse of the Year race.
The latest addition to the list, the Jockey Club Gold Cup, is arguably the third most important race of the year in New York, taking a backseat to only the Belmont Stakes and Travers.
In Tonalist's case, winning the mile and a quarter JC Gold Cup in his first test against older horses erased some of the sting from a third-place finish a month earlier in the Travers at Saratoga. He uncharacteristically pressed the pace that day and finished behind stablemates V.E. Day and Wicked Strong, who wound up 1-2. He had also finished second at the Spa to Wicked Strong in the Jim Dandy, his first race after winning the Belmont.
The results were different with a change of scenery to Belmont Park, where Tonalist had beaten Wicked Strong in the Belmont Stakes.
The betting public correctly assumed Tonalist would be more formidable back in Elmont, sending him off as the 3-1 ($8.20) favorite even though he was installed as the 4-1 third choice in the morning line. As it turned out, Tonalist needed every bit of his homecourt advantage to prevail against one of the biggest and classiest JCGC fields in recent memory.
The Grade 1 stakes produced chills as well as thrills in the forms of an exciting stretch drive and a frightening moment on the final turn when Wicked Strong stumbled and lost his rider. Whitney winner Moreno initiated the mishap by cutting in front of the Travers runner-up, who clipped heels and nearly fell. Jockey Rajiv Maragh was tossed, but fortunately fate smiled on everyone. Maragh suffered only a broken arm in the scary tumble and while an unscathed Wicked Strong continued running with the field, he quickly drifted to the to the center of the track, out of harm's way for the other 10 horses.
The incident could have been a nightmare for horses at the back of the pack like Tonalist and jockey Joel Rosario. Instead their biggest problem came at the top of the stretch, when Tonalist was in the midst of a strong rally from 10th but could not squeeze between the two leaders, Long River and Moreno. Unflustered, Rosario guided Tonalist outside them and in the final furlong the son of Tapit forged to a length and three quarters victory in a time of 2:02.12.
The late-running Zivo, who was outkicked by Tonalist in the final furlong, settled for second, two lengths ahead of 52-1 shot Long River. Moreno faded to fourth but was disqualified to last for impeding Wicked Strong. Travers winner V.E. Day was bumped at the start and then steadied during the incident on the final turn and was elevated to fifth.
For Clement, the victory was especially satisfying because of two changes he adopted for the Gold Cup. In a bold move, he ran Tonalist without any race-day medication and also took off the blinkers the 3-year-old had worn in all but the first of his seven previous starts.
"I wanted to show that you can still win race like this with no medications," said Clement, who in August was one of 25 trainers to publicly support a proposal to phase out race-day medications. "I probably should have removed the blinkers before the Travers. He, obviously, was a bit too aggressive in the Travers. Even so, he didn't quit. I love the way that, even when he got beat in the Travers, he went on to the wire."
Zivo won Belmont's Grade 2 Suburban at a mile and a quarter in the summer and trainer Chad Brown was pleased with the spunk his 5-year-old New York State-bred displayed in taking second. He, like Clement and Evans, is allowing himself some time for California dreaming about the mile and a quarter BC Classic.
"I'd love to take him out to the Classic," Brown said. "I think he fits. I have to speak to the owner [Tom Coleman] about it, but I didn't see anything that would deter him from going there. I feel like we have one of the better older handicap horses going a mile and a quarter on the dirt in the country. With that said, he deserves a shot in the Breeders' Cup Classic in my opinion. As long as he is healthy and doing well and Mr. Coleman wants to go, I'd prepare the horse to do so. I thought he ran terrific.''
Perhaps, but on Saturday "terrific" wasn't good enough. Not when he had to face Tonalist over the preferred racetrack that has ignited Horse of the Year aspirations.
September, 26, 2014
Sep 26
1:34
AM ET
There's an old saying that pace makes the race.
Sometimes chasing the pace can cost you the race.
In the $1.25 million Travers at Saratoga, nine horses faced a dilemma. Which one of them was going to chase Bayern?
About a month earlier, Bayern had romped to a 7 ¼-length win in the $1 million Haskell when he was allowed to cruise along on the front end after an easy 47.66-second opening half-mile in the mile-and-an-eighth test.
To prevent a repeat, somebody had to pester Bayern and that somebody turned out to be Tonalist.
Normally Tonalist will stalk the early leader, like he did when he won the mile-and-a-half Belmont Stakes by a head. Yet in the mile-and-a-quarter Travers, after Bayern skipped out to a quick 2-3 length lead in the opening yards, Tonalist and Wicked Strong went right after him. By the time they reached the finish line for the first time, Tonalist was in front and he stayed there for a brief while until he drifted wide on the first turn and Bayern scooted inside of him to reclaim the lead.
After that, Tonalist stayed attached to Bayern's hip and pressed the pace from second through fractions of 23.57 seconds, 47.31 seconds and 1:11.27 as Wicked Strong stalked in third.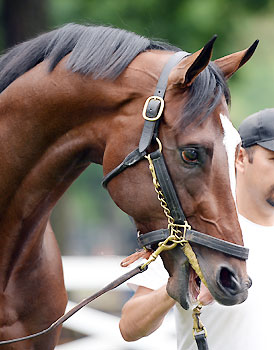 NYRA/Adam CoglianeseTonalist hopes to get a winning trip in Saturday's Jockey Club Gold Cup at Belmont Park.
Tonalist put Bayern away on the turn but he was immediately joined by Wicked Strong, who surged past him at the top of the stretch.
Tonalist wound up third in the Mid-Summer Derby, which went to V.E. Day, who rallied from seventh to beat stablemate Wicked Strong by a nose, and on Saturday there will be an intriguing rematch of the 3-year-old rivals.
The $1 million Jockey Club Gold Cup -- the main event of Belmont Park's Super Saturday card with five Grade 1 stakes races -- will bring them together in a race that offers a challenge quite similar to the Travers. Once again there will be a speedy rival for them, and a chance for Tonalist to make amends.
After serving as the sacrificial lamb in the Travers and suffering a second straight loss at the Spa, Tonalist seems nicely positioned to rebound in the JCGC and regain some of the luster he's lost since his triumph in the Belmont.
While Moreno, the front-running 4-year-old gelding who won the $1.5 million Whitney at Saratoga, seems poised to play the role of Bayern on Saturday, this time there's no question about who will have to play catch-me-if-you-can with the early leader. That role should belong to California invader Big Cazanova, who arrives in the Big Apple after setting track records at a mile and then a mile and an eighth on Polytrack in his past two starts at Del Mar, and might be quick enough to set the early pace instead of Moreno.
That should allow jockey Joel Rosario to keep Tonalist in his more customary spot in the race, something trainer Christophe Clement wants to see as he takes the blinkers off the son of white-hot sire Tapit.
"Tonalist was a little more aggressive than I wanted him in both races in Saratoga [a runner-up finish to Wicked Strong in the Jim Dandy and the Travers]. He's an older horse than he was in May or June and he's more mature. He's been working without blinkers after the Travers and has been working very well," Clement said.
Having a spotless 2-for-2 record at Belmont Park only enhances his chances of turning in an improved performance, and makes Tonalist even more attractive as the 4-1 third choice in a field of 11.
Wicked Strong (the 3-1 favorite) has been a pesky rival for Tonalist, and on Saturday he once again shapes up as his main rival. The Centennial Farms colt finished in front of Tonalist twice at Saratoga but wound up in a dead heat for fourth behind him in the Belmont Stakes, and back at Big Sandy he seems destined for a runner-up finish.
A day before Wednesday's draw for the JCGC, trainer Eric Guillot bemoaned Moreno's loss in the mile-and-a-quarter Suburban at Belmont, when the 11 post on the clubhouse turn cost his fleet runner three lengths at the break. Apparently the Cajun trainer's "voodoo" was unable to keep away post 11, as Moreno (7-2) once again drew that treacherous post, with Big Cazanova right outside him in post 12.
That ground loss should hurt the chances of the two speedsters, but as proven by his gameness last time out in a half-length loss to Itsmyluckyday in the Grade 1 Woodward, the gelding has enough class that he still rates an excellent chance of figuring in the trifecta.
Zivo (6-1) could also be in the picture. He rallied from last to beat Moreno by three lengths in the Suburban, but the late runner had little chance against him and the victorious Itsmyluckyday in the Woodward on an afternoon that was quite kind to early speed at Saratoga.
The conditions figure to suit him better in the JCGC -- something that can also be said with confidence about Tonalist, who this time just might let the pace make the race for him.
Ehalt's selections
1. Tonalist
2. Wicked Strong
3. Moreno
4. Zivo
September, 21, 2014
Sep 21
11:01
PM ET
Trainer Art Sherman said on Saturday that he hates excuses -- which only added to things he had to hate on an eventful September afternoon.
At the top of the list, despite his what-me-worry demeanor, Sherman had to hate, loathe, and downright abhor the weak sixth-place finish by his Kentucky Derby and Preakness winner California Chrome in Saturday's $1 million Pennsylvania Derby.
The Grade 2 mile-and-an-eighth test at Parx Racing attracted unprecedented attention when Sherman announced his horse would make his first start since the Belmont Stakes at the small Bensalem, Pennsylvania, track. It was supposed to bring the colt one step closer to the 3-year-old championship or Horse of the Year laurels, but it only gave wind to a litany of excuses -- some of them valid.
In general, the Pennsylvania Derby turned out to be one big excuse for everyone but the winner, Bayern, who once again proved how awesome he can be when left by his lonesome on the front end in a nine-furlong route.
In a race that unfolded similarly to his 7 ¼-length score in the Haskell, Bayern skipped out to a clear lead through slow fractions on a day when Parx's main track was incredibly kind to early speed. Though he was sent off as the 7-2 second choice, if the race could have been stopped when he held a half-length lead over 27-1 shot CJ's Awesome after a half-mile in a dawdling 47.89 seconds and wagering re-opened, Bayern would have been knocked down to a 1-10 favored.
Unlike the mile-and-a-quarter Travers, when Bayern was finished before the quarter pole and faded to last, the Bob Baffert-trained 3-year-old gave no one a chance in the Pennsylvania Derby as he pulled away to a 5 ¾ length win.
Given how the race played out, it's simple to excuse horses like Tapiture and Candy Boy, who tried to rally against the deck that was stacked against them but had to settle for second and third, respectively.
California Chrome had an excuse, too, though it was much more flimsy and tarnishing than the seemingly compelling ones offered after the race by Sherman and jockey Victor Espinoza.
"You know you hate making excuses," Sherman said, "but I thought if he could have gone after [Bayern] a little bit earlier and got out from behind. But the other horse kept him down on the rail which I really didn't want. He is a lot more comfortable if you can ease him out it didn't happen and he hasn't run in a long time. He probably needed the race."
"

You know you hate making excuses, but I thought if he could have gone after [Bayern] a little bit earlier and got out from behind.

"

-- Art Sherman, trainer California Chrome
Sherman added the race was a perfect stepping stone for the Derby winner's next start, the $5 million Breeders' Cup Classic on Nov.1 at Santa Anita and a possible showdown with his main rival for the 3-year-old title, the undefeated Shared Belief.
"Race under his belt," Sherman said. "He'll be a lot stronger and we'll train him over at Los Alamitos. We'll bring him home and get him ready for the Breeders' Cup."
Espinoza also lamented being stuck on the inside right behind Bayern as CJ's Awesome raced outside of him.
"The other riders," he said, "they worried about me, they didn't worry about the one in front [Bayern], and I knew I was in trouble on the first turn. They were like blocking in front of me, and it was hard to catch the other horse. Sometimes the other ones don't ride to win, they ride to beat horses. But, I really didn't abuse him too much today. I just let him run his race. I didn't want to override him. He had a long time off. This race, it set it up for the next one."
Logical excuses all. Except for one not so small point. We're talking here about a horse that came within two lengths of joining Affirmed, Seattle Slew, Secretariat and Citation in the ranks of Triple Crown winners in the last half-century or so.
As understandable as it may be that California Chrome, off a 15-week layoff, was not sharp enough to beat Bayern on a souped-up Parx surface, he should have been more competitive based on his class alone. Yet instead of running like a potential champion and figuring in the photo for second, he backed up like one would expect under normal conditions from a California-bred with a modest pedigree tackling Grade 1 company.
He should move forward off Saturday's race, but is the next stop the winner's circle at the Breeders' Cup? That's asking a lot of a horse who, like 2013 Kentucky Derby winner Orb, may not be as fast or formidable in the fall as he was in the spring.
Sherman may voice confidence, but he also said before the Pennsylvania Derby that California Chrome would turn in a "big race" and we all know how that turned out.
As for Espinoza, being unable to move outside Bayern and challenge for the lead is a legitimate excuse -- if California Chrome had finished a respectable second or third. The way California Chrome backpedaled after coasting through slow fractions makes it laughable to think he could have battled Bayern on the front end, dueled him into submission and cruised to victory.
And if racing along the inside bothered California Chrome, one would like to think a champion does not need everything to go his way to win -- or be competitive.
Clearly, as owners Steve Coburn and Perry Martin and Sherman head back to California with a combined $200,000 in appearance fees after what seems to be an ill-advised trip east, they have some excuses to hang Coburn's cowboy hat on.
How valid are they?
At this moment, pretty weak, but check back after the Breeders' Cup for the definitive answer.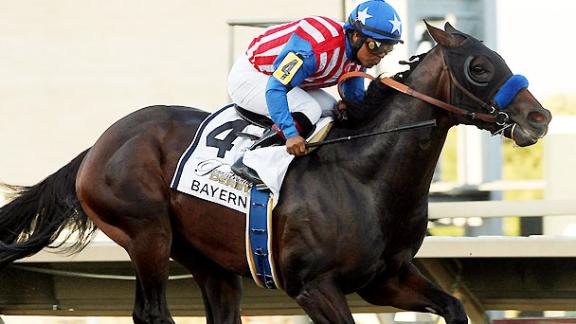 September, 17, 2014
Sep 17
2:27
PM ET
In the spring he was simply sensational and fell a little less than two lengths shy of becoming one of the sport's greatest legends when a dead-heat for fourth in the Belmont Stakes deprived him of a Triple Crown sweep.
Now, in the course of the next month and a half we'll find out if California Chrome is a champion.
The horse that was so dazzling in his Kentucky Derby and Preakness victories ends a 15-week layoff Saturday when he returns to the races as an even money favorite in the $1 million Pennsylvania Derby at Parx Racing -- a spot in which the owner of one of his main rivals believes the California-bred is "vulnerable."
When last seen California Chrome was exiting the Belmont Stakes with a sore hoof and co-owner Steve Coburn was ranting like a sore loser, calling some of his rivals in the Test of the Champion "cowards."
But after California Chrome enjoyed five weeks of rest and relaxation at a California farm, trainer Art Sherman insists the hoof is fine. His colt is back at the top of the game and ready for the challenges ahead on the road to the 3-year-old championship and perhaps Horse of the Year honors.
"His last two or three works have been awesome," Sherman said Tuesday in a National Thoroughbred Racing Association conference call. "I think he's reaching his peak. This gives us time to prepare for the Breeders' Cup. Once he gets this race under his belt and comes out of it fine, we won't have any problem going another eighth [in the Breeders' Cup Classic], believe me. This horse can run."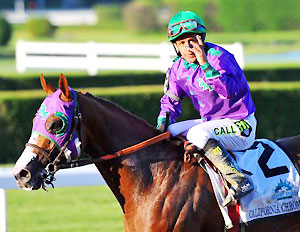 AP PhotoCalifornia Chrome and jockey Victor Espinoza will begin work toward an eventual clash with Shared Belief in Saturday's $1 million Pennsylvania Derby.
The Pennsylvania Derby will serve as California Chrome's lone prep for the $5 million Breeders' Cup Classic at Santa Anita on Nov. 1, where he figures to meet up for the first time with older horses as well as his main rival for the 3-year-old title, reigning 2-year-old champ Shared Belief. The undefeated Shared Belief is scheduled to face his elders Sept. 27 in the $300,000 Awesome Again at Santa Anita.
Though a race at a small track like Parx may seem unworthy of a Derby winner, dollars from casino revenue has turned the Pennsylvania Derby into one of the year's richest races strictly for 3-year-olds and brought out at least a few rivals who will test California Chrome's mettle.
While Bayern, the 7-2 second choice, showed he wanted no part of a mile-and-a-quarter in the Travers, his 7 ¼-length romp in the $1 million Haskell illustrates his effectiveness at the Pennsylvania Derby's mile-and-an-eighth distance.
Tapiture (5-1) is coming off wins in the West Virginia Derby and Matt Winn. Candy Boy (12-1) lost by a nose in the West Virginia Derby, while the Todd Pletcher-trained Protonico (6-1) finished only a head behind eventual Travers winner V.E. Day in the Curlin at Saratoga.
All of them, with the exception of Protonico, lost to California Chrome in either the Kentucky Derby or Preakness, but Ron Winchell, owner of Tapiture, voiced the opinion that now, with California Chrome coming off a layoff, is the perfect time to avenge those setbacks.
"We're sitting in a prime position with the win in the Matt Winn and the West Virginia and [Tapiture] making his third start since the Derby," said Winchell who also owns the leading 3-year-old filly Untapable, the 7-5 favorite over Alabama winner Stopchargingmaria and Test victor Sweet Reason in Saturday's $1 million Grade 1 Cotillion at Parx. "California Chrome is coming back and trying to go a mile and an eighth against horses in top form. I think it leaves [California Chrome] a little vulnerable in my book. [The Pennsylvania Derby] wouldn't have been my choice if I was owner of the horse, but it's definitely a good time to face him. I wouldn't want to face him later when he has two or three more starts."
Sherman chuckled when Winchell's comments were passed along and said, "Oh, really, where did he want me to run? They must not think much of Shared Belief. Shared Belief is a good horse. I want to be at my best when I hook him. He and my horse are the best 3-year-olds in the country. I think the Awesome Again is going to come up tougher than this race. I might be wrong. This is for (3-year-olds only), why do I have to hook older horses until the Breeders' Cup anyhow? For a million dollars as opposed to $300,000 (in the Awesome Again), you'd have to take a shot. Wouldn't you?"
Appearance fees of $100,000 for owners Steve Coburn and Perry Martin as well as Sherman no doubt also played a role in opting to run in Bensalem, Pennsylvania, instead of their home state of California. Yet whether the comeback started on the East Coast, West Coast or somewhere in between, the main question involves whether California Chrome can return as good or even better than he was in the spring.
"[Jockey could Victor Espinoza] couldn't say enough about him after his last work," Sherman said. "He was push button. You don't want to run a short horse in races like this. If he gets outrun, he gets outrun. I look for him to run a big race … they'll have to have their running shoes on."
In Presidential elections, Pennsylvania has usually played a pivotal role in the outcome, living up to its nickname of "The Keystone State." Here, in California Chrome's bid for a championship, he, too, will have to carry the day in Pennsylvania and then close the deal in California.
All in all, it should make for some interesting times as the reports from the final precincts roll in.
September, 8, 2014
Sep 8
11:53
AM ET
A meet as classy and beloved as Saratoga generally has one signature moment that defines it and becomes indelibly linked to that particular year.
In 1973, it was Onion defeating Secretariat in the Whitney.
There was the Affirmed-Alydar duel in the 1978 Travers.
The 2009 racing season will be long remembered for Rachel Alexandra's victory in the Woodward.
This year, though, it was not a single race that will be the lasting image of the spectacular 40-day meet. Rather it was a brilliant body of work for the last 24 years in New York that culminated with one unforgettable and emotional Sunday afternoon.
More than V.E. Day and Wicked Strong, or Moreno and Itsmyluckyday, or Close Hatches and Stopchargingmaria, the 2014 Saratoga season belonged to retiring track announcer Tom Durkin.
For all of the great horses that raced in the famed Grade 1 stakes at the Spa, in the end it was the outpouring of affection for Durkin that was the lasting image to arise out of the summertime meet in racing's oasis in the Adirondack Mountains.
Racing fans in New York have a reputation for being crusty and cynical but from the start of the Saratoga meet until Durkin's final day behind the microphone, they were putty in the hands of the charismatic announcer.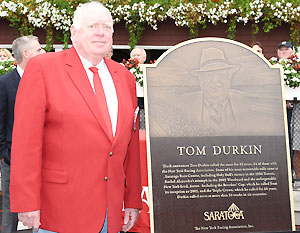 NYRA/Adam CoglianeseRetiring track announcer Tom Durkin will be missed by his adoring fans at Saratoga.
The ground swell of emotion started to build in May when Durkin announced he would retire on Aug. 31 and it grew exponentially as each passing racing date brought the meet closer to its conclusion and NYRA kept Durkin center stage with daily tributes and replays of his best calls.
The final chapter came on the penultimate day of the meet, with the featured Spinaway Stakes destined to be Durkin's farewell on one of those magical days when 38,048 were on hand but 20 times that will claim they were there.
Mother Nature tried to intervene with a downpour that turned the main track into a sea of goo capable of obscuring obscure silks and saddlecloths, but that did not faze Durkin in the slightest bit. Unlike some professional athletes, the 63-year-old announcer had been heading into retirement at the top of his game and his final call was vintage Durkin.
The Spinaway was certain to be remembered for the circumstances surrounding it, but Durkin not only upped the ante, he went all in and raked in the pot with an unforgettable call. As Saratoga's video monitors showed both the race and Durkin calling it, he labeled the runaway winner Condo Commando as "splashtastic " and then enjoyed a hearty laugh as he went out on an amazingly high note.
The farewell tour, though, was not over. There was still a trackside ceremony to honor Durkin and as he walked down from his booth above the track and headed toward the winner's circle, there was a raucous roar from the crowd. It was more like a victory procession as fans loudly expressed their gratitude for 43 years of spectacular calls, the last 24 of them in New York.
Some chanted for him to come back for one more year. Others chanted his name in the manner and tone that the Bleacher Creatures at Yankee Stadium salute Derek Jeter, shouting "Tommy Durkin." Even Mother Nature joined the celebration as the rain amazingly stopped for the ceremony.
Looking back, the baseball analogy fit because in so many ways what happened at Saratoga that Sunday afternoon was much like that day last year when Yankee fans said a fond goodbye to Mariano Rivera. It was a special moment, the likes of which New York Racing Association had never seen before with one individual being so universally showered with love.
A year from now, there will be more races at Saratoga. Photo finishes and champions will create electricity. But it can be said without fear of contradiction that there not will be a moment to match Durkin's final call and farewell. Like Rivera's last game in pinstripes, and what awaits Jeter in a few weeks, that final Sunday of the 2014 Saratoga meet was the kind of day when you are so immensely happy to simply be there and share in such a gratifying moment.
The reminder of that came a day later. At the end of Saratoga's backyard there's a place called the Big Red Spring. NYRA uses the area on giveaway days to hand out its freebie towels and hats and the lines can often stretch out for a furlong.
On Monday, there was a lengthy line in the backyard which seemed to indicate NYRA was distributing a trinket of gold. Yet on this day, the giveaway involved nothing more than Durkin greeting fans and signing autographs. No bobbleheads; just a chance for fans to say goodbye to a Saratoga icon with one last piece of memorabilia.
In the end it will be those loud, loving cheers on Sunday and that long line of humanity on Monday that will come to mind first whenever anyone reflects on the incomparable 2014 Saratoga season.
Perhaps it should just be called "The Summer of Tom."
September, 3, 2014
Sep 3
3:26
PM ET
As another blissful Saratoga meet fades into the sunset, the image that stands out most now about the final few days of racing at the Spa involves the emotional farewell of legendary track announcer Tom Durkin.
Ever since he announced in May he would be retiring as the New York Racing Association's race caller at the end of the Saratoga season, there's been a deserved love fest for Durkin, which reached a crescendo in the meet's final weekend.
His last call, which came in the Spinaway Stakes on Sunday, will long be remembered for both Durkin's words in framing the race and the outpouring of affection by fans at a trackside tribute for him who showered him with applause and even chanted "Tommy Durkin" in a tone borrowed from Yankee fans' serenade of Derek Jeter.
That's the lasting image for now.
Some eight months from now we'll know if the 2-year-old stars on display this holiday weekend at the Spa can bookend Durkin as we find out if they are the real deal or just more in a long line of juvenile teases.
New York's first Grade 1 stakes for 2-year-olds highlighted the action on the track in the final two days of racing at Saratoga and provided a pair of winners who certainly seem extremely worthy of Breeders' Cup consideration.
The Kentucky Derby and Kentucky Oaks? Let's not getting too far ahead of ourselves here.
Starting with the ladies, Condo Commando was dominant in the seven-furlong $350,000 Spinaway on Sunday, or, to borrow a line from Durkin's classic final call, she was simply "splashtastic."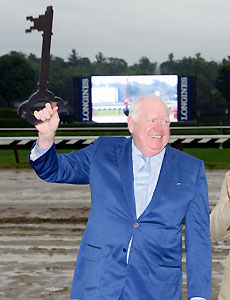 NYRA/Adam CoglianeseLong-time New York track announcer Tom Durkin holds a key to the hearts of many fans at Saratoga.
Reveling in the Saratoga mud, she blew away her seven rivals by 13 ¼ lengths. After starting her career with a dazzling win in a humble $75,000 maiden claimer for trainer Rudy Rodriguez, she is now a perfect 2-for-2 with a combined winning margin of 25 ¼ lengths.
"She wasn't 100 percent fit for her debut, but she was much better today," said Rodriguez, who trains the filly for Michael Dubb, who won the owners' title at the Spa, Mike Caruso's Bethlehem Stables and The Elkstone Group. "I just hope she comes back good. She's a nice filly."
Very nice indeed.
While the Saratoga goo no doubt played a role in the final margin, on a positive note she has the type of speed that should thrive on a hard, fast surface like Santa Anita, home of this year's Breeders' Cup Juvenile Fillies. Whether the daughter of Tiz Wonderful can handle the two-turn distance of that championship race is a different matter in which only time will tell.
"She overpowered everybody," said winning jockey Joe Bravo. "Really, the race was won in the first eighth of a mile. She won first time out pretty impressively, but you didn't know how good she is. I think today she answered a lot of questions."
A day later, on a drying out surface labeled as good, the Hopeful was the scene for another virtuoso performance.
This time, it was Competitive Edge, purchased for $750,000 at a sale earlier this year, who romped to a 5 ¾-length victory in Monday's $350,000, seven-furlong stakes.
Competitive Edge is one of the numerous high-priced, regally bred 2-year-olds in the barn of six-time Eclipse Award-winning trainer Todd Pletcher, but on getaway day at the Spa he positioned himself ahead of the others through a win over a proven commodity in Saratoga Special winner I Spent It.
Going off as the 3-5 favorite over I Spent It, the 8-5 second choice in a field of seven, spoke volumes for the respect generated by Competitive Edge in his debut, a 10 ¼-length maiden win at Saratoga on July 26.
Third in the early stages as he pressed Signature Cat and I Spent It on the front end, Competitive Edge surged to the lead at the quarter pole and pulled away to a decisive win over I Spent It, who uncharacteristically acted up in the paddock before the race.
Sharm was another nine lengths back in third as Competitive Edge covered the seven furlongs in 1:24.11, .57 seconds faster than Condo Commando's time a day earlier.
Like Condo Commando, Competitive Edge now has to prove that he's as capable around two turns as he's been at one.
"He has such a good disposition and you hope that will help him when we stretch him out," Pletcher said. "Since the Breeders' Cup is in California again, do we want to get some two-turn experience before we go? The Champagne [a one-turn race at Belmont, Oct. 4] will be our first option, but we'll talk with the connections and make sure we're all on the same page."
So as the 146th Saratoga season comes to an end, it's Condo Commando and Competitive Edge who head back to Belmont with the Grade 1 black type.
Yet the nature of 2-year-old racing in this era is not to build expectations too early. The last Hopeful winner to capture the Kentucky Derby was Affirmed in 1977, a drought longer than the one attached to the Triple Crown.
More will be known in the coming weeks, as evidenced by this past weekend as the Spa's talent-laden maiden showcased some talent that could one day wind up in Grade 1 stakes. There was El Kabeir, a Zayat Stables colt who broke his maiden by 10 ¾ lengths on Saturday, and Feathered, from Pletcher's barn, a filly who won by 9 ¾ lengths on Sunday.
Both horses were making their second career start, making a horse like Blofeld, a Pletcher colt who beat El Kabeir, one to watch as well.
Oh yeah, Pletcher also won a maiden race on Monday with Carpe Diem, a colt bought at a sale for $1.6 million by WinStar Farm and Stonestreet Stable earlier this year.
Put it all together and the winner's circle at the Breeders' Cup seems a difficult enough target, much less Churchill Downs on the first weekend in May.
"When you win a race like the Hopeful, it's natural to think about the Triple Crown," Pletcher said. "But it's way too early to focus on that."
So for now, until more precincts are heard from in the fall and early winter, the final weekend of the Saratoga will belong to the incomparable, invincible Durkin.
Not a bad turn of events at all.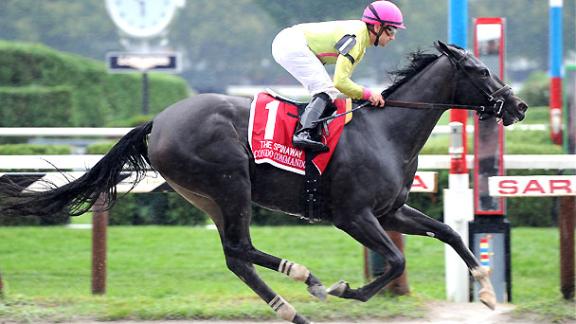 August, 29, 2014
Aug 29
2:00
PM ET
A year ago, the 144th Saratoga meet had an unusual source of entertainment.
The battle for the right to be proclaimed as the leading owner is usually as tepid as room temperature bath water, but 2013 broke that mold. It matched Mike Repole, the three-time defending champion at the Spa, against the formidable stable of Ken and Sarah Ramsey.
The Ramseys had worn the Saratoga crown in the two years prior to the start of Repole's streak. They also started 2013 in a manner unseen in recent memory as they reeled off one title after another at a string of major meets -- most of them in record-breaking fashion.
Ramsey even added a touch of World Wrestling Entertainment bluster to the duel by boldly predicting he would end Repole's reign at the Spa. He voiced it with a chuckle, mind you, instead of clenched teeth like a wrestler, but his words proved prophetic as he won the owner's title with a record-smashing 22 victories. Repole was up the track with just seven wins.
The Queens-born, New York-based Repole responded that with each side having three wins in the last six years, 2014 would be a hotly contested Game 7 in their personal World Series.
Now, as the ninth inning of their 2014 duel approaches, it seems this latest chase for the Spa crown has been as competitive as ever, but without the previous year's banter and electricity. Ramsey has enjoyed a good, but not phenomenal season, while Repole came into this meet with much less ammunition than in previous years and a more realistic approach to the task at hand.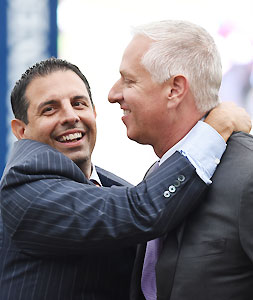 NYRA/Adam CoglianeseOwner Mike Repole, left, and trainer Todd Pletcher celebrate after a win at Saratoga.
"Any time you win three owners titles in a row like I did, there's a little more emphasis to dethrone him and there's pressure on the person defending that title," Repole said. "To me, I'm blessed and thankful for everything I have, and it would be very satisfying to win this title, but that's not because I lost last year. It's about winning titles whenever you can. If I had won three titles over the course of six years as opposed to winning three straight it would have the same meaning to me.
"I didn't think I had a well-balanced enough stable to win this meet, but I'm not going down without a fight.
After Wednesday's card, with five days left in the meet, Repole was tied for first with Michael Dubb, each with 11 wins. Dubb lost the 2011 and 2012 titles to Repole by a single winner each time.
Chester and Mary Broman are third with 10 and the Ramseys are next with 9.
It promises to be a lively battle to the wire, with Repole holding a strong hand. Though he's had just 25 starters at the meet -- well off the pace of his 36 starters last year and 53 in 2012 -- he hopes to close out the meet with a flourish. He plans to enter about 10 horses with trainers Todd Pletcher, Bruce Levine and Mike Miceli in the final five programs and then let the chips fall where they may in a chase that may lack the sizzle of the previous year but which remains as difficult as ever.
"It's harder to win an owner's title at Saratoga than a Grade 1 stakes," said Repole, who has won a pair of Grade 1 stakes at the meet, the Coaching Club American Oaks and Alabama, both with the 3-year-old filly Stopchargingmaria. "If you have three or four horses you can get lucky and win a Grade 1 stakes, but you can't win an owner's title with that many horses.
"It's difficult to win a lot of races at Saratoga. Everybody's going there to win races. Their holding their best horses, waiting for Saratoga. Everybody's pointing for Saratoga races. The fields are bigger. The competition is fierce. Some of the claiming races look like stakes on paper. It's a unique place."
And it is the site of another interesting race for the owner's title, too, even if it lacks the intensity of a Game 7 of the World Series.
Picks by Shawn Rychling
This weekend's race, Saturday August 30
The $600,000 Woodward at Saratoga
(6) Zivo (C) has won six consecutive races and closed like a rocket to catch (4) Moreno in the Suburban. This race is a furlong shorter, but he has been able to close at a mile distance as well, so the one loop around the Spa oval should not be an issue. The problem will be hoping someone goes with Moreno and softens him up. (2) Itsmyluckyday -- second in the Whitney -- looks like the one to try as he adds blinkers for this one. Rest assured, these jockeys won't let Moreno get the easy lead he got in the Whitney so someone figures to be out there. But if not, Moreno could easily wire the field once again. In his victories, (8) Last Gunfighter (B) has sat back and come from off the pace, so he may be in the mix if there is a pace meltdown. (7) Norumbega (D) has done the same, but is more of a plodder and lacks the turn of foot to catch a horse like Moreno with only 9 furlongs to work with. He does add blinkers which may help him stay toward the front early. (1a) Romansh (D) has been a popular wiseguy pick of late and took a tumble on the toteboard just before the Whitney. He took a bump at the start of that race and then had to go 6-wide on the far turn so maybe he improves with a better trip.
The predicted order of finish:
1. Zivo
2. Moreno
3. Last Gunfighter
4. Itsmyluckyday
For daily Hot List selections, click here.
To open an interbets.com OTB horse racing wagering account and receive Hot List daily reviews of New York races, click here.
Hot List Key
A List: A preferred horse to watch
B List: Secondary horse to watch
*C List: Went down 2 or more betting notches and finished 1st through 3rd
*D List: Went down 2 or more betting notches and finished 4th or worse
* minus-4 or more betting notches if 11-1 or more.
Do you have questions? Email Bob at ehalt.b@sbcglobal.net.
August, 28, 2014
Aug 28
12:45
PM ET
SARATOGA SPRINGS, N.Y. -- Change is a word not commonly associated with a place as timeless as historic Saratoga Race Course.
From one passing year to another, the ages-old charm and feel of the Victorian era is magically re-born every summer to enthrall a new generation of fans.
Yet next year at this time, there will be something different about racing at Saratoga.
For the first time since 1990, it will have a new sound.
On Aug. 31, Tom Durkin will step to the microphone and call his final race as the New York Racing Association's track announcer. It will bring to an end an illustrious career which spanned 43 years, the last 24 of them serving as the voice that masterfully painted the pictures of each day's races at not just Saratoga, but Belmont Park and Aqueduct as well.
Be it a bottom level claiming race or the Kentucky Derby, Durkin's incomparable ability to weave drama, shock, excitement, wit and even shtick into his calls have elevated him to the gold standard in his profession.
He was the voice of the Breeders' Cup from its inception in 1984 until 2005 and for Triple Crown races from 2001 through 2010.
A long list of this era's greatest races have been framed by his calls and in many of them the words he chose like "unconquerable" became as legendary as the great champions he attached them to.
Yet he could also turn a mundane allowance race into an internet sensation by lampooning the sound of a crusty pirate.
It's only when you ask Durkin if he has a favorite call that you'll get silence from him. He would probably compare it to singling out a favorite child, except that he finds comparisons like that inappropriate and says it smacks of "too much patting myself on my back."
So it's left for others to decide which diamond sparkles the most, and it's surely a near impossible task to choose just a handful of them that belong on a cloud above the others -- much less just one of them.
There are that many gems to consider.
To best illustrate that, there's no better means than Durkin's own words. The following are not Durkin's best calls -- as brilliant as they may be -- but rather a package of clips that represents the full range of his skills, from his passion to his humor, along with his recollections of what made each of them special.
Enjoy.
"One of the things that stands out most about that race was that it rained like crazy and Cigar didn't like an off-track. That was a big part of the drama in the race. The tag most people remember is the unconquerable, invincible, unbeatable Cigar, but after that what I thought stood out is that he would finish that season unbeaten if he won the Breeders' Cup Classic. He was already Horse of the Year. This was just icing on the Eclipse cake. But the tag I put on after that was that he was faster than all the other horses and Mother Nature too, which I thought was an important factor in his victory."
"Rachel Alexandra was extremely popular and the week before that Woodward they had these banners made and it was an illustration of her face with that very distinctive blaze she had. They were all up and down Broadway (in Saratoga Springs) and there was kind of a juggernaut for her running at Saratoga. People at the track had signs that said 'Rachel Alexandra, she runs like a girl.' And any time you get that battle of the sexes in horse racing it really makes for a juicy plot line.
"Then, of course, there was the victory and that was the loudest I ever heard at this place. The only thing louder was the cheer for Smarty Jones entering the stretch in the Belmont Stakes, but there were 80,000 more people there.
"It was deafening and this is an old wood building here at Saratoga and you could actually feel the rafters moving. Sound is molecules in the air being pushed through the air by a force. Usually it's your voice and you're pushing air out and that's what makes sound. Well, when you get everyone underneath an old wood roof pushing all of those molecules through the atmosphere it actually made the building vibrate. That was a visceral feeling and she was thrilling in victory."
"I said in the race that Kent Desormeaux was moving early. I was careful not to say he was moving too soon. To say you're moving early and to say you're moving too soon are two completely different things. He moved early, outside the 5/8ths pole. A lot of people criticized him, saying, 'You know, he moved too soon.' Well, if he had won the race it would have been one of the most perfectly timed races in the history of the game. Jockeys take it on the chin when they don't deserve it quite a bit, and he did not deserve that.
"As for the moment, it was a 20-year drought and Chrysler was offering a $5 million bonus to the winning owner of a horse that swept the Triple Crown. That was a big part of the story and I included that in my call. That wait. I don't recall how long it was, but it was quite a few minutes and they kept playing that replay over and over in slower and slower motion and as many times as they played that over no one could figure out if the Triple Crown had been won or not. Then they put up Victory Gallop's number and there was a bit of a moan."
"Again, a very sexy storyline, with the boys versus the girl. Curlin was a fabulous horse and so was she, of course. I just recall that before big races I jot down the storylines and who the protagonists and antagonists are, the subplots, things like that. It's not something you do on a daily basis or race to race basis. But it was very clear here. It was a boy against a girl and a girl has not won the Belmont in 102 years.
"And the Belmont is a spectacle like no other. It is played out on a majestic stage that was made for that mile and a half race. There are no excuses in those mile and a half races that could be attributed to the race course itself or the distance. At a mile and a half, if you miss the break, well, with the exception of War Emblem, it usually doesn't make a big difference. So when they rebuilt Belmont Park in the 1960's they had a choice that they discussed a great deal. What should be distance of the track be, because a mile and a half makes for a big place and those horses get awfully small on the backstretch. But they decided to make it pure and keep that mile and a half track going because it's a purist's configuration and it lends itself to great moments like Rags to Riches' victory."
"I discuss things with the Breeders' Cup's marketing people going into the races and at that time I was doing all of the commercials for the Breeders' Cup and basically we were just marketing the whole day around Sunday Silence versus Easy Goer. So when I sat down to figure out my approach to the call, I said let's just focus on those two. If something else happens, OK. So in the call, instead of saying so-and-so's three lengths from the lead or five lengths off the pace, my margins were between Sunday Silence and Easy Goer.
"So those margins on the turn were wider for Sunday Silence because he was so much more nimble going around Gulfstream than Easy Goer. Then when they went on the straight on the backstretch, Easy Goer would get closer. Then Sunday Silence would spurt away on the turn.
"The entire call was like a laser beam focused on those two. It then came down to that spectacular finish and for the first and only time I used the word epic in a race call. I'll do that with particular words. I also retired the word sublime after Barbaro's Derby."
"[Jockey] Randy Romero called me up after the race because at Churchill Downs the jockeys can hear the announcer. At a lot of tracks that's not the case, but at Churchill they can. So Tom Hammond tosses It up to me and I'm doing the end of the load and I'm really laying it on thick about Personal Ensign having a chance to retire as the first undefeated champion since 1917 and blah, blah, blah. Randy Romeo heard me and got real nervous. I put a lot on his shoulders right there but both he and Personal Ensign were up to it.
"The set up, obviously, was having the winner of that year's Kentucky Derby against a would-be undefeated champion at the place where they conduct the Kentucky Derby. I mean that will never happen again. I wound up calling her run in last sixteenth of a mile miraculous and that's another word I retired."
"There's two things I deal with in race calls or in any story or novel or play, and that's plot and narrative. That race had its plot and narrative but the moment Barbaro was pulled up that was the plot. That was what the intrigue, for the lack of a better word, was all about. That was where the interest was at that point. So that became the plot and the narrative was Bernardini. So Bernaradini's effort, which was tremendous, got short shrift as far as the call goes. But at that point, that was just the narrative once you saw Barbaro stricken before the clubhouse turn.
"As a race caller, you just react to what you see. You have all this adrenaline in you and it helps you make decisions on the right thing to say. Adrenaline's a good thing in those situations. You just react and describe what you see. My mandate is to accurately and appropriately describe the race and that's what I did there."
"I'm very cautious about putting humor into the mix because people are betting. But there are certain places and times you can do it and the place is usually Saratoga. The time is when you have a feeling and know you can trust yourself to do what's appropriate and what people are going to buy into. Arrrrr was just a fun thing and I'm certainly not opposed to have fun in any venue. The racetrack is supposed to be a fun place so I didn't mind doing things like that. There's also shtick and not shtick and that was shtick.
"Afterwards, everyone was walking around town and instead of saying hello, they'd say, Arrrrr."
"Again that's a real judgment call. The first time I was shocked at how well I sang the scale. Then the second time, I was at Belmont Park and I had laryngitis, and my voice cracked and hit several sour notes and that was the end of that. The same owners also named a horse Volare, which is a popular song, and at that point I decided I'm not going to encourage people to name horses and expect me to sing, so I let that one lie.
"A fun name and hope that it didn't offend all the mothers-in-law out there; they're wonderful people. You try to get cute and believe me I could get cute with every race, but that becomes shtick and you have to stay away from shtick but every once in a while it's OK."
There is, of course, at least one more race waiting to be added to Durkin's most memorable moments in the announcer's booth.
It will come on Aug. 31 at the Spa when a stakes with an all-together fitting name -- the Spinaway -- will serve as Durkin last call.
There's no telling who will win the race, or whether it will be a thriller or laugher. But for sure, it will have a golden nugget attached to it in Durkin's final words to an audience he dazzled for so long.
In the end, of the all the races this season at Saratoga, the surest bet of all is that the Spinaway will be a classic -- just like every other race fortunate enough to have Tom Durkin's voice attached to it.
Last weekend's race, Saturday August 23
The $1.25 million Travers at Saratoga
The Travers Stakes is positioned as a race that can shine a light on a 3-year-old poised to blossom and become a star in the fall.
Unfortunately, the 145th edition of Saratoga's renowned Mid-Summer Derby might have only revealed how ordinary some of the division's stars really are.
The buzz around the Travers came from a trio of Grade 1 winners, Bayern, Wicked Strong and Tonalist. Each had an impressive resume. Bayern was coming off a 7 ¼-length victory in the $1 million Haskell; Wicked Strong won the Wood Memorial in April and the Grade 2 Jim Dandy last month at the Spa; and Tonalist won the Belmont Stakes.
One seemed likely to capture the Travers and vault into Eclipse Award consideration. None did.
V.E. Day, at 19-1 odds, won the Travers by a nose over Wicked Strong in a fabulous finish for trainer Jimmy Jerkens, who saddled the 1-2 finishers.
It was certainly a breakthrough effort by V.E. Day, but one has to wonder if he benefitted from the top three being too preoccupied with each other. Next time out, which may come against older horses in the Jockey Club Gold Cup, he'll face a tougher test on a racing surface different than the one at Saratoga that he appears to relish. Figuring he'll be nowhere near the 19-1 he was in the Travers, we'll pass on including him on the Hot List.
Wicked Strong also ran well, but aside from racing wide on the first turn, he had an ideal trip. He was content to track in third as Tonalist chased Bayern. When he surged past those two at the top of the stretch, he seemed home free. Seeing him collared in the final stride after that dream trip takes some of the shine off his effort. Perhaps he's at his best at a mile and an eighth, the distance he was victorious at in the Wood and Jim Dandy. Since he may also run next in the mile and a quarter JC Gold Cup and will be no doubt be well-bet, there's little incentive to include him on the Hot List.
Bayern was exposed as a miler as he faded to last and might need a lengthy rest off such a taxing race.
If there was one to follow from Big 3 in the Travers, it was Tonalist. In a surprising move, he rushed out and challenged Bayern for the lead, actually taking a brief lead before tracking in second the rest of the way.
Given his staying power, Tonalist might have turned in a better effort if he could have settled in third or fourth instead of using up so much energy in the early stages. The JC Gold Cup is also on his agenda and with a better trip and the prospect of better odds than the 5-2 he was sent off at in the Travers, we'll include him on the Hot List with a "B" as a secondary horse to watch.
While no one took a major dip on the toteboard in the final minutes of wagering, we'll also assign a "B" to Mr Speaker. The dirt experiment did not work out as well as trainer Shug McGaughey envisioned, but he should bounce back from that fifth-place finish when he's reunited with turf. Plans call for him to run next against 3-year-olds in the Hill Prince on Belmont Park's turf course and unless the Travers delivered a knockout punch to him, he should be far more formidable in that spot.
Hot List Horses
1. Tonalist (B)
2. Mr Speaker (B)
For daily Hot List selections, click here.
To open an interbets.com OTB horse racing wagering account and receive Hot List daily reviews of New York races, click here.
Hot List Key
A List: A preferred horse to watch
B List: Secondary horse to watch
*C List: Went down 2 or more betting notches and finished 1st through 3rd
*D List: Went down 2 or more betting notches and finished 4th or worse
* minus-4 or more betting notches if 11-1 or more.
Do you have questions? Email Bob at ehalt.b@sbcglobal.net.