Category archive:

HorseRacing
March, 24, 2015
Mar 24
9:30
AM ET
Fountain of Youth Stakes
It would be easy to paint Saturday's $1 million Florida Derby as Round Two in a budding rivalry between Upstart and Itsaknockout.
They met for the first time in the $400,000 Fountain of Youth when Upstart crossed the wire first by 2 ¾ lengths over Itsaknockout in the Grade 2 stakes. But before the "official" sign was posted on the toteboard, the Gulfstream stewards disqualified the 4-5 favorite and placed him second for bumping with the on-coming Itsaknockout in the stretch of the Feb. 21 stakes.
Though Itsaknockout was declared the winner, there was no shortage of dissenting opinions, including one from Rick Violette, the trainer of Upstart.
"Bad call," Violette said after the race. "I really think it didn't alter the outcome. Just the stewards did."
On Saturday, Upstart and the Todd Pletcher-trained Itsaknockout will square off again at Gulfstream. Upstart was the heavy favorite the first time they clashed, but the Fountain of Youth opened the door for doubt to sneak in. Yes, Upstart reached the finish line first, but would Itsaknockout have prevailed without the incident in the stretch? It's food for thought and the match to light a lively debate, but Violette wants no part of bulletin board material. He knows the Grade 1 stakes is above all a highly important test for owner Ralph M. Evans' 3-year-old as opposed to another round in a grudge match.
"It's never personal for me," Violette said. "We have to get Upstart over there in the best possible condition, hope the rider gives him the best ride possible, and that we get there first. If Itsaknockout is second, fine. If he's fifth, fine. There are other horses out there you have to beat. It's rarely a two-horse race. It's not a vendetta and it's not a rivalry, yet. I could get cocky and say it's only a rivalry when he beats me on the up-and-up without the stewards, but I'm not doing that."
For Violette and other trainers with a top Kentucky Derby prospect, races like the Florida Derby are indeed much more than a measuring stick for a pair of rivals. As satisfying as it might be to defeat a formidable foe in one of them, they are indeed preps for the biggest prize of all, the Kentucky Derby. Yet they also carry a major significance in their own right, explaining why Violette is placing far more emphasis on the Florida Derby than the Fountain of Youth -- where Upstart was clocked in a slow but deceptive 1:46.28 for a mile-and-a-sixteenth over a slow, tiring surface.
"It's a balancing act. This is a Grade 1 for a million dollars we're approaching on Saturday. It's a serious race," Violette said. "It's a lot of money, and a bird in hand in the racing business is worth an awful lot. Tomorrow is promised to nobody. The best laid plans end with 'Boss, can you come see this?' So we're ready for this race and trying to have our cake and eat it too: getting him ready while not prepping him for his best race of all-time."
Third in last year's Breeders' Cup Juvenile, the New York State-bred began his 3-year-old campaign with a sensational effort, winning the Holy Bull at Gulfstream. Off such a powerful showing, Violette feared his horse might regress in his next start so he eased back on the ridgling's training.
"He ran well in the Holy Bull off a good work a week before the race and I intentionally did not do that in Fountain of Youth to save some juice in the lemon," Violette said. "I undertrained him for that race, figuring we were supposed to regress off that top effort in the Holy Bull and we accomplished what we set out to do. I thought we could regress and win the race, unfortunately there was a difference of opinion on that after the race."
This time, after the controversial turn of events in the Fountain of Youth and the added stakes in Saturday's race, Violette is leaving little to chance. Based on a solid 59.40 seconds workout on Saturday, Upstart appears to be coming into the mile and an eighth Florida Derby in sharp form -- with some room for continued growth between now and the May 2 Kentucky Derby.
"We've wound him up a little tighter this time," Violette said. "He galloped at a two-minute lick on Wednesday and then the breeze on Saturday. It was exactly what we wanted. He worked fast and finished fast on Saturday. The last eighth was in 11-4/5 [seconds] and he didn't look like he was going that fast. He did it easily. Hopefully we can move forward off the Fountain of Youth - maybe not to his best race ever but pretty close to it. This way we can move forward again heading to Kentucky."
In the Fountain of Youth, Upstart was fifth in the field of eight in the early stages and got first-run on Itsaknockout, who was fourth after the opening half-mile and made one sustained run turning for home.
In the Florida Derby, Upstart, ranked fourth in the latest ESPN Top 10 3-year-old poll, will tackle an undefeated duo in ninth-ranked Itsaknockout and his stablemate, Materiality, among others. At nine furlongs, it's a half-furlong longer than the Fountain of Youth, and Violette says there's no guarantee that Upstart will get first jump on Itsaknockout or anyone else. He says his horse is tractable enough to run either on the lead or at the back of the pack, a quality that could definitely come in handy down the road at Churchill Downs with top candidates like American Pharoah and Dortmund possessing plenty of early speed.
"I think he can do anything. He can be a one-run horse. He can give a long, half-mile run. He can be on the lead or he can be right behind the speed," Violette said. "It's valuable to have that ability, especially in races like the Kentucky Derby."
As part of the Championship phase of the Road to the Kentucky Derby series, the Florida Derby is worth 100-40-20-10 points in descending order to the top four finishers and the first two across the finish line -- barring a disqualification -- will be virtually guaranteed of a spot in the starting gate for the Run for the Roses. With 36 points already, Upstart should be able to run in the Kentucky Derby regardless of how he fares on Saturday, but Violette says he has little interest in a grueling mile and a quarter test off a subpar effort in Florida.
"I don't want to run poorly in the Florida Derby and then cross my fingers that we'll rebound in the Kentucky Derby," Violette said. "It's not that you can't rebound. Horses have done it. But there are a lot of roads to Rome and there are different roads to Louisville as well."
There are also lucrative options beyond the Triple Crown that seem well-suited for a durable, consistent runner like Upstart.
"There's also racing after the Derby and historically it looks like the horses that have done well in the major summer and fall races are the horses who have run fairly regularly," Violette said. "The horses with one and two starts, with big gaps between starts, they do not seem to be able to take the intensity and the stress of the Triple Crown trail. That's why I wanted three starts after the Breeders' Cup and he seems to be thriving on it. He's a really happy horse and hopefully we made the right decision."
The Florida Derby could erase any doubts about that plan. Who knows? It might even create a lively rivalry between two leading Kentucky Derby candidates -- provided there's no interference on the racetrack or from the stewards' booth.
March, 16, 2015
Mar 16
6:10
PM ET
Only a special race horse can relegate the seasonal debut -- and stunning loss -- of an undisputed champion into an afterthought.
American Pharoah seemed to fit snuggly into that role on Saturday. On a wet afternoon at Oaklawn Park, three races after Untappable went down to defeat in the Azeri Stakes, American Pharoah made his eagerly awaited 3-year-old debut. He did not disappoint.
Though he was unraced since Sept. 27, there was little sign of rust as the son of Pioneerof the Nile did what was expected of him.
He did not just capture Oaklawn's $750,000 Rebel Stakes, Zayat Stables' Eclipse Award winner prevailed with consummate ease despite running with a loose shoe. After quickly rushing out to the early lead, the sport's rising star never looked back. He glided along on a clear lead over the sloppy track and then pulled away in the stretch to record a 6 ¼-length victory that was never in doubt. "He's an amazing horse," jockey Victor Espinoza said.
With the calendar positioned at mid-March, there was little reason to quibble with Espinoza's assessment. Yet for a gifted 3-year-old like American Pharoah, it's May, in particular the first Saturday of that month, which matters most.
If American Pharoah can live up to the lofty expectations crafted for him and win the Kentucky Derby, he will indeed be an "amazing horse." Until then, he remains like every other leading Run for the Roses candidate: a horse with vast potential that will either be realized or crumble in the face of the herculean challenge of a 10-furlong race against the best hoses of his generation.
After overcoming a stumbling start that dislodged the shoe, he quickly rushed out to the early lead and the sport's rising star never looked back. He glided along on a clear lead over the sloppy track and then pulled away in the stretch to record a 6 ¼-length victory that was never in doubt.
As impressive as American Pharoah may have been in the Rebel, drawing any type of conclusion about his chances in the Run for the Roses off Saturday's romp can be hazardous to your wagering bankroll on Derby Day.
Forget about the $750,000 purse and the 50 points in the Road to the Kentucky Derby series that clinched a spot in the starting gate at Churchill Downs and the Rebel was no different than a spring training baseball game. It was simply a prep for something significantly more important in future months and what matters far more than the margin of victory is what American Pharoah gets out of the race. After missing so much time due to a foot injury, can he win the Derby off the conditioning gained from the Rebel and one more race, probably the Arkansas Derby?
To say no at this point is far too premature and cynical. Yet it's fair to wonder if the Rebel was more of a measured workout than a demanding race for a horse ranked third in the current ESPN 3-year-old power rankings.
Trainer Bob Baffert, for his part, liked what he saw.
"The track was very demanding. We learned a lot from this race because he handled it well. He handled the shipping and he handled the off track," Baffert said. "Once he got into the first turn and his groove, he was galloping. When he can run like that all the way around, it shows you how good he is."
The competition, though, was weak, as evidenced by the reigning 2-year-old champ's 2-5 odds after a layoff of nearly six months. There were no stakes winners among his six rivals. The second choice in the wagering - and runner-up across the finish line - was the Todd Pletcher-trained Madefromlucky, who was coming off allowance and maiden wins at Gulfstream Park.
There was also no one with enough speed to run with him in the early stages of the race. While he covered the final two and a half furlongs in an impressive 30.56 seconds, he basically galloped through the first six furlongs, leaving plenty of gas in the tank for the stretch run. His split for the initial three quarters of a mile was a dawdling 1:15.22, a clocking usually associated with cheap claimers as opposed to a Grade 1 stakes winners. To put that in perspective, a year ago, when Espinoza guided California Chrome to victory in the Kentucky Derby, they were less than a length off the lead as the pace-setting Uncle Sigh covered the first six furlongs in 1:11.80.
The way this year's Derby is falling into place, a front-runner like American Pharoah will have to be dead-fit to stand up though what promises to be demanding early fractions. Dortmund, who is No. 1 in the ESPN poll, also likes to run on or near the lead and the two Baffert-trained colts figure to be close to each other on the backstretch.
Carpe Diem, No. 2 in the ESPN poll, as well as Upstart and Firing Line, numbers four and five, respectively, also have running styles that should put them within four or five lengths or less of the early lead.
With horses like that pressing him and stalking him, American Pharoah will be pushed quite fiercely and will face the greatest challenge of his young career -- and he will have just two 2015 races to prepare for it.
One of those preps is in the books and more will be known about its value after American Pharoah's next race. These days two races are enough to prepare a horse for the Kentucky Derby, but because of American Pharoah's relatively late start at three there's no margin for error. Playing catch-up is no longer an option. The Rebel has to move him forward and the final prep has to fine tune him. Anything less and the stretch at Churchill Downs could become awfully long on the first Saturday in May.
At first glance, six furlongs in 1:15.22 against weak competition does not fit into equation. Yet special horses have a way of rendering conventional logic meaningless, like Affirmed did in 1978 when he beat arch-rival Alydar on three occasions to become the most recent Triple Crown winner.
On a March day, American Pharoah was surely special. If he can do it in May and June as well, special just might give away to words with even greater meaning -- perhaps even words unspoken for 37 years.
March, 8, 2015
Mar 8
11:44
PM ET
On the surface, El Kabeir might be as unlikely a Kentucky Derby prospect as you'll ever find.
His jockey is 54-years-old and has never ridden in the Run for the Roses. His next Grade1 win will be his first. He hasn't even won a Grade 2 stakes since 2009.
His trainer, John P. Terranova II, has started just one horse in the Kentucky Derby and that one -- Falling Sky -- finished 19th in the 2013 Derby.
The horse himself is not even his owner's most highly regarded 3-year-old. And yet, after winning Saturday's $400,000 Gotham Stakes at Aqueduct, El Kabeir re-positioned himself as a major contender to be at Churchill Downs on the first Saturday in May.
Last month, much of the luster fell off El Kabeir when he pressed the pace and finished a disappointing second in the Grade 3 Withers. But on the first Saturday in March, owner Ahmed Zayat's safety valve for 2-year-old champion American Pharoah surely looked like Kentucky Derby material at chilly Aqueduct. The grey son of Scat Daddy showed off a new dimension by lingering in ninth in a field of 10 and then launching a strong 4-wide rally under veteran jockey Chucky "CC" Lopez to win the Gotham going-away by 2 ¾ lengths over promising second-time starter Tiz Shea D.
"He got everything thrown at him today and he still managed to overcome it all," said Terranova, whose horse covered the mile and a sixteenth in 1:45.56 over Aqueduct's muddy inner-track as the 6-5 favorite ($4.60). "It was very impressive. The more you throw at him, the stronger he gets. If he continues to move forward off this, the sky's the limit."
American Pharoah may be the Zayat horse with the Eclipse trophy on the mantle, yet the division's reigning champ has yet to start at three and has not raced since September due to an injury suffered in the week leading up to the Breeders' Cup. His dazzling recent works indicate he may be as good as ever, yet with no real margin for error on his path to Churchill Downs, one small misstep in the coming weeks could be enough to knock him off the Triple Crown trail.
Meanwhile, all El Kabeir does is turn out one solid effort after another.
"It's fine with me," Terranova said about playing second fiddle to Zayat's Bob Baffert-trained American Pharoah. "Maybe we don't get as much pressure. We're doing our thing, I'm letting [American Pharoah] do his thing and hoping it all works out."
So far, so good for a horse whose name, with all due respect to Bruce Springsteen, means "The Boss."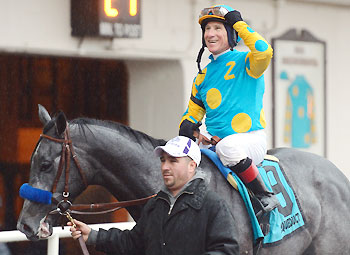 NYRA/Adam CoglianeseJockey C. C. Lopez celebrates atop El Kabeir after the pair ran to victory in Saturday's Gotham Stakes.
The Grade 3 Gotham was his third graded stakes win in his last four starts and that lone setback, the Withers, was anything but a sour effort in Terranova's estimation.
"I actually thought it was a strong race," Terranova said. "Some of the speed figure services confirmed it."
Whether El Kabeir would be able to carry his speed over a demanding 10-furlong mountain like the Kentucky Derby had been a big question mark hovering over Zayat's "other" 3-year-old. Yet how the Gotham played out helped to erase at least some of those concerns. More will be known if all goes well and El Kabeir returns to the Big A on April 4 for the mile-and-an-eighth Wood Memorial on the oval's main track, but now the Gotham and his strong closing kick were steps in the right direction.
"He broke good but those horses broke better," Lopez said. "They had gas and he quickly got shuffled back. I tried not to panic. I was on the best horse in the race. When he changed leads turning for home, he exploded. So I'm not worried about the distance any more. Today he showed us everything we've tried to teach him in the mornings, sitting behind horses and getting that dirt in the face. He was much better to ride today than the last two times."
If Lopez has any concerns about El Kabeir, it's being able to stick with him. As a horse climbs the ladder of the success, it's not unusual for a journeyman like Lopez to lose the mount to a rider with Hall of Fame credentials.
His association with El Kabeir started when Calvin Borel was unable to ride the 3-year-old in the Jerome back in January due to the death of his sister-in-law. Lopez was brought in as an emergency substitute and guided El Kabeir to a 4 ¾-length victory. That Terranova stuck with Lopez after the loss in the Withers was a sign of confidence, but Lopez is taking no chances and will not allow himself to daydream about riding in the Kentucky Derby. He has no interest in playing the role of the heart-broken high school kid who loses his prom date to the captain of the football team.
"I've been taking it race by race, figuring at some point they're going to want to take me off the horse," Lopez said. "I've been riding him like it's the last time I'll get on him. Hopefully I'll ride him in the Wood because I still look at it on a race-to-race basis because I don't want to get my heart broken.
"As I've said, it was nice to know I was still in demand to ride this type of horse. They could have chosen from a 100 different riders to ride him in the Jerome and they picked me. Whatever happens, that's a really good feeling."
In words that should comfort Lopez, Terranova has -- at the moment - no plans to make a switch.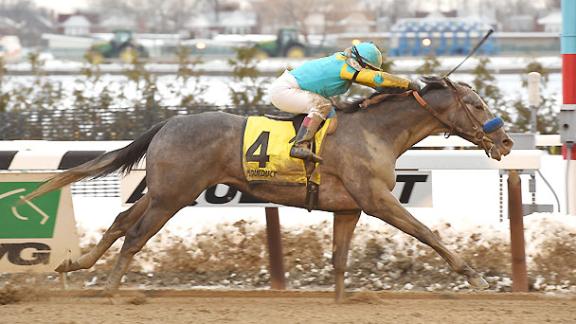 March, 3, 2015
Mar 3
12:11
AM ET
Saturday, February 21 at Gulfstream Park was the kind of day that served as a billboard for what fans love best about the sport.
It was a warm, sunny Florida day, with temperatures in the 70's that raised the envy of the parka-clad folks in the Northeast and Midwest.
There were 12 races, seven of them with 10 or more horses, making for some grand wagering opportunities.
There were eight stakes races, seven of them graded.
Those stakes featured the 2015 debut of Horse of the Year runner-up Main Sequence and an important Kentucky Derby prep.
It also focused a spotlight on a source of controversy as old as the sport itself.
More than the implications on the Derby or this year's Horse of the Year race, what arose from such a wonderful day of racing was a loud outcry over the decisions of the stewards.
The there were three races in which the stewards posted the inquiry sign and one disqualification, which just so happened to take place in the biggest race of all, the $400,000 Fountain of Youth for 3-year-olds.
At the end of the day, there was a heated outcry over the stewards' body of work. In an era when Twitter has magnified the opinions of a handful so that some believe it's the will of the masses, there was talk of how wrong the stewards were, how much it damages the sport and how changes are desperately needed.
What's actually needed is a page of the Aaron Rodgers playbook, namely: R-E-L-A-X. If anyone believes there's a way to perfect the art of ruling on claims of foul in horse racing, they must be napping next to Rip Van Winkle. A horse race is not like a football or basketball player stepping on an out-of-bounds line or a tennis ball landing inside the service box, which can be seen in a high-definition freeze frame.
As much as films can show contact between horses, there's a need for someone to use their judgment in determining the severity of the incident. Was it harmless or incidental? Did a jockey overreact?
Any time you bring the human element into the equation, mistakes are going to happen. Wrong decisions will be made.
You certainly don't celebrate mistakes, but you can't over-react because there is no sure-fire solution.
Any time stewards make a decision, there's usually no shortage of critics - which is natural. When a ruling goes your way, you're usually too busy cashing tickets to launch into a Twitter war. You generally accept the fact that things went your way this time, knowing it may not be long before one of your horses get taken down.
Critics, or those who suffered a financial consequence, are going to scream. Yet think about it. Is there anyone who has agreed with your opinion on a disqualification 100 percent of the time? Of course not. Some incidents are not that clear-cut where the ruling is an absolute no-brainer. Having seen numerous press box debates over inquiries, you come to understand there's no way to apply an accurate batting average to stewards' decisions. Who can say what's right or wrong when there might be a 50-50 split in perception of what should happen. Over the years, when you see highly astute viewer of the sport like turf writers John Pricci and Paul Moran argue about an inquiry, you come to understand the challenges a steward faces and appreciate the no-win situation they often face.
Knowing that, if someone turns their back on racing because of a stewards' decision they probably were not going to stick around for long anyway. Unless they just popped out of a cave and it's their first fling with a sport, they should know this phenomenon happens in every sport and fans in football, baseball, basketball and even hot dog eating might grumble, but they deal with it.
The same goes for the belief that the stewards have an ulterior motive in their decisions. Some cynics claim they never take down a horse trained by the likes of current and future Hall of Famers like Bob Baffert and Todd Pletcher. They make decisions based on a horse's odds.
There's no way of saying those things never happen, but for the most part they are claims no different than what you'll hear in other sports about a referee being biased or favoring a certain teams. In the NFL this past post-season, Detroit Lions fans felt the NFL and its referees were Dallas Cowboys fans. A week later, Cowboys fans felt the officials wore Cheeseheads and were in cahoots with Rodgers and his Green Bay Packers.
So for racing it's foolish to believe these claims are damaging to the sport and should never happen. Anytime a judgment is made, someone is going to launch a conspiracy theory. That's a fact of sporting life.
As a New York Yankees fan, I constantly hear how every call goes the Bronx Bombers' way. Of course, we all know nothing could be farther from the truth. It's the Red Sox who get all the calls. Right?
So for racing it's foolish to believe these claims are damaging to the sport and should never happen. Anytime a judgment is made, someone is going to launch a conspiracy theory. That's a fact of sporting life.
That doesn't mean stewards should not be placed under scrutiny. Ruling on a call that can go either way is one thing. Blowing obvious calls or applying inconsistent logic is another. A key part of the angry reaction to the Gulfstream stewards' decisions was that some people, in their own judgment, believed there was a 180-degree shift in logic in adjudicating the first two inquiries.
In my judgment, though, the stewards got it right.
The first claim of foul came in the day's fourth race, the $100,000 Rampart Stakes. At the top of the stretch, the race had boiled down to a three-horse race. House Rules, on the outside of the trio, held a short lead and was beginning to edge away from Sheer Drama, in the middle, and Wedding Toast, who was on the rail. Approaching the eighth pole, as House Rules was nearly a length clear of the other two, she drifted in, forcing jockey Joe Bravo on Sheer Drama to stand up in his irons and check his horse.
House Rules went on to win by a length and a half, but Bravo, to his credit, continued riding his filly and managed to beat Wedding Toast by a head for second.
Shortly after the horses crossed the wire, Bravo, Sheer Drama's trainer, David Fawkes, and everyone who wagered a nickel or more on the 22-1 shot demanded an inquiry. The stewards looked at the films and allowed the result to stand. Their reasoning was that the bumping between House Rules and Sheer Drama did not have a bearing on the order of finish. In their judgment, House Rules was drawing clear at the time of the incident and Sheer Drama was destined to finish no better than second. So why reward her for a foul that most likely did not cost her a placing?
Had Bravo wrapped up on Sheer Drama after the incident and checked in third, House Rules most likely would have been DQ'd to third. Yet as it turned out, each horse wound up where they belonged.
The next debate came after the featured Fountain of Youth Stakes when Upstart, the 4-5 favorite, was disqualified from first and placed second.
Frosted, on the inside, was on the lead but tiring as Upstart ranged up alongside him near the three-sixteenths pole. Outside of them Itsaknockout was gaining ground as well.
When Itsaknockout reached Upstart's rear flank, it appeared that Frosted drifted out, carrying Upstart into Itsaknockout. It was a slight bump and had the bumps stopped there, Upstart probably would have survived the inquiry. But a few strides later as Itsaknockout was still on Upstart's flank, Upstart came out and hit Itsaknockout again, jostling jockey Luis Saez as the New York State-bred drew off to a decisive 2 ¾-length victory over Itsaknockout.
Some believed that if House Rules was not disqualified, Upstart should have received the same treatment. Yet the two races were like apples and oranges. If the Rampart could have been stopped with a pause button a split second before House Rules took away Sheer Drama's path and the betting windows re-opened, House Rules would have been a 1-5 favorite. At the same point in the Fountain of Youth, Itsaknockout was gaining ground and it will never be known if he had enough late kick to surge past Upstart. The outcome was still undecided. The bumps ended all that, creating the grounds for the disqualification.
Two calls, and in my judgment, two correct calls, despite the outcry of "fix."
In the final race of the day, there was another inquiry and the stewards let the result stand.
This time, they should have disqualified the winner. Danish Dynaformer and favored Dreaming of Gold were battling to the wire and on two occasions it appeared as if Danish Dynaformer came out and bumped Dreaming of Gold. Javier Castellano on Dreaming of Gold never stopped riding, giving off the impression that the bumping had no impact on the runner-up, but that view of the race would seem to penalize Castellano for not checking his horse, which probably would have convinced the stewards to reverse the order of finish.
Perhaps the stewards felt both horses were guilty of bumping, but that's not how I saw it. They were correct in 2-of-3 races in my eyes, though there's surely plenty of people who will say they went 3-for-3 or 0-for-3.
That's what happens when human judgment comes into play.
In the end, like officials in any sport, stewards should be scrutinized and reviewed. But who should do it? Track management? They would probably be less inclined than the stewards to ruffle the feathers of a leading trainer because of the impact it could have on the track's bottom line. A state official? Please, let's keep the government out of this.
One answer might be to have a group like the National Thoroughbred Racing Association hire former jockeys, trainers and stewards to review a steward's body of work on an annual basis. This way people with no vested interest in the track's races, and who understand what truly happens in a race, can determine whether a steward is making an occasional mistake or is overmatched by the job.
Meanwhile, as the year unfolds, there will no doubt be more inquiries and louder cries that the stewards blew it. It's inevitable. It's a part of the sport -- and every other sport as well.
Those sports take note of the mistakes, strive to remedy them and move forward - just like racing should.
We're dealing with human judgments here and no one is going to please everyone every time. So let's put everything in perspective and understand that some controversies will never go away. Right, Aaron?
February, 22, 2015
Feb 22
3:11
PM ET
Each year at this time of, that long and winding road that Paul McCartney and the Beatles sang about back in 1970 should be offered up as a reminder to everyone scrutinizing every minuscule detail on the path to the Kentucky Derby.
The Run for the Roses is still more than two months away and to place too much emphasis on the result of races that are still penultimate preps may not be the wisest of ideas.
The stakes were raised Saturday when the points in the Road to the Kentucky Derby series were elevated to 50-20-10-5 for the first four finishers in the Fountain of Youth at Gulfstream Park and Risen Star at Fair Grounds, and the results certainly sparked a considerable share of debate.
The Fountain of Youth had the better field and generated the most controversy. Ralph M. Evans' Upstart was sent off as a 4-5 favorite off an impressive 5 ½-length romp for trainer Rick Violette in his 3-year-old debut in the Holy Bull and in one regard he lived up to his reputation by crossing the wire first. How he managed to do that was the problem.
In the stretch run, as Upstart and jockey Jose Ortiz moved past the tiring Frosted to take the lead, there was some drifting. It may have been initiated by Frosted, but it resulted with Upstart bumping into the oncoming Itsaknockout. A few strides later, as Upstart continued to drift, he bumped into the Todd Pletcher-trained colt again as jockey Luis Saez stood up in his irons and checked Itsaknockout.
Upstart then drew off to win by 2 ¾ lengths over Itsaknockout, but the ridgling never made it to the winner's circle as the stewards called for an inquiry.
There were those on Twitter who postured that Saez sold the DQ and Itsaknockout was not going to pass Upstart. Pletcher called it a "jump ball" and Violette wanted a no-harm, no-foul call. The stewards had the final say and decided to disqualify Upstart to second and declare Itsaknockout the winner by a TKO of sorts.
"Bad call," Violette said. "I really think it didn't alter the outcome. Just the stewards did."
The victory impacted the bettors who lost on Upstart and collected on Itsaknockout, the 5-1 second choice, and it put the $240,560 winner's share of purse in Starlight Racing's bank account instead of second-place money of $77,600.
Yet in terms of earning points to start in the Kentucky Derby, the switch had only a marginal impact. It guaranteed Itsaknockout of a spot in the starting gate with 50 points, though 20 points might also work as it did in Year One of the format. Upstart now has 36 points and his connections can breathe easily. There will be a spot for him at Churchill Downs on the first Saturday in May.
Much more than the impact on the points race, the Fountain of Youth had a greater impact in turning Upstart into a digital dartboard. Though he was clear at the wire, the final time was just 1:46.28 and he ran the final furlong in a lackluster 7.20 seconds.
Each marked a regression from his times in the Holy Bull (1:43.61, 6.55), yet before anyone rips up a future wager on the New York State-bred, remember the Beatles tune. Gulfstream's main track may have been turned into a slow, tiring treadmill due to a gap of about an hour and a half between dirt races. There's also one more prep for Upstart, be it the Florida Derby or the Wood Memorial at Aqueduct, and a solid effort will put Saturday's race squarely in the rearview mirror.
The last three years have helped to obscure the notion that prep races are not akin to rounds in a tournament. California Chrome , Orb and I'll Have Another may have come into the Derby with perfect 3-year-old records, but in the 22 editions prior to that only four winners of the Run for the Roses did not lose a race at 3-years-old.
Horses can indeed stumble, bump or register a slower than expected time and still win the Kentucky Derby. It's happened before and can surely happen again. So hang on to those future wager tickets for a while, especially if you took Upstart at 53-1 in the first pool.
Itsaknockout ran huge, regardless of whether he's considered the official winner or the second horse across the wire. In just his third career start, he faced an acid test and handled it well in giving Pletcher yet another Derby option. How much the bumping cost him is debatable now, but more will be known in his next start, which figures to be the Florida Derby over a racetrack where he's 3-for-3.
He raced at two, so that 133-year jinx will not come into play, but he'll need another strong effort before he can be considered as a top-rung Run for the Roses candidate along the same lines of a seasoned, battle tested rival like Upstart, who raced in Grade 1 events like the Breeders' Cup Juvenile and Champagne at two.
Frosted provided the biggest disappointment. He was second to Upstart in the Holy Bull and at the top of the stretch of the Fountain of Youth, the 7-2 second choice appeared to be cruising on the lead. Yet no sooner did track announcer Larry Collmus proclaim, "Frosted is looking good" than Frosted hit a wall. First Upstart and then Itsaknockout went past as he faded to fourth, nearly five lengths behind Upstart.
"We'll have to go back to the drawing board, because he looked like a winner," trainer Kiaran McLaughlin said.
A better understanding of what happened in the Fountain of Youth could come from Frammento. He was beaten 18 ¾ lengths by Upstart in the Holy Bull, explaining why he was sent off at 63-1 odds in the Fountain of Youth. Yet on Saturday, he was closing best of all at the end and wound up third, just 4 ½ lengths behind.
He could be a colt who is developing at the right time for two-time Derby winning trainer Nick Zito, or he could be a reflection of how Upstart is tailing off. It could also be a fluky effort on a funky track. Time will tell.
The Risen Star proved to be a replay of Fair Grounds' LeComte as the 1-2 finishers in that race - International Star and War Story - crossed the finish line in the same order. The only change was that International Star's margin of victory was sliced from 2 ½ lengths to one.
The Risen Star also featured a claim of foul against the winner by the runner-up, but this time a New York State-bred was not taken down.
The back-to-back stakes wins skyrocketed International Star to the top of the points chase with 71 points and punched the son of Fusaichi Pegasus' ticket Louisville for owners Ken and Sarah Ramsey. War Story jumped to 24 points.
What remains to be seen is how they stack up against the best horses from the East and West.
A measuring sick might be Keen Ice, who gained ground late to finish third in the Risen Star, 2 ¾ lengths behind. In his previous race, Keen Ice lost by 10 ½ lengths to Upstart in the Holy Bull. Doing the math, that could mean the Fair Grounds horses are about eight lengths behind the Florida contingent.
Of course, it's never that easy, especially on the road to the Kentucky Derby. As McCartney would say, "yeah, yeah, yeah, yeah."
February, 15, 2015
Feb 15
11:32
PM ET
There was a prep race on Saturday that provided its winner with 10 valuable points in the Road to the Kentucky Derby points chase.
That alone gives that fortunate 3-year-old a 50-50 chance of starting in the Run for the Roses. Two years ago, in the initial season of the format, 10 points were golden and were enough to secure a spot in the starting gate on the first Saturday in May. Last year, double that figure was the cutoff for Derby starters.
In all likelihood, though, Metaboss' victory in Saturday's $200,000 El Camino Real Derby at Golden Gate Fields will be little more than an afterthought on May 2 when the opening leg of the Triple Crown is contested on a natural, dirt track at Churchill Downs. You see, apples are not oranges.
Golden Gate is one of a handful of tracks in the United States that still conducts racing over a synthetic surface and as much as Metaboss relished the mile-and-an-eighth distance of the El Camino Real Derby, form on a synthetic track usually does not translate into a similar effort on dirt.
Expecting a horse to race at a high level on both a dirt and synthetic surface typically leads to disappointment. While 2007 Kentucky Derby winner Street Sense raced on Polytrack in his final Kentucky Derby prep, he finished his career 0-for-3 on synthetics. Only Animal Kingdom, the winner of the 2011 Kentucky Derby, possessed the astonishing amount of versatility that enabled him to win a Triple Crown race and notch a graded stakes victory on a synthetic surface.
Perhaps a young and developing horse like Metaboss can follow in those footsteps, but don't bet on it. In his four races prior to Saturday, Metaboss raced three times on grass and once on dirt. Grass racing is considered to be akin to running over a synthetic track, making it little surprise that he was never worse than third on turf and was beaten by 3-1/4 lengths or less in his two losses. He was fourth, beaten 8-3/4 lengths, in his lone dirt race.
Apples and oranges.
At least this year, the El Camino Real is one of only two 2015 stakes on a synthetic surface that are included in the 25 Road the Kentucky Derby races. The other is the Spiral at Turfway Park on March 21, the same race that was Animal Kingdom's springboard to Derby fame and fortune in 2011.
The situation was far different from 2008 through 2010 when the major 3-year-old preps in California were contested on a synthetic surface. Not surprisingly, after switching back to dirt, in 2012 I'll Have Another gave the Santa Anita Derby its first Kentucky Derby winner since Giacomo in 2005.
In April, Keeneland's Blue Grass Stakes will be contested on dirt for the first time since 2006 and will merit more consideration as a meaningful Derby prep than it has in recent years when it was captured by a string of horses better suited for turf than a dirt race.
And for handicappers there is a bright side to that. The Kentucky Derby has traditionally been a perplexing challenge because of inexperience at the distance and horses from different parts of the country meeting for the first time.
At least this year there will not be many oranges among the apples.
Be thankful for small favors.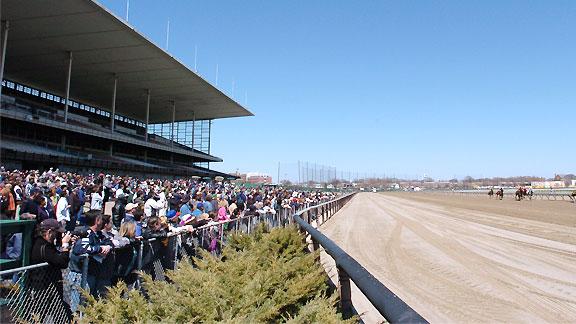 The frozen tundra of Aqueduct's inner track is hardly a revered proving ground for Kentucky Derby royalty.
Since its opening in the mid 1970's, the only horse hardy enough to race over the inner track and then bask in the winner's circle on the first Saturday in May when the warm sun beats down on "My Old Kentucky Home" was 2004 Kentucky Derby winner Smarty Jones.
As spring approaches, the Derby dreams of inner track horses generally crumble like icicles on a warm day, as they did for the most part in Saturday's $250,000 Withers at the Big A.
El Kabeir seemed a worthy exception to the rule. He came into the Withers off two straight graded stakes wins. He captured the Grade 2 Kentucky Jockey Gold Cup in November at no less a venue than Churchill Downs. Then he ventured north to New York and romped to a 4 ¾-length victory in the Grade 3 Jerome in his first introduction to the inner track.
Those two wins accounted for most of the series-leading 25 points he has racked up in the Road to the Kentucky Derby point chase, a total that pretty much assures him of a spot in the Run for the Roses, if owner Ahmed Zayat decides to enter him.
Whether El Kabeir deserves to be there was subject to debate after a disappointing encore appearance on the inner track.
Sent off as a prohibitive 1-2 favorite over five mostly inexperienced rivals in the Withers, El Kabeir enjoyed a fine trip, pressing early leader Classy Class through moderate fractions of 47.95 seconds and 1:12.01. Yet in the stretch, he and Classy Class, the 7-2 second choice, had no answer when a horse with just one start under his belt charged up to them.
Far From Over, whose only other start was a maiden victory over the inner track, trailed after a stumbling start in the mile-and-a-sixteenth test. Yet the 6-1 shot ($14.40) drew clear in the final furlong to win by 1 ¾ lengths in a final time of 1:43.93, a performance that spoke volumes about him and left trainer John Terranova wondering what went wrong with El Kabeir, who checked in second.
"It's hard to say what happened just yet," Terranova said. "He came back fine. It looked like he had a great trip. He sat in a perfect spot. He just got beat. The winner is one of those 3-year-olds with just one start. He can be any kind."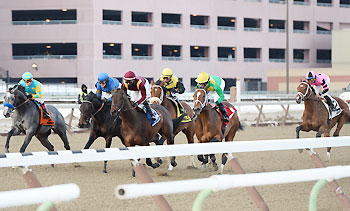 NYRA/Adam CoglianeseFar From Over rallies down the stretch to upset favored El Kabeir in the Withers Stakes at Aqueduct.
While Terranova regroups and decides on future plans for El Kabeir, Far From Over added to the riches for six-time Eclipse Award-winning trainer Todd Pletcher, who now has yet another prominent Kentucky Derby prospect in his massive barn.
The son of Blame is hardly the typical inner track runner. He was purchased for a hefty $550,000 as a yearling on behalf of Steven Marshall's Black Rock Thoroughbreds, yet he did not make his debut until Dec. 12 when he flashed early speed and posted a victory by a nose in a mile-and-70-yard maiden race over the inner track.
Since he's trained by Pletcher, who nominated 34 horses for the Kentucky Derby, the Withers was hardly a stretch for his next start.
"We knew he had talent," said assistant trainer Byron Hughes, who deputized for Pletcher in saddling Far From Over. His boss was a little preoccupied at Gulfstream Park on Saturday, winning a pair of Grade 1 stakes, the Donn Handicap with Constitution and Gulfstream Park Turf Handicap with Mshawish, plus the Grade 3 Suwannee River with Sandiva.
As for Far From Over, he surely has talent, and some heart, too.
Far From Over stumbled coming out of the gate, a turn of events that left him about five lengths behind the rest of the field and prompted a loud scream of anguish from Marshall as he watched the race in Aqueduct's crowded replay room.
Far From Over was still last at the quarter pole, but entering the stretch he began to gain ground on El Kabeir and Classy Class, who would wind up third.
"He had a bad step coming out of the gate and the game plan changed after that," jockey Manny Franco said. "At the three-eighths pole, I picked it up and went for the lead. I thought I would be able to get there."
Gaining ground quickly along the rail, Far From Over became a menacing presence when Franco steered him outside of the two leaders in mid-stretch. Meanwhile, a highly enthusiastic Marshall offered some emotional help in guiding his horse home. President of Western Energy, a gas and oil exploration and production company, Marshall bounded from his seat as Far From Over began his charge to the lead and rushed up in front of a large viewing screen, urging the 3-year-old home with cheers loud enough to drown out the planes landing at nearby Kennedy Airport and, for good measure, capping the win with an emphatic expletive.
"This is my life, man," said Marshall, who previously owned Grade 1 winner Violence, a colt who suffered a career-ending injury when he finished second to eventual Kentucky Derby winner Orb in the 2013 Fountain of Youth. "I know what can happen in horse racing, so you don't expect something like this."
Now Pletcher has to plot a course to Louisville that can net Far From Over more than the 10 points he picked up from the Withers in the Road to the Kentucky Derby series.
"Todd will find places to spread [all of his Derby prospects] out," Hughes said. "I thought we were in trouble coming out of the gate today. Ideally we would have been third behind the two leaders, but [Far From Over] had an awesome turn of foot and got up in time."
The next Derby prep in New York is the $400,000 Gotham on March 7, which is also on the inner track. It seems a natural spot for Far From Over, but after Saturday's triumph it might finally be time for him to strut his stuff on a more prominent stage.
He may have started on the inner track, but at this point his upward climb may very well be far from over.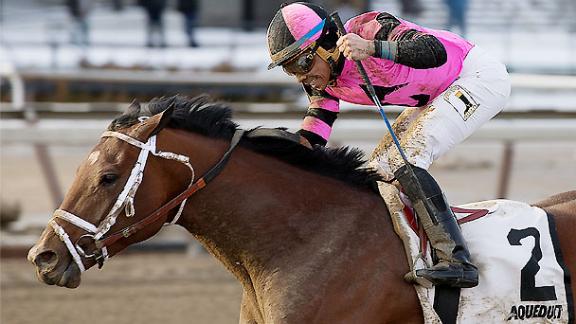 February, 6, 2015
Feb 6
2:28
PM ET
On a weekend without the interference of the NFL, when a collection of racing's top older stars will rightfully command the bulk of attention, it should also be noted that the Kentucky Derby is just three months away -- and counting.
All of which means that on Saturday, while Shared Belief and California Chrome are slugging it out in the San Antonio Stakes at Santa Anita and Lea is squaring off against the likes of Commissioner, Protonico and Constitution in the Donn Handicap at Gulfstream, a pair of bi-coastal 3-year-old Grade 3 stakes also deserve at least a modicum of attention.
Both the $150,000 Robert B. Lewis Stakes at Santa Anita and the $250,000 Withers Stakes at frigid Aqueduct figure to carry added meaning this weekend since the second edition of Kentucky Derby future wagering will be offered through Sunday.
Of course, whatever happens in either race will have no bearing on where the bulk of money in the future wager pool will land since the absolutely safest prediction anyone can make this year is that the mutuel field will be an overwhelming choice. The bet consists of 24 wagering options comprised of 23 top candidates to win the Derby and a 24th choice that consists of every other 3-year-old. Given the Alamo-like odds stacked against the 23, getting 2-1 or more on the gargantuan mutuel field would be a tremendous bargain.
In last year's future wagering, the field was a 3-2 choice in the early February pool. The impact on future wagering will instead center on the 23 individual entries.
Dortmund, the 4-5 favorite in a field of six in the Robert B. Lewis, was the 9-1 favorite among the 23 in a pool that closed on Nov. 30, one day after he romped to a 7 ¾-length allowance win at Churchill Downs in his second career start.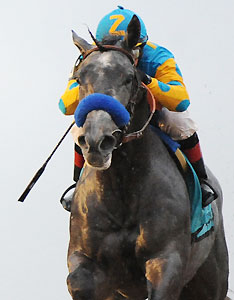 NYRA/Adam CoglianeseEl Kabeir looks to add to his Kentucky Derby points total in Saturday's Withers Stakes at Aqueduct.
Since then, Dortmund had to work much harder than expected to capture the Grade 1 Los Alamitos Futurity, winning by a head in his stakes debut. Owned by Kaleem Shah and trained by Bob Baffert -- the same team that races Breeders' Cup Classic winner Bayern -- Dortmund's foes in the Robert B. Lewis are topped by Firing Line, who was a narrowly beaten second in the Los Alamitos Futurity.
Dortmund is listed as a 4-5 favorite in the Santa Anita stakes, with Firing Line the second choice at 7-5, and Saturday's outcome should paint a clearer picture of the two colts' abilities -- and Kentucky Derby prospects.
Overall, the Robert B. Lewis came up short on horses and weak in terms of overall talent as aside from the two favorites only Sham Stakes runner-up Rock Shandy (6-1) did not lose by double-digit lengths in his last start.
At Aqueduct, the center of attention will be El Kabeir, who rates as the bargain of the first wagering pool. Despite winning the Grade 2 Kentucky Jockey Club Stakes at Churchill Downs on Nov. 29, the son of Scat Daddy was dismissed at astronomical 74-1 odds in the Derby future wager.
Since then, El Kabeir confirmed his solid form by winning Aqueduct's Grade 3 Jerome Stakes by nearly five lengths. He faces six relatively untested rivals in the Withers and Safe Bet No. 2 is that the 74-1 ship has left the port in the future wager. He was listed at a more reasonable 20-1 in the morning line for this weekend's future wager pool.
El Kabeir is owned by Ahmed Zayat and a stablemate of 2-year-old champion American Pharoah, who has yet to race at three because of an injury that knocked him out of the Breeders' Cup Juvenile. American Pharoah logged his first workout of the year on Feb. 2, when he breezed three furlongs in 36.20 seconds at Santa Anita, and might not be ready for a race until March.
In the meantime, El Kabeir rates as an excellent backup plan. He's worked well since taking the Jerome on Jan. 3 and, despite drawing the outside post, should be tough to beat as the 8-5 morning-line choice while bidding for a straight graded stakes win.
Only two of his rivals have stakes experience: General Bellamy, who was 12 ½ lengths behind in third in the Jerome, and Classy Class, who was fourth in the Remsen. The rest are coming off maiden wins, with March, from trainer Chad Brown's barn, and the Todd Pletcher-trained Far From Over the two most promising possibilities.
There will indeed be tougher tests for both Dortmund and El Kabeir as the days draw closer to the first Saturday in May, but for this weekend, while older horses will dominate the stage, there's at least a few 3-year-olds to thankfully remind us that spring is on the horizon.
February, 5, 2015
Feb 5
7:01
PM ET
Though it's technically a Grade 2 event, the $500,000 San Antonio Stakes has taken shape as a Grade 1 showdown, be it in early February or even early November.
The mile-and-an-eighth test will bring together 2014 Horse of the Year California Chrome and the one-time frontrunner for the award, Shared Belief, on Saturday in a widely anticipated clash that should set in place the pecking order for major awards and stakes in 2015.
The two last met in the 2014 Breeders' Cup Classic. Shared Belief entered that race with a perfect record of 4-for-4 in 2014 and 7-for-7 in his career and the certainty that a victory in the mile-and-a-quarter contest would seal Horse of the Year honors for him. Instead, the then-3-year-old gelding was involved in a case of equine bumper cars at the start of the race and wound up fourth.
California Chrome, who was making just his second start in 5 months, was a close third and through a process of elimination was named Horse of the Year off the merits of wins in the Kentucky Derby and Preakness Stakes.
Now the two will meet again, though that doesn't necessarily mean either of them will win the San Antonio.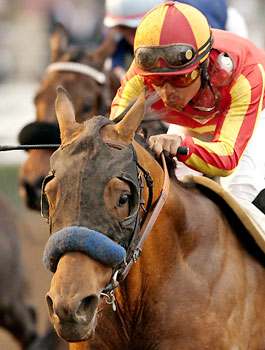 Benoit PhotoHoppertunity will get a chance to make a name for himself in the San Antonio Stakes.
In the BC Classic, trainer Bob Baffert played the role of spoiler with Bayern, who seemed an unlikely candidate to handle the mile and a quarter distance. Yet at 6-1 odds under jockey Martin Garcia, he held on to win by a nose in an outcome soaked with controversy because Bayern initiated the bumping at the start of the race.
Hoof problems are keeping Bayern out of the San Antonio, but in his place among the field of nine Baffert will send out Hoppertunity, who was plagued in the past by an untimely case of foot problems.
After finishing second to California Chrome in the Santa Anita Derby, Hoppertunity was scratched just two days before the Kentucky Derby because of a foot injury.
It sidelined him for nearly seven months, but after a runner-up finish in his comeback race, the 4-year-old has returned to top form. He won the Grade 1 Clark Handicap at Churchill Downs by a half-length and most recently posted a length and three-quarters victory in the Grade 2 San Pasqual at Santa Anita on Jan. 10.
Though Baffert told Daily Racing Form, the San Antonio was just a prep for a richer test - the $1 million Santa Anita Handicap on March 7 - overlooking Hoppertunity on Saturday could be a mistake. While his Beyer speed figure regressed in the San Pasqual, if he can bounce back with an effort that mirrors his game victory in the Clark, he could make matters interesting for California Chrome and Shared Belief. Maybe even spoil the showdown.
After all, he will not be favored and he's trained by Baffert and ridden by Garcia. Do you remember when all of those elements last came into play in a race that featured California Chrome and Shared Belief? Perhaps in the rematch, Baffert might fool everyone once again -- hopefully without any help from the stewards.
January, 25, 2015
Jan 25
11:27
PM ET
It's been a trying winter for Rick Violette, on at least one front.
As President of the New York Thoroughbred Horseman's Association, Violette has been heavily involved with the New York Racing Association in the search for the solutions to remedy the horrific rash of recent equine fatalities at Aqueduct.
He's also embroiled in a challenge to his re-election in November as NYTHA president amidst claims of irregularities in the voting process.
On a brighter note, things are going quite well with his "day job."
Violette's spring took on a rosy complexion Saturday when the 61-year-old trainer sent out Upstart to post a convincing 5 ½-length victory in the Grade 2 Holy Bull Stakes at Gulfstream Park.
The victory netted the 3-year-old New York State-bred 10 more points in the Road to the Kentucky Derby series, lifting him into third place with 16 points in the chase for one of 20 starting spots in the Run for the Roses.
Beyond that, the Holy Bull also confirmed the promising form that Upstart displayed as a 2-year-old but few picked up on.
Though he was third in the Breeders' Cup Juvenile -- missing second by a nose -- and second in the Grade 1 Champagne Stakes at Belmont Park, Upstart was sent off at 53-1 odds in the opening round of Kentucky Derby Future wagering. In each of those graded stakes, he had an excuse. He was forced to race wide in the BC Juvenile after drawing post 11, while a wet, speed-favoring track in the Champagne worked against him.
None of that, though, seemed to matter when handicappers took their first swings at picking the Derby winner. While they ignored Upstart, Carpe Diem, who was second in the BC Juvenile, was dismissed at 15-1 odds, nearly the same price as Texas Red (14-1), the runaway Juvenile winner.
Upstart wasn't even the favorite in the Holy Bull, going off as 2-1 second choice. Rest assured, though, after his highly impressive 3-year-old debut, Upstart will not be overlooked in his next start.
"When I saw him today in the paddock, I was very surprised because he looked so much bigger and so much stronger," said jockey Jose Ortiz, who has been aboard Upstart in all five of his career starts. "I think he wants to go a mile and a quarter, so we will hopefully make the Kentucky Derby with him."
The mile-and-a-sixteenth distance of the Holy Bull was no problem for Upstart as he raced in third on the backstretch, then took over turning into stretch and drew off from his eight rivals. Frosted, the 3-2 favorite off a second in the Grade 2 Remsen on Thanksgiving weekend, was second once again, finishing 2 ¼ lengths ahead of third choice Bluegrass Singer in a finish that pretty much held to form.
With his ridgling's 3-year-old debut out of the way, Violette can now map out the next steps along the long and winding road to Louisville on the first Saturday in May. He mentioned either the Gotham (March 7 at Aqueduct) or the Fountain of Youth (Feb. 21 at Gulfstream) as possibilities for Upstart's next start. The Florida Derby (March 28 at Gulfstream) is also on Violette's radar.
"We'll see how he bounces off this and follow his lead," Violette said. "It could be that we'll stay here for the Florida Derby to give us the extra two weeks going into the [Kentucky] Derby. That might be the thing to do. It's nice to have that option."
It's just as nice to have a horse like Upstart to make a "day job" more pleasurable.