Category archive:

HorseRacing
December, 17, 2013
Dec 17
2:32
PM ET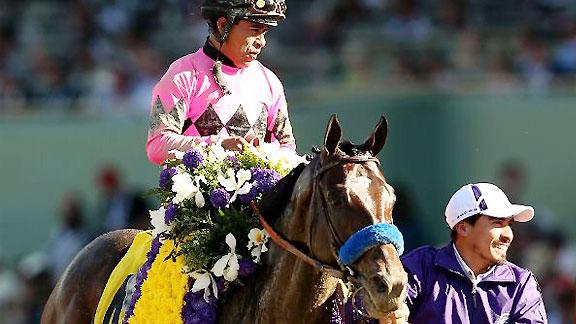 BC Juvenile
Its the time of year when wise mail carriers keep the bottles of aspirin handy. The weight of all those holiday packages and cards can add up in a hurry.
You can also add to that mix a piece of mail of particular interest to the Thoroughbred racing industry.
Eclipse Awards ballots are in the mail and this past weekend one division that seemed settled became subject to further review.
After winning the Grade 1 Cash Call Futurity at soon to be shuttered Hollywood Park by a decisive 5 ¾-length margin, Shared Belief has become an increasingly popular option as the year's champion male.
The Cash Call lifted Shared Belief's record to a perfect 3-for-3, with a combined winning margin of 20 ½ lengths and a victory in the Grade 3 Hollywood Prevue preceding the Cash Call.
It's a highly impressive resume, except for the one thing its lacking: a Breeders' Cup victory.
In the first 29 runnings of the Breeders' Cup Juvenile, 23 of those winners received an Eclipse Award and the trend should continue this year as well.
As impressive as Shared Belief has been, the Breeders' Cup trumps any other race for juveniles.
As impressive as Shared Belief has been, the Breeders' Cup trumps any other race for juveniles. It attracts the best field of the year with quality runners from all parts of the nation -- and at times the world -- and horsemen know if they want to win an Eclipse Award they have to craft a schedule for their horse that includes the Breeders' Cup.
That's exactly what trainer Bob Baffert did with New Year's Day. After the son of Street Cry rallied from last to finish third in his debut on Aug. 17 at Del Mar, Baffert brought him back two weeks later to break his maiden. After that, New Year's Day did not race again until the Breeders' Cup at Santa Anita, when he scored by a 1 ¼ lengths over Havana, who had previously taken the Grade 1 Champagne Stakes at Belmont Park.
That may be a limited body of work with only one stakes victory, but that black type victory came in the most important race of all and should outweigh a pair of stakes, even if one of them was a Grade 1 stakes. In general, all Grade 1 stakes are not equal and when it comes to 2-year-old racing, the attention focused on it usually makes the BC Juvenile game, set and match in the process of crowning a champion.
New Year's Day also won on dirt and a synthetic surface which attests to his versatility. Shared Belief, who is owned in part by smack-talking sports yakker Jim Rome's Jungle Racing, has only raced on a synthetic surface.
The irony is that an Eclipse Award at two does not bode well for a horse's future at three. Since the inception of the Breeders' Cup in 1984, the 29 2-year-old champions have a combined four wins in the three legs of the Triple Crown. That's a mark of 4 for 87, a batting average that only a weak-swinging National League pitcher could envy.
So maybe Shared Belief will prove to be the better horse down the road. If he handles dirt as well as he does synthetic surface, he might be a very special horse.
But for now, there's only been one special win by a 2-year-old male and it belongs to New Years Day, the colt who's most deserving of an Eclipse Award.
December, 10, 2013
Dec 10
1:13
PM ET
The misdirection play, which can work so well when properly schemed in the NFL, apparently has its place in Thoroughbred racing.
In New York, home of the state-controlled New York Racing Association, there has been a large outcry over the groups Board of Directors vote on Dec. 4 to approve a 2014 budget that includes an increase in admission fees at Belmont Park and Saratoga that total an extra $2 for the grandstand and $3 for the clubhouse. Parking fees, box seating at Saratoga and NYRAs charge to simulcast outlets for its signal are also slated to rise.
Its purely and simply a bad idea on all fronts, and the spin NYRA CEO and President Christopher Kay is putting on the admission prices deserves its own time slot on Comedy Central. He paints admission fees as a great bargain because of what fans must pay to go to a Yankees or Knicks game, which makes as much sense as saying paying a $15 toll to cross the nearby Whitestone Bridge to and from work is a great deal because it costs $75 to sit in the Pepsi Porch at Citi Field.
Apparently, casino money, which was supposed to be NYRAs golden goose, is not the remedy for all of the organizations ills.
Professional sporting events, where people pay to watch something, are on one level and racetracks are another, along with casinos. While the Yankees may want you to spend $1,500 to get into the building so you can sit behind home plate and watch a game, a casino wants you to come inside and then wager $1,500. Thus casinos will make it enticing to visit them through free admission and parking and perks like reduced prices for meals and bonuses for regular players.
NYRA, which does not have to make up for an item like spending $153 million on Jacoby Ellsbury, should, of course, mirror a casino, not the Yankees, but thats not what is most important here.
What needs to be examined is not the rate of the increase, but why its needed. The misdirection play.
Apparently, casino money, which was supposed to be NYRAs golden goose, is not the remedy for all of the organizations ills. In laying out NYRAs proposed budget for 2014, its now coming out that NYRA must pay taxes on revenue from the casino, so it is not realizing as much cash as expected from its new competition for wagering dollars and it needs new revenue streams like the bump in admission.
And so, as the state-controlled NYRA says its handle is down $34 million through September, the privately owned Resort World Casino, which is housed in what used to be Aqueducts grandstand, turned a net profit of $14.8 million for the week ending Nov. 30 and the pendulum has swung in a different direction.
The casino, which was supposed to support the racetrack, and, yes, education in New York, has grown far richer and powerful than the racetrack and the racing industry. And with the state looking to turn NYRA back into private hands in 2015, it apparently has no intentions now of reducing NYRAs tax strain or giving more money to the racetrack from the booming casino. Instead, with a desire to put money in other pockets, the state and its appointees at NYRA wants to lessen the dependency on casino cash and is asking Joe Fan to cough up extra money, which is basically page 2 in the Politicians Handbook: When money gets tight, raise taxes.
The old, privately owned NYRA would have squawked about whats going on. But with the chain of command ultimately leading back to Governor Andrew Cuomo in Albany, we get a rationale that paying $5 to get into Belmont Park, which has already been reduced to a ghost town on most days, is a great deal because the Yankees charge you $50 to sit in the upper deck. Not a peep asking the governor to give the racing industry -- not to mention its workers and the customers who support the sport and already have millions taken out their wagering dollars by the government - what it deserves.
NYRA says it will gauge the response to the increased fees and perhaps rescind them, but meanwhile, thousands of people stream into the Resorts World casino free of charge every hour and wager tens of millions of dollars every week as horse racing becomes a lesser and lesser player in the equation.
Ah, the wonders of a misdirection play.
December, 1, 2013
Dec 1
11:30
PM ET
The calendar says there are 154 days between this past Saturday and May 3. A calculator can convert that span of time into 3,696 hours, if anyone wants to be more specific.
Yet as close or far as that may seem, the distance between Saturdays Remsen Stakes at Aqueduct and the Kentucky Derby might just as well be several light years for a graded stakes-winning juvenile.
Looking over the roster of Remsen victors, Thunder Gulch in 1994 was the last winner of the Grade 2 stakes who developed into a Kentucky Derby champ. He is also one of only two Remsen winners since then to hit the board in the Run for the Roses.
The Breeders Cup Juvenile, as much as it almost always crowns a 2-year-old champion, has also been a fountain of misinformation as far as Triple Crown form goes. Held this year on Nov. 2, only one of its 29 winners (Street Sense in 2007) has also won the Kentucky Derby.
Together, the last 58 winners of the BC Juvenile and Remsen have accounted for just three wins in the Kentucky Derby.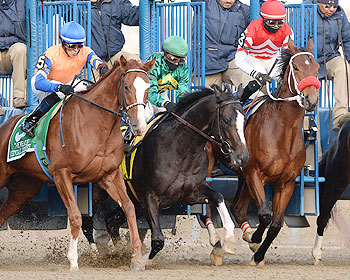 NYRA/Adam CoglianeseHonor Code, center, recovered from a bad start to win the Remsen Stakes for trainer Shug McGaughey.
With that framework of futility in the background, Honor Code became the latest horse to win the Remsen and generate that usually misleading November buzz as a Triple Crown contender. Recent history may not bode well for him, yet streaks do not last forever and on Saturday Honor Code looked like a 2-year-old with a bright future in front of him.
It wasnt merely his presence in the winners circle after the 100th edition of the Remsen that opened eyes. His odds on the tote board, a miniscule 3-5, vividly painted him as the horse to beat in the two-turn stakes.
What left a lasting image was the scene in mid-stretch when Cairo Prince, the 8-5 second choice, edged past Honor Code and appeared headed to victory. Thats when Honor Code displayed the type of determination that in 154 days might ultimately separate him from completely forgettable Remsen winners like OPrado Again, Buddys Saint and Old Fashioned. The 2-year-old ridgling battled back and in the final stride put his nose on the wire inches ahead of Cairo Prince.
I thought he got beat, winning trainer Shug McGaughey said. For him to come back like that, he showed a lot of guts. We skipped the Breeders Cup to give him a chance to be a better 3-year-old and hes come a long way so far … Were delighted at where we are.
The dramatic finish seemed an unlikely outcome for a race McGaughey labeled as peculiar. The early fractions resembled trotting horse splits as 33-1 longshot Master Lightning jogged through a 52.74 half-mile and a ridiculously slow 1:17.56 three-quarters of a mile. Honor Code, who rallied from the back of the pack in his two previous starts (a maiden win and a runner-up finish in the Grade 1 Champagne) showed a new dimension in pressing the leader.
He put away Master Lightning leaving the quarter pole, then was quickly joined by Nashua Stakes winner Cairo Prince in a stirring duel to the finish as they covered the mile and an eighth in 1:52.92.
Today, he proved a lot. He's a special horse, said Javier Castellano, who rode Honor Code for owners Lanes End Racing and Dell Ridge Farm.
Cairo Prince, too, enhanced his reputation in defeat.
That was a tough beat. The winner is a good horse, but that was a tough one. I thought we had it won, his trainer, Kiaran McLaughlin said.
Both horses certainly looked like Triple Crown material -- in November. Honor Code may have emerged as the 10-1 favorite among the 23 individual wagering choices as the first round of future betting on the 2014 Kentucky Derby concluded on Saturday, but that impression can change dramatically as the first Saturday in May grows closer.
Theres no better indication of that than the 4-5 odds on the mutuel field in the Derby future wager, a grouping which includes every other 2-year-old except the 23 individual choices -- horses like Honor Code, BC Juvenile winner New Years Day (15-1) and Cairo Prince (26-1). The clear message is that November results often become meaningless once flowers, such as roses, begin to bloom in the spring.
Just ask McGaughey. He came into this year as a Hall of Fame trainer and on the first Saturday in May he upgraded that tag to Hall of Fame and Kentucky Derby-winning trainer as Orb provided him with his long-awaited first win in the Run for the Roses.
A year ago at this time, Orb was coming off a maiden win -- his first in four career starts. In the ensuing months he blossomed while November stars like BC Juvenile winner and 2-year-old champ Shanghai Bobby and Remsen winner Overanalyze were no factors in the Triple Crown.
Orb made so much progress from January to May 4 [Derby Day], said McGaughey, who clearly has the date of his initial Derby win stamped in his memory. Thats what made the difference and [Honor Code] also has to progress over the winter. Orb improved by leaps and bounds and while Honor Code does not have to make leaps and bounds that big he still has to improve from two to three.
Honor Codes agenda for next year hasnt been finalized but McGaughey said the son of A.P. Indy will be stabled at Payson Park in Florida and probably will target the Fountain of Youth and Florida Derby at nearby Gulfstream Park -- the same two races Orb captured before his big day at Churchill Downs.
Its a reasonable notion that Honor Code can duplicate Orbs heroics. The talent is surely there, but keep in mind only time will tell.
Make that a lot of time, even if it is only a mere 221,760 minutes away.
November, 29, 2013
Nov 29
10:37
AM ET
The Breeders Cup traditionally brings down the curtain on the championship portion of a racing season, yet this year a few extra performances have been added to the show.
This Thanksgiving weekend, several of the stars of the 30th Breeders Cup will squeeze in one more race before the calendar turns to 2014 and the results could very well impact Eclipse Award voting.
The most interesting race promises to be Fridays Clark Handicap at Churchill Downs which features Will Take Charge, who lost by a few inches in the $5 million Breeders Cup Classic, and Game on Dude, who kissed his Horse of the Year hopes goodbye with a ninth-place finish in the very same race.
Even though the Clark is a Grade 1 stakes, its unlikely that it can repair the damage done to Game On Dudes reputation. A win in the BC Classic or perhaps even a narrow loss probably would have been enough to wrap up Horse of the Year honors for the 6-year-old gelding, but finishing ninth -- and flopping for a second year in a row in the Classic -- opened the door wide enough for Wise Dan to charge through it and stamp himself as the one to beat for the sports most coveted prize.
Horse of the Year implications aside, Game On Dude should be very tough to beat in the mile-and-an-eighth Clark Handicap.
Horse of the Year implications aside, Game On Dude should be very tough to beat in the mile-and-an-eighth Clark, which makes matters more interesting for Will Take Charge.
Unlike Game On Dude, Will Take Charge turned in a huge effort in the Classic and his runner-up finish by a bob of the head had the look of game, set and match as far as the 3 year-old male championship goes -- if he didnt race again.
But now, with Will Take Charge heading to the starting gate one more time, and facing a quality field which may include Game On Dude and Golden Ticket, that perception could change. While the aforementioned win or close loss should be enough to seal the deal, if he mimics Game On Dudes effort in the Classic, a stinker could come back to haunt him -- especially since theres a line of thought in some quarters that Kentucky Derby winner Orb has a better resume right now.
Then on Saturday comes a unique matchup that brings together two Breeders Cup winners in the same month they were victorious at the world championships. Groupie Doll, who captured the BC Filly and Mare Sprint, and BC Dirt Mile winner Goldencents will tangle in the Grade 1 Cigar Mile at Aqueduct.
Though shes won only two of four starts this year, Groupie Doll clinched a second-straight Eclipse Award as the champion female sprinter with her second-straight win in the BC Filly & Mare Sprint. While a loss in the Cigar will not alter the pecking order in a weak female sprint division, back-to-back Grade 1 victories could make her a worthy adversary for Royal Delta in the race for the champion older female award.
If Will Take Charge loses and Goldencents wins, it would give Goldencents three Grade 1 wins this year which would equal the combined total of Grade 1 wins belonging to Orb and Will Take Charge.
With those three Grade 1 wins coming in the Santa Anita Derby, BC Dirt Mile and, potentially, Cigar Mile, Goldencents would have quantity on his side but not quality. A 3-year-old champion almost always owns a win at a classic mile-and-a-quarter distance or more and thats something Orb and Will Take Charge have -- but not Goldencents.
Still, if Will Take Charge flops and Goldencents takes the Cigar Mile, there could be a lively three-horse battle to the wire for the 3-year-old crown and the votes Goldencents attracts could swing the decision in someone elses favor.
Well know more on all of those fronts after all of the leftover turkey is turned into sandwiches, which is pretty odd to hear.
Apparently this year the show must go on … and on and on for a few extra weeks.
November, 19, 2013
Nov 19
10:34
PM ET
As much as the Breeders Cup may have resolved the debate over champions in some of Thoroughbred racings divisions, as usual it did little to help explain what might happen six months from now in the Triple Crown.
Only one of the first 29 Breeders Cup Juvenile winners has gone on to capture the Kentucky Derby and believing that this years winner, New Years Day, can double that total seems as risky as ever.
While New Years Day might have earned an Eclipse Award for his length-and-a-quarter victory in the $2 million BC Juvenile, his body of work is limited. The race was only the third of his career and his second victory.
He broke his maiden on Polytrack at Del Mar and then registered his BC win on dirt at Santa Anita, so hes certainly versatile. But the mere fact that a horse with just a maiden win to his credit could win the BC Juvenile raises doubts about the quality of the field that New Years Day dispatched.
The 5-2 favorite in the BC Juvenile was Havana, who came into the race off a victory in the Grade 1 Champagne, which sounds impressive. However, the Todd Pletcher-trained colt had a 4 ½-length lead at the eighth pole that day and had to hang on in the final strides to win by a neck in the mile test.
Havana led by two lengths with a furlong to go in the mile-and-a-sixteenth BC Juvenile, and weakened again to wind up second in an effort that only diminished his image as a bona fide Triple Crown contender at a demanding mile-and-a-quarter distance.
If anyone else in the field is Triple Crown material, theyll have to improve -- which isnt a far-fetched possibility at this point in time.
What they and 18 of the last 20 Kentucky Derby winners have in common is that they did not run in the Breeders' Cup Juvenile.
Looking back at recent Kentucky Derby winners and what their modest accomplishments were in mid-November of their 2-year-old season youll see that Orb (this year) was a maiden; Ill Have Another (2012) had one win in three starts and was sixth in the Hopeful in his most recent start; and Animal Kingdom (2011) had a maiden win in two career starts.
What they and 18 of the last 20 Kentucky Derby winners have in common is that they did not run in the BC Juvenile.
Given the circumstances, much attention will be focused on the Remsen at Aqueduct on Nov. 30, a race which will feature Honor Code. A fast-closing second in the Champagne despite an incredibly wide trip, Honor Code skipped the Breeders Cup. Trainer Shug McGaughey felt keeping his horse in New York would be better for the long-term development of his colt and the mile-and-an-eighth Remsen could very well be the right step in that direction.
If youre wondering, McGaugheys Triple Crown track record includes winning last years Run for the Roses with Orb, which will sharpen the focus of attention on Honor Code.
Down the road, races like the Fountain of Youth at Gulfstream Park and Robert B. Lewis at Santa Anita promise to give us a first glimpse in 2014 of who might be the horses that will be the stars of the spring and the sports mesmerizing five-week-long Triple Crown ride.
Whether New Years Day turns out to be one of them remains to be seen.
Chances are, though, as weve seen with Orb, Ill Have Another and Animal Kingdom -- to name a few -- as fresh in our memory as the Breeders Cup may be, its the series new theme song, The Best Is Yet To Come, that seems most apropos for singling out Triple Crown heroes.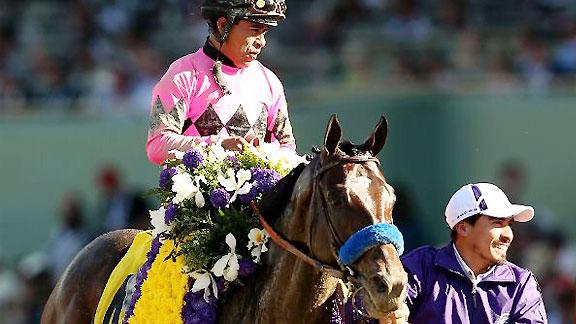 November, 11, 2013
Nov 11
12:24
PM ET
It doesnt happen often, but there are times when you can do something that will end up wrong, but still come away from the experience feeling you did the right thing.
Voting for this years champion 3-year-old filly is one of those occasions.
Judging by the final National Thoroughbred Racing Association Top Thoroughbred Poll, Beholder will be the recipient of an Eclipse Award in January when the hardware will be handed out to the sports champions. Beholder finished third in that poll with 369 points, while her main rival for the 3-year-old filly award, Princess of Sylmar, was sixth with 173 points.
On one level that was hardly a surprise. Beholder did, after all, win the $2 million Distaff at the Breeders Cup, which is considered horse racings world championships.
But my vote will go to Princess of Sylmar for reasons that will not fall in line with popular opinion and yet Im quite comfortable taking a contrarian position.
Keep in mind horse racing is not a professional sport with a certain series or game that crowns a champion.
To explain, keep in mind horse racing is not a professional sport with a certain series or game that crowns a champion. The Breeders Cup, in theory, is supposed to do that, but the champs are actually selected by voters, comprising people from several segments of the industry who are asked to judge a body of work, not a single race, and the intangibles that come into play.
Sometimes there is a definitive race, which most will argue was the Distaff and was won decisively in a 4 ¼-length triumph by Beholder.
Yet for me, what stood out more than Beholders effort on the afternoon of Nov. 1 was that Princess of Sylmar was in the starting gate that day, something that wasnt a given and plenty of owners would not have done.
It cost her owner, Ed Stanco, roughly $100,000 to pay a supplemental nomination fee and ship his filly to California to race at Santa Anita, a track Beholder loves and is ideally suited for her.
Had Stanco kept Princess of Sylmar at home in New York, she probably would have been named the champion. Prior to the Distaff, Princess of Sylmar had beaten Beholder by a half-length in their one meeting, the Kentucky Oaks, a race which is considered the female answer to the Kentucky Derby and attracted a field as good as it has seen in recent memory.
At that point, while Beholder had three Grade 1 wins, Princess of Sylmar had four -- at three different tracks -- and hers carried far more clout as she won both of the years biggest races for 3-year-old fillies, the Kentucky Oaks and Alabama and, like Beholder, owned a Grade 1 win over older fillies and mares.
That perception completely changed when Beholder won the Grade 1 Distaff and Princess of Sylmar was never a factor as she finished last in a field of six, 16 ¼ lengths behind the winner.
It became Beholders fourth Grade 1 win, all of them, though, at Santa Anita.
In a league like the NBA, that would have been akin to a No. 2 seed beating a No. 1 seed and tough luck for the top seed. But horse racing is a completely different animal. There are no mandated schedules that everyone must follow, as there are in the NBA, NFL, NHL and every other professional league. An NFL team cannot pick its own route to a championship. It has to play the 16 games slotted by the league and all of the playoff games and the Super Bowl. Teams cant go undefeated in the regular season, win one playoff game and then call it quits for the season and proclaim themselves a champion.
In horse racing, though, it can happen that way. Horsemen can pick and choose their spots and as a result the matchups fans want to see may never materialize. A case in point was the inability to get the great distaff runners Zenyatta and Rachel Alexandra on the same track. Lets not forget either that in July of 2009, owner Jess Jackson decided to skip the Breeders Cup. He ended the fillys year after a win in the Sept. 5 Woodward, which was a division playoff round win -- not a Super Bowl win -- if there ever was one.
The Breeders Cup was diminished by her absence and in spite of that she was still named Horse of the Year over Zenyatta, who went undefeated that year and beat males in the Breeders Cup Classic. It was a set of circumstances that will sink the sport if they are constantly repeated.
To me, the sportsmanship Stanco displayed was highly commendable and is what the sport should be all about. Having Princess of Sylmar in the starting gate turned a good race into a great race, and the sport benefitted from it. That has to count for something in choosing a champion. Not a lot, for sure, but at least enough to help separate two evenly matched rivals.
Making the move even nobler was Stancos gamble on Beholders turf.
While the conditions were indeed equal, that severe bias prevents me from elevating the BC Distaff head and shoulders above the Oaks.
Yes, Beholder won the showdown, but if anyone was watching what happened on that Friday afternoon at Santa Anita, they had to know Princess of Sylmar was facing an uphill climb higher than the San Gabriel Mountains. Horses on or near the lead were nearly impossible to catch and for a closer like Princess of Sylmar, who was running on a tread mill, it was an effort in futility to try and catch Beholder.
Thats why her last-place finish didnt sway me.
Given the days conditions, she appeared to have little chance as she walked toward the starting gate and what happened on the track proved it.
While the conditions were indeed equal, that severe bias prevents me from elevating the BC Distaff head and shoulders above the Oaks. To me, its a coin flip between the two fillies and what gives Princess of Sylmar a very slight edge is her owners sportsmanship.
Beholders connections did absolutely nothing wrong this year. They shipped her back home to California after the Oaks, which made all the sense in the world with the Breeders Cup at Santa Anita.
Beholders victory in the Distaff was very much deserved, but a championship? Shes extremely talented but everything did fall into place for her as she was able to race in five Grade 1 or Grade 2 stakes at Santa Anita, a track where shes won 6 of 7 career starts with one runner-up finish.
Princess of Sylmar took the gamble, which granted is not enough alone to be named a champion. Its when you win the Kentucky Oaks, Coaching Club American Oaks, Alabama and Beldame in succession and then pay $100,000 to race on the other coast over a track that ill suits you, thats a champion.
Most will disagree, but many of those will also gripe when big stars duck each other. You cant have it both ways.
But for an industry that relies in part on sportsmanship to create its marquee matchups, then giving a small bonus point for those who follow the path less traveled does not seem wrong at all. It actually feels like the right thing to do.
November, 4, 2013
Nov 4
12:31
AM ET
Eleven months later, through the course of more than 400 Grade 1 stakes, the Triple Crown, the glamour meets at tracks like Saratoga, Del Mar and Keeneland, and the Breeders' Cup, horse racing seems destined to end 2013 exactly as it entered it.
Wise Dan came into this year as the Horse of the Year and in all likelihood he'll leave it with another crown in tow.
Through the course of a fabulous 30th edition of the Breeders' Cup, numerous horses saw their chances of becoming one of the sport's champions slip away against the picturesque backdrop of the San Gabriel Mountains. Some were unable to handle a racetrack that at times was supremely kind to speed. Others were exposed as simply not being good enough to receive an Eclipse Award.
Then there was the select few that faced and overcame the challenges inherent in million-dollar purses that attracted the best possible competition, and Wise Dan topped that list.
Game On Dude came into the Breeders' Cup as the consensus choice to be named Horse of the Year. He had won all five of his 2013 starts, three of them in renowned Grade 1 stakes. In the last National Thoroughbred Racing Association poll, he attracted 37 of the 43 first-place votes. Wise Dan had five of them and Princess of Sylmar, the 3-year-old filly, was the only other horse to receive one of them.
The first featured event of the two-day series, the $2 million Breeders' Cup Distaff, saw Princess of Sylmar fall out of the HOY race when she checked in last in a field of six.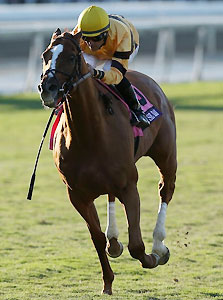 Jeff Gross/Getty ImagesWill Wise Dan's Mile repeat bring another Horse of the Year title?
A speed-favoring track can be blamed for her inability to race like the filly who had previously won the Beldame, Alabama, Coaching Club American Oaks and Kentucky Oaks in succession. Yet in the final and richest race of them all, the $5 million Breeders' Cup Classic, that excuse was not available for Game On Dude.
Speed had been the name of his game, such as when he went gate-to-wire to win the Pacific Classic at Del Mar by 8½ lengths or the Santa Anita Handicap by 7¾ lengths.
He was on the lead in the Classic, racing in front by a half-length through an opening quarter-mile in 23.39 seconds. He was soon passed by 2012 BC Classic winner Fort Larned and Moreno in a three-way duel and by the time the field turned into the stretch he was gassed, retreating to ninth in a field of 11. While the victorious Mucho Macho Man, Will Take Charge and Declaration of War were engaging in an unforgettable blanket finish, Game On Dude wound up about 11 lengths behind them, beating only a 32-1 shot and a 43-1 shot to the wire.
For a second straight year, he had been favored in the BC Classic and once again the race proved to be a miserable failure for him. A year earlier, he had finished seventh, beaten by an embarrassing 15 lengths.
The margin was less this time, but the manner of defeat was equally humbling. One race prior to the Classic, Wise Dan did his part. He overcame a stumbling start to rally in the final furlong and capture the BC Mile for a second year in a row.
It was hardly an outstanding field. It lacked a European star that would have made the three-quarters of a length triumph even more impressive. But in the end, it was a win, something Wise Dan does on a regular basis.
He's won six of seven starts this year, three of them Grade 1 stakes. He lost only when he ran second in the Shadwell Turf Mile that was switched to Keeneland's main track.
He and Game On Dude may have each suffered one defeat this year, but Wise Dan was far more competitive in that one setback. Game On Dude might have been able to claim Horse of the Year honors if he was one of the three horses that hit the wire inches apart in the Breeders' Cup Classic. But in finishing so badly beaten -- for a second straight year -- the consensus of opinion in what basically amounts to a beauty contest swung in a different direction.
It swung to Wise Dan, who won the Breeders' Cup Mile once again and probably nailed down an even bigger prize for a second-straight year as well, Horse of the Year.
Emotions are never in short supply at an event like the Breeders' Cup.
Saturday, in the 30th edition of horse racing's world championships, the highs and lows of human life may have converged as powerfully as they ever have on the sport's grand stage.
In the day's very first Breeders' Cup race, the $2 million Breeders' Cup Juvenile Fillies, Secret Compass suffered a fatal leg fracture, tossing Hall of Fame rider John Velazquez to the ground. Initial thoughts were that Velazquez had avoided serious injury, but while he was being examined at a nearby hospital it was discovered that his injuries were so severe he had to undergo emergency surgery to remove his spleen.
Eight more Breeders' Cup races were run under the backdrop of the tragic events that befell both horse and rider, sapping the celebration in one of the day's most anticipated races, the BC Mile, where Jose Lezcano subbed for Velazquez aboard the victorious Wise Dan.
"I'd like everyone to pray for John," Lezcano said after his winning ride on the reigning Horse of the Year. "This not the way you want to pick up a mount."
But then at the very end, perhaps emotions finally turned in a satisfying manner.
The best memory to come out of the 30th Breeders' Cup Classic will no doubt be remembered as fondly as the thriller witnessed in the very first edition of the race, as a gripping three-horse finish in the $5 million Classic ended the day on as heartwarming a note as anyone could ask.
In a finish that saw three horses separated by a nose and then a head, Mucho Macho Man continued the trend started by the Boston Red Sox as he won by, yes, a whisker, holding off the on-coming Travers winner Will Take Charge, with the European challenger Declaration of War settling for third in the epic result.
Game On Dude, who could have clinched Horse of the Year honors with a win in the 1 ¼-mile Classic, instead finished ninth as the 8-5 favorite and may have watched that award slip back into the hands of 2012 recipient Wise Dan.
Yet for all the drama on the racetrack, the win confirmed the strength of the human spirit in a very heroic trainer and a jockey who, at the age of 50, is riding as capably as he did in his prime.
"

This was a tremendous experience to win this race at my age. This is the ultimate feeling. It's the icing on the cake of my career.

"

-- Jockey Gary Stevens
Kathy Ritvo just as easily could have passed away in November 2008, when she had a heart transplant. Her career, too, could have come to an end. But she did not allow the adversity that was dealt to her to stop her from caring for the horses she loves so deeply. Each day, she takes 31 pills a day to medicate her heart and moves forward with the kind of courage few possess.
She not only made it back, but in 2011 she trained Mucho Macho Man to a third-place finish in the Kentucky Derby. A year ago, Mucho Macho Man finished second in the Classic. On Saturday, her reward came in a race that served as a test for the determined race horse, 50-year-old jockey Gary Stevens and the new heart that now keeps Ritvo alive.
"I'm happier for my horse," said Ritvo, whose charge was the 4-1 second choice in the wagering [$10]. "He deserves it. I'm excited. If I didn't have the support of my family, I wouldn't be here."
Stevens seemed an unlikely participant in a Breeders' Cup celebration as recently as a year ago, when the Hall of Fame jockey was riding out his retirement and working as a television analyst and actor in the short-lived cable series "Luck." A lead actor in the 2003 movie "Seabiscuit," Stevens was forced to call it quits as a rider in 2005 due to bad knees, but he was coaxed back into the saddle this year in part by trainer D. Wayne Lukas, and in May he won the Preakness for Lukas with Oxbow.
On Saturday, in winning his first BC Classic, he ironically finished a nose in front of a horse trained by none other than Lukas.
We said this was an emotional day.
"This was a tremendous experience to win this race at my age," said Stevens, who had not won a Breeders' Cup race since 2000 but notched bookend wins in the BC Distaff and BC Classic in this year's two-day event. "I never expected to be in this situation. This is the ultimate feeling. It's the icing on the cake of my career."
It was also part of the much-needed sweetness on a tumultuous day for racing that underscored the elements of triumph and tragedy in it.
The 2013 Breeders' Cup didn't unfold perfectly, but there was a happy ending -- in Hollywood, where else?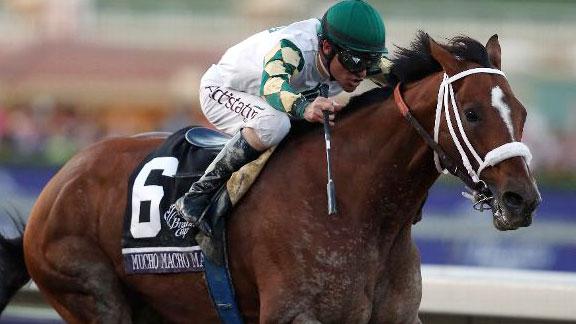 November, 1, 2013
Nov 1
10:16
PM ET
As the curtain came down on the first day of the Breeders' Cup at sunny Santa Anita Park, there were some definitive answers that arose out of the series' opening act.
Anyone with a desire to win one of the dirt races on Saturday had better stay on or near the lead. Closers need not apply for access to the winner's circle, judging by the way speed, speed and more speed highlighted Friday's card.
We also learned that Royal Delta's reign as "The Queen" of the sport is now at an end. She was second in September in the Beldame at Belmont Park; Friday, in a bid for a third consecutive victory in the Breeders' Cup Distaff, she could finish no better than a distant fourth.
"Maybe it's time," lamented trainer Bill Mott. "Maybe it's time."
Well ahead of her, taking honors as the first horse across the finish line in the $2 million Distaff, was Beholder, who fueled the lively debate that arose out of the race and which promises to stretch into January, when the sport crowns its champions.
Back in September, when Princess of Sylmar beat Royal Delta in the Beldame, it seemed she had turned the 3-year-old filly title into a slam and a thunderous dunk. After all, she came into the race with consecutive wins in the Kentucky Oaks, Coaching Club American Oaks and Alabama and had beaten a two-time Eclipse Award winner in the Beldame.
After Friday's turn of events, though, that slam dunk might have clanged off the back of the rim.
Beholder stated her case for an Eclipse Award in ear-piercing fashion as she raced in third early on, then surged to the front approaching the stretch and drew away to a definitive 4 ¼-length victory over the year's best assortment of fillies and mares.
There were only six starters in the 1 ⅛-mile test, but four of them were Grade 1 winners, two were reigning champions and two figure to be a champion.
Royal Delta should be one of them as the best older filly or mare.
The 3-year-old champion filly? That promises to be Princess of Sylmar … or Beholder.
With the championship portion of the schedule at an end for fillies, Beholder's stock soared as she evened her record against Princess of Sylmar while covering the nine furlongs in 1:47.77 as the 5-2 co-second choice ($7.60). Back in May, Beholder finished second by a half-length to Princess of Sylmar in the Grade 1 Kentucky Oaks, the distaff version of the Kentucky Derby. Six months later, she finished some 16 ¼ lengths ahead of Princess of Sylmar, who struggled on the speed-favoring track and wound up last.
"What's the name of the game?" Richard Mandella, trainer of Beholder, said rhetorically. "The Breeders' Cup championships? Am I missing something?"
As much as the Breeders' Cup is considered a "world championship" event, titles are decided by a vote -- and the fillies' overall body of work still might favor Princess of Sylmar. Each has four Grade 1 wins this year and they split their two meetings, though Princess of Sylmar had more high-profile wins. Beholder also had home-court advantage on her side Friday. She won for the sixth time in seven starts at Santa Anita, the site of the victory in the 2012 Breeders' Cup Juvenile Fillies that earned her last year's 2-year-old filly crown.
The connections of Princess of Sylmar, meanwhile, showed some sportsmanship as her owner, Ed Stanco, coughed up around $100,000 just to enter his filly in the race. That turned out to be a steep price to pay on the racetrack, and in time, perhaps, in the Eclipse Award voting as well.
After stumbling at the start, Princess of Sylmar was never better than fifth at any of the calls on a track that brought out the ire in jockey Javier Castellano.
"I blame the track. It's all speed, speed, speed and unfair to come-from-behind horses," he said. "Unfortunately, she didn't handle the track at all. She was spinning her wheels. Usually at the half-mile pole she pulls, and today she didn't pull at all."
How much pull she'll have at the voting booth this winter remains to be seen. And if you're waiting for this bit of unfinished business to be settled ... sorry, you'll have to check back in January, when the announcement of this year's Eclipse Awards comes out.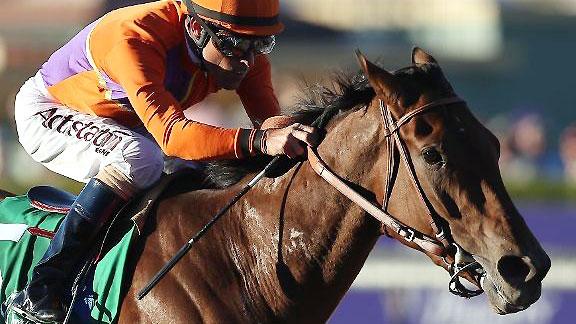 October, 31, 2013
Oct 31
11:45
PM ET
The Breeders' Cup, through its first 29 runnings, has always been a dazzling showcase for some of the most famous and royally bred horses the sport has ever produced. Every now and then, though, a dose of everyday life spills into that magical kingdom when a horse like Tightend Touchdown comes around.
As recently as January, any licensed owner could have claimed Tightend Touchdown for $35,000. Owner Ron Lombardi and trainer Jason Servis did it -- twice. They first claimed him in August 2012 for $35,000 from owners Ken and Sarah Ramsey. Then, after losing him for $30,000 to trainer Linda Rice in December, they paid $35,000 on Jan. 27 at Aqueduct to get him back.
"Once we lost him, I started thinking about how good a horse he was and told Jason to get him back," Lombardi says.
Some nine months later, Lombardi's hunch about Tightend Touchdown has been rewarded with three wins and four seconds in seven starts for them -- none of them in a claimer -- and on Saturday they hope to script a heartwarming rags-to-riches tale when their ex-claimer races in the $1 million Breeders' Cup Turf Sprint on Santa Anita's downhill course.
"I'm in this game for the excitement," Lombardi says, "It's a chance of a lifetime for me to be in the Breeders' Cup with this horse."
Simply racing in the BC Turf Sprint comes at a steep price for Lombardi as he paid a $100,000 supplemental nomination fee just to enter Tightend Touchdown in the race. Yet even as Lombardi does the math, he likes how it's all adding up for him, Servis and his horse.
"I claimed Tightend Touchdown for $35,000, and now I'm paying $100,000. That's $135,000, and some people pay a lot more than $135,000 for a horse and never get to run him in the Breeders' Cup, so I have no qualms about spending the money and running him. "
Given that Tightend Touchdown is listed at 12-1 in the morning line, it would seem Lombardi and Servis are chasing a pie-in-sky dream in tackling a field that includes 2012 BC Turf Sprint winner Mizdirection. Yet they have been beating the odds on a regular basis, using an effective blend of the skills of a trainer with an excellent track for improving a horse and the daring of an owner willing to take a chance few might. Servis' skill with horses should not come as much of a surprise. He's the older brother of John Servis, who trained 2004 Kentucky Derby/Preakness winner Smarty Jones, and -- and learned a great deal about what makes a horse tick while working as a jockey and exercise rider for roughly a decade.
"What you find sometimes is that there's not that big of a difference between a stakes horse and a top-end claimer," Servis says. "With some horses if you give them time, work with them, give them time to cool down their legs and deal with inflammation, they'll improve for you.
"

I claimed Tightend Touchdown for $35,000, and now I'm paying $100,000. That's $135,000, and some people pay a lot more than $135,000 for a horse and never get to run him in the Breeders' Cup.

"

-- Ron Lombardi, owner Tightend Touchdown
"We always liked Tightend Touchdown. When we lost him, Ron said to get him if they ran him in a claimer and thankfully they did. I always thought he was best on turf so we protected him in the winter by keeping him out of claimers and once we got him on turf things snowballed to the point where we're in the Breeders' Cup -- and I have Ron to thank for that. I would have been happy running him [in a] starter allowance and winning those races. But he's more aggressive. He convinced me to run him in stakes and now here we are."
Reaching the Breeders' Cup seems an appropriate reward for the perseverance of Lombardi, who just as easily could have bid farewell to racing after the tragedy that befell his first horse. That runner, who was named Mr. Amore, had spent several months in 2006 training for his first start. Everything was going along well. Then one morning, during a workout, Mr. Amore tried to mount another horse, fell off and suffered a fatal injury.
Lombardi's next horse suffered a string of injuries that delayed her first start and before that happened his third horse broke down and was humanely destroyed.
Instead of giving up, the irrepressible owner kept moving forward and even re-named his stable in honor of Mr. Amore. To this day, Tightend Touchdown and Lombardi's other 40 horses in training carry the banner of Mr. Amore Stable.
"I liked the sound of name. It was catchy and I thought it would be a great way to honor Mr. Amore," Lombardi says.
The development of American Border into a graded stakes winner in 2008 was the payback for Lombardi's patience and encouraged him to become more involved in the sport.
The owner of the SportsCare medical centers, Lombardi and Servis now have four stakes in their barn, all of whom were acquired via claim.
Ribo Bobo also reflects the touch Servis and Lombardi have with claimers. He was claimed by Mr. Amore Stable on Jan. 9 for $8,000 at Gulfstream Park, then was lost for $6,250 after a winning effort on Feb. 21. On March 8, when Ribo Bobo raced again, they re-claimed him for $6,250 and have won six straight races with him, capped by a win in the $100,000 Maryland Million Spring Handicap on Oct. 19.
But for now, the stable's attention is focused on Tightend Touchdown, who comes into the Sprint off a solid second in the Grade 3 Turf Monster at Parx and figures to be involved in the fierce battle for the early lead. If he can hang on through the 6 1/2 furlongs is the key question.
"Tightend Touchdown is a very versatile horse," Servis says. "He ran the fastest opening half-mile on the dirt inner track at Aqueduct this winter. So I think the downhill part of the course and the crossover to the dirt track for a bit won't bother him. If he can bring his 'A' race, we'll be fine."
Fine, for sure. Whether or not Tightend Touchdown proves to be a claim for fame at Santa Anita, Lombardi and Servis will be reveling in their first experience as an owner and trainer at the Breeders' Cup.
And if things don't work out as planned on Saturday, well, there's always another claiming race around the corner.