Category archive:

HorseRacing
June, 28, 2015
Jun 28
10:03
PM ET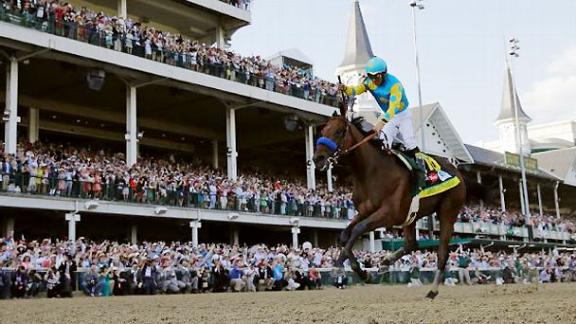 Kentucky Derby: Watch a race replay
Comparing great athletes from different generations can be akin to judging an apple against an orange.
You can rely on statistics to a great degree, yet they alone do not tell an accurate story. Sometimes you have to live through something and witness it first-hand to fully understand everything that was wrapped up into someone's accomplishments.
That's why in trying to rate where American Pharoah currently stands among racing's all-time greats, my own preference is to place him among those horses I've seen during the years I've followed the sport, which, as my graying hair indicates, is a nonetheless considerable amount of time.
In going back to day one for me and assessing him against horses from 1971 on, I'd put American Pharoah among the top five, largely because he accomplished something that was matched during that span by only three other horses -- each one of them among the sport's immortals.
The Triple Crown is indeed that special and revered. If you can pull it off, you belong among the most elite collection of horses to ever grace a racetrack with no questions asked.
But where among the top five?
To build some suspense and illustrate the quality of horses ranked just below American Pharoah, here are horses six through 10:
6. Ruffian and 7. Zenyatta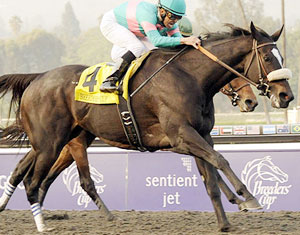 Breeders' CupZenyatta was the first to win the Breeders' Cup Ladies' Classic in 2008.
Younger fans are surely bristling over this and might consider ranking another filly or mare above Zenyatta blasphemy, but Ruffian was the type of horse who took your breath away. You marveled at the way she would seize the lead and never let go of it. If not for that ill-fated match race that deprived us of an opportunity to see her at her prime, she might have ranked even higher on this list. Zenyatta, with her 19 straight wins in 20 career starts, is surely nothing shy of legendary. Yet if these two amazing amazons could meet on the same racetrack, regardless of what speed figures might say, I simply do not believe Ruffian would let Zenyatta run past her. She was that good.
8. Forego
After Secretariat left the stage, the gallant gelding dominated the sport like no one else. The only champion during the Eclipse Awards era to be named Horse of the Year in three straight years, during that span he won at every distance they tossed at him. Suffice it to say, we will never see another champion sprinter who could also win a two-mile Grade 1 stakes. He won 34 of 57 starts and rarely raced outside of New York, but in those days there was rarely a need for an older horse to race somewhere other than Belmont Park, Aqueduct or Saratoga. To watch him once was to fall in love with him. To see him close in an amazing fashion to catch Honest Pleasure in the 1976 Marlboro Cup is why you'll never forget him.
9. Cigar
To win 16 straight races is one thing. To punctuate that streak with triumphs against all challengers in premier races like the Breeders' Cup Classic, Dubai World Cup, Jockey Club Gold Cup, Woodward and Hollywood Gold Cup is top 10 material. Then again, he was the "unconquerable, invincible, unbeatable Cigar."
10. John Henry
In terms of versatility, only Secretariat could match his prowess on both turf and dirt. To win 30 races and earn nearly $7 million in the pre-Breeders' Cup era speaks volumes for his greatness, yet his 1981 feat of winning the Arlington Million on turf and the Jockey Club Gold Cup on dirt in successive races succinctly expresses his greatness.
OK, now let's jump to the top spot, where there should be absolutely no debate.
1. Secretariat
He's the gold standard. The one that every great champion is measured against, and the one they will never match.
He wasn't flawless, losing five times in a 16-race career. But when he was at his best -- and that was most of the time -- there was no one who could compete with him. He gave the sport a new vitality when he ended a 25-year Triple Crown drought, and it's safe to say no one will ever mirror what he accomplished in the series when he won all three races in track record time, capped by a 31-length coronation in the Belmont Stakes.
As incomparable as he was in the spring, his legacy was only enhanced in the fall, when he confirmed all of the greatness bestowed on him. Facing a field filled with North America's best horses, he was a decisive winner in the Marlboro Cup and then capped his glorious career with a pair of turf wins that earned him acclaim as the year's champion grass runner.
The phrase is tossed about too often, but he was indeed that once-in-a-lifetime horse.
2. Seattle Slew
He was a worthy successor to Secretariat as a Triple Crown champion. Undefeated when he completed his sweep of the classics, his career took a sharp left turn when his connections made an ill-advised decision to ship him west and race in the Swaps Stakes. The loss there was followed by an illness that sidelined him for 10 months.
When he returned at 4, a loss to Dr. Patches at the Meadowlands raised doubts about him, but decisive wins in the Marlboro Cup and Woodward quelled them. Even his final defeat -- by a nose in the mile-and-a-half Jockey Club Gold Cup after covering the first six furlongs in a blazing 1:09 2/5 -- was as impressive as any of his victories.
The competition he faced in the Triple Crown was weak and lacked a Sham or Alydar as a measuring stick, but two wins over Affirmed in the fall of 1978 -- albeit a weary Affirmed -- make it difficult to put him anywhere but No. 2 on the list.
3. Affirmed
Even with the two losses to Seattle Slew, there's a tug of the heart that says he could be No. 2.
In those matchups with Seattle Slew, Affirmed was at a disadvantage. In the last one, his saddle slipped. But beyond that, Affirmed was worn down by a grueling Triple Crown campaign and an epic rivalry with Alydar that extended into the Travers in August.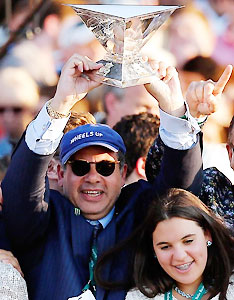 Rob Carr/Getty ImagesAhmed Zayat lifts the Triple Crown Trophy after his horse, American Pharoah, wins the Belmont Stakes.
As brilliant as Secretariat may have been in the Triple Crown, neither he nor Seattle Slew nor American Pharoah had to face a foe as formidable as Alydar in all three legs of the legendary series. That Affirmed was able to beat his Calumet rival in the Kentucky Derby and the Preakness and then prevail over him in their classic duel in the Belmont says everything you need to know about his heart and indomitable will to win.
Winning his final seven races after he regained his top form early in his 4-year-old campaign was a fitting way for him to bow out, but a stretch of four straight losses following his disqualification in the Travers is enough to cost him second in the photo finish with Seattle Slew.
5. Spectacular Bid
We're skipping No. 4 momentarily, for an obvious reason.
As for Spectacular Bid, he fell short in his bid to win the Triple Crown, but that's his only real flaw. He was so good no one even bothered to face him in his final race.
In his last 26 races, his only losses were the Belmont Stakes -- when a stray safety pin or a brutal pace or a ridiculously fast prerace workout, take your choice, caught up with him -- and a loss by three-quarters of a length to a 4-year-old Affirmed in the 1979 Jockey Club Gold Cup. Had he won the Belmont, he would have been No. 2, but the Test of the Champion is the kind of race that separates the greats from the immortals.
4. American Pharoah
Does he deserve this lofty of a spot based on winning the Triple Crown alone? Does the 37-year gap between Triple Crown winners answer that question?
While the Triple Crown seemed to be a snap in the 1970s, what we saw from 1978 through 2015 painted a far more accurate picture of the accomplishment. So until we see another stretch with three Triple Crown winners in five years, American Pharoah's ability to achieve what was thought to be impossible pushes him into the most elite of company. Having won seven of his eight career starts also speaks quite profoundly on behalf of his brilliance, and any thoughts that he doesn't belong in the same company as the other Triple Crown winners should have been washed away by a smashing 5½-length victory in the Belmont Stakes, the race where fatigue was supposed to catch up with him. Yet while his career has been an A+, his grade is also incomplete.
Seattle Slew and Affirmed rank above the Zayat Stables superstar because of what they did after the Triple Crown, but that can all change.
If American Pharoah continues to race and keeps his winning streak intact while posting a victory in the Breeders' Cup Classic in his farewell appearance, he could rocket to the No. 2 spot.
Dominating in the spring of a 3-year-old campaign is a trait American Pharoah shares with Secretariat, Seattle Slew and Affirmed. But of those three, only Secretariat was able to win championship-caliber races against his elders in the fall of his 3-year-old season.
Sometimes it's difficult to appreciate the talents of a present-day athlete, and American Pharoah does tend to make herculean tasks look simple. Yet if he does not lose a beat in the fall and vanquishes older horses from all over the world in a $5 million race, to say he's something less than Seattle Slew and Affirmed would be folly.
He just might be better than them.
Time will indeed tell.
June, 20, 2015
Jun 20
4:32
PM ET
ELMONT, N.Y. -- The enthusiastic response to American Pharoah's victory parade at Churchill Downs last Saturday evening pretty much showed how the love affair between fans and racing's newest mega-star remains as strong and fervent as it was a week earlier at a frenzied Belmont Park.
If anything, after a 37-year wait for a 12th Triple Crown champion, his fame and popularity have no doubt grown since the memorable afternoon of June 6. There's no longer any ifs, buts or maybes attached to the Zayat Stables 3-year-old. He is without question the real deal. He's the latest member of racing's most elite fraternity, and while there were 90,000 people on hand to witness his coronation as racing royalty in the Belmont Stakes, there are probably a 100 times that number that would relish the opportunity to be on hand and watch him again.
So for the rest of 2015 - or until a decision to retire him is announced - the major news in Thoroughbred racing will revolve around American Pharoah and every little thing that happens around him. It will be a media event when he walks off a van or simply jogs. Some horse will emerge as the champion older male or the top 3-year-old filly and there's a long list of Grade 1 stakes on the horizon, but for the next few months the horse racing news that figures to crash Twitter will involve American Pharoah and American Pharoah only.
At the present time the animated conversations that will not subside are centering on conjecture about when or if American Pharoah will race again. It's the question that so many people want answered with an immediate, iron-clad guarantee but that's hardly the nature of the sport. Sorry, but much like crying in baseball, there are no guarantees when it comes to horses and races.
Owner Ahmed Zayat and trainer Bob Baffert have expressed every intention in regards to racing their homebred son of Pioneerof the Nile and for now, just two weeks removed from the colt's trip along the grueling Triple Crown trail, that's the best anyone can expect with a horse as valuable and now legendary as American Pharoah. Winning the Kentucky Derby, Preakness and Belmont Stakes may have seemed like a stroll through the park for the 3-year-old sensation, especially after his 5 ½-length romp in the Belmont, but rest assured it was draining and time for some R & R is surely in order.
How much rest and how much the Triple Crown took out of American Pharoah are the paramount questions that will not be answered for several weeks. And if you want to know exactly how much the series can take out of a horse, keep in mind the last three Triple Crown winners, Hall of Famers Secretariat, Seattle Slew and Affirmed, won just 5 of their combined 11 races at three after the Belmont.
That 5-for-11 mark compiled by a trio of the sport's immortals defines the challenge facing Baffert in trying to make American Pharoah the same - if not better - horse he was on the first and third Saturdays in May and the first Saturday in June. And it's also why, in fairness to the horse, if that old spark is not evident in his future training, given the protective comments by everyone around him, it's unlikely that they will make a supreme push to coax it out of him.
Like it or not, given how there's at most a window of a little more than four months left in the majestic horse's career, even a minor setback could turn to be a major obstacle that brings down the curtain on his career.
Some avid fans might bristle at hearing that, but the notion that Zayat and Baffert "owe" it to the racing industry to continue campaigning American Pharoah is, of course, ridiculous. Owning a Thoroughbred race horse is the 180-degree opposite from owning a major league baseball team where you might charge $2,500 for a seat behind home plate and the paying customer has a reasonable expectation that the owner will shell out wads of cash for quality talent.
Despite the impression given off by the sport's most successful figures, owning and caring for a Thoroughbred is an expensive proposition that quite often leads to red ink at the end of the year. Since there are no fund-raisers for owners when they lose money, no one can rightfully demand that they brazenly take a financial risk.
In the case of American Pharoah insurance alone is extremely costly. The basic measuring stick is that the yearly cost of insuring a Thoroughbred in training is about 4 percent of its value. The breeding rights to American Pharoah were sold to Coolmore's Ashford Stud for $20 million before his Triple Crown sweep and it's reasonable to believe his value has doubled since then.
Using those figures it will cost at least $800,000 - and perhaps even more than $1 million - to insure American Pharoah through the remainder of the year, though in all likelihood it is Ashford that is picking up that bill.
Yet beyond the hefty bills, what matters more is exactly what Baffert and Zayat have been saying all along: that American Pharoah will tell them when and if he's ready to race again.
As Zayat has said no numerous occasions, "The horse comes first."
What means is that there will be no more prep races for American Pharoah. They are way below his pay grade.
Given his new status in racing history, if American Pharoah is not ready to run as powerfully as he did in the Belmont Stakes or Preakness, rest assured he will not be placed in the starting gate. No one around him wants to see American Pharoah lose in a race that's merely a stepping stone for something bigger down the road, as we witnessed last September when California Chrome's first race after the Triple Crown was a weak sixth in the Pennsylvania Derby. It's just not worth it on any level. Zayat's colt has accomplished something so rare and means so much to so many people that to see him at anything but his best would be a travesty.
Given American Pharoah's immense popularity it may be hard for some people to accept all of that. Yet it's the proper path to follow.
So for now, all anyone can do is sit back and wait and hope that the Triple Crown grind has not worn down American Pharoah like has it so many other quality race horses of the past.
Leaving Kentucky, where he will ultimately begin a life at stud, and returning to his home base in California is a highly positive sign that American Pharoah will be given every chance to race again. And if he trains with his normal vigor, you can expect to see American Pharoah on the racetrack once again, though where that will happen has become a lightning rod for controversy.
Heading into this week, the front-runner seemed to be the $1 million Haskell at Monmouth Park on Aug. 2, which made all the sense in the world. At the Jersey Shore, racing's newest kingpin will find a racetrack that's ideally suited for his speed and a race that Baffert has already won on seven occasions in the home state of Zayat and his family.
The mere speculation that American Pharoah would run in the Haskell was enough to ignite a box-office surge that swallowed up every available seat for the mile and an eighth Grade 1 test.
But then on Thursday, Zayat delivered the shocking news on his Twitter account that, "right know Saratoga is in the lead. Head of Haskell."
Zayat posted the tweet prior to leaving the country for a business trip to Europe, complicating communication with him and leaving it unclear as to whether American Pharoah would run in the $600,000 Grade 2 Jim Dandy at Saratoga on Aug. 1 and then the $1.25 million Travers on Aug. 29 or just point toward the Grade 1 Travers.
Zayat's son Justin, the racing manager for Zayat Stables, messaged ESPN.com on Thursday that his father was "leaning towards Saratoga to make real history. We'll see as it gets closer." On Friday, Ahmed Zayat pulled back slightly, texting Tim Wilkin of the Albany Times-Union that "Everyone in the hunt still. Horse comes first. Every track wants to do what best for sport and give honor to our champ."
The latest turn of events was so sudden that when a New York Racing Association spokesperson was asked on Friday if they had head from Zayat about his plans, the response was basically that they knew only what they had read in reports.
And so it goes, and it will stay that way until the time comes when Zayat and Baffert announce that it's time for American Pharoah's life at stud to begin. When you're the first horse to win the Triple Crown in 37 years, your magnetism is off the scale and it's anything but surprising that so many people want to be part of one of his races and that tracks will open up war chests of gold in hopes of America's Pharoah to their venue.
How it all unfolds will be the dominant story in racing this year, and when it does indeed end there could be no better stage for American Pharoah's farewell than the $5 million Breeders' Cup Classic at Keeneland on Oct. 31.
Yet that's getting way too far into the future.
For now, as much as everyone would love to see American Pharoah race again, all anyone can do is to allow fate to play its hand in this melodrama and hope that everything does indeed go smoothly and racing's rock star returns to center stage.
The wait in the coming days for that to happen won't be easy. Yet after 37 years without a Triple Crown winner, what's a few weeks when the reward could be another chance to watch a star brighter than racing's galaxy has seen in years?
ELMONT, N.Y. -- It took 37 years for him to come around, but Thoroughbred racing finally has a equine superstar so brilliant that he not only swept the Triple Crown for the first time in more than three decades -- he did it easily.
Now comes the hard part.
While a Triple Crown sweep was billed as a mission worthy of Sisyphus prior to American Pharoah's 5½-length romp in Saturday's $1.5 million Belmont Stakes, what awaits the sport's supremely celebrated 12th Triple Crown winner could be a task even more herculean than merely sweeping the Kentucky Derby, Preakness and Belmont Stakes in a five-week span.
Say hello, racing fans, to the Grand Slam.
If all goes well and American Pharoah continues to race through the fall -- and those are huge if's -- Zayat Stables' charismatic champion will end his career on Oct. 31 in the $5 million Breeders' Cup Classic at Keeneland, where something new and unprecedented in a centuries-old sport could very well happen.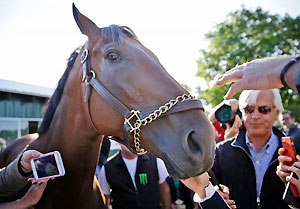 AP Photo/Seth WenigAmerican Pharoah's connections understand that the Triple Crown champion belongs to the fans after winning the Triple Crown on Saturday.
"It would be tremendously exciting to have American Pharoah attempt to become the first 3-year-old to complete the Grand Slam of the Kentucky Derby, Preakness, Belmont Stakes and Breeders' Cup Classic by facing the best horses in the world at Keeneland," said Jim Gluckson, who handles media relations for the Breeders' Cup.
It's no real surprise that the Grand Slam would be a unique feat since the Breeders' Cup was born in 1984, some six years after Affirmed became the 11th Triple Crown champion in 1978.
Yet beating older horses from the United States and all corners of the globe at Keeneland is not the only facet of this challenge that makes it so daunting. Keeping American Pharoah sound and healthy until the fall and keeping the hands of his breeding farm, Coolmore America's Ashford Stud, off him add to its degree of difficulty.
While Coolmore recently purchased the breeding rights to American Pharoah for around a reported $20 million, it is believed that a Triple Crown sweep has boosted his value to about double that price through incentives included in the deal.
Given the monumental costs of insuring such a valuable racehorse and the fear of what a loss would do to American Pharoah's value in the eyes of the breeding industry, there has been some speculation that his coronation in the 147th Belmont Stakes might be American Pharoah's dazzling farewell to the sport.
Less than 24 hours after the sweep, though, his connections reaffirmed they are "committed" to continue racing American Pharoah throughout the year.
"It's a huge honor and privilege, and we owe it to the sport to do the right thing," owner Ahmed Zayat said on Sunday. "Money plays an important factor in this game. I have already sold his breeding rights, but it is my genuine desire as a fan, as someone who loves horses, to race him for as long as I possibly could. We have said that we are committed to racing him at least until he finishes his 3-year-old season."
Zayat reiterated that the decision on when and where to race American Pharoah next will be dictated by the reports he gets from Hall of Fame -- and now Triple Crown -- trainer Bob Baffert on the homebred colt's physical condition.
"I want the fans to enjoy something and I will leave it up to Bob to make plans through the career-ending [race]. We're not thinking here at all about value or money or anything like that. When the horse is ready we're not going to be scared of running and losing or not losing and what it will do to his value. What it's about now is the fans and that he belongs to history. Myself and my family take this responsibility extremely seriously and I hope we will be worthy. With Bob, the horse comes first, and with him they are usually ready to perform. We owe it to the sport to campaign him properly and as often as we possibly can."
When asked about possible targets for American Pharoah's next race, Baffert started with two obvious choices, the $1 million, Grade 1 Haskell Invitational at Monmouth Park on Aug. 2 or the $600,000, Grade 2 Jim Dandy at Saratoga on Aug. 1, the traditional stepping stone to the $1.25 million, Grade 1 Travers on Aug. 29.
"If this horse gets beat," Baffert said. "Jill [Baffert's wife] will never forgive me for it, so he'll be ready."
The Haskell would seem the favorite in that matchup as Baffert already owns a record seven victories in the Grade 1 test at the Jersey Shore. One of those wins came courtesy of Zayat's Paynter (in 2012) and the 52-year-old businessman said at the Belmont Stakes post-position draw that he would "love to win the Haskell again."
The Zayat family also resides in New Jersey, giving the Haskell hometown appeal. "The Haskell is known as The Bob Baffert Invitational, so knowing Bob that will be a first target, though Saratoga is such a great track," said Ahmed Zayat's son, Justin, the racing manager for Zayat Stables. "I'm [a] Jersey Boy, though. I'm from New Jersey and it would be great to win the Haskell. Who knows? The Travers is four weeks after the Haskell, so maybe he'll go there, too.
"We will let the horse tells us what to do, though he came back from the Belmont filled with so much energy," he added. "We'll give him some rest and relaxation and decide what to do. He's earned it."
Monmouth Park is also well-known for offering purse enhancements and appearance fees in order to attract stars to the Haskell, which the New York Racing Association may be reluctant to do.
"We'd have to look at that," NYRA President and CEO Chris Kay said about the possibilities of boosting purses to lure American Pharoah to Saratoga. "We'll investigate all options. We'd love to have him in the Jim Dandy and the Travers. The Travers, though, has such a great tradition I think it can stand by itself [without enhancements]."
The wild card in the mix due to the phenomenal response to American Pharoah's sweep is that tracks will shift or create stakes to capitalize on the standing-room-only crowds the Triple Crown winner will attract.
Back in 1973, after Secretariat ended a 25-year Triple Crown drought, his first race after his 31-length romp in the Belmont came at Arlington Park in a race specially created for him.
"There's been nothing yet but I'm sure now that it has happened there will be a lot of people calling us," Justin Zayat said. "Everybody wants American Pharoah to come to their town and track. We'll weigh our options and talk to Bob and pick out the best race for him.
"He's the people's horse and we don't want to take that away from anyone. We need to have people come to the track, and he's the horse that can do that. It's what the sports needs and needs to capitalize on. This is the time to get new owners, new trainers, new fans. It's when people get a bug and I hope one day they can get the same feeling I got on Saturday."
If, and there's that word again, Thoroughbred racing's incredible ride with American Pharoah extends into the fall, the setting for his final race is very much a no-brainer. "The Breeders' Cup at Keeneland would be the ultimate way to end American Pharoah's career," Justin Zayat said. "To win the Triple Crown and Breeders' Cup Classic would be the absolute ultimate."
Actually, it could be something else. It just might be the dawn of a new quest in racing. The Grand Slam era has officially begun.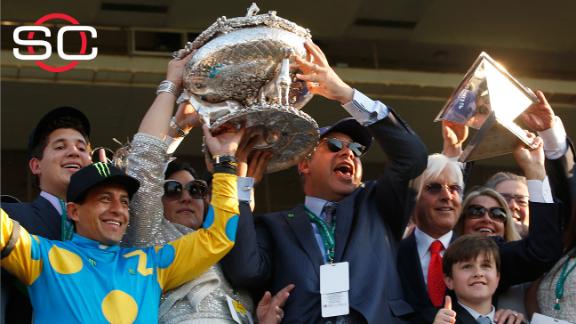 June, 7, 2015
Jun 7
12:04
AM ET
ELMONT, N.Y. -- It was a moment some 37 years in the making, and the exhilaration shook every muscle in Ahmed Zayat's 52-year-old body.
The Triple Crown sweep that was widely believed to be impossible for a modern-day Thoroughbred had just become reality. Zayat's brilliant champion, American Pharoah, had won the Belmont Stakes by a whopping 5½ lengths over Frosted to become the long-awaited 12th Triple Crown champion and the first since Affirmed in 1978.
In front of 90,000 mesmerized fans at Belmont Park and millions more watching on television across the nation, Zayat was handed the silver Triple Crown trophy that had eluded the grasp of 13 other owners in the past 37 years.
He lifted it up in a scene destined to be as famous as the one from 1973 at Belmont Park when owner Penny Chenery wildly waved her arms over her head after the legendary Secretariat completed his sweep with a jaw-dropping 31-length win in "The Test of the Champion" that ended a 25-year drought.
Yet as Zayat saw it, that rather historic moment did not belong to him. It was not the proper time for him to revel in joining Chenery and the Slew Crew and the Wolfsons in becoming part of the first families of horse racing.
It was a time for him to say thank you.
"This is for the fans. This is for everyone who loves horses," Zayat proclaimed. "This is for you ... This is for the sport. After 37 years it needs a star. This is an honor, privilege, [I'm] humbled, excited."
Then, with his voice rising to a decibel level that could have matched any of the legion of fans at Belmont Park who rooted so passionately for his horse to cross the finish line first, Zayat pointed the trophy toward the crowd and shouted one final time, "This is all for you!"
It was more than that, though. It was a scene for the ages, because regardless of what happened on Saturday, sweeping the Kentucky Derby, Preakness and Belmont Stakes is a withering task that will not become an annual event. Those folks with gray hair who were at Belmont Park on Saturday and were just college kids the last time the sweep was accomplished will surely attest to that.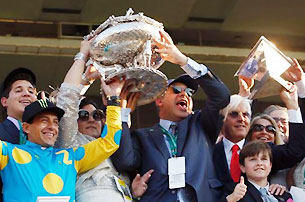 AP Photo/Kathy WillensJockey Victor Espinoza, left, and owner Ahmed Zayat, center, hold up the August Belmont Trophy as trainer Bob Baffert holds up the Triple Crown trophy.
Which means the image of Zayat and the joyous celebration by his family on Saturday evening will last for a considerable amount of time and will be replayed whenever racing's greatest moments are recalled.
Zayat, who was born in Egypt and now lives in New Jersey, would prefer, however, if the moment does not center on him.
"We all wanted it," he said. "We wanted it for the sport. So I'm happy for the horse, for the fans, and for [trainer Bob Baffert] ... This is about American Pharoah and what does this mean to our beautiful sport."
If Zayat is to become one of the new faces of racing, the sport finds itself in pretty good hands. A messy legal situation involving Zayat was dismissed -- as he said it would be -- earlier this week, and more than most owners, he's willing to spend hour upon hour on social media interacting with the sport's fans.
He's a new type of owner for a new brand of Triple Crown champion.
"Ahmed and his family have put up with a lot because he's such an emotional guy, but he's been so good about everything," Baffert said. "They deserve this."
What bodes so well going forward is that the love for racing extends beyond the patriarch of the family. Ahmed's son Justin, who graduated from New York University just weeks ago, is the racing manager for the family's stable, and his emotions after each leg of the Triple Crown reflected how much their horses and their sport mean to him and his family.
After the Kentucky Derby, a race in which Zayat horses had finished second on three occasions before American Pharoah's breakthrough, Justin was so overcome by emotion he threw up.
After the Belmont, he simply wept.
"I cried," he said. "I didn't throw up this time. It was a little more emotional but I'm just so thankful to have a horse like American Pharoah, who is the 12th Triple Crown champion. It's a dream come true for all of racing. I'm thankful for Bob Baffert. He gave us our first Derby [winner] and I'm happy we could give him a Triple Crown."
Yes, in his fourth try, Baffert finally joined the Triple Crown Club. For jockey Victor Espinoza, the third time was the charm as he failed in Triple Crown bids in 2002 and last year with California Chrome.
For the sport, it was an ungodly 37-year wait that finally came to an end on Saturday. Affirmed has company, as do his owners.
On an unforgettable June afternoon, racing did indeed gain a new immortal to celebrate as one of its greatest champions, and the smiling faces of Baffert, Espinoza and, of course, Zayat became its newest poster boys.
For all that, you can bet there's no shortage of people in the industry who are saying thank you; thank you very much.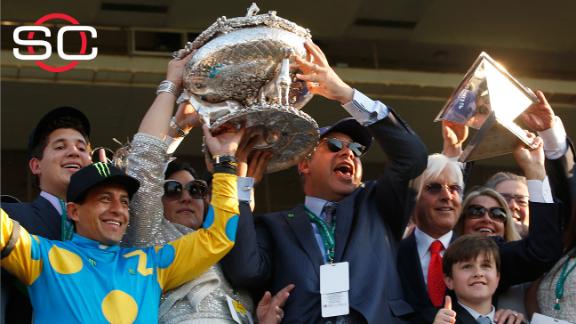 Somewhere there has to be a Yogi Berra-ism that would be a perfect fit for Saturday's $1.5 million Belmont Stakes.
After all, American Pharoah is an odds-on, 3-5 morning-line favorite. Of the 90,000 or so fans who will be at Belmont Park Saturday, none of them will be disappointed if he wins and becomes the first Triple Crown winner in 37 years. He's won six straight races since a loss in his career debut, including the Preakness by seven lengths just three weeks ago. He's already beaten every one of the seven rivals that will attempt to tackle him on Saturday.
Sorry, Ray Romano, but everyone loves American Pharoah.
Or do they?
For as much as the Zayat Stables 3-year-old will be an overwhelming favorite on the toteboard and in the hearts of most observers, there's a growing number of handicappers lining up to take a stand against him. They are supported by 37 years of history and 13 near-misses in the Triple Crown during that stretch, including some by horses such as Spectacular Bid, Smarty Jones and Big Brown, who seemed as likely as him to complete the sweep but didn't.
These days, the popular theory says horses are not durable enough to withstand the rigors of three races in five weeks capped by a grueling mile-and-a-half test and that a fresher horse will inevitably beat American Pharoah and extend the insufferable Triple Crown drought into a 38th year.
Mix it all together, and it's a scenario shaped along the lines of Yogi's famous "Nobody goes there anymore. It's too crowded."
If that's so and if you're "dining" on Saturday evening, then join the crowd. American Pharoah is going to win the Belmont Stakes.
That would normally seem like a remark ripe for Captain Obvious, since it involves a 3-5 morning-line favorite, yet with so many wise guys opposing him, it's somewhat of a contrarian stand to say he will actually do something no horse has accomplished since 1978.
Just a year ago, Kentucky Derby and Preakness winner California Chrome failed to complete the sweep, finishing in a dead-heat for fourth as a 4-5 favorite. Yet he was not what American Pharoah seems to be. California Chrome was an obscurely bred colt who blossomed into a champion -- and Horse of the Year -- at 3.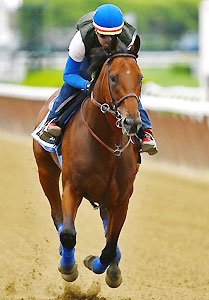 Al Bello/Getty ImagesWill American Pharoah prove all the doubters wrong in Saturday's Belmont Stakes?
Trained by Hall of Famer Bob Baffert, American Pharoah is impeccably bred. He was also a champion at 2, and only a handful of superstars have been able to maintain dominance over their crop as both a juvenile and at 3 years old. Of the 13 near-misses since 1978, the only one who was a champion at two was Hall of Famer Spectacular Bid. Not so coincidentally, each of the last four Triple Crown winners (Affirmed in 1978, Seattle Slew in 1977, Secretariat in 1973 and Citation in 1948) were all champions at 2.
It takes an exceptional horse to dominate at 2 and 3 -- not a freak for a few months, which best describes some of the close-but-no-cigar Triple Crown hopefuls -- and that quality inspires confidence that the three races in five weeks will not humble him.
Lest we forget, 25 years separated Triple Crown winners Citation and Secretariat, so the challenge is indeed supreme. Yet until Saturday's race proves or disproves it, American Pharoah has the look of that oh-so-rare champion that comes along only once in a few decades -- no matter what the trio of sweeps in the 1970s tell us -- and has the right stuff to overcome what's being painted as an impossible task.
American Pharoah may not have raced at Belmont Park -- unlike the four aforementioned Triple Crown winners -- but was new to both Churchill Downs and Pimlico as well and that did not stop him. Owner Ahmed Zayat has even said his homebred colt was not particularly fond of the racing surface at Churchill Downs, but he still won by a length. His solid training at Belmont Park the last few days adds even more credence to the belief American Pharoah will rule the sport on Saturday.
"When he finally came down the stretch he was moving so fluid, just like he usually does. It was a very positive gallop," Baffert said about his colt's training on Thursday. "He looks like he's just moving along like he's always moved along. It was very comforting to see that."
For Baffert, Saturday will mark an unprecedented fourth try at a Triple Crown sweep. Back in 1998, Real Quiet fell short by a nose after leading by a seemingly insurmountable four lengths at the eighth pole. Perhaps Baffert's luck in the third jewel finally balances out Saturday. We'll see.
Meanwhile, jockey Victor Espinoza will take his third swing at a Triple Crown after missing last year with California Chrome. His two previous attempts at everlasting fame in the sport were not the best days for him or his horses (the Baffert-trained War Emblem was eighth in the 2002 Belmont after stumbling at the start). Yet as the 43-year-old rider said Wednesday, perhaps "the third time will be the charm."
There are only seven rivals lined up to face American Pharoah, and that will make matters easier for the speedy son of Pioneerof the Nile. Without a rabbit in the field to push him in the early stages, he just might take the lead at the start, and, as he did in the slop-fest at Pimlico, not look back.
Those who choose to run with the reigning champ will pay a price, including Materiality, who is priced at 6-1 since he closed nicely to finish sixth in the Kentucky Derby after an awkward start. If all goes well Saturday, he'll chase American Pharoah from the start and, even with five weeks rest, will not be up to the demands of keeping pace with him in the stretch.
Frosted (5-1), who closed for fourth in the Derby, looks best for second, and Keen Ice (20-1), who had a rough trip and was shut off for about a furlong when seventh in the Run for the Roses, is the pick to complete the trifecta. Madefromlucky (12-1) is following the same script as 2014 Belmont winner Tonalist by making his Triple Crown debut off a win in Belmont's Peter Pan and can complete the superfecta. Drought or not, just make sure you put American Pharoah at the top of those exotic wagers.
"There was a lot of speculation going into the Derby," said Justin Zayat, son of owner Ahmed Zayat and racing manager for the family's stable. "I just wanted to win the Kentucky Derby, and everything was candy after that. Once we got the Derby, I said we'd take it from there. Once we got through the Preakness, I can't lie, of course, I've been dreaming. The way he won, the way he's been doing things, it's impossible not to dream. "Barring any unfortunate circumstances, I have all the confidence in this world that he can pull this off. Can he handle the mile and a half? You don't know, until you know." And there it is, folks. The Yogi-ism. You don't know, until you know.
After Saturday, rest assured we'll know.
NEW YORK -- When the owner of American Pharoah, Ahmed Zayat, says he's lost seven pounds in the last week, the immediate thought centers on the immense pressure involved in a Triple Crown bid.
But that's not it.
American Pharoah, who will become the first Triple Crown winner in 37 years if he can win the $1.5 million Belmont Stakes on Saturday, is what puts a bubbly smile on the 52-year-old Zayat's face these days and fills his voice with laughter.
"The morning line odds said it all for me. Three-to-five? In a Triple Crown race?" he said after the Zayat Stables 3-year-old drew Post 5 in a field of eight Wednesday for the mile-and-a-half final jewel in the Triple Crown. "That says it all."
What has injected so much aggravation and stress into his life is a far different matter that will ultimately be decided in a court of law rather than the main track of one of America's oldest and most famous racetracks.
After the first Saturday in May, Zayat was the deliriously happy owner of a Kentucky Derby winner. Then, before American Pharoah's seven-length romp in the Preakness, reports surfaced that the Egyptian-born, New Jersey businessman is facing a March 2014 lawsuit for allegedly not repaying money fronted to him for offshore wagers.
Howard Rubinsky, a Florida resident, claims in his suit that Zayat owes him $1.6 million. Zayat, in turn, filed a petition with a federal judge, seeking a dismissal of the suit.
Then on Monday, attorney Joseph Bainton slapped Zayat with a libel suit over published comments Zayat made about the Rubinsky case, including one in the Associated Press that claimed, "It's a fraud. It's a scam from A to Z. It's total fiction. It's a total lie. It is a case of blackmail by a criminal."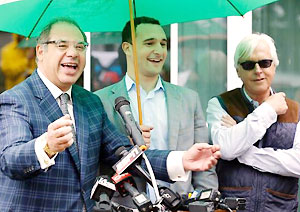 AP Photo/Seth WenigAhmed Zayat, left, owner of Kentucky Derby and Preakness Stakes winner American Pharoah, his son Justin Zayat, center, and trainer Bob Baffert talk to reporters at Belmont Park on Tuesday.
Two days later, even with his $20 million-plus horse on the verge of becoming one of racing's immortals, Zayat said his mind cannot focus completely on Saturday's historic race. "Does my face tell you?" he said with a cold look when questions steered from American Pharoah's chances in the Belmont to the distraction posed by the lawsuit. "I've lost seven pounds this week. It's eating at me. I'm very saddened and it's despicable.
"Is this the price of success? That people tear you down? All I can tell you, everything, everything is a lie from A to Z. It's insanity. It's saddened me that people can stoop that low."
Zayat repeated his belief that the lawsuit is baseless and that he will ultimately be cleared of any wrongdoing.
"I'm extremely confident that truth will prevail," he said. "Thank God, we are in a country where the due process and the legal system is honorable and I am certain that the judge will throw this rubbish out. It's as simple as that."
Yet for Zayat brushing aside any thought of the suit, even in the midst of a Triple Crown quest, is easier said than done.
"I can't block it out," he said. "You're looking at a guy with a heavy heart but I'm a guy on a mission and I have to focus. This is about the horse and I take pride in myself for being strong, but I'm pent up about this."
Zayat's son Justin, who recently graduated from New York University and serves as the racing manager for the family's racing stable, found irony in how the great joy generated by American Pharoah may have also sparked renewed interest in the suit.
"Obviously it's put a damper on the whole situation," he said. "I don't want to see my dad go through stuff like this. He doesn't deserve this. If he didn't own American Pharoah, none of it would be going on. I guess when you're on top of the world, there are always people who try to take you down.
"We're doing our best to enjoy the moment," he added. "It's really about the horse, not the Zayat family. It's about American Pharoah and the game."
The game will indeed be the focal point on Saturday afternoon when American Pharoah attempts to become racing's long-awaited 12th Triple Crown winner, and if there's anything that can bring the smile back to Ahmed Zayat's face it's the impeccable way his horse is heading into its date with destiny.
"I am very much at peace. That confidence is because I'm reading the horse. I believe I have a connection with him. I think he's ready and if he's ready, beware," he said. "The scary thing is we have not gotten to the bottom of him yet. He's getting better with age. This guy had everything thrown at him and he came out smelling like a rose, pardon the pun."
Carnations are the flower of choice in the Belmont Stakes and if Zayat and his family can smell them after Saturday's 147th edition of the race, it should produce a level of euphoria that a court docket will be hard-pressed to quell.
"It's such an incredibly tall order," Ahmed Zayat said about sweeping the Triple Crown. "There's a reason why it hasn't been done for 37 years. I'm dreaming about it, but I'm trying to limit my own expectations because you don't want to think you got so close and it slipped away from you. Who knows? He's a once-in-a-lifetime horse and I don't know if I'll ever come close to do this again."
If he does, you can rest assured Ahmed Zayat would insist he spent the five weeks between the Derby and Belmont free of any thoughts of judges and lawyers. He had wanted the attention solely on his horse.
For better or worse.
For victory or defeat -- rather than guilty or not guilty.
June, 1, 2015
Jun 1
12:05
PM ET
For the roughly 90,000 persons on hand at Belmont Park on Saturday, it will surely be an unforgettable moment if fate allows American Pharoah to capture the highly elusive Triple Crown.
Considering that it will be a historic feat -- one that has not been witnessed in the past 37 years -- some fans may even savor it as a once-in-a-lifetime experience.
Yet for the industry as a whole, it's far more debatable how the re-emergence of a Triple Crown winner will impact a sport in dire need of a charismatic hero.
It can surely create euphoria and waves of new fans, but will it elevate the sport to spectacular new heights as a business partner for corporate America?
One expert in the field has his doubts.
Mike Trager is one of the most widely respected figures in sports marketing, sponsorships and the packaging of television contracts. Currently a private consultant, the 73-year-old Trager's résumé includes stints as chairman of Clear Channel Entertainment Television and The Baseball Network and as a vice president of NBC Sports.
He also played an instrumental role in the growth and development of Breeders' Cup as he and his business partner, the late Mike Letis, founded Sports Marketing and Television International, which served as the series' marketing and television arm for 20 years. It was Trager and Letis who convinced NBC to support the fledgling concept of the Breeders' Cup with an unprecedented amount of one-day television coverage for its races that paved the way for its growth into one of the sport's best assets.
As Trager sees it, a Triple Crown winner will benefit the sport but will not unlock the door that puts it on the road to equal footing with football or baseball as a business vehicle.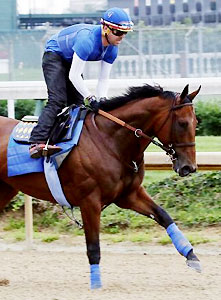 Churchill Downs/Reed Palmer Photography'Pharoah' may win the Triple Crown, but the sport of kings needs more than that to change its long-term fortune.
"I don't envision a big bump for horse racing and I don't see many new players coming into the sport because of a Triple Crown winner," Trager said. "The excitement is going to be greatest at Belmont Park on the day of the race. There can be some impact in terms of merchandising, but only if American Pharoah continues to run. It will certainly draw more attention to the sport, yet I don't think there are enough people out there interested in horse racing or watching horse racing to make a huge amount of difference in terms of marketing."
In assessing a sporting world with a Triple Crown winner for the first time in more than three decades, Trager believes much of the good derived from a victory by American Pharoah will be offset by the current nature of horse racing, where less is more in terms of races. Even if a victorious American Pharoah races after the Belmont Stakes, he will make only a handful of starts, limiting the possibility for large-scale marketing opportunities.
"In horse racing, the stars come on the scene, you get attached to them for a short period of time and then they either go to stud or, if you get lucky, they race at [the age of] 4," the Greenwich, Connecticut, resident said. "You're not dealing with the volume of appearances that major sponsors want to latch on to. If a Triple Crown winner runs at 4, there could be some nice opportunities to capitalize on. I think the industry, like The Jockey Club, has done as good of a job as it can in terms of getting racing on television and raising awareness for the sport, and I can see a Triple Crown as another tool the industry can use for a while. But that's only for as long as American Pharoah continues to race. Once he goes to the breeding shed, it's over."
As monumental as Saturday could be for the sport, Trager says the Breeders' Cup could be equally important as the possibility of a Triple Crown winner pointing to the Oct. 31 Breeders' Cup Classic at Keeneland would give the series the ability to promote the presence of the kind of superstar it has lacked since its inception in 1984.
"It will definitely help the Breeders' Cup if American Pharoah wins the Triple Crown and then runs in it. It will give them a name to promote like they've never had before," Trager said. "It adds some interest and attaches a name that's very identifiable to the series. A lot of people will watch him and root for him in the Belmont Stakes and they'll root for him in the Breeders' Cup Classic. Having a Triple Crown winner will certainly elevate the marketability of the Breeders' Cup and increase awareness for the event and the sport."
Trager also sees numerous advertising possibilities for American Pharoah's connections if their horse prevails in Belmont Park's "Test of the Champion." Yet, unless American Pharoah can steal a page from Hannah Davis' horse in the DirecTV ads and learn to talk, this generation's Mad Men will not have another Derek Jeter or Michael Jordan on their hands.
"Somebody will find him, just like they found Itsaknockout in the Kentucky Derby and had the tie-in to the [Floyd Mayweather-Manny Pacquiao] fight," Trager said. "It's a fun name, a catchy name. It's a terrific name and draws attention with the younger crowd. But you really haven't seen big Wall Street companies team with racing for a significant partnership in a long time and that may not change."
While Trager does not envision a huge upswing in long-term marketing opportunities, he knows the spark ignited by a long-awaited Triple Crown sweep can only help the sport's fan base and, in terms of the big picture, that's not to be taken lightly.
"The nice part for racing is that because it hasn't happened in so long, people want to be there in case it happens. It's created something good for the sport because people want to see history," Trager said. "A Triple Crown winner can give racing a name it can promote in a short time frame. That can attract more fans because of the recognition factor and that's certainly beneficial."
May, 28, 2015
May 28
1:29
PM ET
ELMONT, N.Y. -- Christophe Clement is uncertain if American Pharoah will capture the Belmont Stakes and complete a sweep of the Triple Crown.
He's quite sure, however, that the Kentucky Derby and Preakness winner will face a formidable challenge from a "fresh" horse in the mile-and-a-half Test of the Champion on June 6 -- and he speaks from firsthand experience.
Just last year, the 49-year-old trainer ended California Chrome's Triple Crown hopes when he sent out Tonalist to win the 2014 Belmont Stakes as the California-bred suffered a cut foot and could do no better than finish in a dead heat for fourth.
Tonalist had not competed in the first two legs of the Triple Crown, and his victory left California Chrome's co-owner Steven Coburn so bitter and infuriated that in a nationally televised postrace rant, he smeared Tonalist and other horses that did not run in the Derby and Preakness, calling them "cheaters" and said they "took the coward's way out." Clement, of course, did nothing wrong, and a year later, he still brushes aside Coburn's outburst with no malice.
"He didn't finish second," he said about California Chrome, "so why should it bother me? If he had finished second, I might think about it more."
The French-born trainer merely followed a path that has become the best and most direct road to success in the final leg of the Triple Crown. Tonalist's victory marked the ninth straight year in which a horse that skipped the Preakness won the Belmont, and the way Clement sees it, that streak is anything but a coincidence.
"There's no doubt it's an advantage to have a fresh horse going into the Belmont," Clement said. "It is amazing what horses go through in the Triple Crown. They have the preps. Then they ship in for the Kentucky Derby and have a tough race. Then they ship to Pimlico for another tough race. Then they go to Belmont. It's three different tracks in five weeks. That gives the fresh horse a big edge."
The Belmont Stakes and Preakness could not be more different in terms of the résumé of the horses that have been victorious in them. American Pharoah was the sixth straight Preakness winner, and the 13th in the past 15 years, who also raced in the Derby.
Those numbers explain why American Pharoah's trainer, Bob Baffert -- who has won the Derby four times and the Preakness six times -- describes the middle jewel as "the easy one" in the series.
Baffert's one win out of nine Belmont Stakes starters underscores the degree of difficulty in the mile-and-a-half ordeal of the Belmont, especially for horses that had the Derby and Preakness on their dance card.
Afleet Alex, who won the Preakness in 2005, was the last horse who raced at Pimlico in the middle jewel, then prevailed three weeks later in the Belmont. He is also one of only three Belmont Stakes winners in the past 18 years who has raced in all three legs of the Triple Crown.
Of the past nine Belmont winners, five, like Tonalist, were making their first start in the Triple Crown. The other four raced in the Derby -- finishing no better than fourth there -- then rested for five weeks before they uncorked their winning efforts in the Belmont.
While Preakness winners like American Pharoah and California Chrome have just three weeks' rest between races and are making their third start in five weeks, 11 of the past 15 Belmont winners had at least four weeks of rest.
On another front, Tonalist was the second horse in five years to use the Peter Pan -- a graded stakes contested at Belmont Park four weeks before the Triple Crown finale -- as a steppingstone to victory in the Belmont. Yet Clement believes an extra measure of rest, as opposed to success over the racetrack, is the crucial element in the mile-and-a-half classic.
"I think being fresh helped Tonalist more than the race over the track," said Clement, who will not have a starter in this year's Triple Crown. "We had originally planned to run him in the Derby, but then we missed the Wood Memorial and the plan became to run in the Peter Pan and then the Belmont."
As much as American Pharoah was peerless in the Preakness and the Derby, it's the specter of those last nine Belmonts that has inspired confidence in the rivals lining up to face him.
Of the prospective challengers, only Preakness runner-up Tale of Verve raced at Pimlico.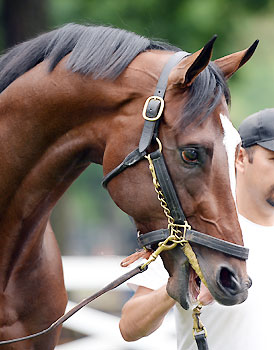 NYRA/Adam CoglianeseTonalist came into the 2014 Belmont Stakes fresh and walked walked away the winner.
Madefromlucky, trained by Todd Pletcher, finished nine lengths behind American Pharoah in the Arkansas Derby, but like Tonalist, he won the Grade 2 Peter Pan on May 9 and is making his Triple Crown debut. Ditto for The Truth Or Else, who finished 15¼ lengths behind the reigning 2-year-old champ in the Arkansas Derby and 10 lengths to the rear of him in the Rebel. He is coming off a May 22 allowance win at Belmont Park and is trained by Kenny McPeek, who ended the Triple Crown bid of Baffert's War Emblem in the 2002 Belmont with Triple Crown newcomer Sarava, a 70-1 winner.
Frosted (fourth), Materiality (sixth), Keen Ice (seventh), Mubtaahij (eighth), Carpe Diem (10th) and Frammento (11th) have not raced since finishing fourth or worse in the Derby and will have five weeks of rest heading into the Belmont. Materiality and Carpe Diem are trained by Pletcher, winner of the 2013 Belmont with Palace Malice, who also had five weeks' rest after finishing 12th in the Derby.
None of them are an Eclipse Award winner like American Pharoah. None of them can boast a six-race winning streak like the Zayat Stables homebred. None of them are in position to sweep the Triple Crown.
But they are fresh, and on June 6 that might matter most in the final furlongs of a mile-and-a-half test that will determine whether racing can finally celebrate a 12th Triple Crown winner or bemoan a 14th near-miss since 1978.
"I think American Pharoah was dominant in the Derby and Preakness," Clement said. "It would be great for racing if he could win the Triple Crown. But if there's something that can help the horses that he beat catch up with him, it's the extra rest they have."
And with those words, a large group of trainers will indeed "rest" their case for a victory in the Belmont Stakes.
May, 26, 2015
May 26
12:51
AM ET
ELMONT, N.Y. -- Billy Turner holds a unique position in this grand old world.
At age 75, he's the only person on Earth who can say he has trained a Triple Crown winner.
It happened 38 years ago, when Turner swept the 1977 Kentucky Derby, Preakness and Belmont Stakes with the undefeated Seattle Slew.
He wasn't all that surprised when, a year later, trainer Laz Barrera, who died in 1991, duplicated his feat with Affirmed. Yet after being part of a glorious period that produced three Triple Crown winners in six tries, he never even imagined that in 2015 he would be discussing a 37-year Triple Crown drought.
"I could see 10 years going by without a Triple Crown winner," Turner said Monday between races at Belmont Park. "But 37? Never. I never dreamed it would be that long."
With some racing luck, though, Turner could have some company in his one-man fraternity in less than two weeks. Trainer Bob Baffert will take his fourth crack at saddling the sport's long-awaited 12th Triple Crown champion when he sends out owner Ahmed Zayat's American Pharoah in the June 6 Belmont Stakes, and hopes across the industry are rampant that the reigning 2-year-old champion is the right one to end the long spell of disappointment.
After he followed up his one-length victory in the Kentucky Derby with a seven-length score in the Preakness, American Pharoah figures to be an odds-on choice in the mile-and-a-half Test of the Champion. That puts Baffert in a prime position to join Turner's "club," and the Rochester, New York, native chuckles at the prospect of finally opening the door to let someone in.
"Can you see me and Bob Baffert sitting around smoking cigars in the Triple Crown club?" Turner said with a laugh. "That would be quite a scene.
"Bob's a fine guy and great trainer who is focused on [the] Triple Crown, and I'd be happy if he did it. Over the years, there have been a few horses that came close that I didn't want to see win the Triple Crown. But this is really a good, good horse. In the Preakness, he was the only one who ran like a racehorse."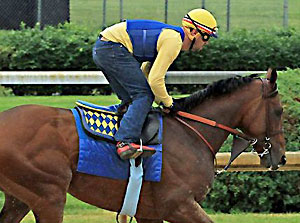 AP Photo/Garry JonesTrainer Bob Baffert has chosen to train American Pharoah at Churchill Downs leading up to the June 6 Belmont Stakes.
Turner calls American Pharoah the "dominant horse" among this year's 3-year-old crop, but he stopped well short of saying the homebred son of Pioneerof the Nile will complete the famed sweep. After witnessing 13 near misses with Derby and Preakness winners since 1978, Turner knows how difficult the final leg of the three can be and how imposing of a roadblock it can pose -- even for runners bound for the Hall of Fame.
"The best horse doesn't always win the Belmont," Turner says. "What happened last year [with California Chrome] was a classic example of that. He was the best 3-year-old back then, no question about it."
As impressive as American Pharoah has looked to Turner, he's troubled by Baffert's decision to train his Triple Crown candidate at Churchill Downs as opposed to Belmont Park.
"It puzzles me a little bit that they went from Pimlico to Kentucky and then will come up here. That doesn't sit well with me at all," said Turner, who still trains a small string of horses in New York. "[Trainer] Woody Stephens [who won five straight runnings of the Belmont from 1982 to 1986] proved you don't have to have the best horse to win the Belmont Stakes, all you have to do is train here. He was the proof in the pudding. He won the Belmont with two or three real good horses and then with two others who were ordinary. Why did those two win? Because they trained here around this mile-and-a-half track. If you're going out and galloping around this track every day, you don't need a race over it. When you train on that big track, horses feel at home on it."
Yet regardless of whether American Pharoah wins or loses in his upcoming date with destiny, Turner is adamant that the Triple Crown does not need tinkering. He bristles at the notion of changing the race dates or distances, and says it would be "ridiculous" to alter anything.
"If you want to make it easy, no one will get excited about it," Turner said. "It will not be the Triple Crown anymore."
Aside from the specifics about this year's race that can create a problem for American Pharoah, Turner says that over the years he has witnessed industrywide changes in training and breeding that have played a major role in the 37-year Triple Crown drought.
"Breeding has changed. The way we race and train our horses has changed," said Turner, who owns 531 career wins and recorded his last Grade 1 victory in 2000 with Gaviola in the Garden City Breeders' Cup Handicap. "The breeding is now oriented for the sales market rather than racing. Years ago, when the big families controlled breeding, they did it very well. They never bred a mare that had infirmities. Anything that bled was eliminated from the breed. Now if the pedigree is there, people will say we won't race it much, but we'll breed it, people will buy it for a lot of money and good luck to them.
"Horses don't race much at 2 and even at 3 much anymore. They are not trained that hard, and it's not that the trainers don't want to do it, the horses can't take it.
"The one that comes around and can stand the training, you won't beat him."
Perhaps that special colt that possesses both brilliant speed and hickory toughness has finally arrived and will prove his greatness at Belmont Park, just like Affirmed, Seattle Slew, Secretariat, Citation and seven other legendary runners. On June 6 we'll find out. Yet for the last living trainer of a Triple Crown winner, the time to give the fans in the 2010s the same Triple Crown euphoria fans in the 1970s experienced is long overdue.
"It's got to happen," he said. "It would give the sport such a boost, and you hate to see that on hold for so long."
At 37 years -- and perhaps counting -- the wait is indeed frustrating for anyone. Being all alone, like Billy Turner, only adds to it.
May, 17, 2015
May 17
3:02
PM ET
BALTIMORE -- The quick, reflex answer would be no. He can't do it.
Why should American Pharoah complete a Triple Crown sweep when so many other superb horses have mirrored his accomplishments in the Kentucky Derby and Preakness and then wilted when the pressure reached its zenith in the Belmont Stakes?
Why indeed?
After all of the teases racing has served up since 1978 -- 13 of them, to be exact -- logic actually dictates a cynical stance. But not this time.
Some 37 years later, Affirmed is about to get company.
Really.
Admittedly, it's much easier to build a case against American Pharoah than it is to support him.
After all:
1. Triple Crown candidates who wound up in the Hall of Fame were tripped up by the Belmont.
2. The grind of three classic races in five weeks is too difficult for modern-day horses, and gives a huge advantage to horses that sit out one or both of the first two races in the series.
3. Minor problems are magnified when they happen to animals as fragile as race horses.
4. Some who seemed invincible after the Preakness found the mile-and-a-half, "Test of the Champion" distance to be their kryptonite.
In 2004, Derby winner Smarty Jones demolished nine rivals by 11½ lengths in the Preakness. He brought an undefeated record into the Belmont and was sent off as an odds-on $0.35-to-1 choice. In layman's terms, he would have paid a minuscule $2.70 for a $2 bet. He led with a furlong left, but inexplicably settled for second behind 36-1 long shot Birdstone.
In 2008, Big Brown followed up his Derby win with a 5¼-length romp in the Preakness. He, too, was sent off the heavy favorite at 3-10 odds in the Belmont against a seemingly overmatched field, but he fell victim to a hoof injury and didn't even finish the race.
So why should American Pharoah, after his seven-length wipeout in the Preakness, fare any better than Smarty Jones or Big Brown?
There are several reasons, foremost of which involves the foundation his success has been built upon.
He has the perfect trainer in Hall of Famer Bob Baffert, who will be taking aim at a Triple Crown for a fourth time, extending his own industry record in that regard.
He also has been nothing shy of outstanding since his early days at the farm when he was a highly precocious yearling.
"From day one," Baffert said after the Preakness, "people were expecting this."
Some horses turn the corner and blossom at 3 years old, and that lack of seasoning explains why registering three straight classic wins is such a herculean task.
American Pharoah has been brilliant 24/7, with the lone exception coming on the afternoon of Aug. 9, 2014, at Del Mar. In his career debut, American Pharoah acted up in the paddock and never focused on the job at hand, finishing fifth in a maiden race.
Baffert put cotton in his colt's ears to help him deal with the clamor around him, and the problem was solved. Baffert was so sure that ear plugs would bring out the very best in American Pharoah that instead of trying another maiden race, he elevated the challenge for the homebred son of Pioneerof the Nile and entered him in the $300,000 Del Mar Futurity.
American Pharoah backed up Baffert's faith by posting a convincing 4¾-length victory, becoming just the third maiden in 67 years to win the Grade 1 stakes.
Since then, owner Ahmed Zayat's colt has been nothing short of exceptional in every race, so why should that roll stop now?
He's anything but a horse who has thrived at a highly opportune time and might be approaching the end of a form cycle. He's that rare breed of horse who has been able to be a champion at two and maintain his dominance at three.
Affirmed had that quality; so did Seattle Slew, Secretariat and Citation. They were the last four Triple Crown champions, and all of them were 2-year-old champions. Other than American Pharoah, since 1978, the only other horse to be an Eclipse Award winner as a juvenile and win the Derby and Preakness was Spectacular Bid in 1979.
If the legend is true, it took a stray safety pin to derail Spectacular Bid's Triple Crown run. So as long as the grounds around him are well-manicured, and the New York Racing Association does not bar earplugs, it's sensible to believe that on June 6, American Pharoah will prove he is cut from the mold of Affirmed and Co. as opposed to the 13 near-misses since 1978. The sting from so many days and years of having to hum Meat Loaf's "Two Out of Three Ain't Bad" after the Belmont surely makes it seem inevitable that something will go amiss this year as well.
Yet American Pharoah has already faced more than his fair share of obstacles on the Triple Crown path and could not be kept out of the winner's circle at Churchill Downs or Pimlico.
In the Derby, he faced the best field in decades and had been able to squeeze in just two yawners as his lone races since Sept. 27, 2014. He was hardly battle-tested.
His owner said he did not handle the racing surface at Churchill Downs. He raced wide after drawing Post 15.
All of them were a legitimate excuse for a defeat, and still he won by a length.
In the Preakness, he drew the rail and it was quickly noted that no one had won the Preakness from that post position since 1994. As a result, he would be inside of Firing Line and Dortmund, who were second and third, respectively, in the Derby, instead of outside them as he was in the Run for the Roses. That gave a tactical edge to those two since jockey Victor Espinoza was likely to put the Derby winner on the lead from the rail.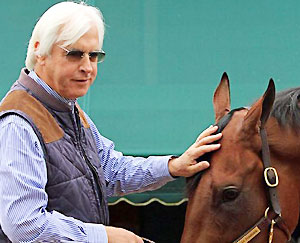 AP Photo/Garry JonesTrainer Bob Baffert shows American Pharoah the love after the Kentucky Derby champion ran to victory in the 140th Preakness Stakes.
Beyond that, a monsoon shortly before the Preakness turned the track into a sea of slop. Back in 1972, a wet track led to Riva Ridge's defeat which prevented the Meadow Stable colt from becoming a Triple Crown winner a year before his legendary stablemate.
None of that stopped American Pharoah, who not only won, but won decisively with mild urging.
His final times in the Derby and Preakness might not have been jaw-dropping, but he will not be running against Secretariat or anyone from the past on June 6. No one in his crop has been faster than him this year, and that's what matters most.
So once again, for the 14th time since 1978, it's time to believe again, and perhaps this time hope has finally found the perfect candidate. Maybe, too, the Preakness, in an odd way, has provided us with an omen of what's to come at Belmont Park in three weeks.
The lack of a Triple Crown winner for 37 years is often referred to as a drought, and there's no better way to end a drought than with the kind of storm that hit Pimlico on Saturday afternoon -- and the horse who so impressively handled those conditions.
Now, on June 6, it will be American Pharoah's chance to give his sport what it has thirsted for since 1978, and there's every reason to believe he'll do it.
It's finally time for racing to remember what it's like to have a Triple Crown champion to embrace.
A Pharoah is about to join racing's royalty.