Playing the name game with NYRA's stakes
February, 17, 2014
02/17/14
2:54
PM ET
While perusing the spring/summer stakes for Belmont Park the other day, thoughts of Red Buttons came to mind.
Some might remember Buttons as one of the characters in "The Poseidon Adventure" who actually survived in an upside-down ocean liner (excuse the spoiler). But in this instance, it was his work as a regular on the old Dean Martin celebrity roasts that was most pertinent.
Buttons' hilarious shtick was that he would question why the honoree was being given a dinner, pointing out how he and someone even more famous had never been given a dinner.
"George Washington," Buttons once said, "who said to his father 'If I never tell lie how I can become President?' never got a dinner."
Returning to racing, in increasing its stakes schedule from 37 added-money events in 2013 to 62 this year at Belmont, the New York Racing Association suddenly had a wealth of new events to name and a great opportunity to honor some of the circuit's greatest champions.
[+] Enlarge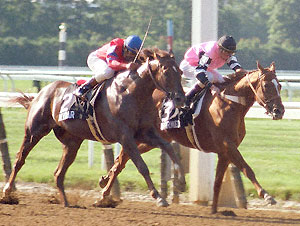 Robert Riger/Getty ImagesAffirmed, on the rail, and Alydar, red silks, gave fans a thrilling Triple Crown run in 1978.
And so, on Saturday, May 10, Belmont Park will present the inaugural running of the Diablo Stakes. Yes, the Diablo, remember him? Now if the race was being named in honor of a new zesty southwestern hot sauce that would be one thing. But here we have a horse, whose biggest win was a Grade 2 stakes, having a stakes named after him, while Secretariat, arguably the greatest horse to race at Belmont Park, doesn't. Nor does another Triple Crown winner, Seattle Slew, have a stake, but Gold Fever does.
Through this year's changes, there will also be 10 stakes on the Belmont Stakes Day card, but there's not one named for Affirmed and Alydar. Wouldn't that be a nice touch, to offer both the Affirmed and Alydar stakes on the same day?
Perhaps the most curious addition is the new $200,000 Pennine Ridge. Yes, THE Pennine Ridge has a stakes named after him.
The truth be told, I'm pretty familiar with Pennine Ridge. In a previous job with a Connecticut newspaper, part of my work involved writing about horses owned by Fairfield County residents. One of them was Allan Dragone, who was the NYRA Chairman of the Board and also owned Pennine Ridge, a pretty good turf runner who won a couple of graded stakes, the Jamaica and Hill Prince.
So I guess there are some people well-versed in Pennine Ridge's accomplishments, though I'm figuring if your fan base consists of nothing more than former turf writers for the Stamford Advocate you're talking about a crowd that could fit in a phone booth.
Admittedly, some of the names are linked to the conditions of the race, yet it's a shame many of New York's most famous horses ever do not have a stakes named after them. And while it's impossible to honor everyone, adding million dollar races and calling them the rather bland Belmont Derby and Belmont Oaks seems a wasted opportunity when there are current and future Hall of Famers who have not had a New York stakes named after them.
It's sort of like having a dinner for Dan Haggerty, when Maid Marian, who, as Red Button related, once said "I will not live in a house with a Little John," never got a dinner.
Beyond all of that, as much as some horses are being slighted, there are also some areas of New York that deserve some recognition and there is a major pet peeve for me in that regard. The new stakes schedule added Lynbrook and Rockville Center to previous areas of the Big Apple like Sheepshead Bay, Westchester and Times Square.
OK, but if Belmont's fall schedule undergoes a similar face lift, hopefully NYRA will do the right things and name a stakes after Queens Village.
Queens Village is a part of New York City that borders Belmont Park and, yeah, I was born there so this is personal. But I have to say for all the stickball games in my youth that were delayed because of traffic in the area on racing days, the least NYRA can do is acknowledge its next-door neighbor. It's understandable that Belmont Park's host town doesn't have a stakes (The Elmont Stakes might be confused with the Belmont Stakes, except for the extra 80,000 people that come out to see the Belmont Stakes) but it's time for Queens Village to get its long overdue inclusion on the stakes schedule.
I mean, Astoria has a stakes but not Queens Village?
Do you really need Red Buttons to ask why?