Back in the 1980's, New York Yankees owner George Steinbrenner chided one of his high-priced players by describing him as "Mr. May."
Perhaps that's why it's fitting that another illustrious member of the Yankees family, former manager Joe Torre, owns a share of Game On Dude.
On Saturday, Game On Dude, in a highly anticipated showdown in the $750,000 Santa Anita Handicap, looked like Mr. March, April, May and just about any month other than November, the time of year when the Breeders' Cup Classic is contested.
Racing on the afternoon of March 8, 2014 at Santa Anita Park, Game On Dude registered in the electrifying effort that was expected from him on Nov. 2, 2013 in the Breeders' Cup Classic at the very same Arcadia, Calif., track. He turned the Big 'Cap into the Big Mismatch as he ran seven rivals -- five of them who had beaten Game On Dude within the last four months or so -- off their feet in notching an impressive 1 ¾-length victory.
Last fall, the Breeders' Cup Classic loomed the final piece to an undefeated season and acclaim as the Horse of the Year for 2013. But the brilliance that Game On Dude showed twice in March in the Santa Anita Handicap, in April in the Charles Town Classic, twice in July in the Hollywood Cup and in August in the Pacific Classic was nowhere to be found.
An 8-5 favorite, Game On Dude was a dull ninth in the Classic, as Mucho Macho Man won by a nose over Will Take Charge in the $5 million Grade 1 stakes.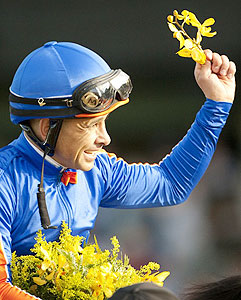 Benoit PhotoJockey Mike Smith helped guide Game On Dude to a third Big 'Cap win.
The loss cost Game On Dude any chance at an Eclipse Award and marked the second straight year in which an ugly loss in the BC Classic cost him any chance at an Eclipse Award.
After that 2012 loss at the Breeders' Cup, Game On Dude at least managed to put it behind him quickly as he closed out the year with a win in the Grade 3 Native Diver and then won the 2013 San Antonio at Santa Anita by 6 ½ lengths before romping to a landslide 7 ¾-length triumph for a second win in the Santa Anita Handicap.
Following his most recent Breeders' Cup debacle, though, life was not as smooth for Game On Dude. He turned in an excellent effort while losing to Will Take Charge by a head in the Clark Handicap at Churchill Downs just 27 days after the Classic. Yet after that, back at Santa Anita, he registered a head-scratching 5th-place finish in the San Antonio as a huge 3-10 favorite.
Memories in horse racing tend to be long, and those humbling losses in the BC Classic and last month's San Antonio no doubt explained why Game On Dude was sent off at 7-2 odds in Saturday's Big 'Cap while Mucho Macho Man was the 6-5 favorite and Will Take Charge was the 3-2 second-choice.
Bettors apparently thought it was November all over again.
But it was indeed March and Game On Dude once again blossomed.
Rushing out for the lead at the start, he reeled off blistering fractions as he battled with 20-1 shot Hearthe Ghost in the early stages. Once that longshot was unable to keep pace with the gallant gelding after a half-mile in 45.39 seconds, Mucho Macho Man and Will Take Charge made a move in unison toward the lead.
Neither reached it. Game On Dude continued to pour it on with six furlongs completed in a sprint-like 1:09.39. By the top of the stretch, Mr. Everytime But November was too "mucho" for "Macho" and the Breeders' Cup Classic winner began his fade to a fourth-place finish.
Will Take Charge came out a bit in the stretch and seemed intent on cutting into Game On Dude's lead, which stood at 1 ½ lengths with a quarter-mile to go, but the fractions took their toll on him as well. Unlike the Clark, when he ran down Game On Dude in the final yards, he failed to mount a serious bid as Game On Dude cruised to a decisive victory in 1:58.17 for the mile and a quarter that made him the first three-time winner of the Big 'Cap.
"To me, it's an emotional win for the horse. It kills me when they knock on him, but we came in here quiet and that's the way I like to come in," trainer Bob Baffert said. "We came in under the radar and we were ready for them.
"They went fast but he was rockin', he was rollin'. The Dude showed up." Of course, he did. Remember, it was March, not November.