Less may be more on Belmont Stakes Day
June, 5, 2014
06/05/14
8:24
PM ET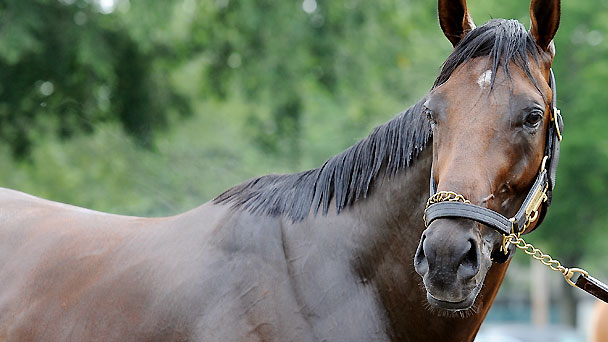 NYRA/Adam CoglianeseWinner of the 2013 Belmont Stakes, Palace Malice is back at Belmont Park for the $1.25 million Met Mile on Saturday's undercard.
On Saturday, under what is expected to be ideal weather conditions, Belmont Park could attract more people to its grounds than at any other time in a storied history that dates back to 1902.
The current record stands at the 120,139 who turned out in 2004 to see Smarty Jones bid for the first Triple Crown in 26 years but wound up watching 36-1 shot Birdstone beat him.
On Saturday, that mark could tumble as "The Chromies" descend on the Elmont, New York, track to find out if their hero, California Chrome, can become the first Triple Crown winner in 36 years.
In some corners of the racing world, there's wild speculation that as many as 130,000 people will try to find room somewhere inside the 445 acres of Belmont Park.
If they do, it will create an interesting question for New York Racing Association officials to ponder. Of the 130,000 or 120,000 or 110,000 who show up, how many will be there because of California Chrome and how many will be there because $8 million in purses will be offered during a 13-race card?
How about 99.9 percent vs. 0.1 percent?
The dynamic facing the NYRA is that it created the best day of racing in New York since the Breeders' Cup was held there in 2005 and it succeeded in building a tremendous card.
Saturday's $1 million Ogden Phipps promises to be one of the year's top five races with two-time champion Beholder taking on Princess of Sylmar and Close Hatches. The Metropolitan Handicap, uprooted from its traditional Memorial Day home, features a Horse of the Year candidate in 2013 Belmont Stakes winner Palace Malice.
In total, there's six Grade 1 stakes on the card. Yet the focus of attention is certain to be hogged by one race, the Belmont Stakes, and rightfully so.
Even at the Breeders' Cup, the final and richest race of the day, the Breeders' Cup Classic, is not necessarily the most important or anticipated race of the day.
Meanwhile, a case can be made that there's nothing to match the drama and excitement woven into a Triple Crown bid at the Belmont Stakes -- not even the Kentucky Derby itself. Those words might be blasphemy in bluegrass country, but the indisputable fact is there's a Derby every year, and at the present time we're looking at a Triple Crown sweep every 36 years or so. Which one pumps you up more?
Clearly there should be a focus on the Triple Crown at Belmont Saturday, and if it can hold its own against the Run for the Roses, how does any other race or collection of races compete with it?
The simple fact is, they don't.
So on Saturday evening, when the 146th Belmont Stakes becomes a part of history, the topic that will lead off conversations among racing fans across the nation and even the world will be California Chrome. Not the Ogden Phipps or the Met Mile. They will be afterthoughts that may enhance an unforgettable day or help soothe some of the disappointment of another Triple Crown tease. But they are just the undercard.
NYRA's idea was noble, and maybe it will help Saturday's gate, but the gut feeling is that if an attendance record falls it is because of California Chrome, not Beholder and Palace Malice.
Enhancing the Belmont Stakes card makes some sense as an insurance policy for those years when different horses win the Kentucky Derby and Preakness, yet it seems fair to say the added stakes are not enough to offset the gripping and grumbling likely to come from $100 and $50 parking fees and $150 ticket prices in a non-Triple Crown year.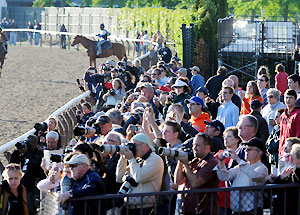 NYRA/Adam CoglianeseThe crowd that gathers at Belmont Park on Saturday will more than likely be there to see if California Chrome can win the Triple Crown no matter
what's on the day's undercard.
At this point, one year into the experiment, the $8 million in purses shapes up as overkill for a day that can sell itself on the back of one single horse: California Chrome.
The intentions were very good, but seeing how it turned out this year, NYRA would be wise to crunch the numbers and perhaps make some alterations.
NYRA spoke about creating a great weekend of racing and they succeeded in making Friday a highly attractive day by carding the $250,000 True North and the $200,000 Belmont Gold Cup Invitational, a unique 2-mile turf race that should be fun to watch.
Saturday's card speaks for itself.
To complete the weekend, NYRA scrapped the dark day -- a day without racing -- after the Belmont and added a card topped by the Intercontinental. Maybe it's me, but I can't see too many people spending an extra day in a New York City-area hotel to watch a $100,000 turf sprint for fillies and mares.
What might work better is to move the Met Mile and either the Ogden Phipps or Acorn and few other graded stakes to Sunday and give people a real reason to come out to Belmont Park a day after all of the madness. Perhaps tickets for Sunday could be bundled in a two-day package with Belmont Stakes tickets for a nominal $2 or $5 fee in hopes of getting newbies who enjoyed Saturday to give the sport another whirl. Maybe add a ceremony honoring the Belmont winner so fans can properly salute him -- or in some years, her.
Shifting a couple of races would also help generate more coverage in the mainstream media, as the Met Mile and Ogden Phipps seem doomed to just a minor presence in the eyes of New York-area outlets that will be saturated with not just Belmont Stakes news, but stories on the Rangers' Stanley Cup game as well as the Yankees and Mets.
Building up the Sunday card might even create a heavenly situation like the one in 1991, when Hansel and Strike the Gold staged an epic stretch duel in the Belmont Stakes and Meadow Star and Lite Light put on an even better race in the Mother Goose the very next day.
For now, though, there's no doubt Saturday will be a memorable day of racing and tremendous fun.
Soon we'll know if it was too much fun.