Tremont illustrates state of 2-year-old racing
June, 24, 2014
06/24/14
10:29
AM ET
Less than two weeks after another Triple Crown series ended at Belmont Park, a highly tentative first step toward the 2015 classics was taken in New York this past Friday.
If there was a crowd of 102,199 on hand about two weeks earlier for the Belmont Stakes, there were about 100,000 less fans who saw the Tremont, a $100,000 stakes for 2-year-old colts and geldings that illustrated how greatly interest in racing juveniles in the late spring has declined since the days when Triple Crown champions flourished.
And could there be a correlation between less racing at two and less of a foundation for a horse to withstand the rigors of the Triple Crown? After all, the last four Triple Crown winners were champions at two. Is less seasoning at two at least part of the reason behind a drought that will stretch into a 37th year in 2015 as the sport desperately awaits a horse great enough to sweep the Kentucky Derby, Preakness and Belmont Stakes.
A race like the Tremont says most trainers would disagree.
Absent from the New York Racing Association stakes schedule since 2008, the Tremont was supposed to return on Sunday, June 15, but was postponed because there were not enough entries to fill a stakes that was basically a non-winners of one allowance test.
The race eventually filled with five entries -- two of them first-time starters -- and was contested on Friday, June 20, with four starters when one of the first timers -- a New York State-bred filly -- was scratched.
The trainers of the four runners were Wesley Ward, who saddled the victorious Bessie's Boy, Jason Servis, Rudy Rodriguez and Dan McFarlane.
Ward has enjoyed tremendous success racing his 2-year-olds in the spring, a fact underscored earlier this week when he won the Windsor Castle Stakes for 2-year-olds at no less of a locale than Royal Ascot in England -- for the second time, mind you.
Ward's prowess with 2-year-olds, however, has yet to translate into serious success at three, though this year he did send out Pablo Del Monte to finish third in the Blue Grass Stakes and sixth in the Preakness.
Yet what stands out more than the presence of a Ward runner in the winner's circle was that nowhere to be found among the entries for the Tremont was a horse from trainer Todd Pletcher, the name most commonly associated with Kentucky Derby starters.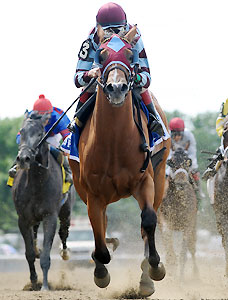 NYRA/Adam CoglianeseBessie's Boy only beat three in Friday's Tremont, but he could be a factor in the 2015 Triple Crown chase.
Most of the time, 2-year-olds are simply not ready to race in the early spring, but at least in New York it usually takes the glitter and glamour of Saratoga to bring a well-regarded 2-year-old out of the barn. Selling a 2-year-old race in May or June to most Big Apple trainers is harder than pedaling Boston Red Sox caps at Yankee Stadium.
It wasn't always that way, though.
Looking over the past winners of the Tremont, in 1977 it was won by Alydar.
Affirmed sat out that dance, though by June 20 of that year he was already a stakes winner.
Back in 1990, Hansel took the Tremont and went on to win the Preakness and Belmont Stakes. But in more recent years, it was mostly precocious juveniles with a sprinter's pedigree who showed up for the 2-year-old stakes at Belmont Park's spring meet and put the Tremont in storage until this year.
The popular notion to explain that change is that horses are no longer as durable as they once were. Yet is that a by-product of modern-day training methods or a change in the physical nature of the breed?
There are surely more weak and questionable bloodlines than a horseman could find 40 years ago, yet a historian need not research that far back to find a horse who started his career early in his 2-year-old campaign and was the star of a Triple Crown chase.
California Chrome, for those with very short memories, made his first start on April 26 of last year. By June 20, the date of this year's Tremont, he had already made three starts
Certainly that experience and seasoning at two didn't haunt him in the Kentucky Derby and Preakness. Some might contend he paid for it the Belmont Stakes, but one would think most owners would sign on the dotted line right now for a 2-year-old good enough to win next year's Derby and Preakness.
Beyond that, in 2004 Afleet Alex debuted on June 26 and by the end of July had raced three times. He nevertheless managed to be a powerful winner in both the 2005 Preakness and Belmont.
Clearly a 2-year-old who runs in May or June is not necessarily just a sprinter. And just maybe, the ability to handle sprints early at two and two-turn routes at three is a very reliable indication of a special level of talent in a young and developing race horse.
Special enough to win the Triple Crown or even one leg of the series? Who knows?
Yet one can only wonder if a light went on as horsemen perused California Chrome's past performances and saw his body of work at two. If it can work for him, why can't it work for a horse with an even more fashionable pedigree?
These may not be the glory days for 2-year-old racing but if there's a lesson to be learned from the 2014 Triple Crown, starting sooner can sometimes pay off later.