Boys eye Horse of the Year
October, 30, 2012
10/30/12
4:58
PM ET
If you tend to root for the guys in thoroughbred racing's battle of the sexes, then you finally have a reason to cheer. A subplot to Monday's announcement of the Breeders' Cup entries was that after three straight years in which a distaff runner was named Horse of the Year, a male will finally be named as the year's best performer. The final act in a reign that featured Rachel Alexandra, Zenyatta and Havre de Grace came when the connections of Royal Delta elected to race in the $2 million Breeders' Cup Ladies' Classic rather than the $5 million Breeders' Cup Classic. A win by the 4-year-old filly in the Classic might have enticed a large chunk of Horse of the Year voters to side with her, but now with a BC Ladies' Classic win as the highlight of her season, she'd lack the intangible that would have made her a plausible long shot candidate.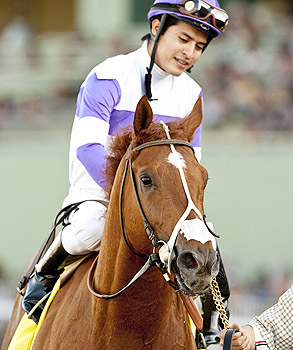 Benoit PhotoWill a strong first half be enough to bring I'll Have Another the Horse of the Year crown.
Now Wise Dan and Game On Dude could potentially be the best HOY candidates to emerge from the Breeders' Cup, with Point of Entry right behind them. Yet hovering over all of them is the rather large specter of Kentucky Derby and Preakness winner I'll Have Another, who was undefeated this year and might very well win the award regardless of what happens this weekend at Santa Anita. Fans of the sport's leading ladies, though, should not fret too much about this development as the two best races on the two-day, 15-race Breeders' Cup program just might be the Ladies' Classic and the Juvenile Fillies. To win the Ladies' Classic for a second straight year, Royal Delta will have to be at her best. Her competition includes two undefeated rivals, Awesome Feather (who is a Bo Derek-like perfect 10-for-10) and My Miss Aurelia (a not-too-shabby 6-for-6) as well as quality foes like Questing, Love and Pride, Include Me Out and Grace Hall. A victory would be a major accomplishment, but that would give her only four wins in seven 2012 starts, with none of them against males, which is not Horse of the Year worthy. Meanwhile, Awesome Feather and My Miss Aurelia would enhance their reputations by epic proportions with a win, yet neither has done much this year. Awesome Feather has started only twice and neither was a graded stakes, while My Miss Aurelia's two starts this year were in the Grade 1 Cotillion at Parx, a race restricted to 3-year-olds, and an ungraded, overnight stakes at Saratoga. With limited bodies of work like that, even a win along the lines of the Ladies' Classic would not seem enough to push them past I'll Have Another or a victorious Game On Dude or Wise Dan. The Juvenile Fillies, meanwhile, far outweighs the Juvenile -- its male counterpart -- in terms of drama and excitement. It features three undefeated runners in Executiveprivilege, Dreaming of Julia and Kauai Katie, as well as Beholder, who is coming off a dazzling victory in an allowance race at Santa Anita, albeit at 6 furlongs. The Bob Baffert-trained, California-based Executiveprivilege is also at home at Santa Anita, having won the Chandelier, the track's Grade 1 prep for the Juvenile Fillies, by 6 1/4 lengths. Dreaming of Julia and Kauai Kate, both owned by Stonestreet Stables, of Rachel Alexandra and Curlin fame, have shipped in from New York and to travel west and beat rivals like Executiveprivilege would be an impressive achievement. But not enough to make either Horse of the Year. In an ever-changing world, a lesson to emerge from the Breeders' Cup would be that thoroughbred racing's ladies remain the ones who provide the best entertainment. Only this time, in a revision of a long-running script, the Oscar will go to a guy. Fair, sometimes, is fair.