Stevens saddles up for a comeback
January, 4, 2013
01/04/13
7:10
PM ET
It's a fair question to ask. Do more people know Gary Stevens for portraying a jockey in movies like "Seabiscuit" or television shows such as "Luck" -- which should have been named "Bad Luck" -- or for actually being a Hall of Fame rider with 8 Triple Crown victories? Either way, Thursday's announcement that the 49-year-old Stevens would resume his riding career this weekend was welcomed news for a sport starving for anything other than bad news. In Stevens, racing has regained the services of one of its most recognizable and popular figures as well as one of its most successful competitors of all-time.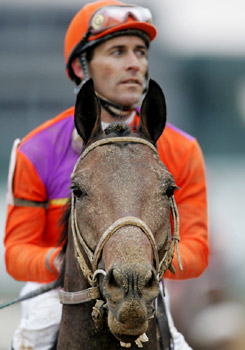 Horsephotos.comGary Stevens made his return to the track two months before his 50th birthday.
Stevens had few peers when he was in his prime. He won 4,888 races before retiring on Nov. 27, 2005. He racked up $221 million in his career and, as reflected in those Triple Crown wins and eight victories in the Breeders' Cup, was usually at his best when the stakes were at their highest. Now, considering he's about two months away from his 50th birthday, he surely will not be the same rider he was 15 years ago. He says he has absolutely no intentions of resuming his career on a fulltime basis. "I'm going to be selective in what I ride and if that means not riding at all or upsetting people, so be it," Stevens said Thursday in announcing his comeback. So don't bother looking for Stevens aboard a $7,500 claimer on a 100-degree day in early July. Nor will you see him atop the jockey standings at Santa Anita or Hollywood Park any time soon. Of course, that doesn't mean a collection of the nation's best jockeys will not be looking over their shoulder to keep tabs on Mr. Stevens. Some of them might be just one bad ride in a major stakes away from having a trainer dial 555-GET-GARY. With a 20-horse field a distinct possibility for the Kentucky Derby, it's hard to imagine nearly two dozen trainers unwilling to put a superb big-race rider like Stevens on their horse. If the comeback, which starts Sunday at Santa Anita on a $50,000 claimer named Jebrica, progresses smoothly and the painful knees that curtailed his career eight years ago does not interfere, it seems inevitable that Stevens will be riding in the Run of Roses instead of talking about it as an analyst for NBC. He may be older than when he was last seen in a race and much closer in age to his AARP card than his draft card, but there's little doubt he still knows how to win a big race. If you're uncertain, check the record books and look at the lengthy list of major stakes he's won. Better yet, just watch "Seabiscuit." Either way you'll see why racing should be delighted to have Gary Stevens back.