Rebel brings out the best in Lukas
March, 18, 2013
03/18/13
5:41
PM ET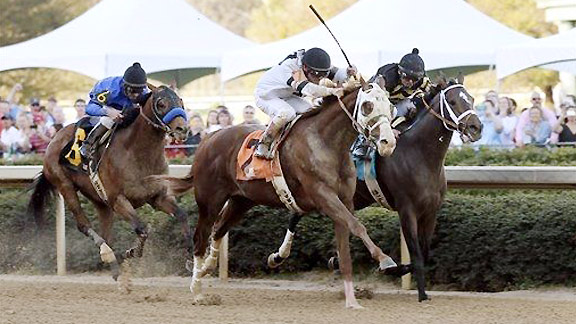 AP PhotoWill Take Charge beats Oxbow to the wire in the Rebel Stakes at Oaklawn Park.
The King is apparently alive and doing quite well, thank you.
No trainer has won more Triple Crown races than D. Wayne Lukas and only the legendary "Sunny Jim" Fitzsimmons can match Lukas' record total of 13 victories in the series.
He still sits atop the sport's all-time earnings list with slightly more than $262 million. Yet Lukas has not saddled a Kentucky Derby starter since 2009 and his last win in any of the three legs of the Triple Crown came in 2000.
Now 77 years-old, his wins in 2012 slipped to just 26 -- his lowest total since 1977 -- and time seemed to be finally winning the race with the 1999 Hall of Fame inductee.
Then Hightail scored a 15-1 upset in last fall's Breeders' Cup Juvenile Sprint, extending Lukas' record number of wins in the series to 19, and now this past Saturday, Lukas emerged from a key prep with not one but two bona fide Kentucky Derby candidates.
The indomitable Wisconsin native pulled a page out of a long forgotten playbook by sending out Will Take Charge and Oxbow to 1-2 finish in the $600,000 Rebel at Oaklawn Park.
"I was feeling pretty good 100 yards from the wire," said Lukas. "The competition was so tough. The hill gets a little steeper from this point."
It surely does, especially when the May 4 Kentucky Derby is rapidly approaching on the horizon. His long shot victory by a head in the Rebel was worth 50 points in the Road to the Kentucky Derby points chase and lifted Will Take Charge -- a 28-1 afterthought in the Rebel -- into the lead with 60 points. With only seven races on the schedule worth more than 50 points, that's more than enough to assure that Will Take Charge and Lukas will be at Churchill Downs on the first Saturday in May, even if the son of Unbridled's Song runs next on April 13 in the $750,000 Blue Grass at Keeneland, as reported by Daily Racing Form, and flops. Will Take Charge might even have company in Louisville from a rather consistent stablemate. Oxbow has finished no worse no fourth in four graded stakes appearances and won the $200,000 LeComte by more than 11 lengths earlier this year.
He picked up 20 points for his narrow loss in the Rebel and now has 36, ranking him 6th behind his fellow Lukas runner. With the remaining schedule offering two races worth 50 points and seven more awarding 100 and 40 to the top two finishers, respectively, chances are Oxbow will have his ticket to Churchill Downs punched at some point in the next seven weeks.
And if that happens, Lukas will return to the Derby in a manner quite reminiscent of the past -- with not just one hopeful but two.
From the look of things, deja vu might be in vogue all over again this May in Kentucky.