Toast of the Kentucky Derby
March, 26, 2013
03/26/13
12:07
AM ET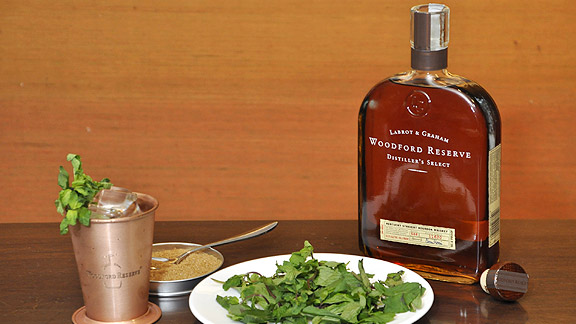 Woodford Reserve/Churchill DownsTrained mixologists can craft this Kentucky Derby speciality to any taste.
The Kentucky Derby is more than just a horse race. It is one of those rare sporting events that should be experienced and, in many ways, treasured by those who have developed a passion for everything involved in it.
Like so many others before and after me, I was basically a wide-eyed tourist on my initial trip to Churchill Downs on the first Saturday in May. Aside from eagerly awaiting "The Most Exciting Two Minutes in Sports," chunks of that trip were spent acquiring the standard array of keepsakes.
A hat, a T-shirt, a program, some betting tickets, even a copy of the local Louisville Journal-Courier newspaper; each, and more, were bought and put in a safe spot for transport back home.
Then, on Derby Day, to complete the experience, I ventured over to a beverage stand and bought the drink that has been synonymous with the Kentucky Derby since the race's inception in 1875, the mint julep.
Holding the souvenir glass and looking at that mint julep, it truly hit home that I was spending a gorgeous May afternoon in Kentucky, a few hours away from hearing about 125,000 people singing "My Old Kentucky Home" in unison and then watching the Derby live.
I raised the glass to my lips, took a sip … and spit it out on the ground.
"That's not an unusual response," says Chris Morris, the master distiller for Woodford Reserve, the official bourbon of the Kentucky Derby. "The mint julep is a drink people either love or hate."
Being a New York City native whose drinking days were ushered in by cans of "The King of Beers," I was clearly ill-prepared for this new taste sensation. Though my initial reaction was most definitely tilted along the negative end of the meter, I was hopeful enough to give it a second chance. Upon taking another swig, and this time swallowing, I reached a conclusion that I had been somehow given a potion filled with shoe polish and poured the drink out -- keeping the glass, of course.
Yet in Kentucky, there has been a deep and passionate love for the mint julep. What dates to its origin many centuries ago for medicinal purposes in the Middle East later evolved into a popular beverage of choice among the settlers in the region which would include Kentucky. As Morris tells it, many of the early farms in Kentucky also had stills to make bourbon, which spawned the adding of water, sugar and mint leaves to the whiskey to create the popular drink that became known as the mint julep.
"

Horse racing and the whiskey industry grew up hand-in-hand in Kentucky. It was a perfect fit given what the people of that area liked.

"

-- Chris Morris, Woodford Reserve master distiller
Given the area's penchant for horse racing, it was hardly surprising that a bond formed between the sport and the mint julep. Morris says as far back as 1816, horsemen were competing for a prize known as "The Mint Julep Cup."
"Horse racing and the whiskey industry grew up hand-in-hand in Kentucky," Morris says. "It was a perfect fit given what the people of that area liked."
Over the years, the association between the mint julep and the Derby has become so strong that somewhere in the neighborhood of 180,000 mint juleps will be sold at Churchill Downs on Kentucky Derby weekend.
Numbers like that -- and the lack of a river of discarded juleps in the grandstand -- clearly reflect why Morris says the three older drinks in America that are growing in popularity are the Manhattan, the Old-Fashioned and the Mint Julep.
Meanwhile, while Morris says some folks might add ginger syrup to the julep and others have developed a taste for a peach julep, little has changed in regards to the primary elements in a mint julep. Of late, though, Woodford Reserve has taken the drink to the extreme -- with a charitable kicker.
While supplies last, visitors to Churchill Downs for the Kentucky Oaks and Kentucky Derby (May 3 and 4) can purchase the "Ultimate Mint Julep" for $1,000.
As much as the price might prompt someone to spit out their favorite drink, proceeds have already raised $100,000 for charity and it certainly isn't your granddaddy's mint julep.
First off, the 135 Ultimate Mint Juleps on Derby weekend will come in a sterling silver or pewter cup with a 24K gold design. You can take in each sip from a sterling silver straw. Aside from the Woodford Reserve, there's sugar from Australia or Malta and imported Irish or Moroccan mints.
Even the ice comes from an exotic locale, like the Arctic Circle or the Bavarian Alps.
Finally, a trained mixologist will blend all of the ingredients to suit the taste buds of each customer -- which could be the answer for the haters in the crowd.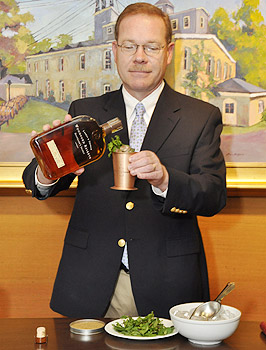 Woodford Reserve/Churchill DownsMaster distiller Chris Morris creates a "Classic" mint julep with Woodford Reserve.
Morris concedes that the mass-produced mint juleps sold at the track could be a sour way to introduce the uninitiated to the drink, and he offered a tip to make it a far more pleasurable refreshment. He suggested having one made at one of the track's bars, where the ingredients can be tapered to suit each customer.
"With the mint julep from a vendor, a batch might be too sweet or too minty," Morris says. "Plus people don't know what to expect the first time they try one. They have these exotic visions and then let's just say the taste surprises them.
"But when you have someone mix it for you, they can cut down or add more of certain ingredients and I'm sure it will be a much better experience and more people will like it. Having one specifically made for you is the best way to have a mint julep."
There is, or course, some logic to that. Bobby Flay will hopefully make a better hamburger than Ronald McDonald. Hopefully.
So perhaps one day, this racing fan will give the beer a rest in favor of one more stab at the Derby's favorite beverage, this time sampling a finely crafted mint julep -- and telling them to go light on the shoe polish and add in a little more sugar.
To be safe, though, I'll probably bring along one other item: a spittoon.