There are times when it's better to cover football than horse racing.
You see, being a turf writer at this time of year can be a humbling experience. Whenever people hear that someone covers horse racing, they inevitably ask, "Who is going to win the Kentucky Derby?"
And inevitably, the wrong horse is mentioned.
Unlike football, where a beat writer has a piece-of-cake 50-50 chance of selecting the winner of the Super Bowl, a turf writer has a 1-in-20 chance of correctly picking the winner of the Kentucky Derby.
If my math is right, that also amounts to a 19-of-20 chance of being wrong (though this year, due to the scratch of Black Onyx, it's now "only" an 18-of-19 chance of being wrong).
Thank heavens for small favors.
A white flag definitely would be in order against odds like that, yet surrender is not an option for any self-respecting turf writer. Making a selection in the Derby comes with the territory, regardless of the degree of difficulty.
So it's time for this turf writer to check his ego at the door and offer his Kentucky Derby selections in hope that this might be the year when everything falls into place at the betting windows.
We can all dream right?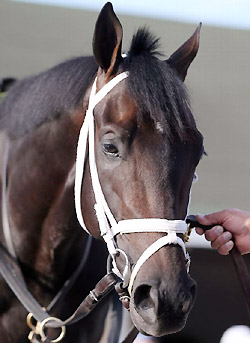 Getty ImagesRevolutionary could benefit from a wet track on Saturday at Churchill Downs.
For me, the best option in playing the Derby rests with Revolutionary.
Trained by Todd Pletcher, whose batting average in the Derby is hardly enviable, Revolutionary comes into the Derby off two highly beneficial preps.
In the Withers, he seemed to have little chance of hitting the board -- much less winning the race -- at the top of the stretch, then accelerated impressively when a small opening appeared, and won by a neck.
In his previous race, the Louisiana Derby, Revolutionary raced wide on the turn but still managed to again win by a neck.
After overcoming adversity in both of those races, Revolutionary and jockey Calvin Borel should be prepared for whatever obstacles are tossed in their path in the Derby.
It doesn't hurt, either, just in case Mother Nature decides to drop some rain on the sport's Old Kentucky Home, that he has the pedigree to love mud.
For second, I'm siding with Normandy Invasion. He also faced more than his fair share of adversity in his two 3-year-old starts, but was unable to find the winner's circle. A bad start and wide trip cost him in the Risen Star and the pace was too slow for him in the Wood.
If everything works out right Saturday, he should figure somewhere in the exotics.
Orb, the morning-line favorite, is the choice for third. There's certainly some concern because a filly, Kentucky Oaks favorite Dreaming of Julia, ran dramatically faster in an undercard stakes than Orb did in his Florida Derby victory.
Nevertheless, he's bred to handle the mile-and-a-quarter distance, and that gives him an edge over the rest of the bulky field.
Rounding out the selections is Overanalyze, who beat Normandy Invasion by a nose in the Remsen last fall at Aqueduct. After a poor showing in the Gotham, he looked sharp in winning the Arkansas Derby.
That's how one turf writer sees it. Just don't hold me too accountable for the opinions offered here. Until they come up with a 19-sided coin, picking the winner of the Derby is anything but heads-or-tails material.