Orb in good hands with McGaughey
May, 13, 2013
05/13/13
3:58
PM ET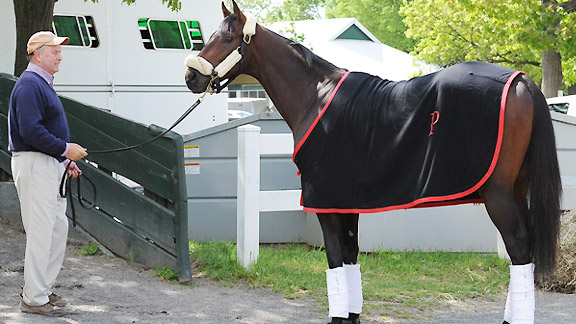 NYRA/Adam CoglianeseKentucky Derby winner Orb prepares to ship to Pimlico for the Preakness Stakes.
There are not many trainers who are well-versed in winning the Triple Crown.
Actually, just one can speak from experience.
While a few Hall of Famers have come close in the past 35 years, Billy Turner, who won the 1977 Triple Crown with Seattle Slew, remains the only living trainer with a sweep of the Kentucky Derby, Preakness and Belmont Stakes on his résumé.
In the course of the next month, Shug McGaughey will attempt to give Turner some long-awaited company, as he and Kentucky Derby winner Orb chase a prize that has eluded the grasp of such renowned trainers as Bob Baffert and D. Wayne Lukas.
Given the 35 years that have passed since Affirmed became the last Triple Crown champion, it will surely be a Herculean task to finally end the drought. Yet in this instance, the sport may finally have that magical combination of a horse who is a cut above his competition and a horseman with the proper skill set to guide that runner through the rigors of three classic races in an unforgiving five-week period.
While the 62-year-old McGaughey's Triple Crown experience might not match the volume of a peer like Todd Pletcher, his masterful touch in developing horses who thrive at two-turn distances can be seen in his lengthy list of champions and stakes winners.
Simply put, he was not voted into racing's Hall of Fame in 2004 for his prowess with sprinters. It was a reflection of his work with such distinguished runners at a mile or more as the undefeated filly Personal Ensign, Easy Goer, Inside Information, Queena, Heavenly Prize, Lure, Vanlandingham and Seeking the Gold, to name a few.
McGaughey's Triple Crown record also bodes well for Orb's chances of being fit for the task at each of the three races. It's surely a limited slate for someone who started training in 1979 and has been as accomplished as McGaughey. To date, he has saddled just 14 starters in the three Triple Crown races during his lengthy career. Pletcher, in contrast, has sent out 36 starters in the Derby alone -- and both men have one win in the Run for the Roses. Yet what stands out in that relatively small sample is that McGaughey has raced just two horses who have competed in all three legs of the Triple Crown -- Pine Circle in 1984 and Easy Goer in 1989 -- and each of them turned in their best performance in the last and longest leg of the series, the Belmont Stakes.
Pine Circle was sixth in the Derby and then fifth in the Preakness before finishing second at 26-1 odds to Swale in the 1984 Belmont.
Easy Goer looked like the dominant 3-year-old in 1989 until he ran into Sunday Silence, who beat him by 2½ lengths in the Derby. Two weeks later, Easy Goer was much more competitive but lost by a nose in the Preakness after making a premature bid for the lead.
In the Belmont, the third meeting in five weeks for the bitter rivals, it was a mismatch -- in Easy Goer's favor. There was no sign of fatigue in Easy Goer as he romped to an 8-length win over Sunday Silence.
There were no doubt extenuating circumstances in both cases, yet they at least give off an indication that if Orb can handle his foes in the Preakness on Saturday, McGaughey will have him fit and ready for the final and most grueling part of the challenge.
He may not be able to talk about being an expert at it -- only Turner can -- but if there's someone else who can coax three classic wins out of a 3-year-old colt in the spring, there's an excellent chance that Shug McGaughey can do it.