Another dark day for the Triple Crown
May, 18, 2013
05/18/13
9:47
PM ET
The laws of probability say that, at some point in time, someone is bound to sweep Thoroughbred racing's Triple Crown.
The heart tells a different tale.
On Saturday, the dark gray skies that cloaked Pimlico throughout the track's Preakness Day card fully captured the sense of gloom about what should be a sport's most joyous moment.
Orb, who seemed such an exciting Triple Crown contender at dawn on Saturday, proved at sunset to be no different in one regard than every other Kentucky Derby winner since 1978. Despite being a 3-5 favorite in the Preakness -- the middle jewel of the series -- Orb could do no better than finish a well-beaten fourth, some nine lengths behind a victorious 15-1 longshot named Oxbow.
He, like horses such as Spectacular Bid, Alysheba, Sunday Silence, Funny Cide, Smarty Jones and Big Brown, to name a few, was unable to complete the arduous task of winning three Classic races in five weeks.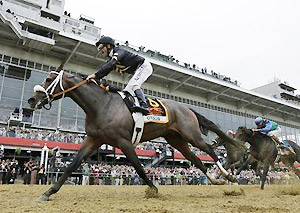 AP PhotoOrb, the favorite, could not get close to Preakness winner Oxbow and jockey Gary Stevens.
Now, much to the chagrin of an industry starving for a champion of epic proportions, the Triple Crown drought will stretch into a 36th year in 2014 when someone else will win the Derby, ignite glorious dreams -- and then probably fall short of a sweep.
Over the years, horses have come much closer to a Triple Crown sweep than Orb did. Derby and Preakness winner Real Quiet lost the 1998 Belmont by a nose, thwarting his bid.
Yet Orb seemed destined for much more than just coming close. He won the Derby as a favorite, cementing his superiority as the best 3-year-old. He was trained by Shug McGaughey, who has built a Hall of Fame career off having his horses in the peak of condition for famed graded stakes races at a mile or more. His jockey, Joel Rosario, is in the midst of a hot streak, the likes of which few riders have ever enjoyed.
And still, with the stars seemingly aligned so perfectly, Orb could not do what Affirmed accomplished in 1978 when he became the 11th -- and last -- Triple Crown winner.
He joined the likes of past Derby winners like Animal Kingdom, Super Saver, Mine That Bird, Street Sense and Giacomo, whose Triple Crown quest could not endure the second of three legs.
Even though it seemed so certain he would win at least the first two legs.
Instead, the wait goes on and will now extend past 3½ decades -- with perhaps more years of disappointment to come.
Logic might say otherwise, but the heart told a different tale on yet another Saturday when visions of a Triple Crown once again seemed as distant as a star in a far-off galaxy.