Wise Dan: Familiar but different
September, 14, 2013
09/14/13
5:31
PM ET
North of the border on Sunday, Wise Dan will take another step along a rather familiar path. For the second year in a row, he'll run in the $1 million Woodbine Mile. Which comes after the reigning Horse of the Year won the Fourstardave at Saratoga for a second year in a row. Afterwards, if all goes well in Canada, there's a strong chance he'll end his season in the same place he did last year, the Breeders' Cup Mile at Santa Anita. Yet for all the similarities, even if Wise Dan closes out 2013 as successfully as he did in 2012, there's no guarantee that he'll exit the year with the same acclaim as he did a year ago. As fall approaches, Thoroughbred racing currently has two major stars that are undefeated in 2013, though they have followed dramatically different courses. Heading into Sunday's race in Canada, Wise Dan has run in nothing but turf races, none of them longer than a mile and an eighth or worth more than $500,000.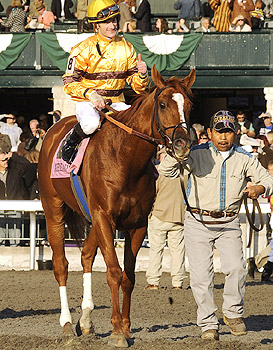 Horsephotos.comWise Dan was the best in the 2012 Breeders' Cup Mile at Santa Anita.
Meanwhile, Game on Dude has won all five of his starts on dirt and synthetic surfaces, three of them in Grade 1 stakes and four of them with purses of $500,000 or more. His wins include the Pacific Classic, Hollywood Gold Cup and Santa Anita Handicap -- three of the sport's most famous races -- and his margin of victory in the three is a combined 17 ¼ lengths. Both may be undefeated, but Game On Dude has clearly faced the greater array of challenges. So much so that unless Wise Dan runs into and defeats a European superstar in the Breeders' Cup, Game On Dude might be able to suffer a narrow defeat in the Breeders' Cup Classic and still be the Horse of the Year in some voters' eyes. The big difference in a year of similarities involves the early part of Wise Dan's 2012 and 2013 campaign. A year ago, Wise Dan opened the year by winning the Ben Ali on Polytrack at Keeneland by more than 10 lengths and then faced top handicap runners on dirt in the Grade 1 Stephen Foster at Churchill Downs. Wise Dan lost by a head in that race, but endured such a miserable trip that he seemed the best horse in the field. Wise Dan then closed out the year with four straight wins on turf, but that diversity and willingness to race on any surface played a central role in generating support for his Horse of the Year campaign. Now, in 2013, Wise Dan has stayed squarely within the confines of his comfort zone. He has given away a sizeable amount of weight to his foes, yet his connections have opted for races lacking in tradition and notoriety and pitted him against mediocre competition -- for a champion. Even the Woodbine Mile, with its $1 million purse, attracted only a field of six with the two top challengers shaping up as Grade 3 winner Za Approval, who was second in his lone Grade 1 start last time out, and European invader Trade Storm, who was no better than fourth in three Group 1 stakes overseas. It's not a mismatch, yet it's hardly a challenge befitting a Horse of the Year -- or a future Horse of the Year. In a few more months, when all is said and done in 2013, it will be interesting to see how both Game On Dude and Wise Dan handle their most important tests on the grand stage of the Breeders' Cup, and how much slack Game On Dude will receive. Given the degree of difficulty that weighs so heavily in Game On Dude's favor so far, it seems unfair to ask him to match Wise Dan win for win In the end, how Eclipse Award voters respond to that dilemma could very well determine if 2013 does indeed finish up in a highly familiar fashion for Wise Dan.