Wise Dan shines brightest of them all
November, 4, 2013
11/04/13
12:31
AM ET
Eleven months later, through the course of more than 400 Grade 1 stakes, the Triple Crown, the glamour meets at tracks like Saratoga, Del Mar and Keeneland, and the Breeders' Cup, horse racing seems destined to end 2013 exactly as it entered it.
Wise Dan came into this year as the Horse of the Year and in all likelihood he'll leave it with another crown in tow.
Through the course of a fabulous 30th edition of the Breeders' Cup, numerous horses saw their chances of becoming one of the sport's champions slip away against the picturesque backdrop of the San Gabriel Mountains. Some were unable to handle a racetrack that at times was supremely kind to speed. Others were exposed as simply not being good enough to receive an Eclipse Award.
Then there was the select few that faced and overcame the challenges inherent in million-dollar purses that attracted the best possible competition, and Wise Dan topped that list.
Game On Dude came into the Breeders' Cup as the consensus choice to be named Horse of the Year. He had won all five of his 2013 starts, three of them in renowned Grade 1 stakes. In the last National Thoroughbred Racing Association poll, he attracted 37 of the 43 first-place votes. Wise Dan had five of them and Princess of Sylmar, the 3-year-old filly, was the only other horse to receive one of them.
The first featured event of the two-day series, the $2 million Breeders' Cup Distaff, saw Princess of Sylmar fall out of the HOY race when she checked in last in a field of six.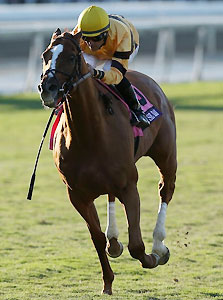 Jeff Gross/Getty ImagesTwo-time Horse of the Year Wise Dan worked five-furlongs at Keeneland Tuesday morning.
A speed-favoring track can be blamed for her inability to race like the filly who had previously won the Beldame, Alabama, Coaching Club American Oaks and Kentucky Oaks in succession. Yet in the final and richest race of them all, the $5 million Breeders' Cup Classic, that excuse was not available for Game On Dude.
Speed had been the name of his game, such as when he went gate-to-wire to win the Pacific Classic at Del Mar by 8½ lengths or the Santa Anita Handicap by 7¾ lengths.
He was on the lead in the Classic, racing in front by a half-length through an opening quarter-mile in 23.39 seconds. He was soon passed by 2012 BC Classic winner Fort Larned and Moreno in a three-way duel and by the time the field turned into the stretch he was gassed, retreating to ninth in a field of 11. While the victorious Mucho Macho Man, Will Take Charge and Declaration of War were engaging in an unforgettable blanket finish, Game On Dude wound up about 11 lengths behind them, beating only a 32-1 shot and a 43-1 shot to the wire.
For a second straight year, he had been favored in the BC Classic and once again the race proved to be a miserable failure for him. A year earlier, he had finished seventh, beaten by an embarrassing 15 lengths.
The margin was less this time, but the manner of defeat was equally humbling. One race prior to the Classic, Wise Dan did his part. He overcame a stumbling start to rally in the final furlong and capture the BC Mile for a second year in a row.
It was hardly an outstanding field. It lacked a European star that would have made the three-quarters of a length triumph even more impressive. But in the end, it was a win, something Wise Dan does on a regular basis.
He's won six of seven starts this year, three of them Grade 1 stakes. He lost only when he ran second in the Shadwell Turf Mile that was switched to Keeneland's main track.
He and Game On Dude may have each suffered one defeat this year, but Wise Dan was far more competitive in that one setback. Game On Dude might have been able to claim Horse of the Year honors if he was one of the three horses that hit the wire inches apart in the Breeders' Cup Classic. But in finishing so badly beaten -- for a second straight year -- the consensus of opinion in what basically amounts to a beauty contest swung in a different direction.
It swung to Wise Dan, who won the Breeders' Cup Mile once again and probably nailed down an even bigger prize for a second-straight year as well, Horse of the Year.