Category archive:

HorseRacing
June, 8, 2012
06/08/12
11:44
PM ET
ELMONT, N.Y. -- I moved to New York right after the Kentucky Derby, so I've been here about five weeks. I went to the Preakness three weeks ago and last week I went to Canada, but other than that, I've been working on getting things settled and building up my business. I actually love the area and the life in New York. I'm used to a more relaxed pace, but we have a nice apartment, and if we want to go out to dinner, we just walk to restaurants; we don't bother taking the car. There's a lot of stuff to do here and great places to go, and I feel very much at home. I've ridden at New York tracks before, and I've always had success during the Saratoga season, which is actually where I rode my first winner, in 2005. Things are a little slow for us here at Belmont right now, but we didn't come here expecting to do as well as we did at Churchill Downs right at the beginning. It's going to take time for us to get going, so we're working for it and happy to have the chance. I go out in the mornings, and right now Ken McPeek and Christophe Clement have been the most business for me, but I'm riding for other guys as well. McPeek is a Kentucky-based trainer, and the horse I'm riding for him in the Belmont Stakes, Atigun, is one I rode at Churchill on Kentucky Derby Day. This is a nice, good-looking horse. He's probably going to just be in the back of the pack. He doesn't have to be last, but he's probably going to be sitting off the pace. When I rode him at Churchill that day, he won pretty easily, with a big sweeping move. I hear he's been working very well over the track, so we'll see what happens -- first time going a mile and a half, and you never know in this kind of race. People ask me how I feel about being taken off Union Rags, and I pretty much just tell them that it's part of the game. What happened in the Derby was unfortunate, but every jockey goes through this kind of thing at one point or another; it's not just me. I have to kind of turn the page and try to win the race with this new horse, and just be excited I have the opportunity. This will be my third Belmont; I finished third in 2008 with Anak Nakal and ninth in 2009 with Flying Private. I have a shot to win it, and you can't win it if you're not in it!
BALTIMORE -- It's a pretty easy flight from New York to Baltimore -- about an hour long. I got here around 6 p.m. Thursday and was already looking forward to heading out to the track to see my Preakness horse and the other runners I'll ride at Pimlico this weekend.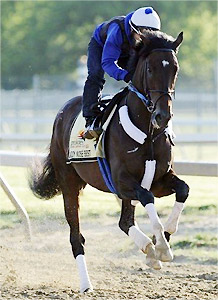 AP PhotoDaddy Nose Best works under exercise rider Mike Callahan.
This week in Baltimore is always fun because of the whole Triple Crown atmosphere. Everybody is still excited, thinking maybe we'll have a Triple Crown winner every time the Derby winner is entered. Then if the Derby winner takes the Preakness, it's an even better atmosphere. If not, you can almost feel an attitude of disappointment after the race from everyone except the connections of the horse that wins. Fans want a Triple Crown winner, and a lot of people in the sport do too. The first time I rode in the Preakness was in 2008. I finished second to Big Brown that year on Macho Again. My horse won the Derby Trial at Churchill Downs before that, and I remember the race I rode at Pimlico on him. I came from behind on the outside around the second turn and finished as the runner-up. That was the best finish so far -- my other Preakness mounts have been ninth (General Quarters in 2009), 11th (Pleasant Prince, 2010) and fourth (Dialed In, 2011). This Saturday, I'm reunited with Daddy Nose Best. I won the El Camino Real Derby and the Sunland Derby on him earlier in the season. Both times he came from mid-pack to take the victory. I think the horse has matured a lot from a 2-year-old to a 3-year-old. He's a big, happy horse, and I remember in the post parade he was always feeling full of himself -- like I said, happy. When he was a 2-year-old, he acted like a big baby. He got over it this year. He's growing up. This horse is very good on dirt and I think the distance will help him a lot. Any race at a mile and an eighth or over is going to be right for him. The connections have been clear that the horse came back from the Derby in excellent shape, and I think he's got a great shot to be competitive and hopefully win the race. The owners and trainer Steve Asmussen wouldn't run a horse back from a 10th-place finish in the Derby unless they thought he had a really great chance, so it's a good sign for me and a good sign for the betting public. I haven't studied the past performances of every horse in the race yet, but I know two things for sure -- Bodemeister will be in front of me, and I've got to be in the middle of the pack. We'll go from there!
I was very happy Wednesday to learn that Union Rags drew post position 4 for Saturday's Kentucky Derby. I feel like we definitely have options from that post. There's obviously a lot of speed in the race, and I think that's great. The faster they go up front, the better it is for us. Everything I hear from trainer Michael Matz is that the horse is doing extremely well. He came out of his workout on Saturday nicely and has just gone out for some easy gallops this week. I couldn't be more pleased with the way he's been training. I'm very hopeful that this will lead to a great run on Saturday. I'm really happy that my mom is coming to the Derby. It'll be her second time attending the Run for the Roses. She loved it the first time. She'll be looking on with my fiancee, Shea. I'd love to win this race for the two special ladies in my life. I'm also very excited about my new partnership with Stella Artois. I'll wear their logo on my pants on Saturday afternoon. They've been a really good friend to racing over the years. It's a natural fit because Stella Artois is all about tradition, kind of like racing. They've been in business for more than six hundred years -- and during that time, they've amassed a sterling reputation. It's great to have them as the official beer of the Kentucky Derby, and I'm proud to be representing them in the great race. This will be my sixth consecutive Kentucky Derby. I can't say I really get nervous. Obviously, there's always a lot of pressure on you in the Derby -- especially when you're riding a horse as talented as Union Rags. But I'm feeling much more excited than I am nervous. I'll be able to get a good night's sleep on Friday. Last time I blogged, I asked you to leave some questions, and I'm happy to see that you did. One reader asked about taking off Daddy Nose Best to ride Union Rags. It was a tough decision, for sure. I really like Daddy Nose Best, and think he has a great future as the distances get longer. In the end, though, I just felt Union Rags was the best choice for me. Another question you sent me dealt with my prerace routine before the Derby. For sure, it's quite different from any other. There are almost two hours in between the Woodford Reserve Turf Classic and the Derby. There are some prerace obligations to fulfill. We take the official Kentucky Derby jockeys photo and sign autographs for charity and things like that, but there's also plenty of downtime. My main focus before the Derby is to just try to stay loose. I'll probably end up just watching a little TV. Thanks so much for your questions, and please continue to leave them for me. I look forward to getting a chance to answer some more after the Derby.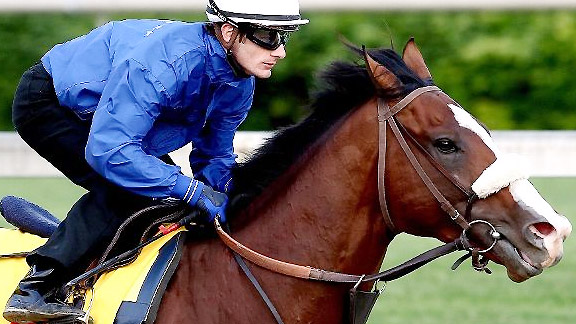 Matthew Stockman/Getty ImagesUnion Rags and jockey Julien Laparoux get some excercise Saturday morning.
LOUISVILLE, KY -- I got to Michael Matz's barn a little bit before 8:00 a.m. today to ride Union Rags in his last breeze before the Kentucky Derby. The track opens for training after the break at 8:30 a.m., but Michael likes to take a good walk over the grounds on the way, so he asked me to head in a little bit earlier to do that this morning, too. There were a lot of people watching and following us, and a lot of them had cameras and video equipment, but Union Rags was just relaxed and posing for pictures. He's a very laid-back horse; he just stands there. We spent maybe five minutes in front of the track before it opened and he didn't even move hardly at all, maybe one little step. There were even a few horses in front of us getting a little bit anxious to get to the track, and one guy was unseated but didn't let go of the reins, so that was good -- the horse wasn't loose. Union Rags just watched it and stood there and didn't move. He's definitely very smart. Michael rides out to the track all the time with his horses -- he was a three-time Olympic Equestrian and is a very, very good rider. I definitely have a lot of respect for him. He backed up with his Oaks filly And Why Not, so Union Rags and I just followed him. He likes to be on his pony and watch the breeze and I think it's great, nice for him to be by himself and focus on watching them train. We backed up jogging to the eighth pole and then we stood for a little bit until we had a clean shot. Once I found an opening, I turned him to start galloping and we went ahead to breeze. I think everybody who saw it would say it was pretty good, :59 4/5 for the half mile. It was how we wanted to do it; he broke off very nicely and finished strong all the way to the wire, and he galloped out good, six furlongs in 1:13 4/5. He's the kind of horse who would go 1:12 if you wanted him to, but Michael wanted me to go a little easier than that with him. He does whatever you want, really. We just wanted a good, solid breeze before the race. Tonight is night racing at Churchill Downs and yesterday we wrapped up the meet at Keeneland. It was great to win the riding title there because it's one of my favorite meets. The six-win day I had on April 21 was pretty special too -- that equaled a record that's been around for 22 years, so it meant a lot. For a jockey it's definitely a goal to be leading rider at every meet you go to, so it's nice to see it happen and I owe a lot to the connections of all the horses I rode. Keeneland is something special, the trainers are good, the horses are nice, and the meet is short and enjoyable. Last Tuesday I got a chance to pay a visit to Old Friends Equine, a retirement home for horses in Lexington. Ball Four retired there, and he's a horse I enjoyed riding and had some special memories with. Usually I go back to Louisville on dark days when I'm riding at Keeneland, but this time my fiancé and I stayed in Lexington and had a nice day with lunch and went to see the horses at the farm. It was good, a nice day out, and it was great to see Ball Four there and happy. He's got some friends in the paddock and he's healthy and looking good. I think it's very important what they do there. If you look at what horses they have, they have some Grade 1 winners, but they also have runners that have never won a race. I wish they all had a chance to get a nice home after their racing careers. The ones that wind up there are definitely very lucky. Tomorrow kicks off the beginning of Derby week and the next big thing for us is the post position draw on Wednesday. I'll have thoughts on whatever post we get with Union Rags -- if you have any questions for me, leave them in the comments box and I'll try to answer!
LEXINGTON, KY -- The Kentucky Derby is only nine days away now, and I'm starting to get really excited! Union Rags is a fantastic horse. I've ridden him twice in 2012, and he's really impressed me both times. Even in the Florida Derby, despite the fact that he lost, I don't think the race took a lot out of him. The main thing is that he came back sound.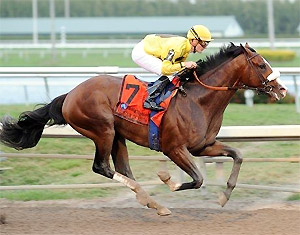 AP Photo/Gulfstream ParkUnion Rags and jockey Julien Leparoux win the Feb. 26 Fountain of Youth.
I participated in the NTRA Communications conference call the other day, and one of the reporters asked me if I felt pressure because of the criticism that I faced after the Florida Derby -- but I'm really past that now. My focus is on getting Union Rags in a position to win. Hopefully, he'll be good enough. This race seems like it sets up really well for us. Hansen, Trinniberg, Bodemeister, and Take Charge Indy all figure to be on or near the lead. There's definitely going to be some pace for us to run at; there always is in the Derby. When he's making his run, I feel he has the ability to find another gear if he gets stopped in traffic. And once he gets in the clear -- watch out! His kick is just awesome. As far as the distance, ten furlongs is a question for us just like it is for the rest of the field, but I like my horse's chances at staying on. The key to going that far is to get a good, clean start. If you can get a good start, your chances at staying the distance are a whole lot better. It's a very exciting time for me. Not only is the Kentucky Derby coming up, but I'm also finishing up the meet at Keeneland as leading rider and getting ready to move my tack to New York. I rode the New York circuit a little bit as an apprentice and I've been riding at Saratoga the past few summers, but this is the first time as a journeyman that I'll be there full-time. It's going to be a tough challenge since there are so many great jockeys who ride in New York, but I feel I'm ready. I made a lot of connections with the New York based trainers when I was down at Gulfstream this winter. I'm hopeful that I'll be able to attract a lot of business, but that'll be next down the road after Louisville. Right now, the Derby is the thing. I hadn't even seen the Derby on T.V. until 2002. They had never shown it in France, where I grew up. And of course, it was a treat to watch. Seeing it in person for the first time in 2004, though, took my love to a whole new level. It was amazing to watch. Ever since then, it's been the race I've dreamed of winning.
HALLANDALE, FL -- One week after the Fountain of Youth, I'm still really excited and happy with Union Rags. It's a great feeling to have this kind of horse, especially leading up to Kentucky Derby time. Michael Matz didn't really tell me any detailed directions before the race, basically just break good, see where he puts you in the race, try to get a good spot and see what happens. He broke very sharp and put me into the race in a great position; he made it easy for me. I really just sat on him pretty much all the way around there, got him out and asked him to make a move, and he did it very nice and easy -- as anyone who watched the race will tell you, he won very impressively. I didn't ever use my whip. I wish more horses ran like him; that would make my job a lot easier. I knew he was going to run a good race, but it's always difficult to come back in the first start of the season and having time off in-between. So everybody was very excited and very happy with the race, just the way that he did it, how professional he was. He never drifted out in the stretch; he was perfectly straight -- he did it like an old horse, a seasoned professional. On Twitter and Facebook it's two extremes now. On one had you have people saying he's the next Kentucky Derby or Triple Crown winner, and on the other hand you have people saying he didn't beat anybody in that race and he's not going to get the distance of the Derby. To me he's a very good horse. It's a long time between now and the Derby, so I hope everything goes good and he stays healthy, and if he does he's got a great chance. The distance will not be a problem at all, he galloped out very well. I didn't have any big stakes mounts with 3-year-old implications this weekend. Next weekend I'll ride the Sam F. Davis stakes winner Battle Hardened in the Tampa Bay Derby for Eddie Keneally. I might ride the Sunland Derby this month -- and of course everything can change when my agent talks to trainers every morning. I'm looking forward to Keeneland starting April 6 as well. I think there are a lot of very talented 3-year-olds in this year's crop. You have the usual guys with a lot of good ones -- Todd Pletcher, Bob Baffert, Steve Asmussen -- and then there are lots of people who maybe just have one that's really nice. Where jockeys are concerned regarding 3-year-olds, it's always very competitive. Everybody tries to get a horse for the Derby. Like I said, I'm scheduled to ride a few others, but I got lucky to get on Union Rags and he's the one I have right now that showed me the best so far. I want to go anywhere he goes -- at least, that's the plan!
November, 5, 2011
11/05/11
12:32
PM ET
LOUISVILLE, Ky. -- For me, the Breeders' Cup has always been a special event. I remember when I was a kid and used to watch it with my dad every year. We'd have a big party at the house, so it is very special to be able to ride in the event now and win. It's just amazing. These two days of races are like the Kentucky Derby, but magnified. All the key players from North American racing are here, and all the world is here for it, too. If I weren't riding in the Breeders' Cup Mile, I'd be rooting for Goldikova, just because if she gets her fourth straight win in that race, it would be very special. I hope I beat her, and Turallure is one of my favorite horses this year. But if I cannot win the race, I wish she wins it. My first Breeders' Cup race was in 2006. I won my first one in the 2007 Juvenile Turf with Nownownow, took the 2008 Filly & Mare Turf with Forever Together, won the 2009 Dirt Mile on Furthest Land, and got the Filly & Mare Sprint in the same year on Informed Decision. Last year I rode in 12 Breeders' Cup races but didn't win any -- my best finishes were a couple of thirds -- so I'm ready to get back in the winner's circle. I don't know which one of my Breeders' Cup wins I'd put on top. The first one is obviously very good. I love Informed Decision, that's one of my favorite horses, so that meant a lot to me, as well. I don't know why, but before the race I knew I was going to win. For a long time I just felt very confident. I thought she was very special, and I still think she was that year. I knew I had a great chance to win and we did it. Friday wasn't so good -- my best finish was a fourth on Seeker in the Juvenile Sprint. Today, I've got Brigantin in the Marathon, and if he likes the dirt, I think he's got a great shot. Wilburn in the Dirt Mile, Await the Dawn in the Turf, and Turallure in the Mile are my best shots. I really like Wilburn; he beat Shackleford in the Indiana Derby, and that's the Preakness winner, a really good horse. Looking at the race, there's going to be a lot of speed in there, so we should be able to sit quiet and make a run at the end, which I like a lot. I hope you enjoy the chance to watch some great racing, whether at the track or at home on TV. The best horses and riders in the world will compete at Churchill Downs today, and I'm honored to be among them.
LOUISVILLE, Ky. -- Friday is an easy day for me at Churchill Downs. I ride a few horses on the undercard before the Breeders' Cup begins, and then I have two Breeders' Cup mounts in the afternoon. Earlier in the week, Graham Motion and Aruna's owners decided to run her in the Filly & Mare Turf, so I picked up the mount because Ramon Dominguez is scheduled to ride Stacelita for Chad Brown. They worked her on the dirt, but then the connections decided to stay on the turf because she's already proven to like that surface. She won the Spinster, which is a "win and you're in" race for the Ladies' Classic, but this race seems much more suited to her. The only question now is the distance, but she's got very good form so I think I've got a good chance. If you look at the PPs, she's been first or second ever since she's been here. Aruna came here last summer from France. Now, she's just like any American horse. When a lot of European runners first get here, they don't break from the gate as good and they take more time to get going, but they are more likely to have a good bit of kick at the end. Earlier on the card, I ride Seeker in the Juvenile Sprint. This horse ran third in the Grade 2 Nashua Stakes at Belmont on Oct. 2, and before that he broke his maiden by 6˝ lengths at Saratoga. I've ridden him in all three starts for Steve Asmussen. He ran good last time out; we were down on the inside, which isn't really the place to be at Belmont. Hopefully he likes this track better and runs his big race like he did in Saratoga. He ran big that day. These horses in the juvenile races are obviously still very young and still have a lot of time to develop. This winter is when you're going to see them either step up to be something special or just stay where they are. A lot of my family is in town, so I've been hanging around with them a lot. They came to the races yesterday, and my uncle and my friends came in the mornings to the backside with me. It's just fun for me to have them here, and a lot of friends are over here too. I was on the backside Sunday, Monday and Tuesday, and got the chance to enjoy the atmosphere while showing them around. Now, it's time to get to work. Happy Breeders' Cup Friday, everyone!
LEXINGTON, KY -- Racing wraps up at Keeneland this weekend, and it's a great feeling to be going into the final days as leading rider. My agent and I expected to have a good meet for sure, because we had good business going in, but I didn't expect quite as much excitement as we ended up having. I know I have a lot of people behind me at Keeneland -- and in Kentucky overall -- but it wasn't always that way. In 2005 my first win at Keeneland was on the last day of the meet. That was it. But I was new in Kentucky and I wasn't expecting any big thing at the time, so it was okay to start small. This fall, we won eight races in the first two days, and then Sunday I got very lucky. I didn't win that day, but the luck came in another way because I didn't get hurt very badly when my horse in the Bourbon Stakes ducked and threw me over the rail. It's unfortunate that the horse was hurt because he was young and talented, but thankfully no one else was involved in the spill. After I fell off, I felt okay. All of my muscles were still hot, so I didn't feel that much pain. I just wanted to go on to my next race, and the adrenaline was still running, so I went ahead and rode in the Spinster Stakes with a taped wrist. When I went back home I didn't feel that good, but thankfully my hand was just swollen and I only had to do some physical therapy for a few days. I missed one day of riding and there was no ligament damage or broken bones at all, just bruises. It seems like every time I fly over the rail, somebody is there to take a great picture. Matt Goins won an Eclipse Award for a shot of me in 2006, so we'll keep our fingers crossed for the one taken by Jeff Coady, the track photographer at Keeneland, this year. Maybe something good will come out of that after all. My Grade 1 stakes win came this season in the First Lady aboard Never Retreat. She's a very nice filly and easy to ride. Before the race I was a little concerned about the post we had -- we were all the way on the outside -- but she broke very good and put me in the race going into the first turn. We just settled nice and made our move at the quarter pole and she ran very big. I'm looking forward to her next start for sure. Last Friday I rode nine races -- I was supposed to ride 10, but one scratched -- and I knew they were good horses with a good chance before the races, but I didn't know things were going to go as well as they did. Some days, you just pretty much get all the perfect trips and everything goes amazingly well. You build this momentum of ultimate confidence when you start to win one, then two, then three … it's like an ultimate high. We ended up the day with five winners, which was not as good as when I won seven at Churchill two years ago, but I'll take it any time for sure. Wrapping up the end of the meet is a little bit sad because I love Keeneland and all of the great racing there, but it's exciting because we get to keep on going, and next is the Breeders' Cup on Nov. 4-5 at Churchill Downs. I have a bunch of friends and family coming in for the week, so it will be a fun and busy time in addition to all of the racing-related activities. Stay tuned for more updates on my mounts and thoughts on the upcoming World Championships!
October, 5, 2011
10/05/11
3:07
PM ET
LEXINGTON, KY -- Since I last updated this blog, I've been in New Jersey, France, Philadelphia, Canada, Indiana, New York, and Louisville. Yesterday I was in Lexington to work one of my top mounts, Turallure, and to get ready for the upcoming season at Keeneland Race Course. The meet opens Friday and you can read more about what's expected to happen
here
.
When I left Saratoga at the end of the summer, I went back to France for a week to visit my family. The last time I went home was in June of 2010, so it's been over a year. It was great to see everyone, especially my nephew, who is going to be two in November. Usually when I'm there I'll go to the track, but this time I really took the week off from racing and just enjoyed being around my family. I wanted to spend the most time I could with them, and most of my friends from the racetrack there will be coming to the U.S. for Breeders' Cup, so I'll see them next month anyway.
I left France and I came back to Louisville for a day, and then I went to Lexington for the Horsemen of All Ages Auction to benefit the Race for Education on Sept. 16. This is a great charity that helps young people of equine industry families as well as those who want to pursue equine-related or agricultural careers to obtain college degrees. The organization provides tuition support; financial literacy training, mentoring services, and access to permanent jobs upon graduation, and the Horsemen of All Ages Auction was able to raise a record of more than $100,000 in one night to support the fund. It was a fun night and especially for a good cause. My dinner date went for $5,700. I'll probably go during the Keeneland meet.
After the auction I went to Woodbine for the weekend, which was a profitable trip. I've ridden there at least once each year since I started my career, and I've been riding for six years. It's a very nice track and the hospitality there is great. On Saturday night they have this big dinner after the races for people who are racing on Sunday. The main track is very wide with a long stretch, and the turf course is on the outside which makes it bigger than the average turf course.
It was nice to just come back from vacation and land on some good horses. I rode Never Retreat at Gulfstream this winter and won the Grade 3 Honey Fox Stakes with her, then I couldn't ride her next time out because of another commitment. Shaun Bridgmohan picked her up and won at Keeneland so he kept riding her, but he got hurt so I got the mount back and won the Canadian Stakes, which is a nice Grade 2, with her.
The same thing basically happened with Turallure; I'd ridden him at Churchill to win the Opening Verse Stakes but the first time he ran at Saratoga I was at Monmouth, so Alex Solis got on him. Then when I came back to Saratoga we paired up again to win the Bernard Baruch Handicap, and I kept the mount in the Woodbine Mile.
Turallure is a very nice horse to be around, pretty laid-back and relaxed, like a pet -- although he dropped his exercise rider three days ago on the track after galloping, but that was just because he was feeling good. Especially right now, in the mornings as it starts to get chilly, the horses love that bite in the air. He got loose for a little bit but they caught him and everybody's okay, none the worse for wear.
Yesterday he went four furlongs in :50 flat, a nice easy work. I thought he felt great and if everything goes good, we'll head to the Breeders' Cup Mile.
I could go into a lot of details on winning the Indiana Derby and Oaks last weekend, but the bottom line is they were nice surprises in both races with Juanita in the Oaks and Wilburn in the Derby, and I look forward to the next starts with those two. After that I rode a little at Belmont Park, mostly just to stay active. I don't like to be sitting at home doing nothing, I'd rather get on a few and stay fit. On Monday, I came back to Kentucky, and here we are gearing up for Keeneland.
In the U.S., my two favorite tracks are Saratoga and Keeneland. Aside from the level of competition and the fact that I've been fortunate to have a lot of success in Kentucky, I think it's just because of the people that come to Saratoga and come here -- they love the sport and there are always good-sized crowds. It just makes it fun for a jockey; you go to work and there a lot of people watching you and enjoying what you do for a living.
The biggest difference between the two is that Saratoga is open for just seven weeks during the year, and the focus for that seven weeks is all around horse racing. Keeneland is year-round even though there's only racing in the spring and fall, since they're also open for the sales and train all year too. Thanks to the farms all around, it's more of a sustained cycle here.
Other than Saratoga, Lexington is probably the town where they know horse people the best. I'm looking forward to opening weekend and hope everyone gets a chance to come out for some great racing. Hopefully the big horses I ride in the stakes here will turn in good efforts that lead us to the Breeders' Cup at Churchill Downs in November.