Will Derby Dreams come true?
January, 31, 2012
01/31/12
4:39
PM ET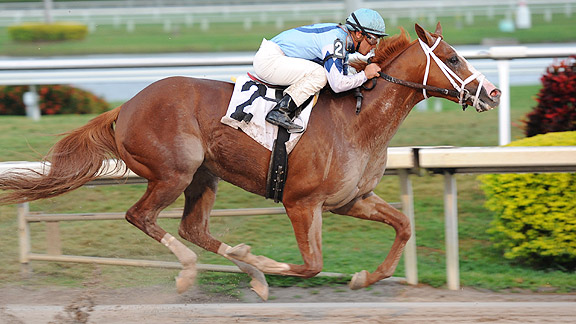 Will El Padrino's Gulfstream victory this weekend be the start of a Triple Crown run?
"The road to the Kentucky Derby is like NCAA basketball," Bryan Sullivan remarked one morning after El Padrino's solid Gulfstream allowance score. "The goal is to survive and advance -- to run good enough to move to the next level." Their 3-year-old colt having done just that, Sullivan (35) and Kevin Scatuorchio (30) of Let's Go Stable were pleased with the progress of what they've termed the "Derby Dreams Fund," $1.3 million raised by about 15 partners with the clear objective of winning the 2012 Kentucky Derby. El Padrino is the poster child of the group, a rangy chestnut son of Pulpit out of a Giant's Causeway mare whose easy season debut for trainer Todd Pletcher -- a two-length victory in a 1 1/16-mile event on Jan. 29 -- indicates good things to come. "Even though we think he's been exceptionally talented all along, it was like the light-bulb went on in that race," said Sullivan, a managing partner at LGS. "This horse is so laid-back, I think he never just quite understood what he's supposed to do -- and yesterday was the first time he really validated himself to us. Up to yesterday, I'd been hoping, 'is this guy going to show up for me?' And he finally did." Racing fans will recognize the younger figure at LGS from the last name -- horses owned by Kevin's father, Jim Scatuorchio, tore up the track in the late 90s through 2007, when English Channel capped an Eclipse Award-winning season by taking the Breeders' Cup turf by a record seven lengths, and beyond. The elder Scatuorchio, also a LGS partner, was represented by runners like More Than Ready, a Grade 1 winner who finished fourth in the 2000 Kentucky Derby and fifth in that year's Breeders' Cup sprint, Ready's Image, who won the Sanford and Tremont in 2007, Icy Atlantic, who earned more than $900,000, Scat Daddy, a three-time Grade 1 winner, and others. Earlier in his ownership ventures, he was part of trainer John Forbes' New Jersey-based Phantom House syndicate that owned Tale of the Cat, who was sold for $12.9 million to Ashford Stud following his racing career. "We were all spoiled," the younger Scatuorchio remarked. "He had a run there for a while where it was a few years of just Grade One winner after Grade One winner, a Champion with English Channel, a couple of Derby trips and then the stallion experience with More Than Ready … we'd go to these races not knowing how tough it was to get there to begin with -- I was in high school during More Than Ready's two-year-old campaign -- and I didn't really get it. I was like, 'Great, we've got a horse, he's running in a stakes race, that's awesome,' and later on it was like King's Bishop winner, Breeders' Cup winner …" All that success led these young partners to develop skills they needed to launch their own syndicate. "Being able to experience racing at that level and see what was going on behind scenes was probably the most important part for me," Scatuorchio said. Also brothers-in-law (Sullivan is married to Scatuorchio's sister, Courtney), the duo founded Let's Go Stable in 2006, with their best horse to date being 2008 Belmont Stakes contender Ready's Echo (he was third in that classic and showed up in several other graded stakes, including a runner-up finish in the 2009 Breeders' Cup Dirt Mile). In 2010, they came up with the idea of the Derby Dreams Fund, a hedge fund concept for racing that resulted in the purchase of six contenders including El Padrino. "He was such a great walker and a good mover," Sullivan recalled. "As big as he was, when he walked he just looked so smooth. We were prepared to pay a lot more than he went for -- we got him for $210,000, but thought he was a $300,000, $400,000 horse." "You look at a lot of horses at a sale but a few of them really stick out and he was one of those for us," Scatuorchio said. "Getting him for $210,000 was a gift." When J. J. Pletcher took El Padrino down to Payton Training Center in Florida, it wasn't long before the team got a good report. On the track, his movement was effortless. When he wasn't training, the big horse ate and slept and ate and slept some more -- energy-conserving traits he maintains to this day. "When J. J. was breaking him he was so easygoing, he never had a hiccup, responded well to everything," Scatuorchio said. "The first time J.J. saw the horse breeze, just three-sixteenths to stretch his legs a bit, he called us and said, 'This is a great mover; he covers a lot of ground and moves fantastic for his size.' We had some chuckles the other day about how we thought then this might be our Derby horse." The colt moved to Todd Pletcher's stable by the end of February or early March last year. "Baby stuff with his shins" caused the trainer to back off for 45 days before his debut, but there wasn't a rush to get him to his maiden. "J. J. always told us, 'Guys, this is a two-turn horse, you won't be biting your nails on the Triple Crown trail saying can we get a mile and a sixteenth, get a mile and an eighth?'" Sullivan remarked. "He's only going to get better as races get longer." That's why they started El Padrino going seven furlongs on Aug. 20 at Saratoga, a maiden race he missed by three quarters of a length. Next time out at Belmont Park was a different story -- going a mile resulted in a 12 ¾-length victory on Oct. 29. A third in the 1 1/8-mile Remsen Stakes at Aqueduct Nov. 26 was a bit of a disappointment "after kind of going to sleep down on the rail," Sullivan said, and instead of sending the colt to compete in the Lecomte Stakes at Fair Grounds or in Gulfstream's early Derby prep, the Holy Bull, the team looked for a confidence-booster in the allowance race last weekend. "The main goal is to keep him around two turns, and this win puts us in a position with a lot of options," Sullivan explained. "The Fountain of Youth [Feb. 26 at Gulfstream], the Gotham [March 3 at Aqueduct], and the Risen Star [Feb. 25 at Fair Grounds] are all in play. The tough thing now is, we have to get the graded earnings and we only have a few chances to get that done." With just $20,000 in graded earnings for the third in the Remsen, El Padrino will have to step up his game to make the Derby field. "There are options out there and we're not excluding any," Sullivan said. "With this kind of horse at this time of year, things can change in the blink of an eye. He came out of the race great we're really just enjoying having a good horse -- they don't come around that often, and it's such an exhilarating feeling when you have a horse on the Derby trail." The past few years haven't been only smooth sailing for the LGS team -- Sullivan and Scatuorchio recalled a $630,000 son of Candy Ride who raced only once and had to be retired through the New Vocations Thoroughbred Adoption program -- and they launched their partnership right before a severe dip in the thoroughbred market. But the concept of their Derby Dreams Fund worked with El Padrino stepping up to the mark (they have high hopes for another one of the horses purchased by the fund, Dixie Dice, but he has yet to break his maiden). "That's why we designed the fund," Sullivan said. "You know in this game not all six going to make it, but at least this way you increase your odds of getting there." Although their syndicate is small -- just nine horses on the roster right now -- these young men have solid plans for the future. "We're trying to grow a business," Sullivan said. "You see so many guys in this game get way ahead of themselves. Were trying to build slowly, and the best advertising for us is a horse like El Padrino."