Hollywood Park fades to black
Updated:
December 19, 2013, 11:48 PM ET
By
Claire Novak
| Special to ESPN.com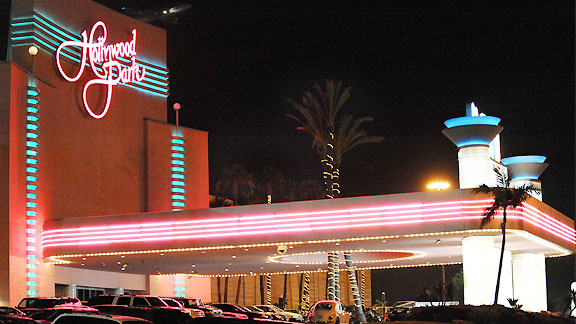 Horsephotos.comThe night scene at Hollywood Park will be missed after this weekend.
They die slowly, these old racetracks, cavernous and hulking and gasping for breath as turnstiles click for the very last time and final tickets are crumpled or cashed. There is a worn elegance about their closing days, hoofbeats thundering a regal requiem for memories made and races run. By the time we realize what we're losing, it's too late. The ghosts of history hover, nearly drift away.
There are those who will make the pilgrimage to Hollywood Park this Sunday when the Inglewood oval hosts its final card, but not many. After 75 years of thoroughbred racing the once-glorious track will be razed to the ground, a housing and retail development to grow in its place next year. Horses that remain here will get in one last outing, a final shot at victory, before shipping off to other tracks in Southern California. By the end of January when training ends for good, they too will be gone.
The final graded stakes race -- the CashCall Futurity won by hotshot juvenile Shared Belief -- has already been run. The last edition of the Hollywood Gold Cup, the ovals signature event, has been run as well; only 6,493 were in attendance as Game On Dude came galloping down the stretch to win.
Thats a far cry from the 40,000 reported on opening day on June 10 in 1938, when Jack and Harry Warner of the Warner Brothers film corporation premiered their glorious Hollywood Turf Club to rave reviews -- as Turf and Sports Colonel Walter Moriarty wrote, "the greatest and most colossal epic of their long and interesting career[s]." Among the track's original 600 shareholders were Al Jolson, Walt Disney, Bing Crosby, Sam Goldwyn, Irene Dunne, and the late Mervyn LeRoy, director of Hollywood Park from 1941 until his death in 1986. Incomparable icons like Elizabeth Taylor, Jimmy Stewart and Cary Grant regularly attended the races to watch equally unparalleled stars of the equine variety.
Seabiscuit was victorious in that years inaugural running of the Hollywood Gold Cup, the track's signature race which would be won 11 times by great thoroughbreds who also won Horse of the Year; runners like Affirmed, Round Table, Ferdinand, and Cigar.
Hollywood Park pioneered the exacta, introduced Sunday racing, shattered records for daily handle, and revolutionized wagering with multiple bet tickets.
It was the site of the first film patrol -- a lightweight movie camera attached to binoculars introduced in 1941, when each race was recorded by eight judges assigned a section of the event, the footage spliced together and viewed by the stewards the morning after. The first transcontinental air shipper came, saw, and finished third -- Woolford Farms Historian traveled by air from Chicago to start in the 1946 Gold Cup. And Citation became racings first million-dollar earner with his 1951 Gold Cup win and final start.
Hollywood Park pioneered the exacta, introduced Sunday racing, shattered records for daily handle, and revolutionized wagering with multiple bet tickets, Early Bird wagering, and betting and cashing at the same window. The Pick Six was introduced there in the early 1980s, when the 1983 Hollywood Futurity became not only the first million-dollar race for 2-year-olds, but the richest race -- worth $1,049,725 -- staged for thoroughbreds at the time. That year, Dotsam Stables seven-time Eclipse Award winner John Henry became the first horse to surpass $4 million in career earnings with a victory in the Hollywood Turf Cup. And in 1984, before a crowd of 64,625 and an estimated 50 million viewers, Hollywood Park hosted the inaugural Breeders Cup on Nov. 7, handling a then-record $11,466,941.
Brilliant trainers and jockeys continued or developed Hall of Fame careers here. California wagered a record on two-time Horse of the Year Cigar. In later seasons, Lava Man showed his grit in the Gold Cup as he conceded eight pounds to the runner-up but prevailed by a nose, toting 124 pounds while equaling California great Native Diver with three consecutive victories, the classic staged on a synthetic surface for the first time.
The late Bobby Frankel became the first person to breed, own and train a Hollywood Gold Cup winner as Mast Track scored a 10-1 upset in the 69th running. Zenyatta preserved her undefeated record with repeat victories in the Milady and three in the Vanity en route to multiple Eclipse Awards, a superstar. Chantal Sutherland became the first female rider to win the Gold Cup with Game On Dude in 2012. And this year it was only fitting that the hard-knocking California gelding scored again in the signature event, bringing down the curtain on the 74th call.
"A few years hence, somebody will wander out to the former Hollywood Park and figure out where the finish line once was, the spot where Game On Dude joined the ranks of thoroughbred greatness one Saturday afternoon in a July past," LA Times columnist Bill Dwyre penned after that victory. "It might be a nice backyard. Or maybe a McDonald's drive-through window."
* * *
One summer, two weeks into unrequested freedom and re-launching a freelance career, I took a contract and flew to L.A. for a week of journalistic grunt-work developing content for a new website. Our itinerary included Saturday brunch at Hollywood, which, had I written in 1956 as Whitney Tower did, would have been "a shining example of progress at the races … also a demonstration of how enterprising California does things the big way."
By 2008 the grand old track was already a glaring display of the industry's rise and fall, former magnificence far past prime.
By 2008 the grand old track was already a glaring display of the industry's rise and fall, former magnificence far past prime. Plans for development of the area and demolition were underway. Doom and gloom pervaded, the uncertainty felt by every tired horseman, seen in every harried executive.
Clubhouse dining soon bored me so I escaped past larger-than-life Fred Stone murals of racing icons, over worn carpet to the inner recesses of the track. A narrow elevator carried me to corridors barely wide enough for single passage, yellowed linoleum floors leading down and over to the confines of the white-paneled press box.
The vast space was unoccupied.
I plugged my laptop into an old paint-covered outlet, turned off my phone, slowed my thinking. A wide expanse of clear glass window gave a peerless view of the runners as they hurtled down the stretch, flash of silks, blur of rainbow color, but there was no rousing roar. The apron was empty, neglected. I could sense the presence of those who had gone before me, writers whose keystrokes still seemed to echo through emptiness. The loneliness felt wrong, but somehow, I knew I belonged.
* * *
Now its all over but the shouting. The graves of runners buried on the grounds -- Native Diver, Landaluce, Great Communicator -- will be exhumed and relocated. Plates and linens and fixtures from the facility, equipment, decor, will be sold at public auction to those looking to preserve their memories with something they can touch. Even the synthetic surface will be taken away for environmental reasons. By late April, the grandstand will fall.
A melancholy moment will follow the last race on the last day of the last season at Hollywood. It's the sigh of an ending era, the ups and downs, the epic battles, variables from year to year but always one factor to be relied upon: the horses -- always the horses with their thrilling runs.
The closing field will fly under the wire and as they gallop out around the turn, those whose lives revolved around this place will say their goodbyes. Familiar motions will be unfamiliar in finality; the last win picture, the last weigh-in, the very last interview of all. Then they'll be packing up and shipping out. And darkness will descend upon the place that once made legends.
Claire Novak is an Eclipse Award-winning turf writer who covers horse racing for The Blood-Horse magazine in Lexington, Ky. Follow her on Twitter @bh_cnovak and read more of her work at bloodhorse.com.
SPONSORED HEADLINES
MORE HORSE RACING HEADLINES
MOST SENT STORIES ON ESPN.COM