Commentary
Sorting through the HOY picture
Updated:
November 7, 2011, 4:45 PM ET
By
Gary West
| Special to ESPN.com
LOUISVILLE, Ky. -- For the first time, Havre de Grace didn't empty out her feed tub; fourth in Saturday's Classic after a rough trip, she left a few oats Sunday morning.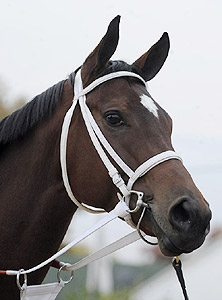 Horsephotos.comClassic filly Havre de Grace.
"She's tired," explained Cindy Jones, trainer Larry Jones' wife and assistant, about the outstanding filly who finished three lengths behind Drosselmeyer in the $5 million Breeders' Cup finale. Havre de Grace earned her weariness with a campaign that, beginning in March, included five stakes victories and stops at five different racetracks, and so hers was a weariness born of accomplishment. She indeed earned it, had a right to it Sunday morning. And in the same way, she has earned the sport's highest honor, the golden Eclipse Award recognizing the Horse of the Year. The Breeders' Cup folks call their 15-race, $26 million extravaganza a championship event and often compare it to the World Series or Super Bowl. But after some of the best horses in the country, if not the world, had converged on Churchill Downs for two days of this "championship" racing, many of the titles remained uncertain and maybe even unclaimed. The event that was intended to provide clarity instead produced confusion. Who's the champion older horse? Drosselmeyer, Flat Out, Game On Dude, Acclamation or Tizway? Who's the champion 3-year-old? Caleb's Posse, Shackleford, Ruler On Ice or Animal Kingdom? Who's the champion 2-year-old, Hansen or Union Rags? Who's the champion sprinter, Caleb's Posse or Amazombie? Wait, don't seriously ponder such things, don't contemplate the farrago of championship possibilities and, whatever you do, don't reach any conclusions. You don't want to be bedridden by cognitive dissonance. After the Breeders' Cup, only three championships, it would seem, are certain: My Miss Aurelia, the dominant winner of Friday's Juvenile Fillies, will be the champion 2-year-old filly; Royal Delta, the overwhelming winner of the Ladies' Classic, will be the champion 3-year-old filly; and Havre de Grace already had wrapped up the championship as the outstanding older filly. She should and probably will be Horse of the Year as well, but perhaps that's uncertain, too. "I don't think it was over yesterday [Saturday]," Larry Jones said, talking about Horse of the Year, "unless all these guys put their horses up … this sets it up for somebody who wants to be bold and go out there and do something." Opportunities are few, but some races remain on the calendar that could affect the championships and possibly even Horse of the Year. Havre de Grace's campaign is over and, as Jones rhetorically asked, who has had a better one? Nobody, of course, but this year the championship season could extend beyond the "championship" event. "They muddied the water," said Bill Mott, the trainer of Drosselmeyer, about Saturday's Breeders' Cup races, where the winning odds averaged 18-1. The Classic became Drosselmeyer's only major stakes win of the year. He waited, as Mott said, "on the last dance." And so Drosselmeyer isn't a reasonable choice to be Horse of the Year. But Mott didn't rule out the possibility that Drosselmeyer could run again this season.
"

I don't think it was over yesterday. Unless all these guys put their horses up, this sets it up for somebody who wants to be bold and go out there and do something.

"

-- Larry Jones, trainer of Havre de Grace
And what if Caleb's Posse, winner of the Dirt Mile, wins the Cigar Mile on Nov. 26 at Aqueduct? Could he be the champion 3-year-old? Could To Honor And Serve put himself in the discussion with a Cigar victory? If Ruler On Ice, the Belmont Stakes winner who ran third Saturday in the Classic, wins the Clark Handicap on Nov. 25 at Churchill, would he be the champion 3-year-old? What if Drosselmeyer, or Flat Out or Game On Dude were to win the $500,000 Clark Handicap on Nov. 25 at Churchill Downs? Would he then be the champion older horse, and could he be Horse of the Year? Possibly, but Havre de Grace entered the Breeders' Cup Classic as the most accomplished racehorse in the country, and despite her loss, she exited the race the same way. Bumped around in the first turn, she raced in traffic down the backstretch, where Headache kept her blocked behind horses; she angled out and brushed with Flat Out at the top of the stretch; but she gave as much as she received and then finished with determination. She never threatened to win, but she ran tenaciously. "She's not used to that," Cindy Jones said. "She likes to be in the open where she can run; she's not used to getting bumped around like that. But she tried hard." With a Classic victory, four other horses could have made an argument for Horse of the Year. But Tizway and Acclamation, because of injury, were unable to be here; Game On Dude finished second and Flat Out fifth in the Classic. And so unless somebody turns in a stunning, other-worldly performance in the next two months, Havre de Grace is Horse of the Year. The Eclipse Awards, of course, honor the sport's champions, but the awards should also encourage the sort of campaigns that are best for horse racing. And that's not a cherry-picking approach; that's not a campaign that decline's competitive challenges in favor of ceremonial victories. Havre de Grace traveled, and her connections accepted every challenge, not only meeting the best fillies and mares wherever they might be but also taking on and beating males in the Woodward at Saratoga. And then, of course, they accepted the Classic challenge. "Who had a better campaign?" Jones asked. With nearly two months remaining, clearly nobody has had a better campaign than Havre de Grace.
SPONSORED HEADLINES
MORE HORSE RACING HEADLINES
MOST SENT STORIES ON ESPN.COM
BREEDERS' CUP WORLD CHAMPIONSHIPS
November 2 & 3
Full Cup Coverage
The Breeders' Cup World Championships year-end races are recognized as one of the ultimate tests of a thoroughbred's talent and ability, showcasing horse racing at the highest levels of international competition.
Headlines
•
Fort Larned wins Classic in upset
•
Wise Dan looks great in BC Mile win
•
Trinniberg upsets in Breeders' Cup Sprint
•
Little Mike comes up huge in BC Turf
•
Shanghai Bobby wins Juvneile
•
Royal Delta repeats in Ladies' Classic
•
Zagora tenacious in BC F&M Turf
•
Mizdirection scores Turf Sprint for Jim Rome
•
Groupie Doll cruises in F&M Sprint
•
Tapizar overpowers in Dirt Mile
•
Beholder wins BC Juvenile Fillies
•
George Vancouver best in Juvenile Turf
•
Flotilla takes BC Juv Fillies Turf
•
Calidoscopio upsets in BC Marathon
•
Hightail takes Juvenile Sprint
Audio/Video
• TCI: A look at BC pre-entries


• Podcast: Handicapping the Cup Part 2
• Podcast: Handicapping the Cup Part 1
• Podcast: Bloodhorse writer Claire Novak
• Podcast: Owner Aron Wellman
• Podcast: Trainers Lopresti & Pletcher
• Podcast: British racing analyst Nick Luck

Features
• West: Front-running has its privileges
• Cronley: Home cooking at the Cup
• Finley: Best and worst at Breeders' Cup
• Ehalt: Velazquez made a 'Wise' decision
• West: Thoughts on Saturday
• Duckworth: Continued Hope
• Novak: Patience a virtue for Leon
• West: From the Cup to Eclipse
• Duckworth: Girl Power
• West: A Classic Halloween treat
• Cronley: Breeders' Cup picks
• West: Race is on in Ladies' Classic
• Finley:Marathon, Juvenile Sprint must go
• Moran: Breeders' Cup sends unclear message
• West: Breeders' Cup is upon us
• Cronley: Breeders' Cup mazes
• Finley: Top 10 Breeders' Cup moments
• West: No place like home for Mandella
• Moran: The legacy of the Ladies' Classic
• Cronley: Breeders' Cup possibilities
• West: Breeders' Cup nostalgia
• Finley: Conquering the Europeans?
• Cronley: Breeders' Cup advice