Commentary
Older horses seek opportunities
Updated:
March 1, 2012, 5:23 PM ET
By
Gary West
| Special to ESPN.com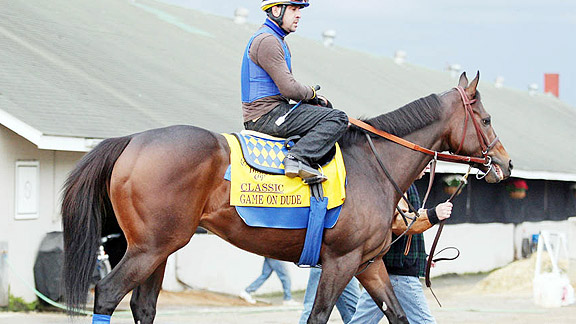 Horsephotos.comGame On Dude will seek greener racing pastures in Dubai.
The situation is so pestilent and noxious that it threatens horse racing's health, and yet the sport just coughs along and staggers ahead as if content with a sickly future. No other professional sport would allow this to continue, but, then again, no other professional sport is so utterly devoid of visionary leadership. And so rather than race Saturday in the $750,000 Santa Anita Handicap, one of the country's best older horses will travel 8,330 miles to Dubai for the $10 million World Cup. But it's not just the glaring purse discrepancy that's sending, almost forcing, Game On Dude and others to Dubai; it's the dearth of lucrative opportunities for older horses here. Game On Dude won the Santa Anita Handicap last year and would have been favored Saturday to repeat on a track he loves, but instead he'll trek halfway around the world to race on a Meydan surface that, for him, is an uncertainty. But it's worth the risk, worth the travel and the trouble, simply because there are so few options for a horse such as Game On Dude here in the U.S. Kentucky Derby winner Animal Kingdom, Filly & Mare Turf winner Perfect Shirl and Ladies' Classic winner Royal Delta are also among those who will journey to the Middle East. And if there's any surprise in these departures, it's that there's not an exodus of older horses pursuing the $25 million offered in seven races March 31 in Dubai. Why shouldn't they go? American racing offers older horses few incentives to remain here or even to race the first half of the season. From January through June, older males have only five opportunities, five races, to run for a purse of at least $500,000, and two of those are on turf. The richest race for older horses, and the only million-dollar opportunity, is the Charles Town Classic (April 14). The other two are the $500,000 Donn, won by Hymn Book on Feb. 11, and the Santa Anita Handicap. "We need more of those million-dollar races," said trainer Bob Baffert. "A million dollars -- that gets people excited." Baffert explained that he considered running Game On Dude in both the World Cup and the Big 'Cap. But Game On Dude "runs so hard" he needs considerable recovery time, and that, experience teaches, can be problematic when an international trip is involved. Baffert attempted to make both races with Silver Charm in 1999, and the champion disappointed in each, finishing third at Santa Anita and then sixth in Dubai. And so if there must be a choice, the combination of treasure there and few opportunities here makes it easy. Limited opportunities, Baffert said, also contribute frequently to decisions to retire accomplished horses after their 3-year-old campaigns. That's the year the sun shines, the time for making hay. While older horses have only five opportunities in the first six months of the season to run for a purse of at least $500,000, 3-year-old males have 12. And seven of those are million-dollar races (actually $2 million for the Kentucky Derby). Fillies have three more, and one of those, the Kentucky Oaks, is a million-dollar affair. Can a sport have Peter Pan syndrome? Racing seems to mirror the cultural fascination with youth. It's as if having rejected its regal heritage, racing has slipped on its sneakers and donned a T-shirt and a ball cap, turned backwards, of course, a' la Holden Caulfield.
It's as though the sport is a conspirator in its own destruction, encouraging the brightest and most popular stars to retire prematurely or leave the country or just not race for months at a time.
Other professional sports reward their veterans, not their tyros, most generously. Only veterans, for example, can become unrestricted free agents able to negotiate those blockbuster contracts. The NBA's minimum and maximum salary scales are keyed to years in the league. Like horse racing, football drools over its young and promising talent, but at least the sport has the good sense not to pay Andrew Luck more than Tom Brady. Racing, however, most generously rewards its 3-year-olds, its adolescents. Rewards and talents have become so incongruous that rather ordinary horses can make hundreds of thousands of dollars (e.g. Joe Vann, Rattlesnake Bridge, Concealed Identity) racing within the division while more talented older horses might struggle just to pay the bills. It's as though the sport -- racetracks, horsemen and breeders -- is a conspirator in its own destruction, encouraging the brightest and most popular stars to retire prematurely or leave the country or just not race for months at a time. Reason isn't allowed to enter the discussion without a warrant. The perversity is encouraged, of course, by the absurd method used for determining the field for the Kentucky Derby. The process encourages racetracks to shift more and more purse money into stakes race for 3-year-olds, and that money often comes out of the purses for older horses. The Derby field, of course, is limited to 20 starters based on earnings in graded stakes. But the system, which places inordinate importance on grades, ironically doesn't distinguish among Grade 1, 2 or 3 stakes: Their dollars are all equal. The process discerns no difference between races run at six furlongs and those run at nine, no difference either between races run last month and those run last year. It's all about the money; that's all that matters. The process, in other words, assumes that money earned reflects talent. But to prove the folly of that assumption you only need to walk down the hallways of any Country Club. A stroll through horse racing would also suffice.
SPONSORED HEADLINES
MORE HORSE RACING HEADLINES
MOST SENT STORIES ON ESPN.COM