Commentary
Now or never for Union Rags
Updated:
May 5, 2012, 3:05 AM ET
By
Bill Finley
| Special to ESPN.com
I am giving Union Rags one more chance. But just one more chance.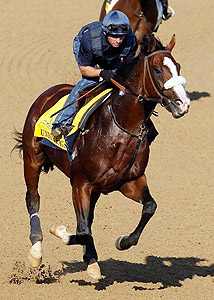 AP PhotoUnion Rags stretches his legs in a work on the main track at Churchill.
I have been a big believer in this horse since his electric win in the Champagne last year as a 2-year-old. He seemed to be the kind of horse we got back in the day when the sport produced stars like Seattle Slew and Spectacular Bid. Union Rags was the best 2-year-old in the country and he would go on to be the best 3-year-old. He would show up in all the big races, stay healthy, and win a lot more than he lost. He would not be some horse that came out of nowhere to win the Kentucky Derby and then go 1-for-9 the rest of the way. So he was beaten in the Breeders' Cup Juvenile. He had a wide trip, lost a ton of ground and still lost by only a head to a good horse named Hansen. He reaffirmed my optimism in the Fountain of Youth. He was dominant under his new rider, a confident Julien Leparoux, and won by four lengths. There didn't seem to be anything standing in his path to greatness when he came into the Florida Derby, where he was the 2-5 favorite. Surely, he would again dominate and then head to Churchill Downs as the solid favorite for the Kentucky Derby. Didn't happen. Again, we blamed the trip. Union Rags was boxed in for the better part of a mile and by the time he got running room it was too late. A poor ride by Leparoux? Another loss, another excuse. Still, he didn't win, he finished third, and that's the bottom line. Should he have found a way to overcome adversity and win the Breeders' Cup Juvenile? Was the acceleration really there when he finally found a hole in the Florida Derby? What I see now is a horse that is very talented but, maybe, not much of a fighter. Is Union Rags a little soft? That's the question he must answer Saturday at Churchill Downs. I'm sticking with my first impressions, that the only thing that stands between this horse and an undefeated record is racing luck. But I must admit my confidence has waned. There will be no excuses allowed this time.
Trainer Michael Matz brought Barbaro along with the goal of having his colt peak in the 2006 Kentucky Derby and he got exactly what he was looking for. The colt blew the field away, winning by 6½ lengths. It appears that he is following the same blueprint with Union Rags. Matz has been hinting all along that he didn't have the colt at his very best for either the Fountain of Youth or the Florida Derby, that he was leaving plenty in the tank for Kentucky Derby day. If that's the case, Union Rags should be sitting on a race that is far better than anything he's ever shown. He's 3 now, more mature than last year, and he's had two starts that should have him razor-sharp. If he is indeed the best 3-year-old in the America, he will show it at 6:24 EDT Saturday evening at Churchill Downs. Could there be more excuses? Perhaps. He didn't draw that well. The 4 post may mean that he again gets bottled up on the inside. And with 20 horses negotiating their way around the track he, and everyone else in the field, is liable to run into traffic problems. I, for one, am not willing to give him another pass. Since he won the Champagne in October at Belmont, every step along his way has been directed at getting him to win the Kentucky Derby. If he's as good as I thought he was, he will be good enough to overcome whatever adversity he might face. If he's as good as I thought he was, he will win the 138th running of the Kentucky Derby. Bill Finley is an award-winning racing writer whose work has appeared in The New York Times, USA Today and Sports Illustrated. Contact him at wnfinley@aol.com.

• Bill Finley is an award-winning horse racing writer whose work has also appeared in The New York Times, USA Today and Sports Illustrated.
• To contact Bill, email him at wnfinley@aol.com
MORE HORSE RACING HEADLINES
MOST SENT STORIES ON ESPN.COM