Commentary
Surviving in a casino world
Updated:
May 9, 2012, 11:46 AM ET
By
Bill Finley
| Special to ESPN.com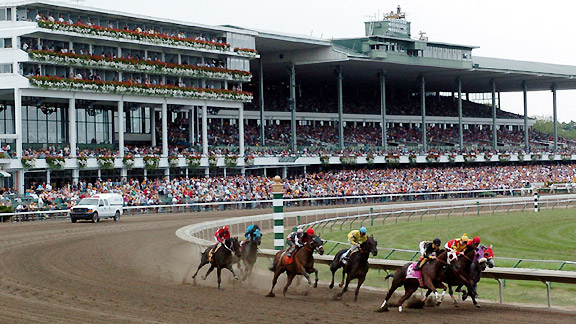 Horsephotos.comWhat will the future hold for Monmouth Park?
Monmouth Park is a wonderful racetrack with a rich history and tradition, but those things don't matter nearly as much as they should in the modern gaming world. Surrounded by tracks with slot machines in other states, Monmouth Park couldn't keep up with the competition and became a money-loser. The state of New Jersey, the one-time owner, didn't want it anymore, and neither did Morris Bailey, who ran it in 2011 but eventually backed out. "You don't know how close Monmouth Park came to shutting down," prominent New Jersey racing figure Dennis Drazin said this week. It's not that anyone wanted to see Monmouth die, but the status quo wasn't going to save the place. And that's why the new management team running Monmouth has set out to redefine what it means to be a racetrack. Under Drazin's leadership, the New Jersey Thoroughbred Horseman's Association has leased Monmouth for five years. By the time the lease expires, there might be racetrack gaming at New Jersey racetracks. That seems to be the deadline for the reeling Atlantic City casino industry to get its act together. If Atlantic City doesn't experience a revival by 2017 it appears the gaming will expand in New Jersey. In the meantime, Monmouth is going to try to survive by becoming a lot more than a racetrack. "Right now, we are being asked to be able to doing something very few racetracks are accomplishing," long-time Monmouth general manager Bob Kulina said, referring to the difficulties of competing without slots. "We're trying to keep the tradition of racing alive here, trying to keep this great building alive." Monmouth was built during an era when it was not uncommon for 30,000 or more people to show up at the racetrack. In today's environment, that means a lot of empty space that is used only on Haskell Day. Drazin and his team want to take areas of the track and parking lot that are seldom used and covert Monmouth into a major entertainment center, where the racetrack is just one of many entertainment options. They're talking about building an indoor water park, building a hotel, opening year-round restaurants on the location. They may have an amphitheater with concerts, a boardwalk-like area with retail shops. Don't expect people who come to Monmouth to go down the slippery slide at the water park to become racing fans. With concerts, $1 beers and t-shirt giveaways, the sport has learned how difficult it is to turn the every day person into a horseplayer. You might get them in the door, but getting them to bet is another matter. But what makes this plan interesting is that the profits from the ancillary businesses can be funneled into racing and purses. If you don't have additional funding from slots, why not get additional funding from a water park? The Monmouth team is also hoping to generate revenue by building a number of OTBs in the state, which, thus far, has only three. They also want to put automated betting terminals in bars and restaurants. "Live racing is a tough thing to do in this day and age, but we have great expectations," Kulina said. "I don't see any reason to think that Monmouth Park won't be here long past when I am gone. I don't think that's an issue. We need to continue to the tradition of Monmouth Park, which is quality racing and a great experience and, hopefully, we can improve on it, enhance it and grow our product." None of this will be easy to pull off, but at least they have a plan at Monmouth, and a pretty good one. You have to root for this place, root for people to flock to the water park and the restaurant and to the racetrack itself. Monmouth Park is way too special to lose.
Derby Thoughts:
The top three finishers in the Kentucky Derby were the winners of the Santa Anita Derby, the Arkansas Derby and the Blue Grass. Isn't that supposed to mean a $342 trifecta payoff? It paid $3,065.60 … Has a Derby second-place finisher ever overshadowed a Derby winner to the extent that Bodemeister has overshadowed I'll Have Another? Bodemeister looks like a solid favorite for the Preakness … Echoing the sentiments of others: Churchill has to add 10-cent superfectas to the wagering menus for Oaks and Derby Day. It's what the fans want … What happened to Gemologist?
Bill Finley is an award-winning racing writer whose work has appeared in The New York Times, USA Today and Sports Illustrated. Contact him at wnfinley@aol.com.
• Bill Finley is an award-winning horse racing writer whose work has also appeared in The New York Times, USA Today and Sports Illustrated.
• To contact Bill, email him at wnfinley@aol.com
SPONSORED HEADLINES
MORE HORSE RACING HEADLINES
MOST SENT STORIES ON ESPN.COM
THE TRIPLE CROWN
Belmont Stakes • Saturday, June 8
More Triple Crown
News
•
Oxbow pointed to Belmont Stakes
•
Oxbow upsets Preakness Stakes
•
Freedom Child wins Peter Pan; Belmont next
•
Orb wins 139th Kentucky Derby
•
Princess of Sylmar rules Oaks
•
Baffert out of Kentucky Derby
Bob Ehalt's Hot List
•
Breaking down the Preakness Stakes
•
Derby recap and a look at the Peter Pan
•
Breaking down the Kentucky Derby
In The Gate Video/Podcast
•
Secretariat's historic run: Pt. 1
•
Secretariat's historic run: Pt. 2
•
Secretariat's historic run: Pt. 3
•
Secretariat's historic run: Pt. 4
•
Secretariat's historic run: Pt. 5
•
Paul Hornung talks Titletown Five
Triple Crown Live Chat Schedule
• Belmont: Saturday, June 8 (3 p.m. ET)
•
Preakness chat wrap
•
Kentucky Derby chat wrap
•
Kentucky Oaks chat wrap
Virtual Racing
•
Derby Giveaway
: Join Digiturf.com with reference code KD13 and race to Win $500!
•
Derby Bonus
: Join Digiturf.com with reference code KD13 and race in Kentucky Derby New Stable races to get an unlimited Match Bonus!
Triple Crown Video
•
Watch the 138th Preakness Stakes
•
ABR: A day with Orb
•
TCI: Derby recap
•
Kenny Mayne: Between two horses
Features
•
Cronley: Preakness traps
•
Finley: Why Lukas is a winner
•
Moran: Stevens all smiles
•
Ehalt: Dark days
•
Cronley: What were you thinking?
•
Novak: Hernandez in the saddle
•
Duckworth: Departing up for challenge
•
Ehalt: Seeking redemption
•
Moran: Triple Crown should not be easy
•
Mayne: When will I listen?
•
West: Tradition steals Derby spotlight
•
West: Calumet back in Derby spotlight
•
Moran: Progress tough on Churchill
•
Novak: Victory starts on the backside