Bodemeister reflects 1954 winner
Updated:
May 19, 2012, 5:37 PM ET
By
Claire Novak
| Special to ESPN.com
"They were looking Hasty Road in the eye again in mid-stretch and that was supposed to be all it would take for Correlation and Willie Shoemaker to win the Preakness … but this time … in the final running, they got a baleful glint in return. There was plenty of bounce left in the Hasty one, and the Preakness was his by a neck." -- Shirley Povich, The Washington Post Times-Herald, May 24, 1954
BALTIMORE, Md. -- He was a big bay colt with a crooked blaze drifting down over his left nostril, a speedy front-runner whose victory in the Preakness came sandwiched between the years of Native Dancer and Nashua.
Go down the list of history's great racehorses and you won't hear the story of Hasty Road. But at Pimlico Race Course in 1954, the second jewel of the Triple Crown was all about the son of a sire named Roman and his California competitor, the horse they called Correlation.
"The odds indicated clearly that bettors expected a two-horse race between Correlation and Hasty Road," read the Washington Daily News on Saturday, May 22.
He went off as the second choice at odds of 5-2.
* * *
They say old cowboys never die, and for racehorses, the same could be true.
If a crooked-blazed colt with furious speed and heart takes the lead at Pimlico Saturday and never looks back -- if he repels the charge of a California colt who beat him last time out -- he'll simply be reliving a chapter of Hasty Road's past.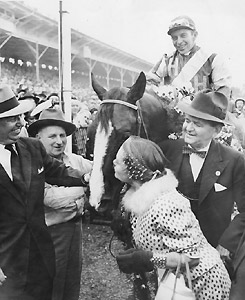 Toledo/Lukas County Public LibraryHasty Road after his Preakness win.
Call him the Bodemeister of 1954, at least where Kentucky Derby runs are concerned. Newsreels of the first Saturday in May show Hasty Road sprinting to an early lead in the mile-and-a-quarter Kentucky Derby, cruising along with the field strung out behind him, hitting the top of the lane in front and opening a margin heading for home. A California horse named Determine filled the role of this year's I'll Have Another, passing the front-runner to win by a length and a half -- the exact margin that separated the modern-day runners two weeks ago.
Heading into the Run for the Roses, Hasty Road also finally earned respect similar to that granted Bodemeister off his 2012 Arkansas Derby romp. The historic colt turned in a few uninspiring performances over the winter in Florida and at Keeneland, but recovered to run a record-setting time in the Derby Trial on April 27 -- a mile in 1:35 flat.
Unlike this year's lightly raced Preakness favorite, however, the old-time iron horse strung together quite the string of pre- and post-Derby performances. Far from unraced as a 2-year-old, he was champion in 1953 with victories in the Kentucky Jockey Club Stakes, Breeders' Futurity, Washington Park Futurity and Arlington Futurity. That year he won more purse money than any other 2-year-old in history, helping move his owner's Hasty House Farm up from 19th to third on the nation's list of winning stables with $875,003 earned by their runners. The Toledo, Ohio, operation was surpassed that season only by prestigious blue bloods Alfred G. Vanderbilt and Calumet Farm.
Hasty House Farm was the name of owner Allie Reuben's racing and jumping business. A real-estate mogul whose wife, Billie, was an active equestrian competitor, Reuben joked that he began buying racehorses "so Mrs. Reuben would quit falling off jumpers in shows."
"No newcomers to racing have been more successful in recent years," one reporter penned. "They parlayed a two-horse purchase in 1947 into a stable that by 1954 surpassed racing giants such as King Ranch and Calumet Farm."
Hasty House also enjoyed unusual success in American turf racing, with three consecutive victories in the Arlington Handicap from 1953 to 1955. These wins were largely with horses purchased abroad by Reuben and "brought to a fine edge of condition" by Illinois native Harry Trotsek, wrote the great Joe Hirsch.
Trotsek was a highly respected horseman in his day, winner of multiple training titles at Arlington Park and "one of America's most competent trainers," according to Hirsch, "whose off-course business acumen is almost on a par with that of his astute and affluent employer." He led all North American trainers in purse earnings in 1953, went on to condition runners for the Whitney family's Greentree Stable and for Calumet Farm, and would be inducted into the Horse Racing Hall of Fame in 1984. He retired from training in 1988 and lived until 1997, when he passed away at the age of 84.
Reuben was the Barry Irwin of the era, a connoisseur of international pedigrees whose purchases of horses overseas resulted in top-level victories in the United States.
"Pockets bulging with foreign form charts, extended pedigrees, comparative analyses and other statistical information brought up to date daily by mail, cable, telephone and messenger, the bow-tied Ohioan is a walking library on the performance, quality and value of just about every topnotch Thoroughbred racing anywhere in the world today," wrote Hirsch. "A stuffed briefcase, which accompanies Reuben on his endless travels throughout the U.S., contains those books and photographs he is unable to jam in his jacket … extensive card catalogs are neatly indexed to provide him with even more detailed data on bloodlines, conformation, class and other pertinent background … [and] telephone bills reach astronomical figures when Reuben swings into action as he burns up the transcontinental and transatlantic wires in diligent pursuit of first-class racing material."
The Reubens remained active in equine activities for the majority of their lives, until Billie passed away in 1972 and Allie passed in 1975 at the age of 82.
* * *
Hasty Road was the first thoroughbred yearling the Reubens purchased at auction, and he became their first Triple Crown event starter (they paid $23,000 for the colt and had previously purchased only older racehorses). In that same crop, the couple bought a $5,800 yearling filly named Queen Hopeful. One day before Hasty Road won the Preakness, she won the Black-Eyed Susan.
Hasty Road's campaign as a 3-year-old included a fifth-place finish at Keeneland on April 16, the Derby Trial win on April 27, the runner-up finish in the Run for the Roses on May 1 -- yes, three days between starts -- and a rough-run, knock-down, drag-out mile-and-a-sixteenth battle at Pimlico on May 17 in a race called the Preakness Prep just five days before the running of the Triple Crown classic.
The Prep set up the rivalry between sixth-place Derby finisher Correlation and Hasty Road. With Determine skipping the Preakness, his fellow Californian stepped up to the plate in an attempt to stymie Hasty Road's next Triple Crown classic bid. Correlation was the winner of that year's Florida Derby and Wood Memorial, a bullheaded colt that members of the racing press termed "The Big Lug."
In the Preakness Prep, Correlation was equipped with a run-out bit in an attempt to prevent him from the "drunken-sailor" techniques that contributed to his poor Derby placing as the 4.30-1 favorite with entry-mate Allied. But when the horses arrived in the Pimlico paddock for the Prep, a pin that connected the device was found missing. With no time to repair the bit, the colt's trainer made a frantic attempt to fix it with a rubber-band. Judging from a rough-run finish at the end, when Hasty Road lugged out as Correlation lugged in, the equipment was not very effective -- and savvy race-goers knew drama was to come when the two faced each other again.
Hasty Road himself was no angel. Nearly 17 hands high, he had been known to throw an exercise rider or two, "tearing off in an ecstasy of independence that, on one occasion, got him some minor cuts and a rapped ankle which filled slightly," The Blood-Horse reported.
"It is necessary to con and maneuver him," Trotsek remarked.
The big colt objected violently to a standard tongue tie, which his trainer finally abandoned altogether, and also had an inclination to sulk under the whip. At first Trotsek believed blinkers would help him focus, and they seemed to do the trick when the colt nosed out Determined in the Derby Trial to set the track record. But the blinkers didn't work right in the Derby or Preakness Prep, as in each case the colt was passed by his rival, apparently not seeing him go by.
It was 39-year-old jockey Johnny Adams who suggested a solution to the problem -- a small hole cut in the right blinker. A slit in blinker equipment in 1946 enabled Adams to win the Santa Anita Handicap on War Knight, and Trotsek heeded the advice for the Preakness.
Adams was Hasty Road's regular rider and an experienced one at that. The native of Iola, Kan., had pounded down the stretch on more than 17,000 mounts in 20 years in the saddle and was the winner of more than 2,800 races, although the Preakness had eluded him (he finished second in 1943 aboard Blue Swords after running second in the Derby with that one, as well). At the time of his Preakness run, Adams was competing against his 19-year-old son -- a highly successful apprentice who rode under the name J. Ralph Adams. The jockey on Correlation, young Willie Shoemaker, was 22 years old and making his first Preakness bid.
* * *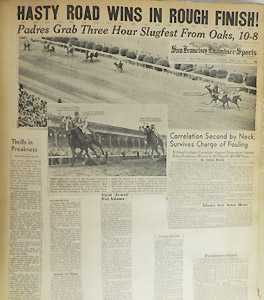 Courtesy America's Best Racing'Hasty' made headlines in the spring of 1954.
Just as in the Derby, Hasty Road took the lead in the Preakness straight out of the gate and ran with it unfettered down the backstretch. He hit the head of the lane with a lead of nearly three lengths, and this time, when Correlation moved to close in on him at the top of the stretch, he continued on. The two struck up a bristling duel with "The Big Lug" up to his old tricks, "Paying scant attention to the rules of the road," reporter Francis Stann wrote for the Sunday Star out of Washington, D.C. Correlation lugged toward Hasty Road and Hasty Road bumped with Correlation, and nearly caught in the battle was third-place finisher Hasseyampa, whose jockey snatched up to avoid going down and would later post a claim of foul against Shoemaker (it was disallowed).
Still, "the Hasty one" prevailed.
"Down they came, head and head, with both jockeys working furiously and the crowd in a frenzy, but the game son of Roman held on grimly and at the wire he was still in front by a neck," Pat Robinson penned for the Buffalo Courier Express.
"It finished like a rodeo, complete with the red neon sign flashing 'Objection,' while bald little Johnny Adams was sitting on Hasty Road in the winner's circle and waving the bright blue cap of Hasty House Farms," Povich reported for the Washington Post. "Ten minutes later the neon flashed again, signaling 'official,' and so the second classic of America's Triple Crown came to a close and Roman, now dead, was white-washed of the rap that neither he nor his get could run fast for more than a mile."
It was the one and only Preakness starter for both Hasty House Farm and Trotsek. It was also the one and only Triple Crown classic victory for Adams, who retired from riding in 1958 to pursue a successful training career. He was inducted into the Hall of Fame in 1965 and lived until 1995, when he passed away at the age of 79. Turf writers cemented him for the ages as "grinning like a pumpkin" in the Pimlico winner's circle at the time of his greatest score.
* * *
Hasty Road retired at the end of 1955 with earnings of $541,402 from 28 starts and a 14-5-3 record that included victory in the Widener Handicap the year after his Preakness run. He became a successful broodmare sire before his death in 1978, with several daughters producing stakes winners. Lady Golconda was the dam of 1974-1976 Horse of the Year Forego. Broadway was the dam of Reviewer, sire of the great Ruffian. Golden Trail was the second dam of Andover Way, the dam of Dynaformer. She is also in the pedigree of Memories of Silver, and therefore part of the page of 2001 Kentucky Derby winner Monarchos.
Today the Preakness winner of 1954 is all but forgotten, the only testament to his victory at Pimlico coming in the form of a modest-sized photo collage that hangs alone on the press box wall. The colt's right foreleg is extended midstride above old-time letters proclaiming his name, his nose stretched down on the wire. Below he walks toward you through history, a beaming Trotsek leading him with one hand, blinkers in the other. Adams is basking in the biggest victory of his career, and Hasty Road's ears are pricked toward the camera.
In that moment, their story is captured forever.
Claire Novak is an Eclipse Award-winning journalist whose coverage of the thoroughbred industry appears in a variety of outlets. You can reach her via her website.
SPONSORED HEADLINES
MORE HORSE RACING HEADLINES
MOST SENT STORIES ON ESPN.COM