Commentary
Will Caleb's Posse shine in Met Mile?
Updated:
May 25, 2012, 5:22 PM ET
By
Gary West
| Special to ESPN.com
Sports can make justice vivid. That's part of their appeal. Bad bounces, blown calls, inhospitable weather, contrary circumstances, slips and trips can all, yes, influence and even determine an outcome. But, for the most part, these things balance out so that sports offer the nearest thing to a meritocracy as you're likely to see.
That's why Caleb's Posse is such an intriguing riddle. He hasn't received what he deserves, not in a while anyway. But if these scales inevitably balance, that could change Monday, and Caleb's Posse could get exactly what he deserves in the Metropolitan Handicap at Belmont Park.
One of the most appealing things about horse racing, as trainer Steve Asmussen once put it, is that it isn't figure skating. In other words, multiple judges, with their personally quantified evaluations of a performance, don't determine the winner; in horse racing, the horses determine the outcome, or at least that's usually the way it works.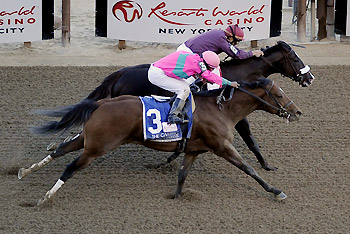 Horsephotos.comCaleb's Posse loses a close one at the wire to Jackson Bend in the Carter Handicap at Aqueduct.
Based on his performances on the racetrack, Caleb's Posse probably deserved an Eclipse Award for his 2011 campaign, which included five stakes victories. The only 3-year-old colt to win two Grade 1 events, he charged down the lane at Churchill Downs to win the Breeders' Cup Dirt Mile by four lengths. But Eclipse honors can be like figure skating, and Caleb's Posse, although a finalist for two awards, didn't get what he deserved.
"I was just honored to be involved in the voting," said his trainer, Donnie Von Hemel. "If a few votes had gone the other way, it could have been different, but win or lose the Eclipse Award, Caleb's Posse had an outstanding season, and he proved he's a terrific horse."
Eclipse voting, as it often does, emphasized the Breeders' Cup races, the sport's championship event, but the final voting, or thinking, seemed somewhat inconsistent. Hansen for example, was named the champion 2-year-old based on his narrow victory in the Breeders' Cup Juvenile. But the horse that turned in what was arguably the finest performance of the Breeders' Cup, Caleb's Posse, didn't win an award.
Some of the Eclipse voting, Von Hemel conceded, seemed rather fickle and some of the voters uninformed. But the trainer laughed it off because, well, in the end the scales will balance, right?
In March, in his seasonal debut, Caleb's Posse rallied wide from last, ran a final quarter-mile in about 23 seconds, and lost the Tom Fool Handicap by a neck to Calibrachoa. Both horses ran exceptionally well, but the six furlongs, Von Hemel said, might have been "a little short," for Caleb's Posse.
And then last month, in the Carter Handicap, also at Aqueduct, Caleb's Posse gave one of the best performances of the year by a runner-up. The Aqueduct surface seemed to favor speed; four of the seven winners of one-turn races that day led throughout. A horse of considerable quality, Shackleford, got the early Carter lead in casual fractions, 46.98 for the opening half-mile. And Caleb's Posse again rallied from last, through traffic, altering course in the stretch and running the final three furlongs, amazingly enough, in 34.74 seconds to finish a nose behind Jackson Bend.
"If he keeps running like that for the rest of the year," Von Hemel said about Caleb's Posse, "everything will be fine. You lose a photo here, but then you win one there. It'll balance out."
Such an abiding faith in the sport's system of justice comes from 28 years of training horses. That's a career with enough photo finishes to fill a scrapbook, including Alternation's nose victory in the recent Pimlico Special. Perhaps these things do balance out, and maybe even on Monday, in the Metropolitan Handicap.
One of the nation's most prestigious stakes, the Met Mile has been won by such greats as Equipoise, Stymie, Tom Fool, Native Dancer, Kelso, Buckpasser, Forego, Holy Bull and Ghostzapper. In this 116th Metropolitan, Shackleford, Jackson Bend, Saginaw, Caixa Electronica, To Honor And Serve and, of course, Caleb's Posse will attempt to add their names to an illustrious list of winners. It's not figure skating, and chances are good that the most deserving horse will win.
SPONSORED HEADLINES
MORE HORSE RACING HEADLINES
MOST SENT STORIES ON ESPN.COM
THE TRIPLE CROWN
Belmont Stakes • Saturday, June 8
More Triple Crown
News
•
Oxbow pointed to Belmont Stakes
•
Oxbow upsets Preakness Stakes
•
Freedom Child wins Peter Pan; Belmont next
•
Orb wins 139th Kentucky Derby
•
Princess of Sylmar rules Oaks
•
Baffert out of Kentucky Derby
Bob Ehalt's Hot List
•
Breaking down the Preakness Stakes
•
Derby recap and a look at the Peter Pan
•
Breaking down the Kentucky Derby
In The Gate Video/Podcast
•
Secretariat's historic run: Pt. 1
•
Secretariat's historic run: Pt. 2
•
Secretariat's historic run: Pt. 3
•
Secretariat's historic run: Pt. 4
•
Secretariat's historic run: Pt. 5
•
Paul Hornung talks Titletown Five
Triple Crown Live Chat Schedule
• Belmont: Saturday, June 8 (3 p.m. ET)
•
Preakness chat wrap
•
Kentucky Derby chat wrap
•
Kentucky Oaks chat wrap
Virtual Racing
•
Derby Giveaway
: Join Digiturf.com with reference code KD13 and race to Win $500!
•
Derby Bonus
: Join Digiturf.com with reference code KD13 and race in Kentucky Derby New Stable races to get an unlimited Match Bonus!
Triple Crown Video
•
Watch the 138th Preakness Stakes
•
ABR: A day with Orb
•
TCI: Derby recap
•
Kenny Mayne: Between two horses
Features
•
Cronley: Preakness traps
•
Finley: Why Lukas is a winner
•
Moran: Stevens all smiles
•
Ehalt: Dark days
•
Cronley: What were you thinking?
•
Novak: Hernandez in the saddle
•
Duckworth: Departing up for challenge
•
Ehalt: Seeking redemption
•
Moran: Triple Crown should not be easy
•
Mayne: When will I listen?
•
West: Tradition steals Derby spotlight
•
West: Calumet back in Derby spotlight
•
Moran: Progress tough on Churchill
•
Novak: Victory starts on the backside