Commentary
Jerry Bailey: Riding the Belmont 101
Updated:
June 4, 2012, 3:00 PM ET
By
Bill Finley
| Special to ESPN.com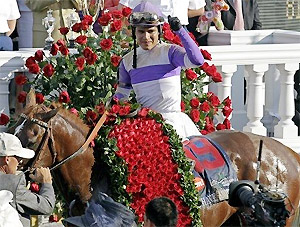 AP PhotoCan Mario Gutierrez recreate his Derby-winning ride on I'll Have Another in the Belmont Stakes?
Belmont Park is unique and tricky and there may be no harder race to master than the Belmont Stakes. That's why there have been so many rookie mistakes committed in the race and why some feel Mario Gutierrez, who has yet to ride a race over "Big Sandy," might just foul this up aboard I'll Have Another. Gutierrez ought to sit down with Jerry Bailey and get a Belmont Park/Belmont Stakes primer. For about 15 years, the now-retired Bailey had no equal when it came to riding in New York. He won the Belmont Stakes twice, in 1991 with Hansel and in 2003 with Empire Maker. What set Bailey apart is that he almost never made mistakes. He always seemed to be in the right place at the right time, one of the reasons he won 1,143 races over the main track at Belmont. His successors include John Velazquez (Union Rags) and Javier Castellano (Dullahan), both of whom have live mounts in the Belmont Stakes. Against the likes of those riders, is Gutierrez at a disadvantage? "Yes, he's at a disadvantage. There's no question about it," Bailey said. "Is he up to the task? Yes, he might be." If Gutierrez asks, here's what Bailey will tell him: "Most Belmonts are not won by deep closers," Bailey said. "However, if you move too soon, that has cost many a good man a Triple Crown. That's two ends of the spectrum. You can't be too far behind, but if you move too soon you might come up empty. I think the biggest thing I would say is know how much horse you have relative to the distance you still have to travel. I moved on Hansel at the three-quarter pole, but I didn't move full out. I rationed out his move a little at a time and I tried to spread the field out as we went around the turn a little at a time. It worked just well enough. "If you do it all at once, like Spectacular Bid did, or even with Smarty Jones, you're going to have a problem. If you handcuff a rider and tell him don't move too soon and sit back six lengths when you turn for home, you're liable not to win the Belmont. And, again, you can't move too early. It's all about knowing how much horse you have relative to how far you have left to run." If it sounds confusing or complicated that's because it is. Belmont Park is the only track in the nation that is a mile-and-a-half in circumference. Jockeys that are unfamiliar with the track tend to get lost. In an attempt to overcome what could be a problem for his jockey, trainer Doug O'Neill is looking to line up pre-Belmont Stakes mounts for Gutierrez. Bailey's not sure that will help. "If you do the same thing over and over it is ingrained in you," Bailey said. "If something different and strange happens in the middle of the race at Belmont and you've ridden a lot of races over the track, you can adjust because you're so comfortable in your surroundings. If you ride Belmont day-in and day-out, you don't get lost or start thinking, do I need to move now?
"You can be at a point where you have four or three furlongs to go and still be on the far turn, which, at most tracks, is the point where you move, but not at Belmont. It's not so much just knowing the track. It's being able to know what to do when things are a distraction in the middle portion of race. Someone might move early or get away from you and you have to make up ground, but you have to remember where you are on the track. Geographically, it's different at Belmont. It's so huge that you have to keep in mind what pole you are at, and that's a problem for the new guys." Bailey has studied Gutierrez's Kentucky Derby and Preakness rides closely. He liked what he saw in the Kentucky Derby, but found fault with Gutierrez's ride in the Preakness. "I thought he did a phenomenal job in the Kentucky Derby and I had to tip my hat to him," he said. "The pace did help him out to some extent because it spread the field out so that he could be only two wide from the 19 post. But it took a lot of finesse and a lot of cool to be that far back on a horse that had been tactical most of his life and a stalker. I was a big fan of his Derby ride. "I can't say the same thing for the Preakness, though. He was cool, but giving Bodemeister that easy a pace and being three lengths off of him was a big risk. But he got the job done. He showed coolness in the Derby, but I thought he was too cool in the Preakness." The I'll Have Another camp did seek Bailey's assistance. O'Neill reached out to Bailey and asked him to tutor Gutierrez. The plan was for Bailey to get on a pony and gallop around with Gutierrez at his side, explaining the nuances of the massive oval. Bailey was happy to help, but NBC asked him not to. Bailey will be part of the network's Belmont broadcast. "Doug O'Neill called me four or five days ago and asked if I would get on [stable pony] Lava Man and gallop him around with Mario," Bailey said. "That sounded fine, but I decided to check with NBC. After speaking with the producers at NBC, they thought it would be like John Madden jumping over to one of the teams in the Super Bowl and helping coach them. That was their analysis, not mine. They thought it was a conflict of interest and I can't totally disagree." Bailey said he is still available to chat with Gutierrez. The rookie would be crazy not to. Bill Finley is an award-winning racing writer whose work has appeared in The New York Times, USA Today and Sports Illustrated. Contact him at wnfinley@aol.com.

• Bill Finley is an award-winning horse racing writer whose work has also appeared in The New York Times, USA Today and Sports Illustrated.
• To contact Bill, email him at wnfinley@aol.com
SPONSORED HEADLINES
MORE HORSE RACING HEADLINES
MOST SENT STORIES ON ESPN.COM