I'll Have Another pulled from Belmont
Updated:
June 9, 2012, 2:04 PM ET
Associated Press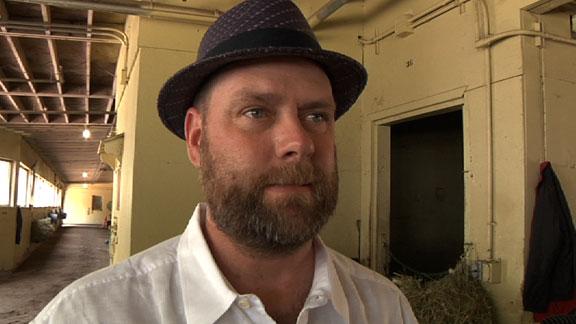 Doug O'Neill Is Moving On
I'll Have Another Trainer Doug O'Neill talks about the decision to scratch his horse with a Triple Crown on the line.
Doug O'Neill Is Moving On
NEW YORK -- The Triple Crown curse lives. This time the horse didn't even make it to the starting gate.
I'll Have Another's bid for the first Triple Crown in 34 years ended stunningly Friday when the chestnut colt was retired on the eve of the Belmont Stakes with an injury to his left front tendon.
"I'm afraid history is going to have to wait for another day," said J. Paul Reddam, the colt's owner.
More From ESPN.com

All of the sport's woes would not have been solved with a Triple Crown winner this year, but the scratch of I'll Have Another is a big blow to the game, writes Bill Finley. Story

---

A dozen horses have taken their shot at the Triple Crown since Affirmed last won it in 1978, but none had lost it on Friday, writes Paul Moran. Story
---

Another trainer who was approaching greatness turned and made the slow walk back to normal Friday, writes Wright Thompson. Story
• Cronley: Belmont picks (revised)
• Ehalt: Handicapping the new Belmont
• West: Maybe the news wasn't all bad
• Novak: Unforgettable day at Belmont
• Stats & Info: Missed chances
I'll Have Another, who won the Kentucky Derby and the Preakness Stakes with stirring stretch drives, was the 4-5 early favorite to win the Belmont and become the 12th Triple Crown winner and first since Affirmed in 1978.
Instead, he'll be honored during a retirement ceremony in the Belmont Park winner's circle. I'll Have Another, with his jockey, Mario Gutierrez, originally was scheduled to lead the other Belmont horses during Saturday's post parade, but a change of plans was announced by the New York Racing Association.
I'll Have Another's grooms will lead him to the paddock about an hour before the running of the Belmont, then to the winner's circle where trainer Doug O'Neill will remove his saddle.
"He'll be my hero forever," a somber Gutierrez said. "What I'll Have Another did for me is so amazing. He brought happiness to my life."
Always the longest and toughest of the Triple Crown events, the 1½-mile Belmont was instantly reduced to being just another big race.
The favorite's role fell to Dullahan, who ran third in the Derby and had been second in the morning line for the Belmont. He was made the 9-5 early choice.
O'Neill said I'll Have Another was being retired because he developed swelling in his left front tendon that was the beginning of tendinitis.
"This is extremely tough for all of us. It's far from tragic but it's extremely disappointing," he said.
O'Neill's brother, Dennis, said it was hard to tell anything was wrong just by looking at the horse.
"He looks great. He's sound. He went great this morning. He looks super (but) you just can't take a chance," he said. "He's too valuable of a horse and we love him to death like all of them. You wouldn't run a horse if you think something might happen."
The scratch comes a day before an estimated 100,000 fans were expected to converge on the track in hopes of seeing, at long last, a Triple Crown winner -- a champion who would help resurrect a struggling racing industry.
I'll Have Another joined 11 other horses since Affirmed who won the Derby and the Preakness but were unable to complete a Triple Crown sweep in the Belmont, extending the longest gap between Triple winners to 35 years. The colt also became the third winner of the first two legs who was unable to run in the finale; Burgoo King in 1932 and Bold Venture in 1936 were the others.
"It's like completely letting the air out of a balloon," said Ken McPeek, who trains Belmont contenders Atigun and Unstoppable U.
Dale Romans, who trains Dullahan, said: "This was going to be a special race, one of the biggest races of our time. I'd rather have him in there. It would have been something special to beat him."
Doug O'Neill said he first noticed something might be wrong with the colt Thursday, hours after his usual morning gallop.
"We prayed he kind of hit himself and that it was a little bit of skin irritation," he told a horde of media gathered outside the detention barn at Belmont Park.
O'Neill had called an audible Friday and taken his horse out to gallop at 5:30 a.m., three hours earlier than he had been working out in the days leading up to the race. He wanted to avoid the congestion created by all the Belmont horses going to the track at the same time.
"I thought he looked great on the track," he said, "and then cooling out, you could tell that swelling was back, and at that point I didn't feel very good."
A veterinarian confirmed the diagnosis and suggested that O'Neill give the colt three to six months off before resuming training. But O'Neill said he and his brother, along with Reddam and his wife, were unanimous in deciding to retire the colt who had won four consecutive Grade 1 races, starting with the Santa Anita Derby in April.
"I really thought he was going to run off tomorrow and really show something," Reddam said. "So we were all a bit shocked, but we have to do what's best for the horse."
Dr. Larry Bramlage, on-call veterinarian for the Belmont, said it wouldn't hurt I'll Have Another to walk on the track "but would be a concern at a mile-and-a-half at full speed."
"

This was going to be a special race, one of the biggest races of our time. I'd rather have him in there. It would have been something special to beat him.

"

-- Dale Romans, trainer of Belmont second favorite Dullahan
He compared the problem to an Achilles tendon injury, which usually keeps a person off his feet for six weeks.
"This one to the horse is nowhere near that severity," he said, "but it takes the same amount of time to rehab it."
Bramlage said it probably would take a year for the colt to recover. He added that a tendon in a racehorse is "more highly evolved" than anything in a human.
O'Neill said I'll Have Another would return to his home base at Betfair Hollywood Park in Inglewood, Calif., in the next few days.
The injury underlines the fragility of these 1,100-pound thoroughbreds, racing at speeds up to 40 mph. Other Triple Crown bids were foiled in odd ways, too.
Big Brown was pulled up at the top of the stretch in the 2008 Belmont, mysteriously failing to finish the race; War Emblem nearly fell to his knees coming out of the starting gate in 2002 and wound up eighth; Charismatic broke two bones in his left front leg with a quarter mile to go, but still finished third in 1999; Spectacular Bid stepped on a safety pin in his stall before the 1979 race and finished third; and Tim Tam ended up second in 1958 after running the final quarter-mile with a broken bone in his right front ankle.
"You only get one chance to do this," said four-time Belmont winner D. Wayne Lukas, who trains Belmont Stakes contender Optimizer. "From the standpoint of a purist, it's a blow."
After talking to the media, O'Neill led I'll Have Another out of the detention barn and walked him down a path toward the barn where the colt had stayed for most of the time he had been at the track. Since Wednesday, all the Belmont Stakes horses were housed in the same barn with 24-hour surveillance; New York racing officials said it was to ensure the race was run fairly.
"Some people have asked did the detention barn have anything to do with this. Absolutely not. Just a freakish thing," O'Neill said. "I've been hoping and praying he would stay injury-free, and it didn't happen."
O'Neill has been under intense scrutiny throughout the Triple Crown series because of his history of medication violations. He is set to begin a 45-day suspension next month after one of his horses tested positive for excess total carbon dioxide in a race last year.
The New York State Racing and Wagering Board said Friday that initial testing of samples taken from all 12 Belmont Stakes entries on Wednesday were negative.
"Our hearts go out to the connections of I'll Have Another," NYRA chairman Steven Duncker said. "We are all disappointed for them, the fans, and for the sport of thoroughbred racing, but the most important concern is always the health and well-being of the horses."

Copyright 2012 by The Associated Press
SPONSORED HEADLINES
MORE HORSE RACING HEADLINES
MOST SENT STORIES ON ESPN.COM
THE TRIPLE CROWN
Belmont Stakes • Saturday, June 8
More Triple Crown
News
•
Oxbow pointed to Belmont Stakes
•
Oxbow upsets Preakness Stakes
•
Freedom Child wins Peter Pan; Belmont next
•
Orb wins 139th Kentucky Derby
•
Princess of Sylmar rules Oaks
•
Baffert out of Kentucky Derby
Bob Ehalt's Hot List
•
Breaking down the Preakness Stakes
•
Derby recap and a look at the Peter Pan
•
Breaking down the Kentucky Derby
In The Gate Video/Podcast
•
Secretariat's historic run: Pt. 1
•
Secretariat's historic run: Pt. 2
•
Secretariat's historic run: Pt. 3
•
Secretariat's historic run: Pt. 4
•
Secretariat's historic run: Pt. 5
•
Paul Hornung talks Titletown Five
Triple Crown Live Chat Schedule
• Belmont: Saturday, June 8 (3 p.m. ET)
•
Preakness chat wrap
•
Kentucky Derby chat wrap
•
Kentucky Oaks chat wrap
Virtual Racing
•
Derby Giveaway
: Join Digiturf.com with reference code KD13 and race to Win $500!
•
Derby Bonus
: Join Digiturf.com with reference code KD13 and race in Kentucky Derby New Stable races to get an unlimited Match Bonus!
Triple Crown Video
•
Watch the 138th Preakness Stakes
•
ABR: A day with Orb
•
TCI: Derby recap
•
Kenny Mayne: Between two horses
Features
•
Cronley: Preakness traps
•
Finley: Why Lukas is a winner
•
Moran: Stevens all smiles
•
Ehalt: Dark days
•
Cronley: What were you thinking?
•
Novak: Hernandez in the saddle
•
Duckworth: Departing up for challenge
•
Ehalt: Seeking redemption
•
Moran: Triple Crown should not be easy
•
Mayne: When will I listen?
•
West: Tradition steals Derby spotlight
•
West: Calumet back in Derby spotlight
•
Moran: Progress tough on Churchill
•
Novak: Victory starts on the backside