Commentary
Numbers never lie
Homebred Kentucky Derby winner Orb has stats on his side
Updated:
May 15, 2013, 2:23 PM ET
By
Gary West
| Special to ESPN.com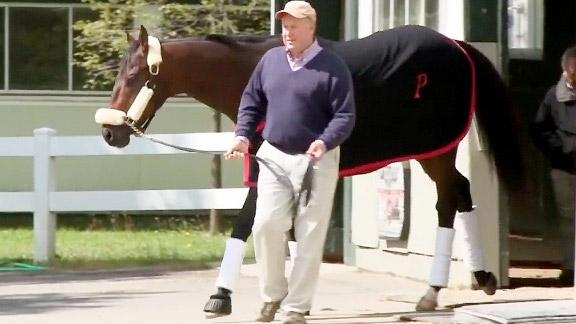 ABR: Orb ships
The crew at America's Best Racing takes us through a day in the life of Kentucky Derby winner Orb as he works at Belmont Park and ships to Pimlico for the Preakness.
ABR: Orb ships
I expect Orb to sweep the Triple Crown. Having seen so many outstanding horses approach it but fail and having witnessed so many ways to lose, so many vicissitudes that in a snap or a wink can transform potential victory into defeat, I would be foolish -- or else deviously and deceitfully provocative -- were I boldly to predict a sweep of the Triple Crown. But I like Orb's chances.
Beyond the numbers, which are trending in his direction, and the handicapping factors, which suggest he's quite simply the best, Orb has two things going for him. First, he's a homebred; and second, in the estimation of his trainer, he's "amazing."
Not since Affirmed, of course, in 1978 has a horse been able to hit all three races squarely -- the Kentucky Derby, Preakness and Belmont Stakes -- and play the Triple Crown arpeggio. And so 35 years have passed without a Triple Crown winner -- the longest absence in the jewelry's history. While many reasons have contributed to this, two jump up and dance the hoochie-coochie.
"

I'm amazed by everything I see. I don't know what I have, but I know I have the Kentucky Derby winner.

"

-- Shug McGaughey, Orb's trainer
First are the numbers. They indicate that, quite simply, winning the three races of the Triple Crown, an accomplishment that implies clear superiority over a generation of thoroughbreds, has become much more difficult since 1978 and especially since the 1940s, a decade that crowned four horses. When Whirlaway swept the Triple Crown in 1941, he was the best of his generation; he was the dominant talent. But his generation numbered only 5,696, or at least that's how many thoroughbreds were foaled, or born, and registered in North America in 1938, according to The Jockey Club.
Sir Barton, the first Triple Crown winner in 1919, emerged from a foal crop of 2,128; Gallant Fox in 1930 from 4,182; Omaha in 1935 from 5,256; War Admiral in 1937 from 4,924; Count Fleet in 1943 from 6,003; Assault in 1946 from 5,923; and Citation in 1948 from 5,819. And so how difficult was it to sweep the Triple Crown back in the 1940s, when being the best 3-year-old colt meant being the best of -- given that many foals didn't get to the races because of injury -- maybe 2,000 or so horses?
The foal crop didn't reach 10,000 until 1956, and 10 years later it surpassed 20,000 for the first time. In 1970, Secretariat was foremost among 24,361 foals; in 1974, when Seattle Slew was foaled, the foal crop grew to 27,586. By 1975, when Affirmed was born, the foal crop for North America had reached 28,271, and it steadily grew until 1986, when 51,296 foals were registered with The Jockey Club.
The numbers have declined in recent years, and Orb's foal crop was 25,808. He was born, of course, in 2010, when for the first time in 35 years the foal crop was smaller than Affirmed's.
The 11 Triple Crown winners had numbers on their side, or at least numbers that didn't pile so high and precariously that they threatened to come crashing down in an avalanche of improbability. To collect the famous jewels, they didn't have to dominate a group of 51,296, as Sunday Silence and Easy Goer attempted to do, nor did the Triple Crown winners have to meet all the challengers produced from a crop of 32,984, as Afleet Alex did in 2005. To sweep the series, yes, the Triple Crown winners had to dominate, but an outstanding horse can dominate a small group while not even a great horse is assured of dominating a multitude. The 11 Triple Crown winners emerged from foal crops that averaged 10,922.
Since 1978, 19 horses have won two-thirds of the Triple Crown. They came from foal crops that averaged 36,971. Some have suggested that there haven't been any Triple Crown winners in 35 years because of the spacing of the races, but that's pure flapdoodle. What's truly amazing, given the numbers, is that in these 35 years, 19 horses even came close to sweeping the Triple Crown.
Circumstances thwarted most of those attempts in the form of injuries or bad trips or just bad luck, all of which are more likely in large fields. As the foal crops have grown, so too has the popularity of the series. Everyone wants to participate. And so never again will the sport see so few as six horses in the Kentucky Derby, as it did in 1948, when Citation defeated five rivals at Churchill Downs. Never again will the sport see a Belmont Stakes with a field of only three, as it did in 1943, when Count Fleet completed his sweep. Secretariat and Affirmed both faced four challengers in the Belmont. In fact, the typical Triple Crown winner faced an average of eight rivals (7.9, to be exact) in each of the three races. As for the 19 years that saw a horse win two-thirds of the series, the average field size in those races was 12.29.
The field sizes probably won't change, given the soaring popularity of the Triple Crown. But the size of the foal crop has. In 2010, when Orb was foaled, the numbers for the first time returned to a level where, it has been proved, a dominant Triple Crown winner can emerge.
Or, to think of it another way: In 1989, there were two outstanding 3-year-olds that finished first and second in the three races of the legendary series. Shug McGaughey trained one of the horses, Easy Goer. Twenty-four years later, with a foal crop that's roughly half the size of 1986's, there might be half as many outstanding 3-year-olds, and McGaughey trains him.
The other reason dancing for attention is that the modern thoroughbred, for the most part, hasn't been bred for the Triple Crown. Is it coincidental that the ascendency of the commercial breeder and the disappearance of the Triple Crown winner coincide? Probably not.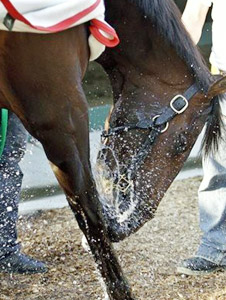 AP PhotoShug McGaughey's "amazing" colt seems to be at the top of his foal class.
In 1967, a son of Raise A Native was the sale-topper at the famed Keeneland auction of royally bred young racing prospects, selling for $250,000. Two years later that youngster, who was named Majestic Prince, won the Kentucky Derby and Preakness, and in doing so he dramatically changed the game. It was a watershed moment, for it convinced the well-heeled who craved celebrity that they could buy a Derby winner as well as a moment in the national spotlight. Majestic Prince also convinced breeders that they could become well-heeled themselves by selling the right horse.
And so with Majestic Prince, the ascendency of the commercial breeder began. When horses are bred for the sales ring rather than for the racetrack, there's more emphasis on precocious speed and less on stamina. And, of course, stamina is essential for competing in the classic races of the Triple Crown.
Ten of the 11 Triple Crown winners were homebreds -- that is, all the Triple Crown winners except Seattle Slew (purchased as a yearling for $17,500) were bred for the racetrack, not the sales ring, and were campaigned by their breeders. (John Madden, who bred Sir Barton, raced the colt as a 2-year-old before selling him to J.K.L. Ross as a rabbit for the more celebrated Billy Kelly, who finished second to his stablemate in the Derby.)
Over the last 35 or so years, it seems, more and more breeders have cultivated qualities -- size and speed and precociousness -- that might be attractive to buyers but won't necessarily be rewarded in the Triple Crown. That seems to be changing, by the way. But of the 19 horses that won two-thirds of the Triple Crown since 1978, only five were homebreds.
The morning after he won the Kentucky Derby, at his barn in the Churchill Downs stable area, Orb seemed fresh, relaxed, satisfied without being sated. He had eaten all his food from the night before, and he was getting into a hayrack.
"I'm amazed by everything I see," McGaughey said, looking at Orb. The colt has developed so quickly and dramatically since the first of the year, and his risen to such a high level of performance, that McGaughey said he doesn't know just how talented Orb might be. "I don't know what I have, but I know I have the Kentucky Derby winner."
Orb amazes, the trainer explained, not just in the way he continues to develop but also in how he seems to thrive on his own improvement. It's a joy just to contemplate the possibilities. The Triple Crown is demanding, especially for a horse not bred to meet its demands and challenges. But for a horse such as Orb, a grandson of A.P. Indy who's bred to race and relish classic distances, the Triple Crown isn't so much demanding as fulfilling. This is what he was born to do.
"I'm continually amazed," McGaughey said about the homebred who's owned by his breeders, Stuart Janney III and Ogden Mills Phipps. And as he continued to talk about the handsome colt, McGaughey returned again and again to that word, "amazing." It was as if the trainer held the word aloft, between two fingers, "amazing," to ask fate a question: Will Orb amaze the racing world by sweeping the Triple Crown?
I like his chances.
SPONSORED HEADLINES
MORE HORSE RACING HEADLINES
MOST SENT STORIES ON ESPN.COM