Discussion
Things to know about the ESPN 300
Originally Published:
June 19, 2013
By
Craig Haubert
| RecruitingNation
As we evaluate and study each class, different aspects of that particular class stand out and each forms its own identity. So with the initial ESPN 300 now released, here are 10 things to know about the 2014 class:
1. Change at the top: The rankings start with the No. 1 player in the nation so this seems as of a good place as any to start talking about things to know about this class. When assembling the rankings, we have always talked about putting a premium on certain impact positions -- quarterbacks, defensive linemen, offensive tackles and cornerbacks -- where top talent is not always easy to find and the previous player rankings have reflected that. From 2008 through the 2013 class, the top prospect has been a defensive lineman or quarterback. When going through initial evaluations, we thought that might change this year and when we got together as staff to assemble the initial ESPN 150, it indeed did. Those groups mentioned still have a large presence among the five-stars in the updated ESPN 300 with nine of the 13 five-star players being defensive linemen, cornerbacks or offensive tackles, but the No. 1 prospect is a running back. Several prospects were discussed for that top spot, but the more we researched Leonard Fournette (New Orleans/Saint Augustine), the stronger case he made for being No. 1. He's a back with excellent size to carry the load, but he also has nimble feet to be able to make defenders miss as well as great speed for his size to create the big play. You don't find many backs with Fournette's combination of size and speed and that helped him break the trend and land in the top spot for the 2014 class.

To continue reading this article you must be an Insider
Insider
FUTURE OF FOOTBALL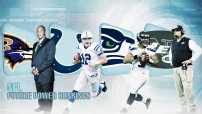 What does the future of football look like? ESPN.com will spend the week gazing into our crystal ball. The week kicked off with a look at the next class of college stars and continues with predictions for future college and NFL power rankings.
NFL: FUTURE POWER RANKINGS
COLLEGE: FUTURE POWER RANKINGS