Florida State No. 1 in preseason poll
Updated:
August 17, 2014, 5:04 PM ET
Associated Press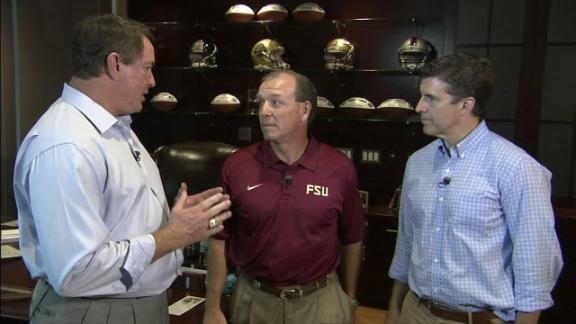 Bus Blitz: Florida State
Florida State coach Jimbo Fisher discusses how he is advising Jameis Winston to deal with all the scrutiny he faces and battling complacency after winning a national championship.
Bus Blitz: Florida State
NEXT VIDEO
AP Poll
The top five teams in this week's Associated Press college football Top 25:
Jameis Winston and defending national champion Florida State are No. 1 in The Associated Press preseason college football poll.
The Seminoles will start the season No. 1 for the sixth time -- the first since 1999 when they became the first team to hold the top spot for the entire season.
Florida State received 57 of 60 first-place votes Sunday from the media panel. No. 2 Alabama, No. 3 Oregon and No. 4 Oklahoma each received one first-place vote. Ohio State is No. 5 and Auburn is No. 6.
More from ESPN.com

The AP poll has no bearing on the national championship race in the playoff era. And that's a good thing, Adam Rittenberg writes. Story
---

Brad Edwards and Chris Fallica examine some poll history to check if top 10 teams the in preseason finish the regular season in the top four. Story
---
Winston, the Heisman Trophy winner last season as a redshirt freshman, led Florida State to a 34-31 victory against Auburn in the last BCS national championship game.
This season the Bowl Championship Series is being replaced by the College Football Playoff. A selection committee will pick the top four teams in the country for two national semifinals.
The rest of the top 10 is UCLA at No. 7, followed by Michigan State, South Carolina and Baylor.
The Southeastern Conference matched its own record for most teams in the preseason poll from one conference with eight. The Pac-12 is next with six, the best showing for that conference.
The AP preseason poll started in 1950 and since then 10 preseason No. 1 teams have gone on to finish the season ranked No. 1, including Florida State twice (1993 and '99).

Copyright 2014 by The Associated Press
MORE COLLEGE FOOTBALL HEADLINES