Commentary
Expectations raised for Clippers
Even with Blake Griffin surrounded by a bevy of young talent, L.A. still has work to do
Updated:
November 26, 2011, 9:01 PM ET
By
Kevin Arnovitz
| Special to ESPNLosAngeles.com
When dawn broke Saturday morning to the news that the NBA and its players had reached a tentative deal, power forward and dedicated cinephile Blake Griffin tweeted, "This must be how the guys in Space Jam felt when MJ gave them their powers back through that old basketball."
[+] Enlarge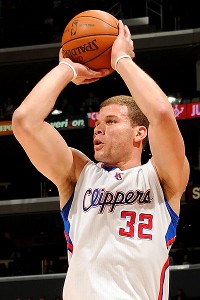 Andrew D. Bernstein/Getty ImagesAnticipation couldn't be higher for Clippers fans to watch the greatest show on the hardwood, Blake Griffin.
Even without an intervention by Michael Jordan or Bill Murray, the Los Angeles Clippers -- Griffin's personal ToonSquad -- now enter the delayed 2011-12 season as one of the league's showcase teams. The Clippers might not be contenders for a title this season, but one glimpse at the original national TV slate tells us everything:
The NBA wants its fans to become intimately familiar with the Clippers, no matter where they finish in the standings.
Truth be told, a canceled season wouldn't have been fatal for the Clippers from a long-term perspective. They would've likely woken up in spring 2012 with only $24 million committed for the 2012-13 season, the privilege to match any offer on Eric Gordon, full Bird rights for DeAndre Jordan and two of the first eight picks in the next NBA draft.
But let's set aside capology for a season, and be honest: Outside of Spotify, you won't find a brand that did more to raise its profile last year than the Clippers and their frontman. For NBA League Pass subscribers, the Clips were essential viewing because nobody wanted to find out about Griffin's next masterstroke on Twitter. Griffin's abuse of the rim evokes an emotional reaction among fans. For many, it's not a highlight, but a religious experience.
The Elton Brand squad in 2006 created a momentary buzz in Los Angeles, but Griffin's emergence in the age of embedded videos and unfiltered athlete-fan interactivity has the team trending nationally. Carrying that momentum forward was essential for the Clippers, which is why a 66-game season means as much to them as almost any other team in the league.
For all the giddy anticipation, the Clippers have work to do if they're going to qualify for the postseason. The starting small forward spot has been a question mark for eternity. Some acceptable candidates exist on the free-agent market, but Tayshaun Prince, Caron Butler, Andrei Kirilenko, Jason Richardson and Shane Battier each has his imperfections. The Clippers are fond of that $24 million number headed into Summer 2012. They're unlikely to compromise it too much by racking up long-term liabilities just for the sake of finishing 35-31.
Speaking of which, this is the final guaranteed season on coach Vinny Del Negro's contract with the team (the Clippers hold a team option for 2012-13). What's the threshold of success for Del Negro to stay in the good graces of the Clippers' front office? Will a .500 season clear the bar? Would a defensive leap forward, something akin to what the Bulls accomplished during Del Negro's second season in Chicago, secure his future? So long as he earns the confidence of the young talent, would that do the trick?
The primary pieces of that young core each have a lengthy to-do list. Griffin might be the league's most telegenic young star, but for the Clippers to make a Thunder-like jump, he'll need to become a defensive anchor and stretch out his shooting range. Gordon becomes a restricted free agent at season's end. As the team's leading guard, he must apply his individual exploits to create the kind of small-big chemistry elite teams demonstrate. The Clippers will probably have to pay Jordan big money to stay a Clipper. The day they do, Jordan stops being a curio with tantalizing tools and must quickly grow into a top-10 NBA center.
The Clippers have been here before with a young troika. Ten years ago, SLAM draped Brand, Lamar Odom and Darius Miles on its cover just as the Clippers were emerging as the league's new indie favorite. That team held, but never quite piqued, the interest of the NBA's larger fan base. Brand offered the Clippers machine-like efficiency. He was a consistent, blue-collar hero -- but never a superhero.
Griffin's intense work ethic and physical regimen are comparable, but there's something else there, a unique brand of athletic charisma that plays well in a sold-out NBA arena and Funny or Die. But charisma needs to be on display to captivate an audience. Without an outlet, it simply isn't a superpower.
On Saturday morning, the NBA unveiled that platform in the form of a 66-game schedule.
Kevin Arnovitz covers the NBA for ESPN.com and is the author of the True Hoop Network's Clipper Blog.
ESPN.com
NBA writer for ESPN.com since 2008
Editor of the TrueHoop Network
Former contributor and editor at NPR