Commentary
It's triple towers, not 'Lob City'
Whatever they're called, Clippers are 'tops' in town ... and Pacific Division
Updated:
January 5, 2012, 4:27 AM ET
By
Arash Markazi
| ESPNLosAngeles.com
LOS ANGELES -- On back-to-back plays Wednesday night, the three newly painted high-rises hovering over downtown Los Angeles came to life.
The oversize photos of Blake Griffin, Chris Paul and DeAndre Jordan painted onto the three towers of the Hotel Figueroa has stopped traffic outside of Staples Center since last week, but nothing has brought the arena to life more than Paul connecting with Griffin and Jordan for their signature lob dunks.
[+] Enlarge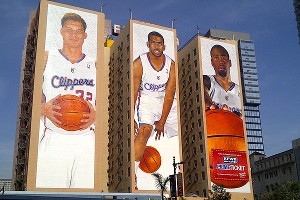 Arash Markazi/ESPN.comBlake Griffin, Chris Paul and DeAndre Jordan are endearing themselves to Clippers fans in their play and on three buildings in downtown Los Angeles.
Late in the third quarter of the Los Angeles Clippers' 117-89 win over the Houston Rockets, consecutive lobs from Paul to Jordan and then to Griffin not only brought the sellout crowd to their feet but put the game away for good, allowing the starters to be relegated to towel-waving cheerleaders in the fourth quarter.
The first lob developed slowly and methodically in the half-court with Paul eying Jordan, who cut to the basket along the baseline and jumped as soon as Paul let the ball go. The second happened on a fast break, as Paul released the ball near midcourt and hit a streaking Griffin above the rim. Both plays could have been spotted from as far away as their recently emblazoned downtown towers.
In a city that thrives on entertainment and excitement, there may be no better show right now than "Lob City," an endearing nickname that accurately describes this team's most exciting play and one that the Clippers have actually grown to despise.
"It's unfortunate," Griffin said. "It's one of those things where we understand it, but that's not what we're about. Before the game we're not going out thinking, 'All right, its Lob City tonight.' We're just trying to win games and trying to get better."
It was Griffin who famously coined the phrase when a camera crew caught him uttering the nickname as he chest-bumped Jordan after he heard the news Paul would be traded to the Clippers. He now wishes he would have never said it.
"If anybody says it in [the locker room], it's just a joke, making fun of the whole thing," Griffin said. "It's not on our minds at all."
[+] Enlarge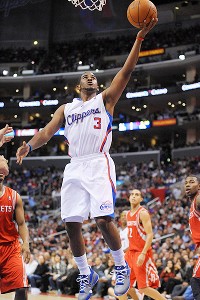 Kirby Lee/Image of Sport/US Presswire"We're improving because we're communicating better," Paul said Wednesday after the Clippers dispatched the Rockets . "We're trusting each other."
Simply uttering the word "lob" draws an immediate roll of the eyes from Paul, who will usually switch the topic to half-court offense, tight defense or any other aspect of the game.
"It's something we can't control," Paul said. "We are a complete team, and we want to continue to be a complete team. That's the only way we're going to win games. It doesn't matter if you get 10 lobs and lose the game. It's all about winning at the end of the day."
If the Clippers are to become a winner, they had better improve on the league's worst defense. And they've done just that in their past two games, albeit inconsistently:
On Monday, they held the Portland Trailblazers to 52 points through three quarters before giving up 36 points in the fourth. On Wednesday, they gave up 55 points in the first half before holding the Rockets to 34 points in the second half. In both games, the Clippers held the opposition to under 90 points and 47 percent shooting from the field.
"We're improving because we're communicating better," Paul said. "We're trusting each other. That's the only way you can be a good defensive team, is by trusting one another. It's a process. We're not finishing the game tonight and saying, 'We finally solved it.' We have to keep working."
As much as the Clippers claim to dislike the nickname "Lob City," nobody at Staples Center was on their feet quicker and longer than Paul, Blake and Jordan in the fourth quarter, when Clippers forward Trey Thompkins connected with Clippers guard Travis Leslie on a lob of their own late in the game.
"Make sure you mention that dunk," Jordan said. "Make sure you mention Leslie's dunk."
Of all the unusual things we will see in this lockout-shortened season, the image of the Pacific Division-leading Clippers -- with their starters laughing on the bench late in the fourth quarter during a 28-point blowout win -- may be among the most bizarre.
It is clear, however, it is a sight we may have to get used to seeing as long as "Lob City," or whatever the Clippers want to call themselves, continue playing this well.
Arash Markazi is a reporter and columnist for ESPNLosAngeles.com.
ESPNLosAngeles.com
Former columnist and writer after five years with Sports Illustrated
Markazi has also written for Slam, King, Vibe and Playboy
On board of directors for Jim Murray Memorial Foundation.